As more people use video on LinkedIn, you need to work harder to get your video to stand out. I've collated some top tools for LinkedIn video that will put a shine on your videos and help them get noticed.
LinkedIn Video: Creation Tools
Even though you can shoot a "talking head" video directly into LinkedIn, you can seize some advantages when you shoot in advance.
You can top and tail it, removing the bit where you fumbled at the start. You can add your logo and branding, edit out mistakes, and enhance your video.
Related Post: LinkedIn 101
Going Pro With Filmic Pro
The daddy of all iPhone apps for video is Filmic Pro. This tool turns your phone into a multifunctional camera.
By clicking the exposure wheel, you can make sure the viewer sees you, not a silhouette against the sky. But if you want to see the sky, adjust it the other way, so the full glory of a sunset or a blue sky shines out rather than white bright space.
When shooting indoors, you can get rid of that horrible orange hue by adjusting the color and white balance.
And rather than focus on the biggest thing on the screen, use the focus wheel to choose what you want sharp in the frame.
As the name suggests, Filmic Pro is about as pro as you can get with a video tool on mobile. Director Eleanor Mannion used it to shoot her 2016 documentary "The Collectors" for Ireland's national TV station.
Filmic Pro is available for iOS and Android and costs around $14.99 depending on your region.
[Tweet "Anyone can create a boring video. But these tools can help you create #LinkedIn #videos that shine."]
Using the iPhone with iOS 11 to Record Your Phone Screen
Think of your LinkedIn videos as valuable content. The topics can be:
Motivational talks
Quick tips
Tutorials
The more value you add to a video, the longer people will watch.
If you are in the digital space, tutorials that require screen recording are useful. We'll look at a tool for desktop later, but what if you want to share your phone screen?
If you have an iPhone with iOS 11 or above, the screen recording function is built in. To enable it, go to: Settings > Control Center >Customize Control. Then click the green + next to "Screen Recording."
Now, it's enabled, so you can record.
Swipe up from the bottom of your phone, and click the circle button. This activates a countdown, and a red bar appears at the top of the screen when it's active.
AZ Screen Recorder for Android
If you are an Android user, you need an app to record your screen. AZ Screen recorder adds a widget to your screen. Once it's activated, you can record your screen by clicking one of the options from the widget.
AZ Screen recorder is free to use.
Branding Your Video With eZy Watermark V
When you have people watching your videos on your LinkedIn page, you can get your brand and logo in front of them. If you are shooting on mobile and don't have access to desktop editing software, you need an app to help you with this.
Watermark V is a quick way to add a logo and more to your videos on mobile.
Upload your video to the app, select whether you want to add a logo, text a QR code, or include your signature. If you create something you like, you can save it as a template, which makes the process much quicker the next time.
eZy Watermark V is available for iOS and Android and free to use but watermarked (by the company).
Removing the watermark costs roughly €1.09 depending on your region.
LinkedIn Video: Editing Tools
When someone starts watching your video, you want to keep them watching. The easiest way to do this is editing. By cutting different shots together, you are mimicking the way we naturally process visual information and viewers are less likely to switch off.
But editing always seems like hard work, right? I've some tools that make it a little easier.
CuteCut
If you are editing on mobile, you can't beat the simplicity of CuteCut.
To use it:
Open the app.
Choose your settings.
Upload your video clips.
Double tap each clip to trim and add effects.
Scroll to the end of the clip to add another.
Give it a go! You won't believe how simple it is.
CuteCut is available for iOS and Android. You can use it for free. But if you want to remove the watermark and get access to all the tools, it will cost you from $5.99 depending on your region.
Mac users can also get a desktop version.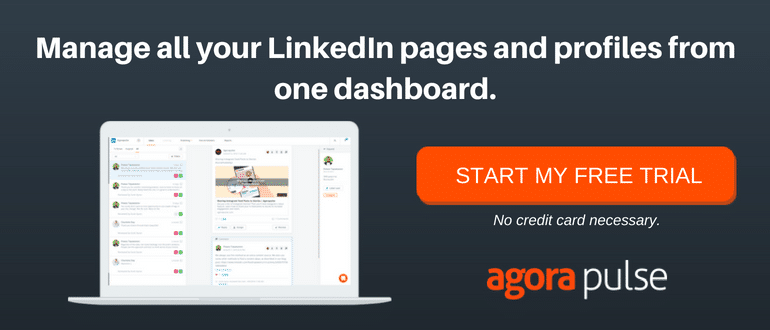 Wave
Editing on a desktop is much easier, but the software is often expensive or complicated. Wave video is a browser-based editing software tool.
You also get access to a library of video clips you can use alongside your own. You can add text and stickers.
The killer element is: You can create videos in multiple formats at the same time.
Say you are creating a video you want to share on IGTV, LinkedIn video, and YouTube, you can create it in all three formats. (Square works best on LinkedIn at the time of writing.)
Wave is free to use with some limitations. Premium packages start at $8.25 a month.
Camtasia
Once you've got proficient at making LinkedIn video you may be ready to make a larger investment. Camtasia is my editing tool of choice. You can add multiple tracks, transitions, and effects. You can also record your screen, which makes it great for tutorials.
There's even the function to add subtitles. (More on that shortly.)
You will need a computer with a decent memory to get the most from Camtasia or any editing tool. If you are unsure of your computer's speed, try the 30-day free trial before you buy.
Camtasia costs €261.05 for an individual license.
LinkedIn Video: Captioning Tools
Captioning your video is important for two reasons:
Many viewers will watch your video with the sound switched off. If you want to get your message across, you have to use subtitles.
It makes your video accessible. If you don't use captions, you are alienating a portion of your audience.
If you want to add captions you need to:
Transcribe your video.
Add titles to your video.
The following tools will help you with this process.
[Tweet "Caption your LinkedIn videos for a greater reach. These tools help you do that & more."]
Apple Clips
Sorry, Android users but I've not found an Android equivalent to Apple Clips. It is a tool that will automatically caption your videos as you shoot them. Once you've recorded, you can edit the captions and change the text style.
The result is an eye-catching, accessible video.
There's a bonus, too. You can add cool effects and stickers to the videos you create in Clips.
Rev.com
Transcribing your videos is a long drawn-out process. It's one of those tasks that is cheap and easy to outsource.
Rev.com is my go-to resource for this. Upload your video to its website, and the company will send you a .srt caption file within 24 hours.
Rev.com costs $1 per minute of video to transcribe.
Kapwing
Once you have your transcription, you can burn your subtitles into your video using the .srt file that Rev sent you using Kapwing.
By burning or "hard coding" your captions onto your video, you have complete control over what they look like. The alternative is to upload your .srt file to each network you share the video to.
Kapwing lets you choose your captioning font, color, and position and will even make a landscape video square with a space to add the captions if you ask it to.
Upload your video and .srt file to Kapwing, choose your color scheme and positioning, and download your captioned video file.
You can use Kapwing for free, but that will include the watermark. Removing it costs either $6 per video or you can subscribe for $20 a month for unlimited video captioning.
LinkedIn Video: Scheduling Tools
AgoraPulse users can schedule their completed videos to their LinkedIn company pages.
Here's how …
From your dashboard, click "Publish" and select your LinkedIn company page as your destination.
Click the video icon, and upload a video from your computer.
Use the sliders below the preview to select country or language targeting when necessary.
Choose to "Publish now," "Add to queue," or "Schedule."
Click "Next" to choose your time and date for publishing.
* * *
Creating actionable, engaging videos for Linked in doesn't need to be a hassle. The top tools I mentioned can make creating, editing, captioning, and scheduling LinkedIn videos a hassle-free process. By using them, you'll have a better chance of producing videos that stand out in the feed and get viewed from beginning to end.
* * *
Sign up now for a FREE demo.