If you're a realtor, you know how important social media is for business. But do you doubt whether you're doing social correctly?
Try following these steps for successful social media for real estate agents.
[Tweet "If you are doing social media wrong in real estate you are losing business every day. "]
One of my clients is a real estate agent in Grand Rapids, Michigan who has grown her business from averaging a little over 20 closings a year to close to 90 a year and well over $10 million dollars in sales.
What is the trick? Well, it is not really a trick at all. iHer success comes from a seven step process that any agent can use to start growing their business through the power of social media.
It takes some dedication and time — but of course, all real relationship building does.
Step 1: Know Your Client
In order for any of the other steps in the process to work, you have to know who your ideal client is. Not sure who your clients are?
Take a look at who already is connected with you on social media as a place to start.
For example, we can see from this Agorapulse report the statistics of my client's average Facebook fan. And this makes total sense, as she targets young families who are either first time home buyers, or looking to get a larger home as their family grows.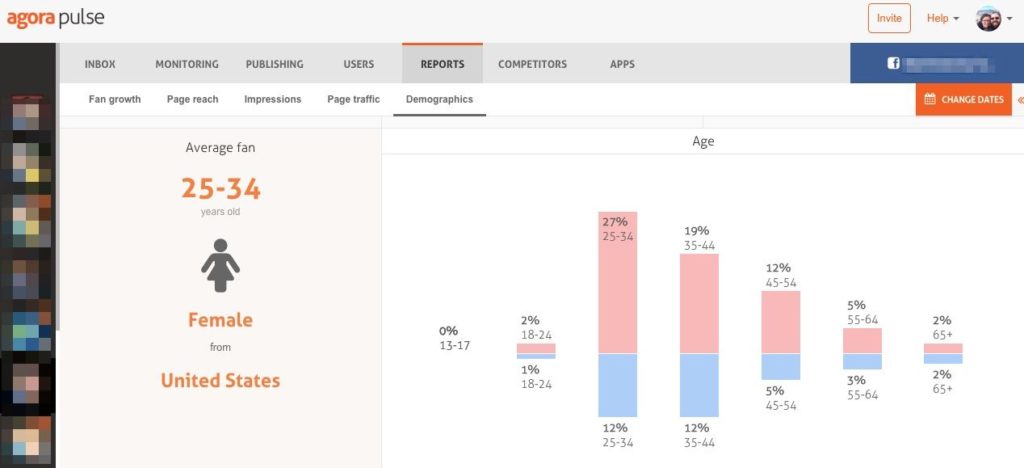 Knowing who you are trying to reach out to will make a big difference in the types of content you will share and the advertising that you do.
[Tweet "If you want people to listen, you have to learn to speak their language. "]
Step 2: Set Yourself Up for Success
Here is a secret to social media: Don't sell all the time.
Here is another one: Let your profile do the selling for you.
Think about this second one. When looking at your profile on social media sites are you easy to reach?
Can people instantly tell what you are all about and who you are able to best serve? Some specific things to look for are:
Is your profile completely filled out?
Is it easy to find your phone number, website, and possibly email address?
Is your profile designed with your ideal client in mind?
Do you have a welcoming profile picture of your smiling face?
Do you have a branded cover image?
Do you have a call to action set up on Facebook?
Do you invite people to contact you in your Twitter bio?
[Tweet "The easier you make it to work with you, the more likely it is that people will. "]
Step 3: Provide Long Term Value
A big challenge for real estate agents in particular on social media is the typical buying/selling cycle of real estate. What most agents tend to do is only post their listings. This is helpful and useful for people who are actively buying a home. But what about everyone else? Even current clients who love you are likely to tune out after their purchase cycle is done. They won't need to look at houses again for on average 5 years, so why would they bother still keeping those listings in their social stream? They will likely either stop following your feeds, or simply hide you.
The solution to this is to provide value for all your clients even if they are not actively in the buying/selling process. Rather than only posting listings post interesting things to do in the geographic area you serve, home maintenance tips, sales at local stores, interesting local news stories and weather, you get the idea. Things that your ideal client will find useful all the time and are related to real estate, finances, houses, or your local area.
Step 4: Foster Interaction and Engagement
Providing useful things for people to read is great. But the next level is that you have to connect with them. If you want to continue to have your content be relevant, you want to start a two-way conversation.
Ask questions, share personal notes about your family and hobbies, take a poll. And make sure once you have that conversation going that you respond to each message and comment.
[Tweet "The best way to encourage interaction on social media is to reward that behavior with a friendly and prompt response."]
The importance of consistency can hardly be overstated. Here is a social media account that I was managing for a real estate agent. He decided to do the social media in house and his team was not making time for it.
You can see how the engagement dropped off immediately: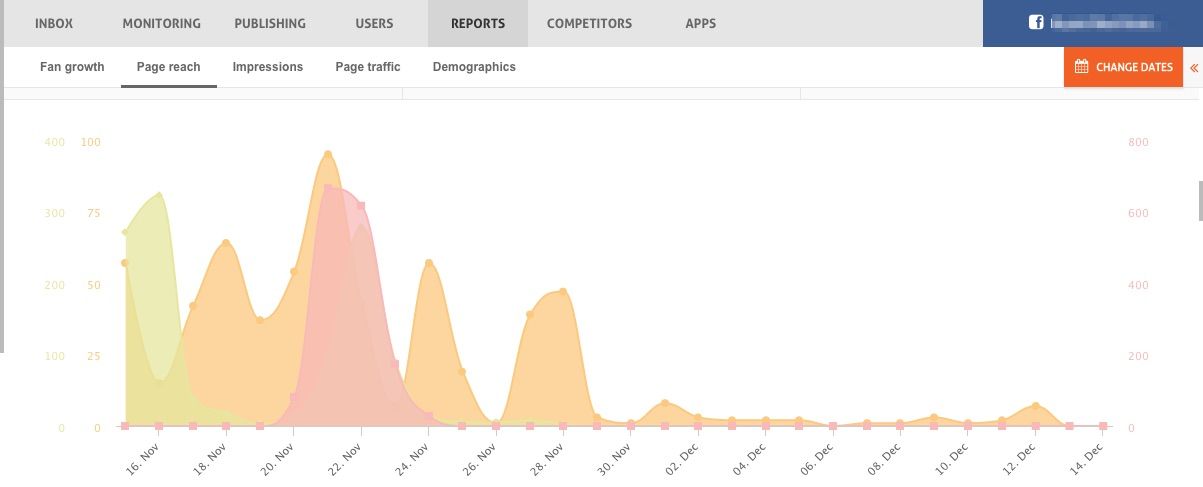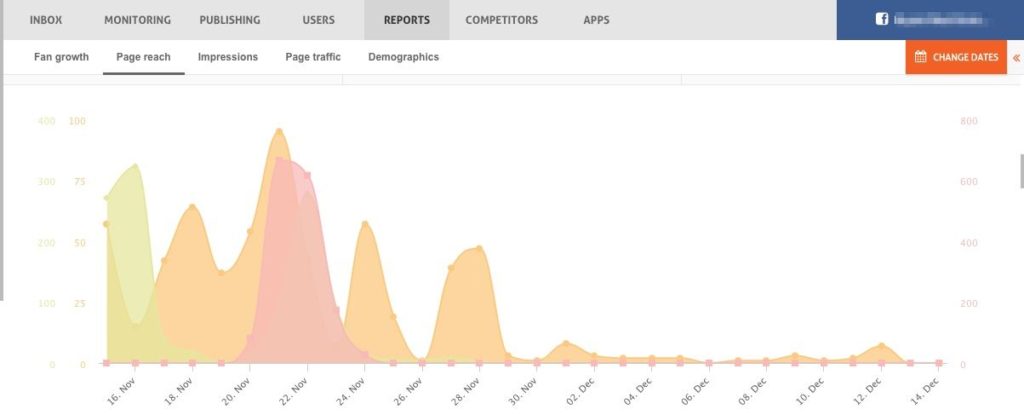 Step 5: Create Smart Advertising
You will get your best results (on Facebook in particular) when you use advertising to boost your organic results.
If advertising seems overwhelming on Facebook, start with a simple boost post to get your feet wet. It is important that whatever kind of advertising you are doing that you target it to your ideal client.
Avoid the temptation to try and force people to see things they are not interested in by pushing it out through advertising. You will have much better success by using advertising to boost content that people really want to see to more people.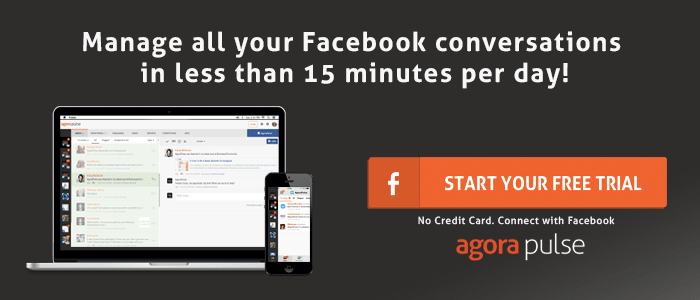 Step 6: Let Your Clients Help You Get New Ones
Here are some more interesting statistics from the National Association of Realtors:  84% of people who bought or sold a home said they would definitely or probably recommend their agent to others, and 42% of people find their real estate agent through friends or family. What this means is that your current and past clients who already love you are your best (and easiest) source for new ones.
Make it a part of your listing process to ask your clients to like your page. Ask them to share their own listing to their Facebook wall when you post it. When you close, ask for a review that you can post on social media (or have them review you on Zillow or another real estate site and take a screen shot to share). All of these actions will help their friends see you on Facebook as well, and perhaps like your page, call you up when they need help, or ask their friend about you.
[Tweet "One of the most powerful things that social media can do for real estate agents is facilitate referrals. "]
Step 7: Convert, Monitor, Repeat
All of this social media work still won't sell houses for you or close deals. You still have to do the leg work of getting people off Facebook and on the phone and into houses to see them. Creating robust social media accounts and great content can help you virtually meet more people faster, but then the rest is up to you.
Make sure that you are monitoring your statistics on the back end closely so you can see what types of content are doing best so that you can always be refining your process and message.
You can of course use the built in analytics, but one of the best things that I did to help me get a better picture of what was happening with my accounts was to start using Agorapulse for my reports. It is all in the same place that I schedule my content, and I can see a post by post breakdown, recommendations, a direct ROI, and more.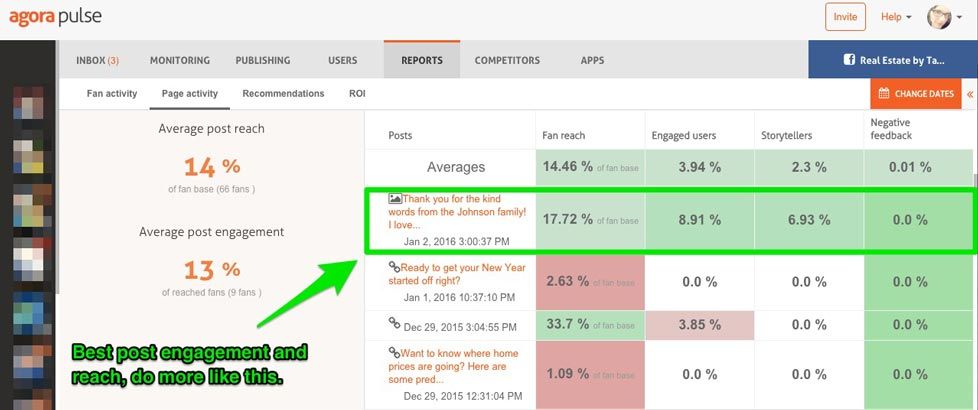 Social media is a powerful and often underutilized tool for real estate agents. Start using these social media management basics and you will start seeing results too.