Integrations: Agorapulse is now integrated with TikTok!
The time has come: Agorapulse TikTok integration lets all stakeholders collaborate around a TikTok content calendar, schedule videos and auto-publish them, manage comments in inbox, and access reports. To start using Tiktok, simply connect your Tiktok for a business account to Agorapulse. You can connect one or multiple accounts.
Connect
To add your TikTok Business account to Agorapulse, you can click the '+' icon in the bottom left of your screen and select Add a social profile. 
On the main Connect page, you will see the new option for the TikTok Business account. Click that box and when prompted, accept the permissions by clicking the Authorise button.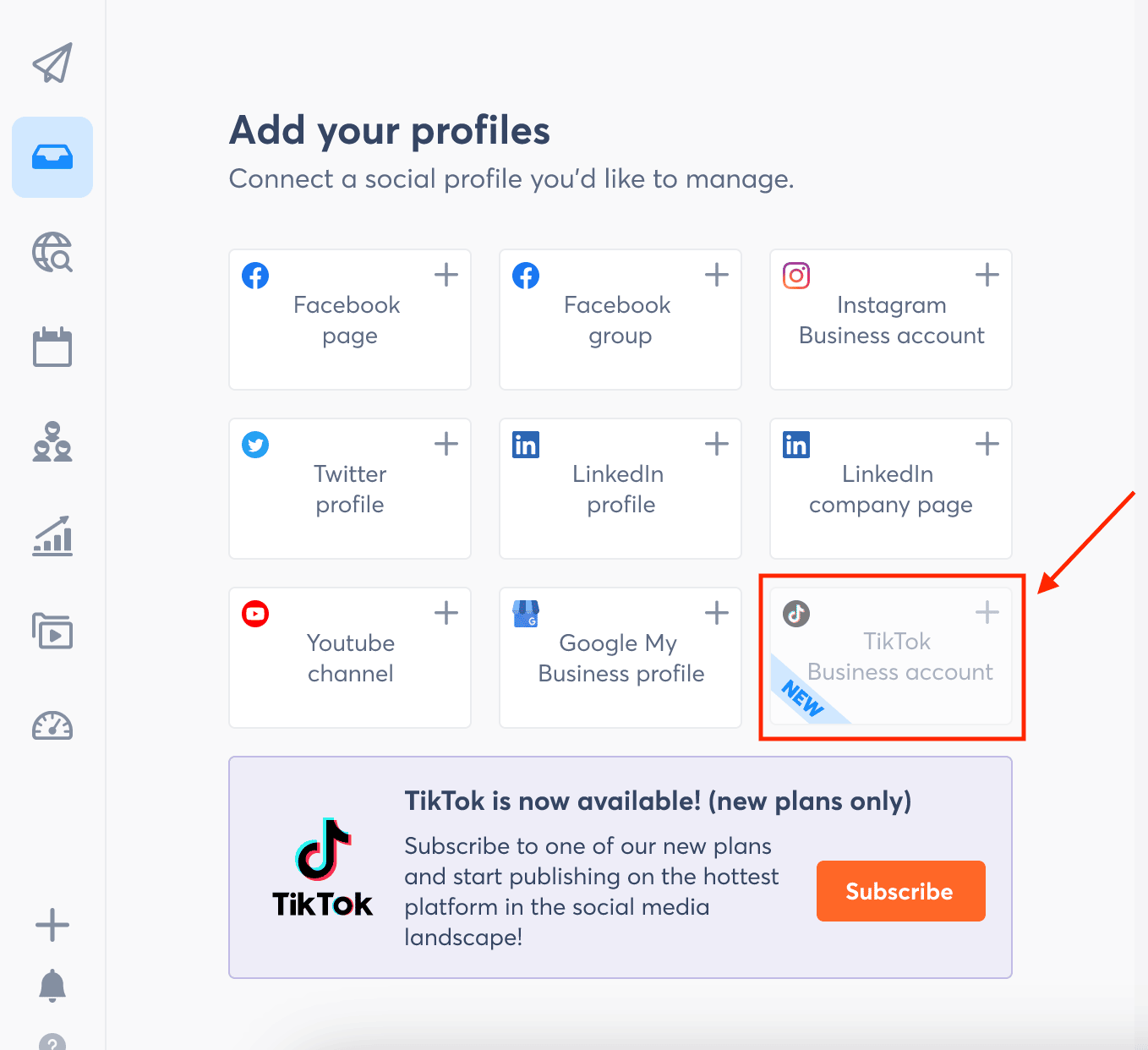 FAQ 1:
Is it possible to connect my personal TikTok account to Agorapulse? 
No. Only TikTok Business accounts can be connected to Agorapulse. If your TikTok account is not a business account, refer to this TikTok article to learn how to change it.
What are the differences between TikTok's Personal and Business accounts?
Personal creator accounts

can't connect to Agorapulse. These profiles have access to a library of unlicensed, trending sounds. But, there is a risk of litigation if you're a business using unlicensed music on TikTok. 

Business accounts

can connect to Agorapulse and have access to commercially licensed sounds. There's no risk of litigation if you're a business using this sound library.
FAQ 2: Can I connect multiple TikTok Business accounts to Agorapulse?
If you have multiple TikTok Business accounts, you can select the correct account on the authorization page. Under the name of the TikTok account, click Switch Account to choose another account to connect.
Publish and Schedule
After connecting your TikTok account or accounts, to publish/schedule a video to TikTok, open the Publishing composer, either by clicking on the Publish icon in the left nav bar or on the '+' icon in the calendar view.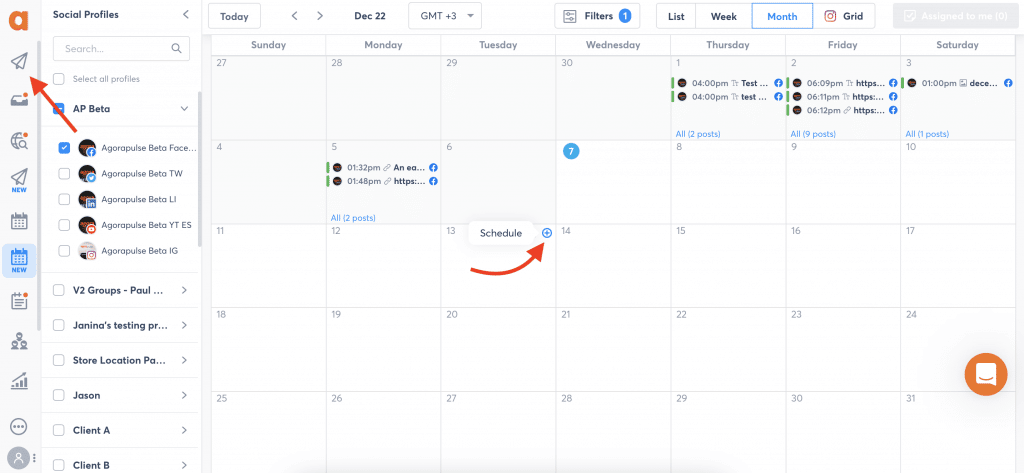 Once the composer window is open, ensure you have selected your TikTok account in the left-hand profile list. Then add your video file to be published or scheduled just the same way for any other channel.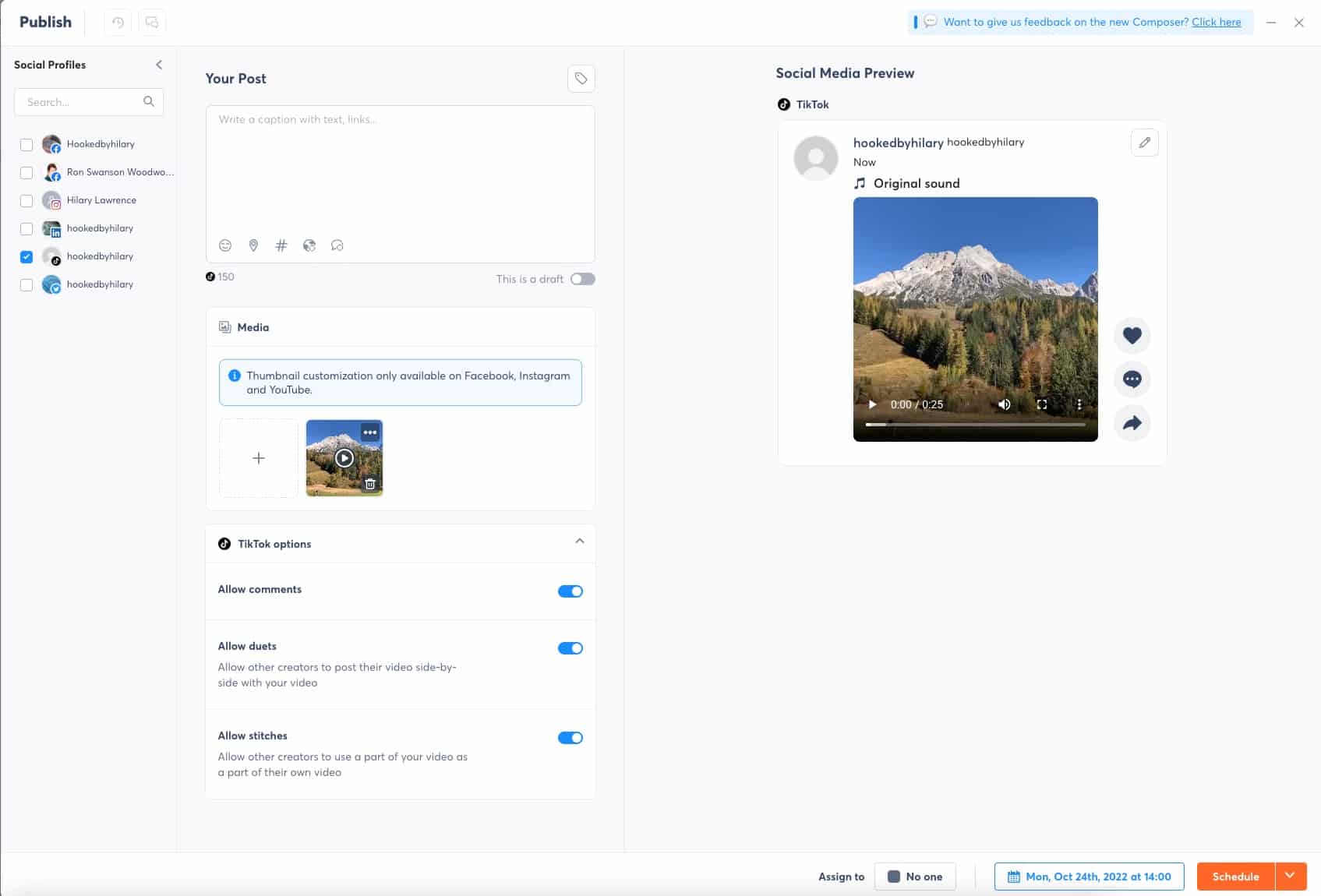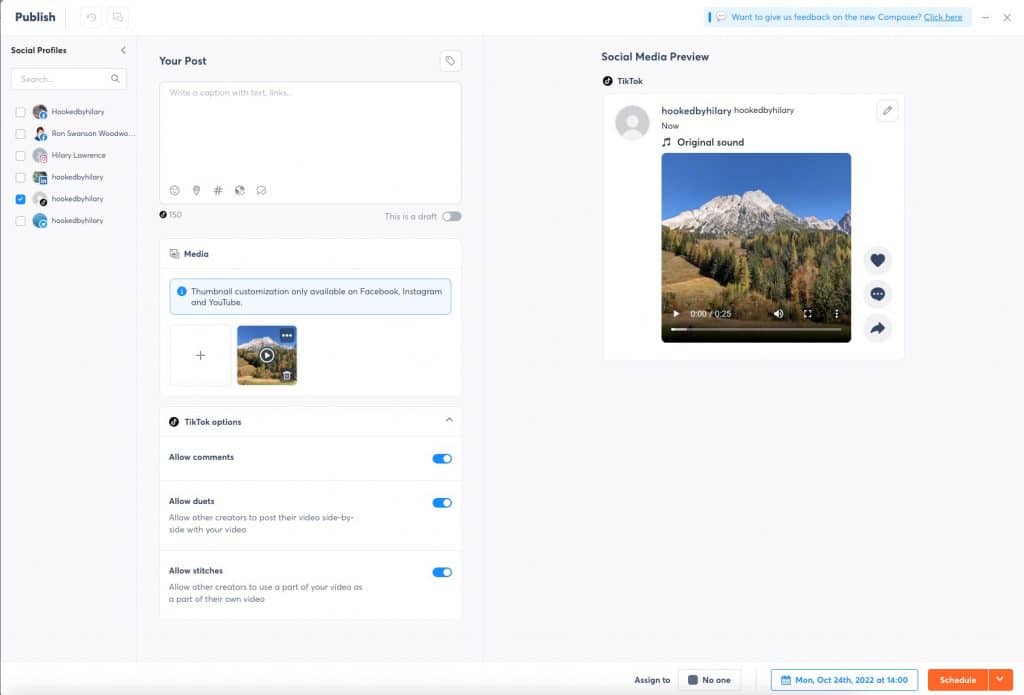 FAQ 3:
Are there any special requirements for TikTok videos?
Yes, The audio-video content must be contained in .mp4, .mov or .webm format
The maximum video size is 1 GB

The minimum video duration must be 3 seconds, and the maximum video duration is 60 seconds

The minimum height and minimum width of the video must be 360 pixels

The minimum frame rate of the video must be 23 FPS, and the maximum frame rate is 60 FPS
Manage comments 
Depending on your plan the following features will be available in your TikTok Social Inbox on Agorapulse: 
Review comments 

Inline translation 

Real-time collaboration tools 

All filtering options 

Assign comments 

Label comments 

Saved replies management 

Bulk actions: assign, review, label
To check which plan you're on please visit Org settings > Subscription.
If you happen to have questions about plans, please mail us at cs@agorapulse.com.
Reports 
Generate individual reports for your TikTok Business accounts, as well as add your TikTok accounts to aggregated reports (in the Power Reports feature).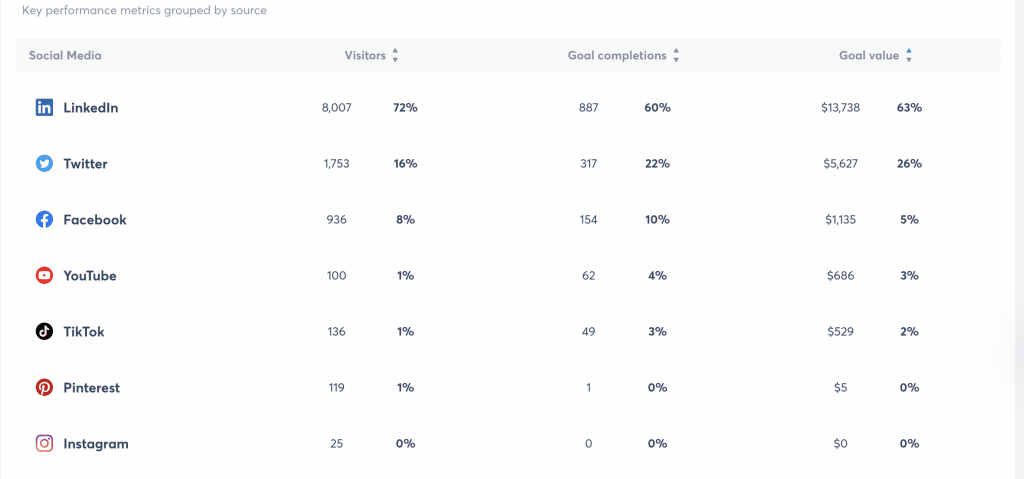 FAQ 4:
What is be available for reporting?
Just like the other platforms' reporting dashboards offered by Agorapulse, organic and paid audience growth, engagements, user activity table, inbox label distributions, cross-profile& cross-platform reporting is available without any time limit retrospectively. 
Note: Demographic data (age range) is unavailable due to API limitations for organic content. 
Mobile 
FAQ 5:
Can I manage my TikTok content from the Agorapulse Mobile App? 
Yes, you can publish a TikTok video from your Agorapulse mobile app and remove a TikTok account from your Agorapulse mobile app (Connecting your TikTok account is available only on the web app)
API Limitations
FAQ 6:
What are the API limitations for the integration between TikTok and Agorapulse?
Some features that are available natively on TikTok have not been made available in the API. This means that third-party tools like Agorapulse, are unable to duplicate all the features that are available to you in your TikTok mobile app. The below limitations are universal for all vendors who work with TikTok. 
| | |
| --- | --- |
| Feature | Limitations – actions you can't perform within the API: |
| Connect | Connect a TikTok Personal account |
| Publishing | Select a video thumbnail |
| Publishing | Add overlay text |
| Publishing | Add voiceover or duet/stitch with another video |
| Publishing | Select filters |
| Social Inbox | Manage Direct Messages |
| Social Inbox | Dislike/remove dislike |
| Social Inbox | Block a user |
| Social Inbox | Live video/Story video content |
| Social Inbox | Mention a user |
| Listening  | Social Listening on TikTok |
| Reports | Collect demographic data – followers age range |
For more information on Tiktok, Agorapulse plans, and Agorapulse in general, please visit our Help Center