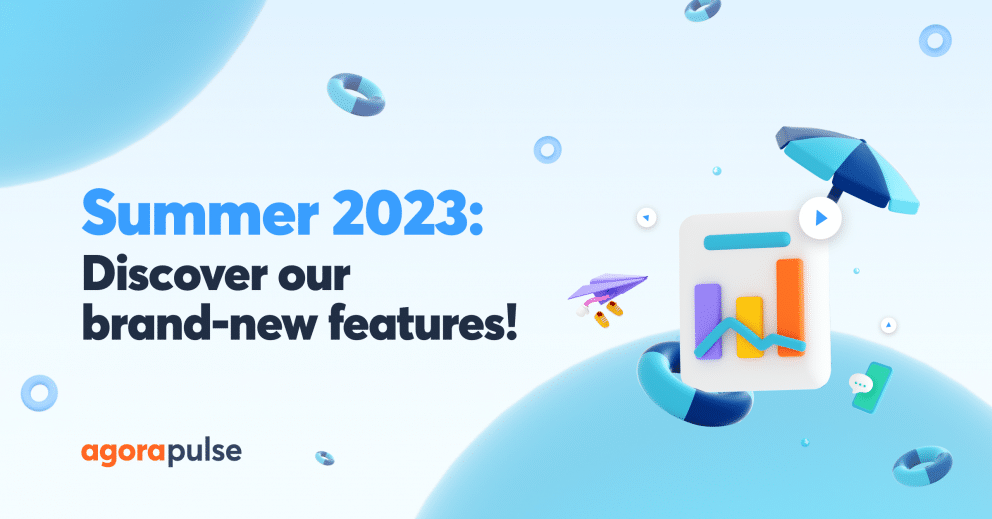 Summer 2023: discover our brand-new features!
As the summer days slowly give way to cooler breezes, we at Agorapulse have been heating things up behind the scenes to bring you the hottest social media solutions of the season. We've dedicated ourselves to understanding your social media challenges and finding the most effective solutions. After months of diligent effort, we're thrilled to introduce our Summer 2023 product releases.
So, let's jump right in and explore the exciting updates we've prepared for you.
Link traffic insights
Use our pulse.ly link-shortening solution to quickly set up your short links, and add them to your posts or conversations. You can then start measuring the website visits from social media clicks instantly, without a prior setup or Google Analytics integration.
Combine simple, traffic-only dashboards with more advanced organic Social Media ROI measures on lead generation and revenues.
Calculate engagement rate automatically
You can now access the automatically calculated engagement rate reports at the page/profile level and per post in the Reports. Choose among types of engagement rates, such as by reach or by impressions. This feature is available in the Audience, Content Global, and Content Performance sections of the Reports.
Improved mobile post-approval flow
Approve posts assigned to you in the Agorapulse Companion App more easily! Simply click the "review" button on the publication cards review and approve your posts on the go.
This improvement also brings a new screen dedicated to each post for a better reviewing experience.
Upload subtitles for Facebook, LinkedIn and YouTube videos
Make your social media videos more accessible and engaging with Agorapulse's new subtitle feature.
Easily upload SRT files to add subtitles to your Facebook, LinkedIn, and YouTube videos directly from the Agorapulse composer. Choose from a variety of languages to reach a wider audience and improve your video's SEO.
Subtitle uploads will soon come to Twitter videos as well.
For more information on adding subtitles to videos, please check out this article in our Help Center.
Publish Facebook Reels
No more switching back and forth between platforms. You can now publish or schedule Facebook Reels directly from Agorapulse.
Upload more images to your LinkedIn posts
You can now upload up to 20 images to schedule or post on LinkedIn. (Previously the limit for uploading images was up to 9 per post.)
[Coming soon] Mention personal profiles on LinkedIn when publishing posts
Easily mention personal profiles on LinkedIn when scheduling or publishing your posts.
We hope these new features will help bring impact to your social media campaigns.
[Coming soon] Add titles to Facebook videos
Customize the title of your Facebook videos before publishing them.
Not an Agorapulse customer?
Sign up for a free demo to find out how to start publishing, monitoring, and scheduling all your amazing content with Agorapulse right now.