Amazing LinkedIn Images and Other Visual Delights (v. 7.26)
In last week's Release Note, I squeed about our new LinkedIn reports and inbox. These features were in addition to our existing LinkedIn publishing capabilities.
But we didn't want publishing to feel like it wasn't getting special treatment just because it's been around the block for a while. So we gave it a tiny-yet-massive improvement.
We also made some enhancements to make your publishing on Agorapulse even easier to manage.
🎁 FEATURES 🎁
LinkedIn image posting — without image links. Now that we're hooked up to the LinkedIn v2 API, we can allow posts with images to be published without links to the image. So you can go from this …

.. to this. As you'll see, there's no link to the image (like we used to have to do). The post simply contains your text and a photo — just like you set it up in Agorapulse.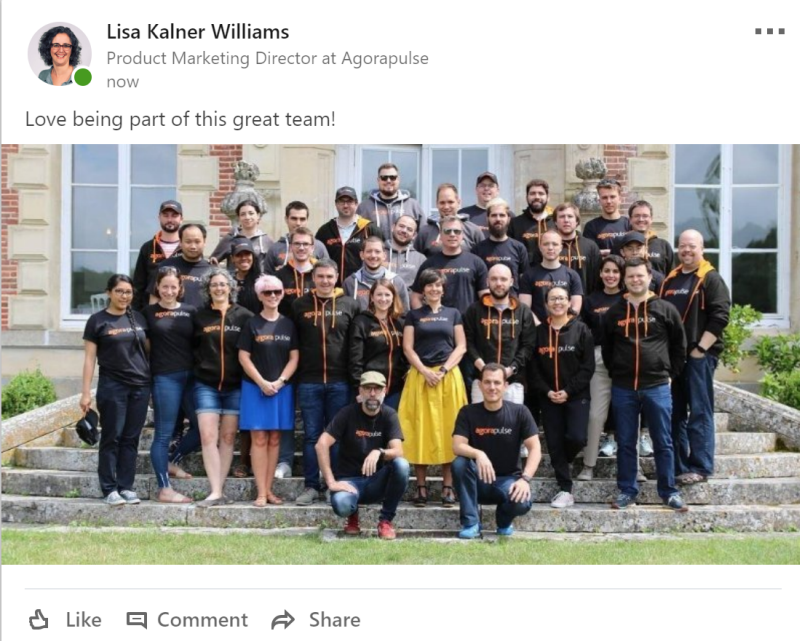 As long as you upload only one image that isn't too large (< 5MB) and is in JPG, PNG, or non-animated GIF, you should get the very same results.
Twitter images in direct messages. Why not add more images elsewhere — say, your Twitter DMs? We now let you do this from your Agorapulse dashboard.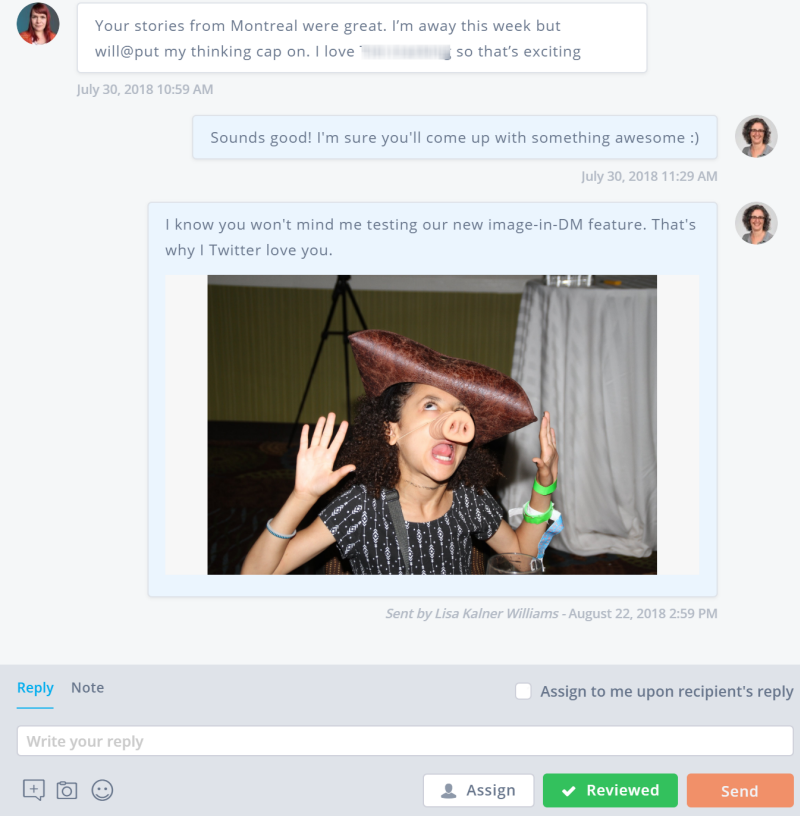 Profile-specific timezone settings. Gone are the days of us setting your posts' timing based on your browser. You can now customize each of your social profiles to the timezone of your choosing. This time will be applied to all your team's posts. So if you've set the profile's timezone to London time but you work in Ubud and your assistant is in Los Angeles, the timezone on your queued or schedule posts will all be set to London time.
You can establish the chosen timezone in your profile's General Publishing settings.
And at any time, your team can see a profile's chosen timezone at the top of your publishing calendar…

…and in the scheduling options of your posts.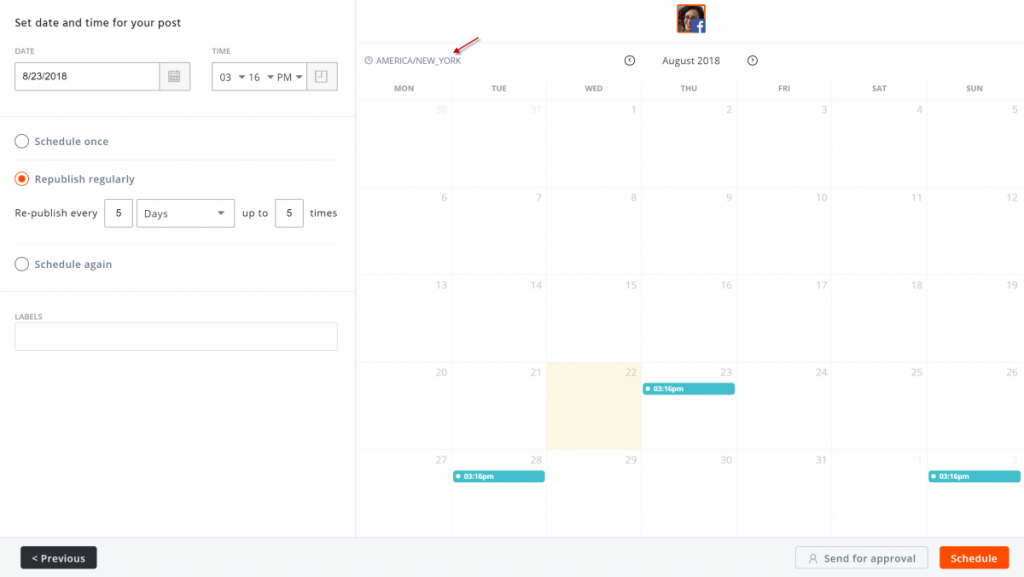 Pro Tip: Decide as a team what the timezone will be for each social profile to eliminate heated Slack discussions later on.
Customized publishing "memory." We've started to remember what actions and profiles you used and serve them to you the next time you want to publish.
Say for example, the last time you used the publisher, you queued a post. The next time you go to the publisher, the "add to queue" option will be selected. If you last sent that post to the queue of your favorite client's Instagram profile, we'll have that profile checked the next time you go to publish.
Of course, you can change the way you publish and the profile you publish to. We're just trying to work the way you do.
Clarity from your Facebook ads and ad comments. You can now clearly see which of your posts are sponsored — you can also easily see which of your comments came from a sponsored post.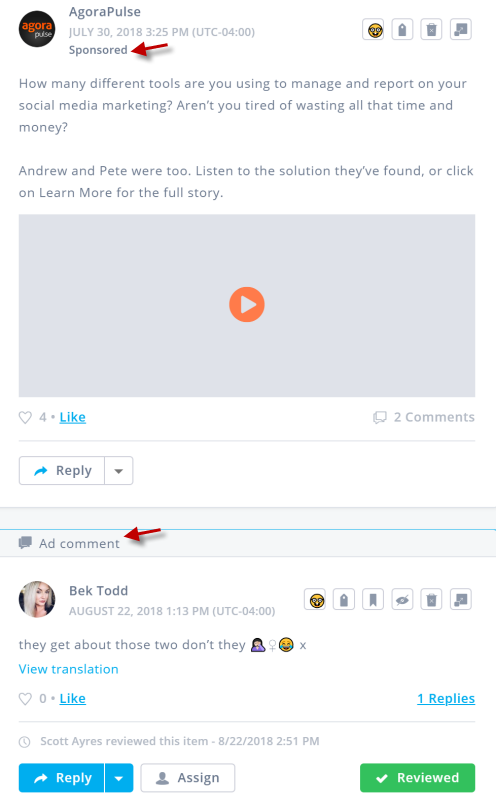 Increased publishing calendar display. Our publishing calendar now displays up to 10,000 of your posts each month. Might this encourage you to schedule or queue more posts?
🚦FEATURE NOTE🚦
Facebook is changing the way users can leave "Reviews." Now called "Recommendations," users leave a thumbs up or thumbs down instead of a star rating. We capture these, along with their respective comments, under the "Reviews" tab so you can easily respond to them — whether they're good, bad, or somewhere in between.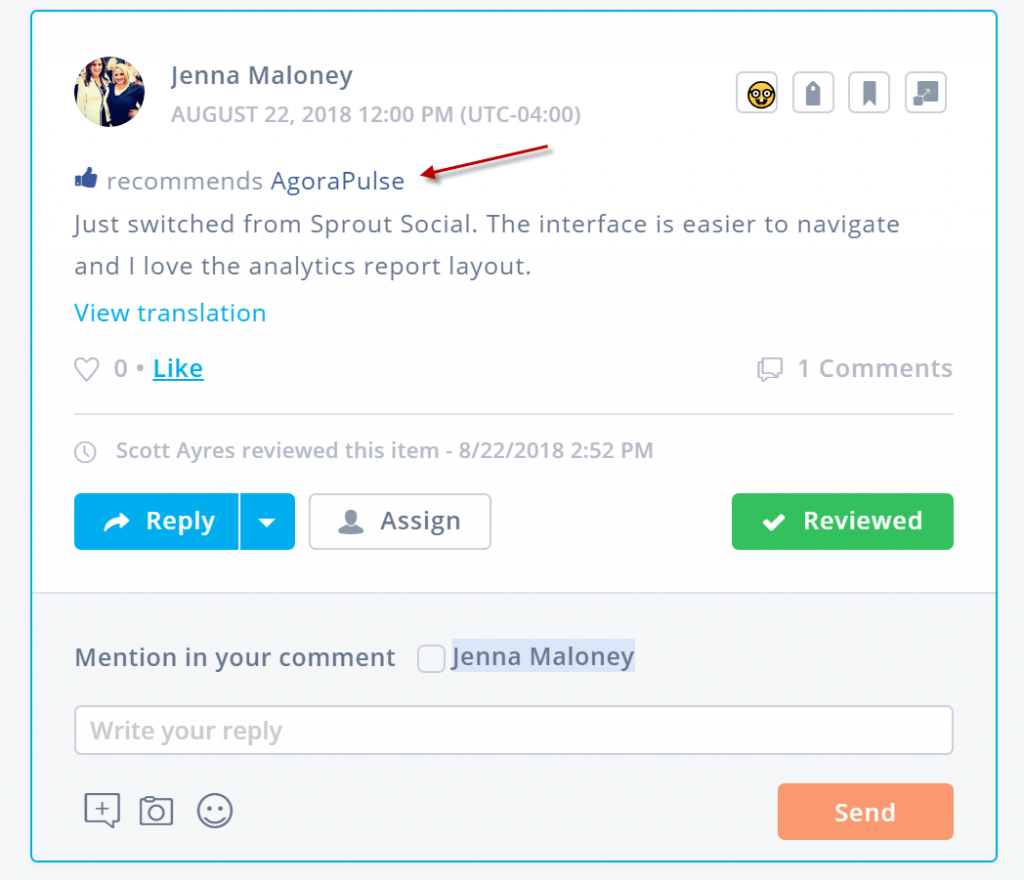 On August 1st, Facebook removed share count data from post Insights, so we can't use this data anymore in the daily graph in your Reports. We had to update the Reports in order to use the global shareCount metric from the posts.
🐞 BUG FIXES🐞
Earlier this month, we replaced the label Impressions with Reach in our content reports. We thus changed it in our downloadable CSV reports and key metric metrics.
If a term in a moderation rule had an apostrophe (ex. doesn't, Wegman's, Macy's), the moderation rule was not applied. It will work now.
LinkedIn profiles did not display the counter of items to review in the inbox. You'll see the counter now.
Users (like me) faced an error when trying to download a report from the in-app notification link or from the link in their weekly report email. The download works fine now.
Replies sent were not reflected in Instagram reports (well, they appeared as zero). They appear correctly now.
When a user deleted his/her account on Agorapulse, and then wanted to sign up again, he/she was not able to do so due to a problem in our database. This should be resolved.
You no longer have to wait until links are parsed when bulk publishing for links to appear properly. Parsing happens much quicker now.
It is now possible to load previous/next messages in a private message conversation when more than 20 of the messages were unreviewed. Fixed.
If you receive a multi-photo private message in Facebook, you'll now see all the images correctly.
Clicks were empty in Facebook Content reports. If your posts receive clicks, you'll see them now.
🎧THIS VERSION'S PLAYLIST🎧
"Peg" by Steely Dan
"Thank You for Being a Friend" by Andrew Gold
"World Destruction" by Time Zone
"Every Breath You Take" by The Police
"The Revolution Will Not Be Televised" by Gil Scott-Heron