Instagram Management and Subscription Organization Changes (v8.0)
🎁 FEATURES 🎁
Instagram API Deprecation. Instagram now requires all third-party tools (like Agorapulse) to use the Facebook Graph API instead of the old, now deprecated Instagram API. Here's what it means to you and your Agorapulse subscription:
1. Agorapulse supports only Instagram business profiles. The platform no longer supports Instagram personal profiles. Not only can no new Instagram personal profiles be added to your Agorapulse subscription, but existing Instagram personal profiles on your Agorapulse subscription have been disconnected.
If you'd like to use Agorapulse to help you manage a Instagram personal profile, you must convert it to a business profile.
By doing so, you'll be able to do things that were not allowed with personal profiles, like:
publish directly without the need for mobile push notifications
receive incoming comments into your Inbox in real-time
use inbox features such as threaded comments and hide/remove comments
If you have already connected an Instagram business profile but have insufficient permissions, we will ask you to connect with your Instagram/Facebook account to renew or get all necessary permissions.
For those with Instagram business profiles that have all the necessary permissions, you can continue to use Agorapulse without any extra actions. In other words, you're all set. 🎉
2. There is no longer a location listening search as the Instagram Graph API does not support this feature.
3. Hashtag searches are temporarily disabled. We will soon be able to once again offer you Instagram hashtag search results in your listening tab. This time, however, the results will be in limited, view-only mode.
In the meantime, don't forget: the listening tab continues to collect username mentions of your business profile. It's another great way to stay on top of important conversations about your brand.
If you want more information about how the Instagram API deprecation impacts your use of Agorapulse, review the following resources:
Agorapulse Team and Subscription Organization. We've developed a whole new structure of how teams and subscriptions are organized.
If you are part of an organization on Agorapulse, you are assigned one of the following three organizational roles:
Although there is only one owner per organization, owners and managers have the ability to add social profiles and users to a subscription. This makes things easier for a team to add more profiles and users (v. the prior setup where the subscriber was the sole person allowed to make such additions).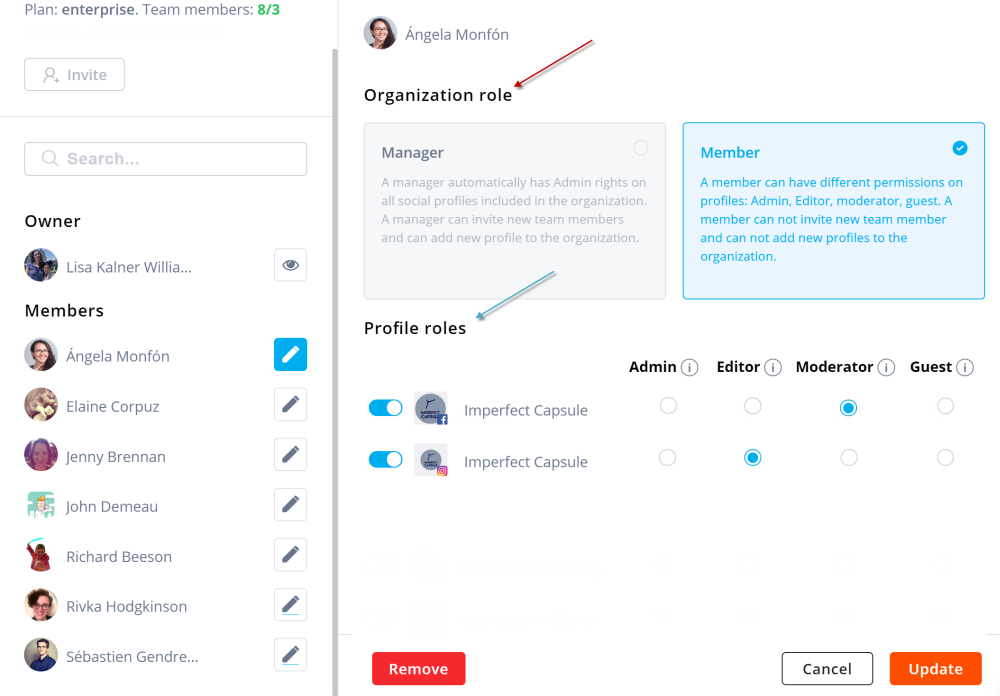 Each person in an organization is assigned one of the following four profile roles:
admin
editor
moderator
guest
Managers are automatically admins of all the profiles in her/his organization.
Members can be assigned to one of the above four profile roles — depending on what access level managers think they need.
Organizations also have standardized features for all of its members. For example, each person in an organization will have one standardized navigation bar.
See this nav bar? Each person in the "KC" organization sees the same exact bar, with social profiles in the same order.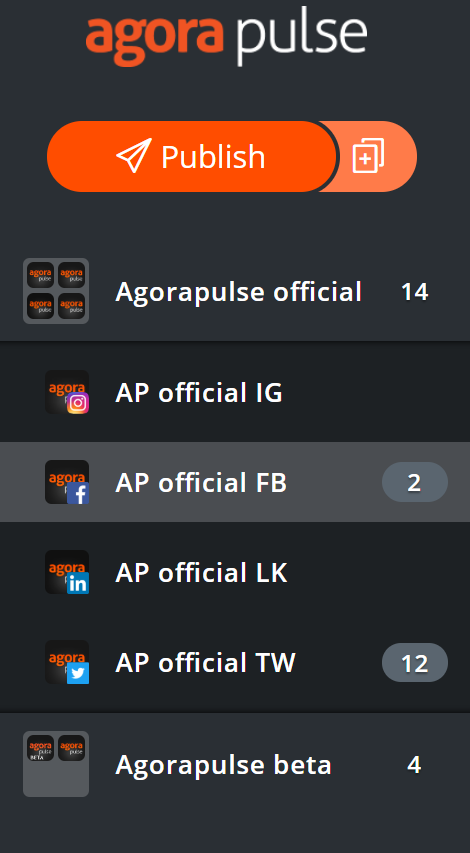 To think more in terms of an organization and not by individual profiles, the ability to edit team settings now resides in just one place — at the bottom of the left navigation bar.
For more information on the organizational changes, check out our support article: http://support.agorapulse.com/…
🐞BUG FIXES 🐞
Our URL publishing parser was converting "&" sign to "%26" code, which was breaking the URLs. This is fixed.
In Content reports, some posts were shown twice. This shouldn't happen anymore.
It was previously impossible to add a Twitter profile whose username was not in standard UT8 encoding. You can add such profiles now.
YouTube profiles in a organization were not showing up in the navigation menu. That issue is fixed.
+ 17 fixes to make your Agorapulse experience even better.