New Navigation, Instagram Video Updates
🎁 FEATURES 🎁

1. New left navigation and side panel. We've changed the navigation throughout the app to get ready for upcoming big changes that users have requested.
The navigation is in beta, and the response has been amazing. Here is a brief rundown of the changes if you'd like to try them early.
The main features of the app are now on the left navigation bar. (They used to run along the top of the app.)
Once you select a feature (say, Publish), you'll see all the social profiles on which you can use that feature.
Also, you now have more space to reply, listen, publish, and view your reports. Simply click the < symbol on top of your social profile list to minimize your profile listing and maximize your workspace.
All your settings (organization, personal, and profiles) are conveniently in one location in the upper-left-hand corner of your dashboard.
Or, if you prefer, you can access those settings from the "Settings" button on the upper-right-hand side of your dashboard.
To save you time, these profile settings are "intelligent." For example, if you're in the Calendar and select the Settings CTA on the right, it will take you to Profile settings > Publishing settings. When you're in the Inbox and you select the Settings CTA, it'll take you to the Profile settings > Inbox settings, etc.
Only 9% of beta testers have asked to go back to the existing navigation. Here's what to do if you're one of them.
2. More efficient upload of scheduled Instagram videos. We upload scheduled Instagram video posts in advance. This will minimize any delay in posting and lower the risks of duplicate posts.
3. Option to review assigned inbox items. If you want to review all items in your inbox—including ones assigned to others—simply check the box in the pop-up screen that appears after you click the ✔ (select all) at the top of the inbox.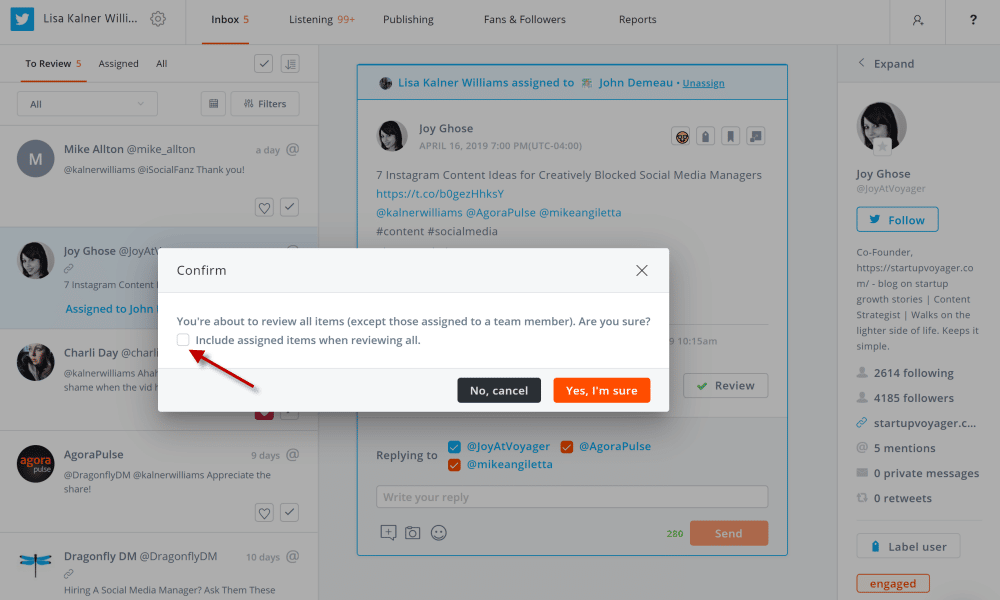 🐞BUG FIXES🐞
We've improved the detailed view of our Instagram Stories reports and made other fixes to make managing social media even easier with Agorapulse.