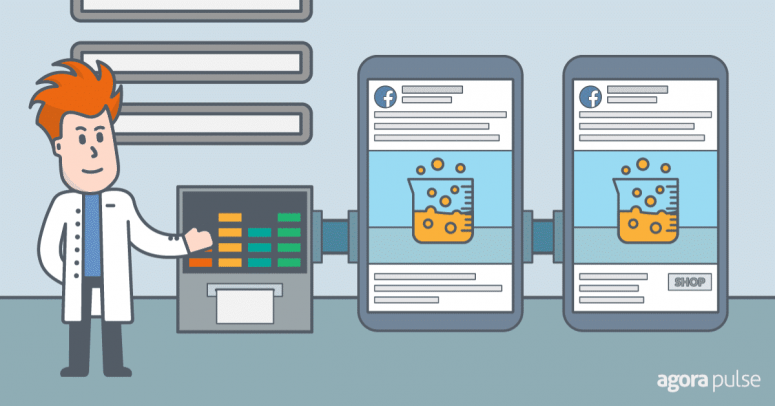 Will Facebook Link Ads with a Call-to-Action Button Perform Better?
Subscribe to the Social Media Lab Podcast via iTunes | Stitcher | Spotify
People love to push buttons on Facebook, well at least when it comes to getting into arguments over trivial things!
But do Facebook users click more on link ads with or without buttons?
We ran a quick poll in our Social Media Lab group on Facebook to find out. A total of 100% of respondents said they run link ads with buttons.
Some respondents did say they had seen or heard ads without buttons were performing better, making me curious to find out myself via an experiment.
Finding conclusive evidence from other sources was a bit challenging during my research.
AdEspresso found that having a button on its link ads cost 2.5 times more per lead.
9Clouds testing revealed a 12% decrease in CPC on Facebook ads without a button (Version A below is with a button, B is without):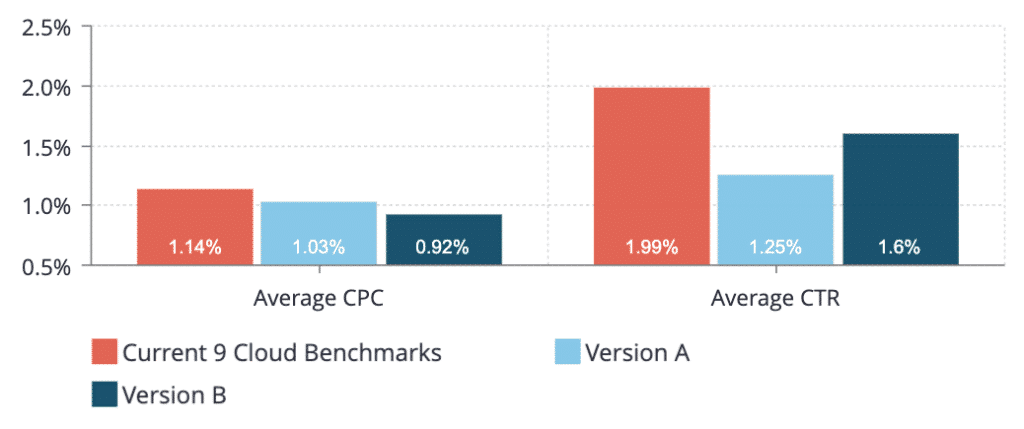 These two sources contradict one another. After much searching, I couldn't find any other tests out there in the social media marketing niche.
With data from AdEspresso in mind, I predict the following.
Hypothesis: Facebook link ads with a button have lower CPC and more clicks.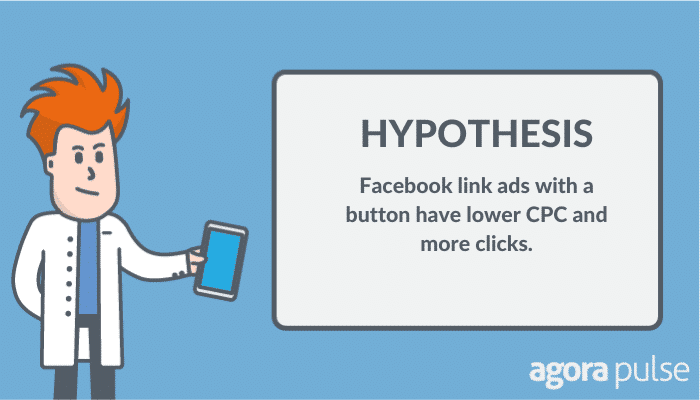 Testing Facebook Ads With and Without a Button
This test was spread out over a few months partly due to budget, but also due to COVID-19 disruptions.
I ran a different ad in March, May, and June split testing ads with and without a button.
The Facebook Ads
Each ad used sent Facebook users to a different article on the Social Media Lab blog:
Ads with a button:
I chose the "LEARN MORE" button on all three ads for consistency purposes.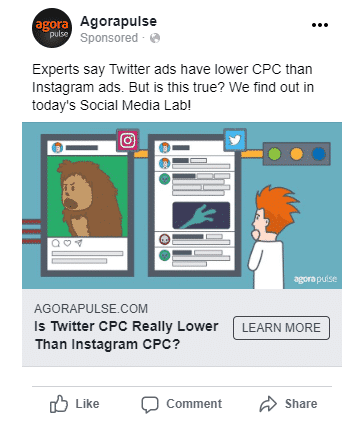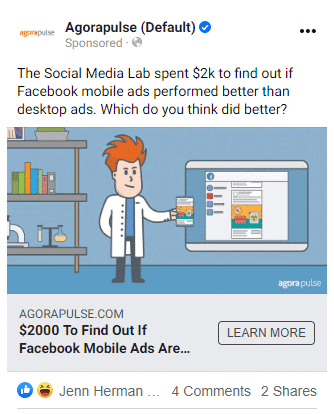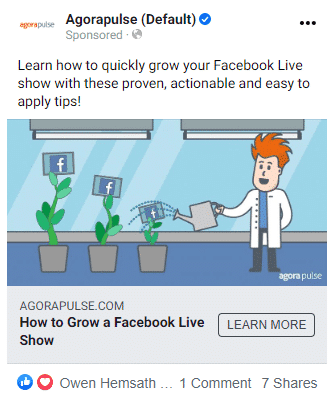 Ads without a button: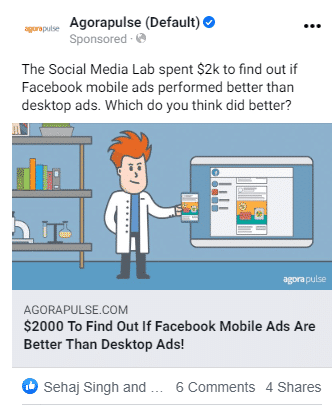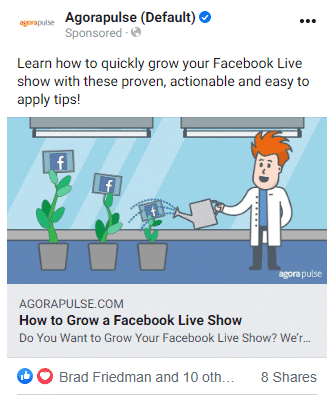 Ad Budget
Each split test had a budget of $500, meaning this test is a $1500 test ($750 spent on ads with a button, $750 on ads without a button).
Ad Placement
Only the Facebook newsfeed was selected as the placement of all the ads, on both mobile and desktop.
The majority of the ads will be shown on mobile based off my previous experience, however.
Ad Targeting
English-speaking Facebook users were targeted in the following countries:
Australia
Canada
United Kingdom
United States
We also targeted users based on the following interests (meaning they follow these pages):
Mari Smith
Joel Comm
Kim Garst
Passive Income with Pat Flynn
Social Media Examiner
Hootsuite
Post Planner
Sprout Social
Buffer
Results of Testing Facebook Ads With and Without a Button
To properly evaluate the data, we'll look at the following:
Total Clicks
Total Reach
CPC (Cost Per Click)
CPC and the number of clicks will be our most important data sets to draw a conclusion from.
I chose total reach and total clicks to test our findings in a statistically significant calculator. The calculator will let us know whether our results should be expected if we were to test again or if you were to run a similar test.
Ads with a button:
Total Clicks – 586

Total Reach – 42,972

Average CPC – $1.46 (USD)
Ads without a button:
Total Clicks – 639

Total Reach – 48,120

Average CPC – $1.30 (USD)
The Facebook ads without a button performed better in every category, according to our testing.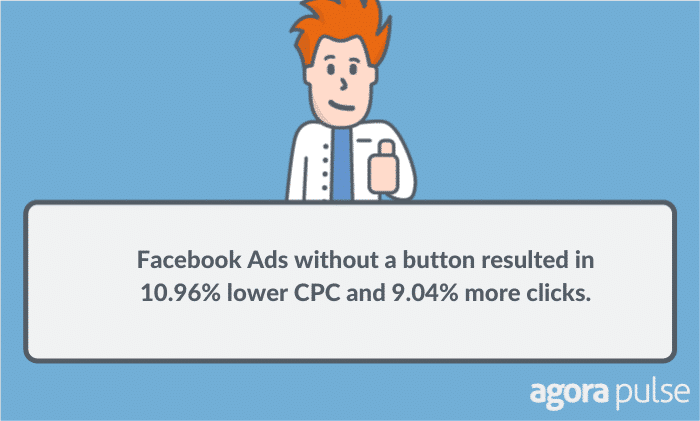 9.04% more clicks

11.98% higher reach

10.96% lower CPC
Do these numbers result in a statistically significant conclusion?
No …
The only option to determine if this test is statistically significant is using an a/b test calculator that is typically used to test website visitors and conversions. I use the a/b test calculator from Neil Patel.

"A" is the Facebook ads with a button, "B" is the ads without a button. For "number of visitors" we used the total reach, "number of conversions" we used the clicks.
As you can see, the ads with the button actually converted to clicks slightly better based on the lower reach but even that isn't statistically significant.
So what does this mean for our test? Are Facebook ads with or without a button better?
Considering the lower CPC of the ads without a button, I have to declare them the winner.
A 10.96% lower CPC is quite significant, as well as over 9% more clicks for the same exact ad spend.
Should Facebook Link Ads NOT Have a Button?
An added benefit of not including the button is a standard, organic, link post on Facebook doesn't have a button.
As soon as the button is added, most people will recognize the link post as an ad and possibly ignore it.
Based on the data from this Social Media Lab experiment, I'm going to begin running more ads without a button.
Lower CPC and more clicks are enough reasons for me, even if I can't guarantee we'll always get these results.
Don't miss an experiment!
New experiments and exclusive content straight to your inbox