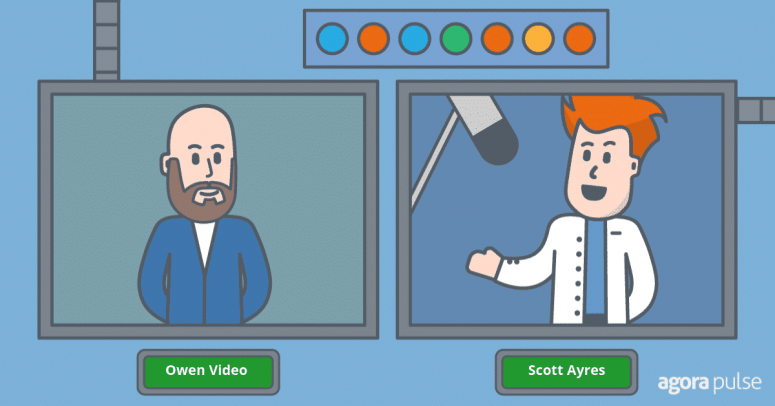 Crunching the Numbers of Facebook Live Videos
Ian Anderson Gray loves live video:
"The biggest social network in the world has invested hugely in live video. Facebook Live is easy to use and potentially reach huge numbers of people. You can broadcast on your profile (to reach friends and beyond), your page (to reach your fans), your group (for group members) or even your event page. You can also share a live video from one profile/group/page to another and expand your reach. You can do this manually, or automate it using a tool such as LiveLeap. You can broadcast to Facebook Live from your smartphone or desktop. You can also use 3rd party tools and some high-end broadcasting equipment. "
Owen Video has some great advice and thoughts on Facebook Live video:
"Facebook Live is a powerful tool for business owners to reach qualified customers quickly. When a new product or announcement happens, you can grab your phone in seconds to make the announcement. Then boost the video to reach the whole county. Then transcribe it using Quicc Captions and turn it into a blog post. Facebook Live in the hands of a smart business owner is an extremely powerful tool."
These experts have successfully leveraged live video and made a name for themselves online and at conferences because of it. But, this is the Social Media Lab and we like data.
Some incredible Facebook Live stats:
Facebook Live videos get 10 times more comments than regular videos.

In 2018, the number of Facebook Live broadcasts reached 3.5 billion.

The Facebook Live video view count climbed to 2 billion viewers last year.

Facebook Live users watch FB Live videos 3 times longer than pre:uploaded videos.
With stats like these, Live video is all the rage at social media marketing conferences.
Facebook, and subsequently Mark Zuckerberg, are hellbent on taking down video giant YouTube with Facebook Live.
Millions upon millions of dollars have been spent by Facebook in an attempt to make Facebook Live a success.
But, is all that really worth the effort for a business to conduct Facebook Live videos?
And should it be a regularly scheduled and formatted show or just go Live whenever you feel like it?
We at The Social Media Lab have done some research of our own, and I'll share the results with you.
We'll compare data from our Social Media Lab LIVE show, that currently has 15 episodes, with the data from Live expert interviews I conducted that had no set time or schedule. In addition, we'll also see how Live video stacks up against short, uploaded videos.
SHARE WITH YOUR FOLLOWERS!
Click To Tweet
I want us to determine a few things with these insights:
Is a scheduled, formatted, weekly Live show better than once in a while Live videos?

Do Live videos with a guest perform better than simply having hosts/co-hosts?

Which is better: Live or uploaded video?
Rather than formulating and testing 3 hypotheses, let's go with one overarching statement instead:
Hypothesis: A Facebook Live video show with guests will result in more engagement and views than unscheduled Live videos or uploaded videos.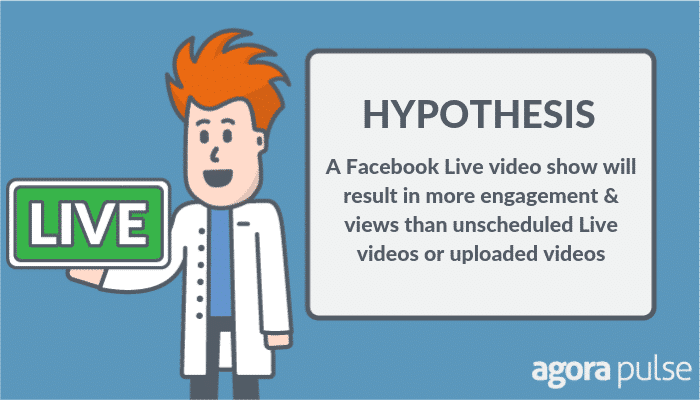 Where We'll Get Live Video Data
For this experiment, we'll be grabbing data from the Agorapulse Facebook page.
Social Media Lab LIVE
We have aired 15 episodes of Social Media Lab LIVE as of writing this article. It's a semi-weekly show I co-host along with Owen Video discussing findings from the Social Media Lab.
This high-energy show features lots of humor and production elements (various camera angles, co-hosts, guest in frames, sound effects, etc.) brought in that you won't find on any other show in social media marketing.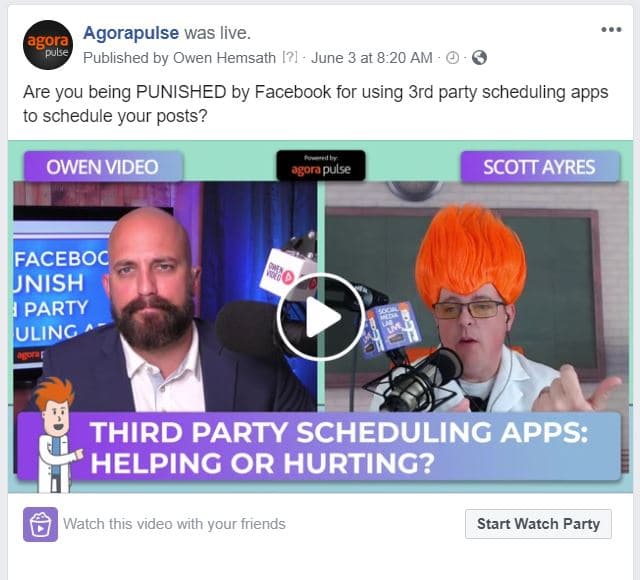 At times, expert guests share their insights on a particular topic on the show. Social Media LIVE has caught so much attention that Mike Stelzner, CEO of Social Media Examiner, mentioned us in his opening keynote at Social Media Marketing World.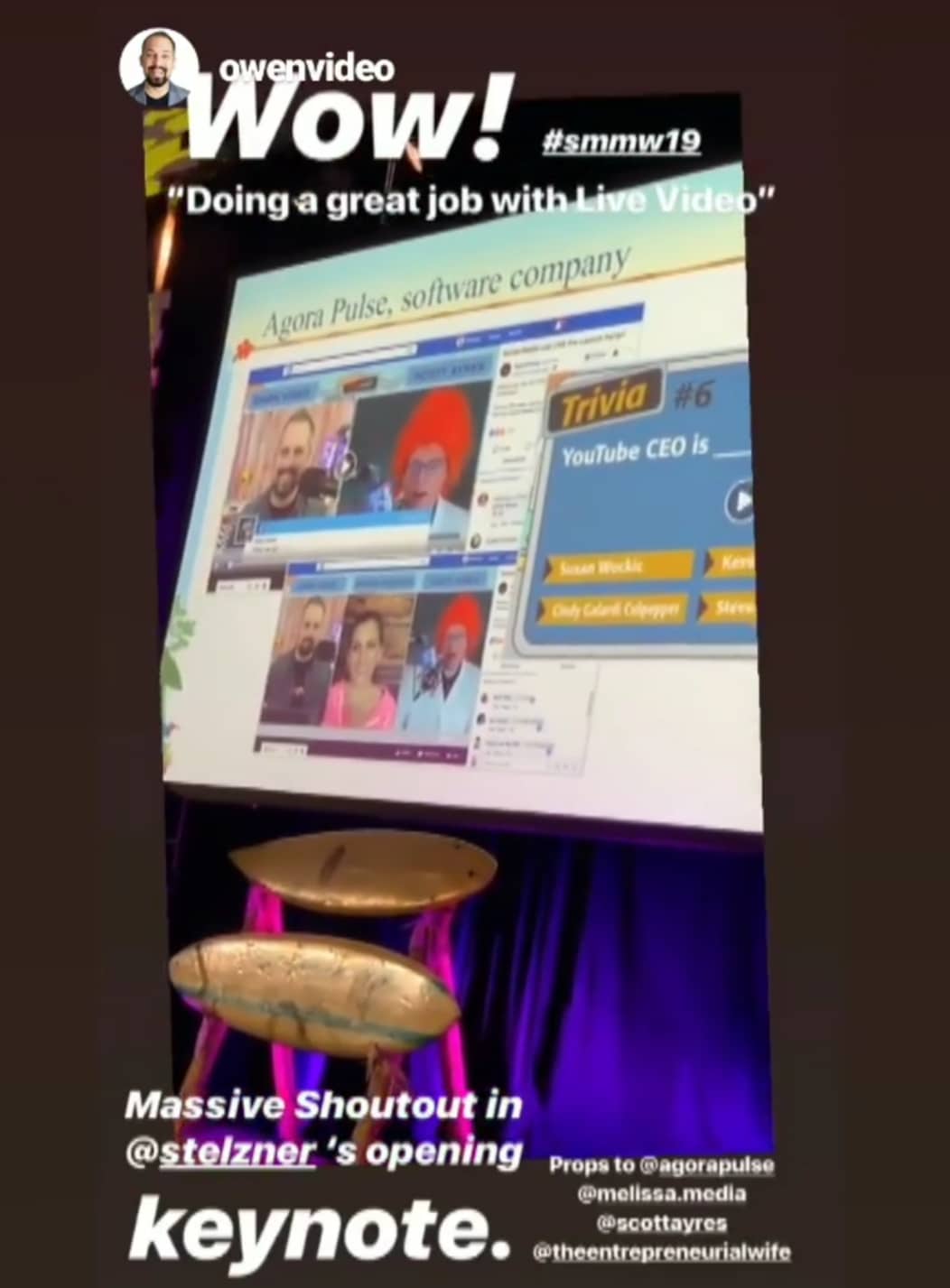 The show has a lot of planning involved before we go live, such as choosing the topic, creating images, lower thirds, updating ManyChat, scheduling the show on Facebook, etc.
The show also has an intro, and outro as well as a commercial about Agorapulse during each episode.
Expert Live Interviews
Throughout late 2018, I conducted interviews of social media marketing experts asking them to discuss their favorite online tools for business.
For this experiment, we'll look at the data from 9 of these Facebook Lives.
Here's expert Pam Moore: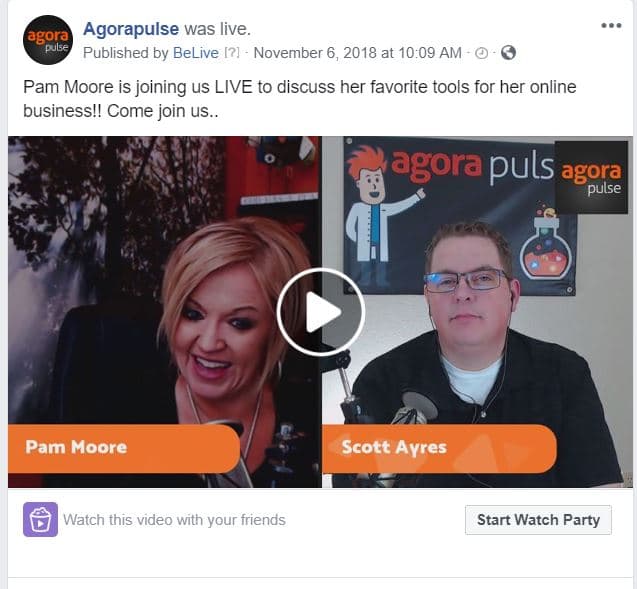 These interviews were not at a specifically consistent, scheduled time. They were conducted whenever the expert was available.
In many cases, that meant without any pre-scheduling or warning on our page. Each was about 30 minutes long without much audience interaction.
Our goal was to get snippets and content from this to use in other places, but we also wanted to see what Facebook Live did to our page's Reach.
Uploaded Videos
We will use data from 9 videos we uploaded to the Agorapulse Facebook page.
These videos are all under 90 seconds long and are snippets from the Live videos. They contain hot tips from the different experts, such as this one from Amanda Robinson: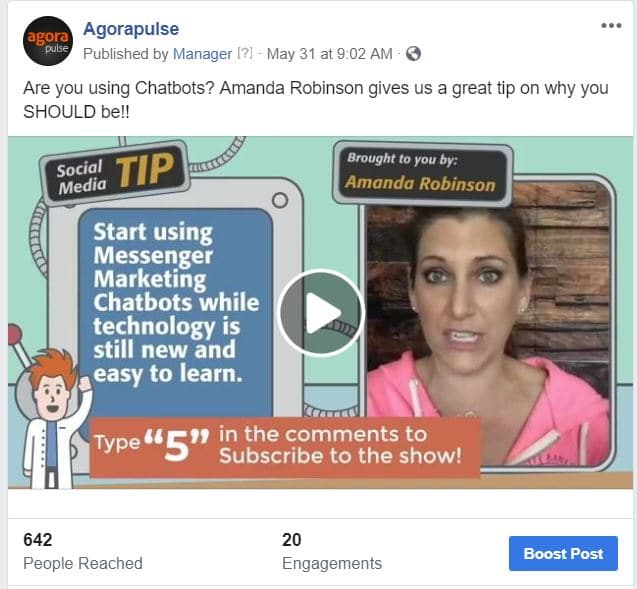 The data we gather from these videos will be the same as the Live videos except we won't have the "Peak Live Viewers" metric since obviously this is not a Live video.
The Data
We want to learn as much as possible about the Social Media Lab LIVE show compared to the other video types, so we'll look at a broad array of data. To make the data easier to digest I'll simply show the percentage difference in the performance rather than list out lots of data numbers.
Let's answer our first question: Is a scheduled, formatted, weekly Live show better than once in a while Live videos?
To put it bluntly, the weekly Live show crushed the unplanned Live videos! In every category, the show won.
For all of these stats below, the percentage is that much higher for the regularly scheduled show:
Click to play : 121.76%

Click to play retention : 109.41%

End retention : 377.78%

Reach : 11.75%

3 Second views : 50.25%

10 Second views : 91.34%

Unique 3 Second views : 41.74%

Post Engagement : 304.95%

Peak Live Viewers : 182.82%

Comments : 531.68%

Reactions : 146.52%

Shares : 110.53%
No doubt about it, our scheduled Social Media Lab LIVE show outperformed the Live videos we conducted on an inconsistent time.
Now, question 2: Do Live videos with a guest perform better than simply having hosts/co-hosts?
The data above proves the Social Media Lab LIVE show performed much better than the impromptu Live shows based on our data.
But within the Social Media Lab LIVE episodes, we had a mix of 7 shows with guests and 8 shows without guests.
We were curious to see if having a guest helped with the performance. I was completely shocked by this, but the shows with guests outperformed those without a guest.
The data shows how much higher:
Click to play : 18.01%

Click to play retention : 490.74%

End retention : 96.67%

Reach : 64.69%

3 Second views : 91.55%

10 Second views : 82.92%

Unique 3 Second views : 86.72%

Post Engagement : 146.85%

Peak Live Viewers : 62.16%

Comments : 129.74%

Reactions : 212.73%

Shares : 121.37%
This data makes me aware that we need to book more guests!
Lastly, we have one more question to answer: Which is better: Live or uploaded video?
We combined the data of all Live videos studied and compared against 9 uploaded videos to the Agorapulse Facebook page, as mentioned earlier.
Live video hands down was the winner. By a lot.
Here's how much higher per category:
Click to play : 234.83%

Click to play retention : 403.85%

End retention : 93.09%

Reach : 202.92%

3 Second views : 260.49%

10 Second views : 33.19%

Unique 3 Second views : 229.94%

Post Engagement : 2935.62%

Comments : 20504.55%

Reactions : 1146.90%

Shares : 6336.36%
It's quite obvious Live videos are better for not only enticing views but for engagement.
Conclusion
The Social Media Lab data shows us:
A scheduled Live video show outperforms sporadic Live shows.

Live video shows with a guest have better performance.

Live videos way outperforms uploaded videos.
It's clear that having a regularly scheduled, Live video show (with guests) is the best option for your Facebook page.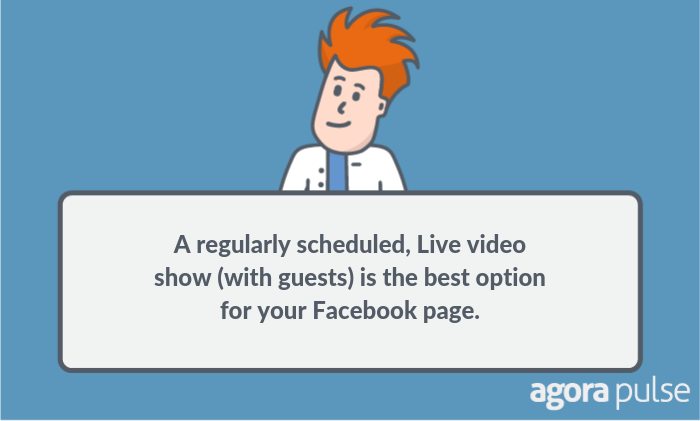 For Agorapulse, a scheduled Live video show is the obvious winner and something we will continue to focus on.
And since this post is about live video, here is our Social Media Lab LIVE show discussing this very blog post!
Be sure to also join our Facebook group to find out when our next Live show will air.
Join our "MemeIt" challenge! Download the image below, add your own captions to it, and post in the Social Media Lab group.
We'll pick a winner and mention during our show, plus make this into a t-shirt for you!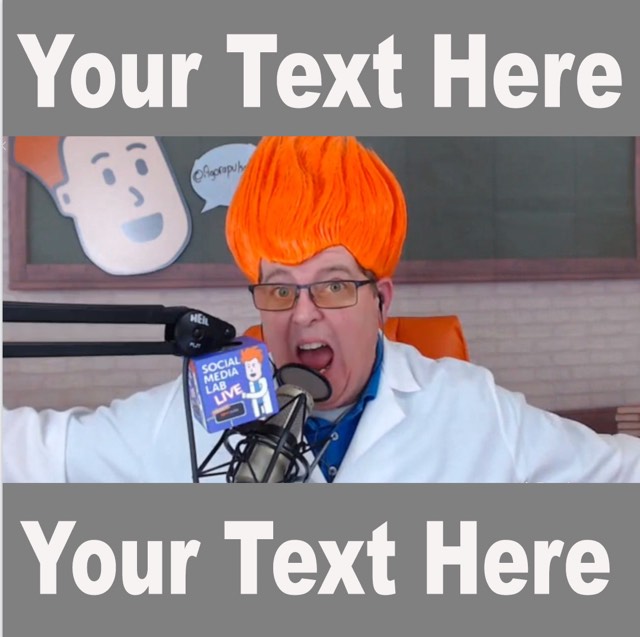 Don't miss an experiment!
New experiments and exclusive content straight to your inbox