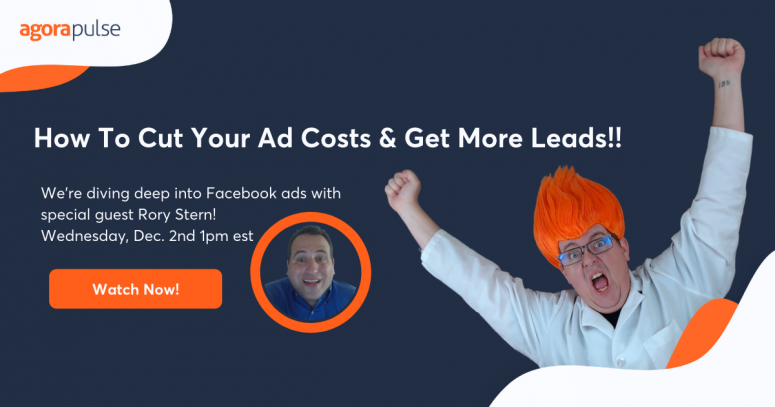 Subscribe to the podcast on Apple, Google or Spotify
Cut Your Facebook Ad Costs
Facebook ads are confusing, let's face it.
But, they don't have to be.
On this week's Social Media Lab LIVE we will be interviewing Facebook ads expert Rory Stern to dive into everything you need to know to cut your Facebook ad costs while getting more leads and sales!!
Who is Rory Stern?
Rory Stern just may be the only digital marketing and advertising expert you've ever met who also has a doctorate in Clinical Psychology.
His initial goals were to use that training and become a behavioral profiler for the FBI. However, that all changed when he found himself in the position of being a stay-at-home Dad to his then 6-month old daughter.
Rory is the CEO, and Founder of RFS Digital Media. As one of the premier Facebook advertisers, Rory is excited to share some of the best-kept secrets that have helped him rise to the top in the world of digital marketing.
Rory F. Stern has been a best-kept secret working behind the scenes to help build, grow, and scale many successful online companies for the last 14 years. Today, he manages a small boutique media buying team that specializes in multi-channel traffic: RFS Digital Media, which has grown to a business managing ~$8.25 million dollars in ad spend on Facebook by the end of 2018.
RFS's focus on compliance, results, and integrity ("how to stay out of Facebook jail") have earned him an array of loyal clients in both the B2B and B2C realms– from eCommerce to the corner tattoo shop to Fortune 500's and even political marketing campaigns.
Listen to the podcast above or watch the full video interview below:
What is the Social Media Lab LIVE?
Social Media Lab LIVE is hosted by Scott Ayres, the Content Scientist at the Social Media Lab.
It's a weekly show where Scott talks about social media marketing with expert guests and is always testing something!!!
Get started with Restream for free!!!
With Restream Studio, you can:
— Launch & demonstrate new products
— Drive flash sales & promotional offers
— Host interviews, Q&As, or podcasts
Don't miss an experiment!
New experiments and exclusive content straight to your inbox