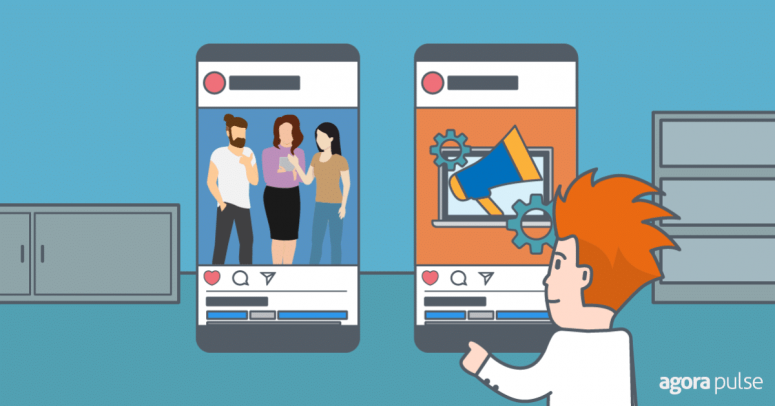 Subscribe to the Social Media Lab Podcast via iTunes | Stitcher | Spotify | Google Play
Graphics or Photos on Instagram, Which Gets More Engagement?
At the Social Media Lab, we recently proved through our research that color photos outperformed black-and-white photos on Instagram. Color photos gained 24% more Likes and 46.11% more Comments.
Based on these results, the Social Media Lab wanted to conduct an experiment to see how color photos performed compared to graphics on Instagram. We define graphics as created images using text and images, not photos.
After all, most brands prefer to use graphics to showcase their product, blog posts, announcements, etc.
If there is an advantage to using photos over graphics (or vise versa) on Instagram our data will reveal that.
Research on Graphics vs Photos on Instagram is Lacking!
Finding data-based research on this was near impossible.
Most articles are simply about what type of post looks best and theories on what performs best. There's no science to them at all!
Most blog posts referred to a study by Georgia Tech that found photos with human faces in them performed nearly 40% better than without. The problem with this research:
It's from 2014. And yet, articles in late 2018 are still linking to it.
This is a constant problem in the social media marketing industry is referring to old data that may no longer be accurate. That's one of the many reasons we launched the Social Media Lab. We need new data and new research regularly to handle our ever-changing industry.
Rather than rely on an old report, we at the Social Media Lab will conduct an experiment regarding performances of graphics vs. photos on Instagram. And we will provide new data for you to link to.
*If you prefer videos, check out the Social Media Lab LIVE show on this experiment:
Hypothesis: Photos will achieve more engagement than graphics on Instagram
Forming a research based hypothesis on this study was challenging due to a lack of recent data.
How We Tested the Performance of Graphics vs Photos on Instagram
The Data We'll Study for the Test
The data for this test will be very straightforward. We will compare the data from 30 graphics and 30 photos.
We will be evaluating the average number of Likes and Comments to see which post type got more engagement.
Instagram Account Used for Testing
We used the Agorapulse Instagram account to run this test.

Schedule Used for Testing
I used Agorapulse to schedule all of the content for this test, seeing as that's what our app does.
We posted 1 graphic and 1 photo from our team per day for 30 days. To remove any anomalies based on time we rotated the post types between day and night.
You can see the schedule below.

Type of Content for Testing
To test graphics I used images related to our blog posts for the main Agorapulse blog and for Social Media Lab.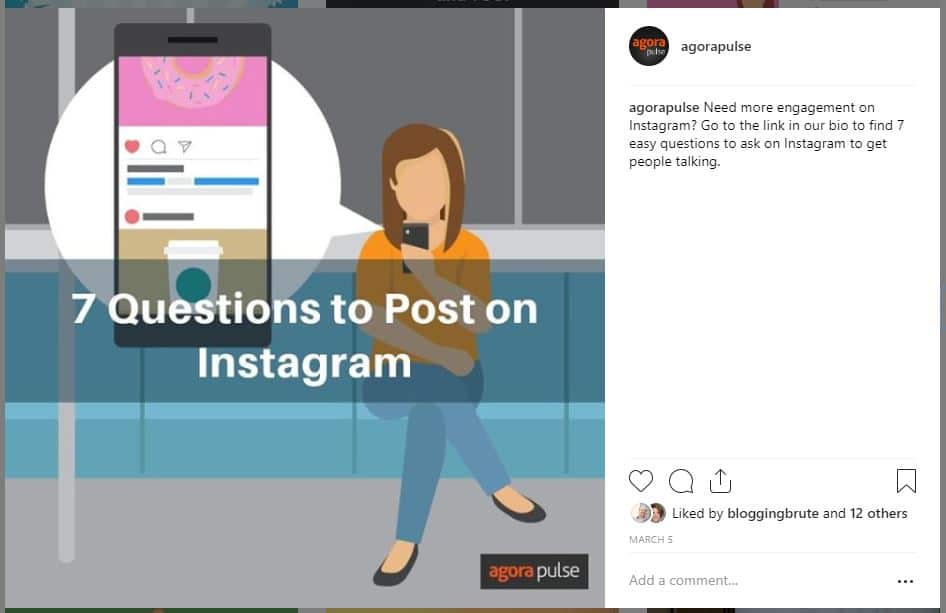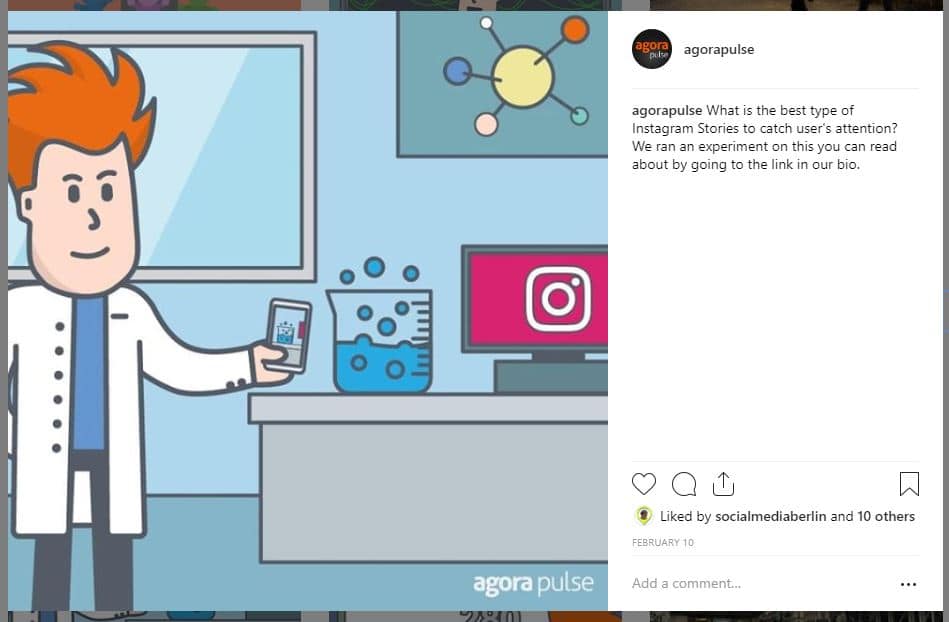 For the photos portion of the test, I gathered photos of our team members at Agorapulse in meetings or just their work life.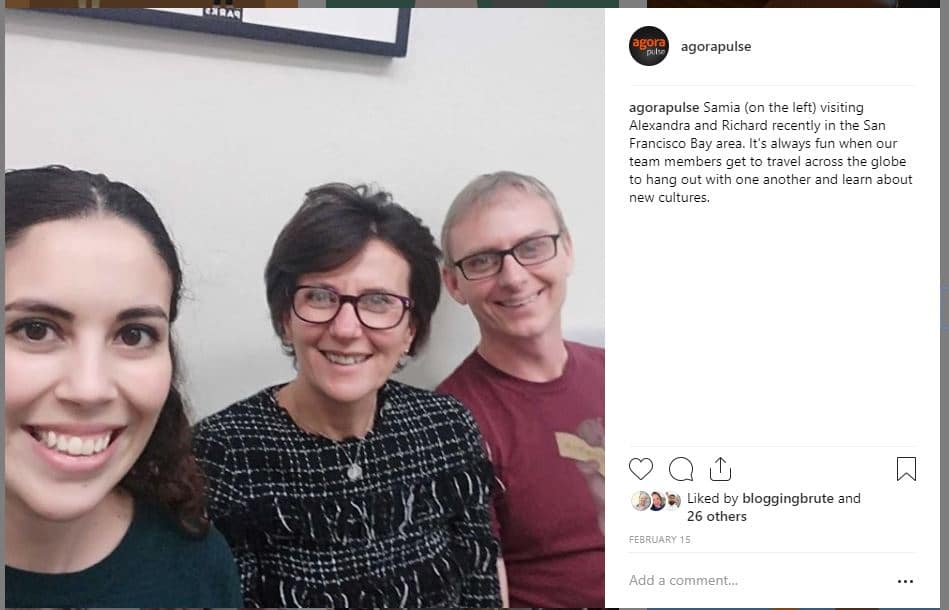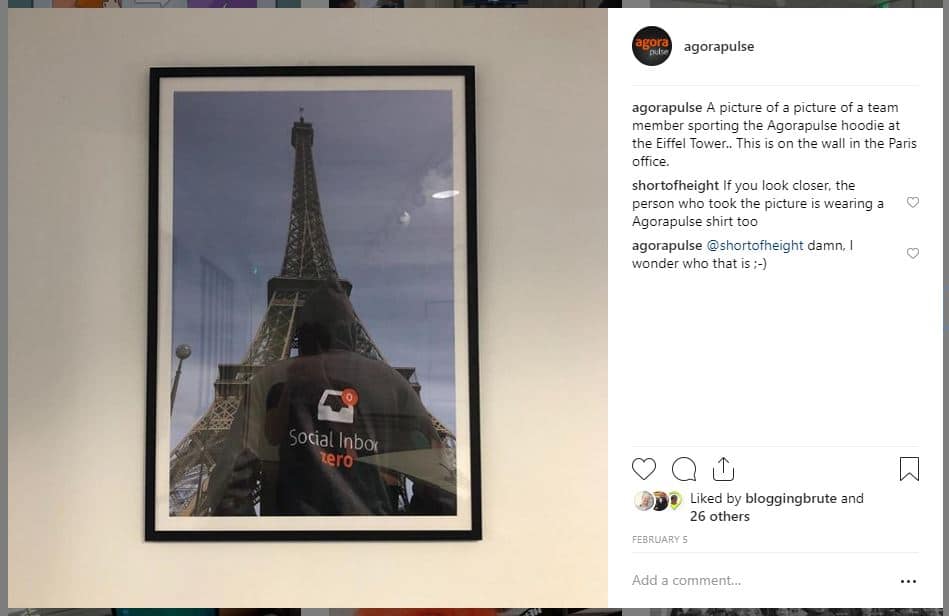 An additional caveat to this test you might notice from the screenshots is there were no hashtags used in the posts. I didn't want to skew the data based on engagement from hashtags being found by users on Instagram.
Making this test purely a test for our followers.
This is the best way to test engagement on Instagram as it lets us see what our followers really prefer and react to.
Results of the Graphics vs. Photos on Instagram Experiment
Photos
Likes: 36.13
Comments: 1.73
Graphics
Likes: 14.1
Comments: 0.43
Obviously photos won by a landslide!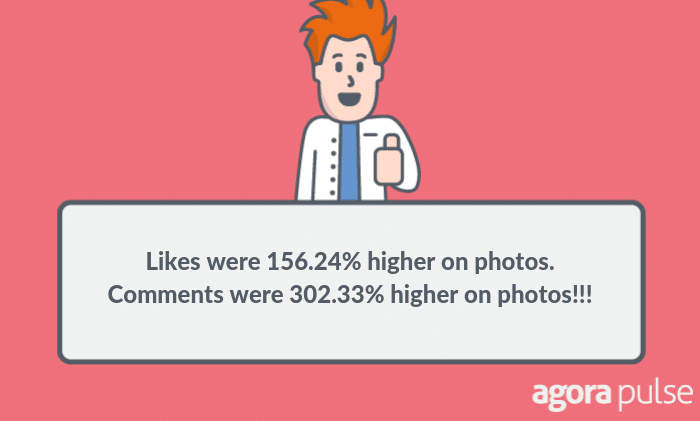 Likes were 156.24% higher on photos. Comments were 302.33% higher on photos!!!
SHARE THIS DATA!
Click To Tweet
An all of our tests we hope to achieve Statistical Significance, which basically means if we were to run this test again we'd get the same or similar results.
This test resulted in 100% certainty of being statistically significant. (We weighed this by adding the total users reached for each set of post type compared to the total like count for each post type).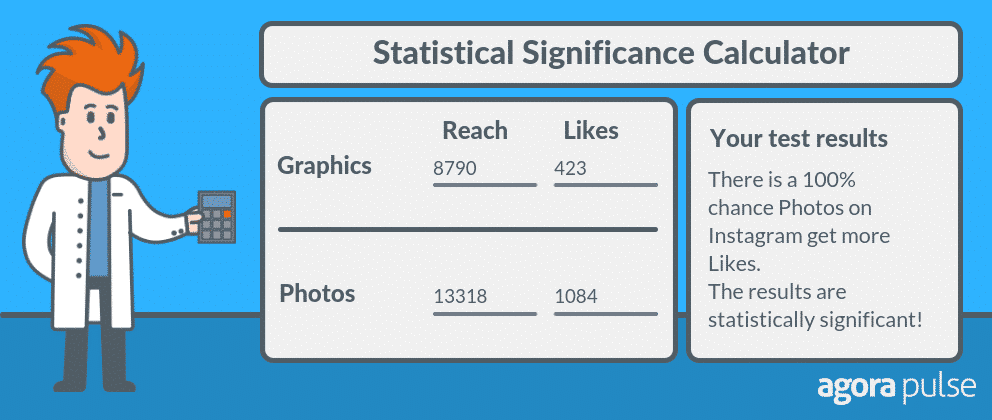 Closing Thoughts
Based on our Social Media Lab experiment, photos clearly won this battle.
Equipped with this data, the Social Media Lab would recommend focusing your Instagram posting efforts on color photos.
Photos can feature:
Team members (at work or play)
Your product
Influencers in your industry you meet at conferences
Local scenery relevant to your business or team members
Company retreats
Awards you receive
The list of ideas could go on forever. They key is making it personal to your brand.
If you do use graphics, I recommend mixing them in sparingly for promotional reasons or for those motivational type posts.
Don't miss an experiment!
New experiments and exclusive content straight to your inbox