Keeping your Instagram feed fresh with diverse content can be taxing—especially when your time and budget are tight. So what happens when you're feeling a creative block, too?
To help you create Instagram content, I've put together seven ideas with examples that really work, so you can try them out for yourself.
First, let's take a quick look at what the most successful Instagram posts cover.
What Instagram Content Does Well?
Time spent watching video is up 80% but photos still see more engagement than videos.
Pizza is the most popular Instagrammed food, with sushi and chicken taking 2nd and 3rd places.
The most popular hashtags on Instagram are #Love, #Instagood, #Me, #Cute, and #Follow.
Posts that include another handle gain at least 56% more engagement.
Posts with at least one hashtag gain 12.6% more engagement.
And posts that tag a location receive 79% more engagement.
Photos with faces get 38% more likes.
The most popular picture on Instagram is currently a picture of an egg with over 40 million likes. (True story.)
Let's assume that you don't have big brand's budget or advertising revenue. Now, let's look at some ideas that won't break your budget but will nab a lot of engagement.
1. How-To Posts for Instagram
If you have a product that can be demonstrated, Instagram Stories and saved Stories are perfect placements for your tutorials. A how-to tutorial will provide your Instagram fans with plenty of info about your product (its design, packaging, colors, and size) while also giving insider tips and tricks.
A how-to post would work well for beauty products, fashion, crafts, hair, cookery, tech, or any other gadget that can be demoed.
Clinique rocked the how-to theme with 5 Genius Foundation Hacks. (This is something you can do for your own products.) The key is to keep your how-to simple, focused, and fun. Remember, your aim is to make people aspire to own your product!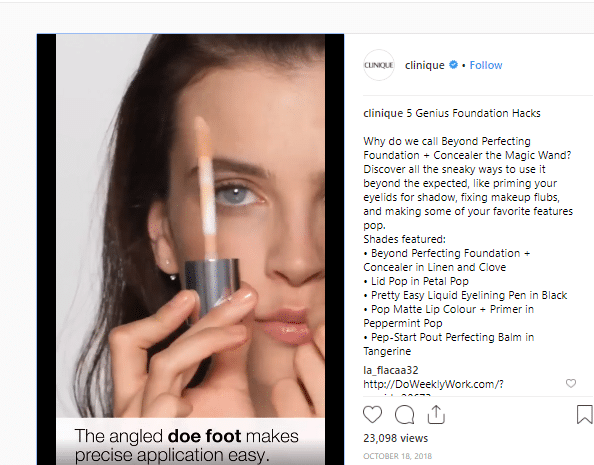 How to Ace a How-to Post
Show off the product from every angle and every shade or type available.
Keep the video short and punchy. (Fewer than 2 minutes is always best.)
List the details and purchase link in the description.
2. Behind the Scenes
Behind-the-scenes photos and videos are ideal for giving your fans a feel for your brand personality, amazing team members, and awesome working environment. They also foster transparency making you appear more trustworthy and authentic.
At Contentworks Agency, we dedicate our Instagram feed to "behind-the-scenes" footage capturing the real and funny moments of working in digital marketing. Here's Business Director Niki fronting out a dinosaur over coffee: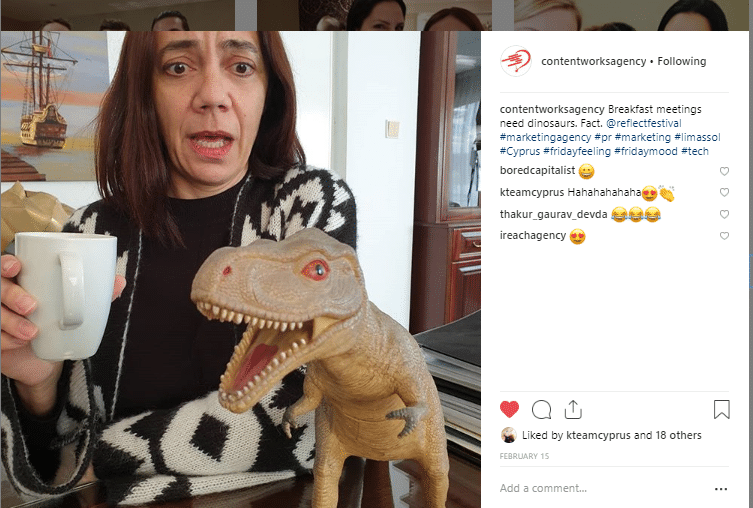 How to Ace a Behind-the-Scenes Post
Keep the content real; forget official statements and scripted videos for this one.
Share your fails as well as your glossy victories. (There's a huge market for humor. )
Interact with commentators or fans who will then become loyal to you.
3. AMA (Ask Me Anything)
Feeling brave? If you are, then AMAs are a tried and tested Instagram page idea for you to explore. They are also highly engaging and easy to shoot from a good camera phone in your office.
You can do an AMA with your team members, bosses or technical team. Just make sure you have people with a good knowledge of your brand and its products. You can keep the AMA to one topic such as "Ask our CMO about our rebrand" or keep it open for any questions.
General AMA sessions are a great way to learn more about your audience's interests and can help form future content if you notice recurring questions or themes.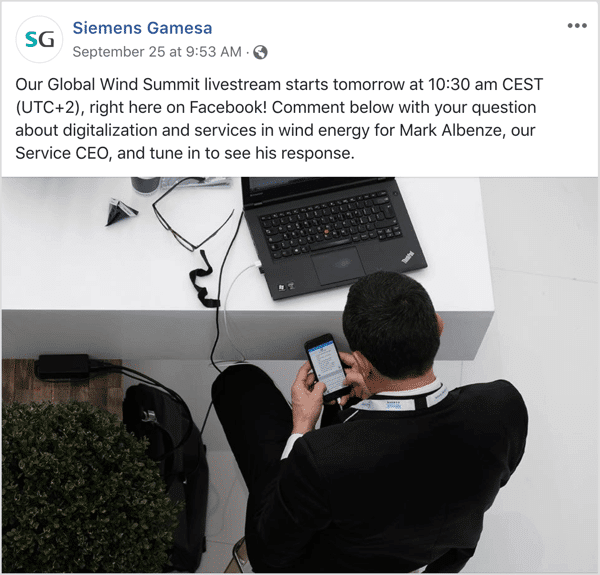 I love Siemens Gamesa who got just the right balance of hype on its AMA. The company has a team-centric Instagram account that makes the company appear open, caring, and honest.
How to Ace an AMA Post
Use the #askmeanything #AMA hashtag in your posts, and create hype before you go live.
Eliminate background noise or interruptions during your AMA. If they happen, roll with it. (After all you're live.)
A word of caution: Think carefully about doing this type of Instagram content if you've recently had a PR crisis. If you choose to go ahead, you should expect questions to be about the crisis, and be ready to answer them.

4. AMA Account Takeovers
An account takeover can be a little like the AMA or it can be completely different. How you do this type of post depends on your brand and how adventurous you are!
To do a takeover, hand the camera over to an interesting individual on certain days or for special events. If you make it a regular thing (for example, #TakeoverTuesdays), you're set for a regular Tuesday content plan.
If you're working with influencers, then consider this to be cross marketing, and expect to increase your channel's followers and engagement. You will attract fans who might otherwise not have found your brand (which is awesome).
Takeovers create a sense of urgency because the brand's followers and the influencer's followers have a very short window of time to catch the takeover live.
When beer brand Stella Artois teamed up with Matt Damon in an effort to help end the global water crisis, it was an absolutely epic Instagram Account Takeover. Now, we don't have Matt on our side (*cries a little inside*), but that doesn't mean social media managers can't steal the style of this account takeover.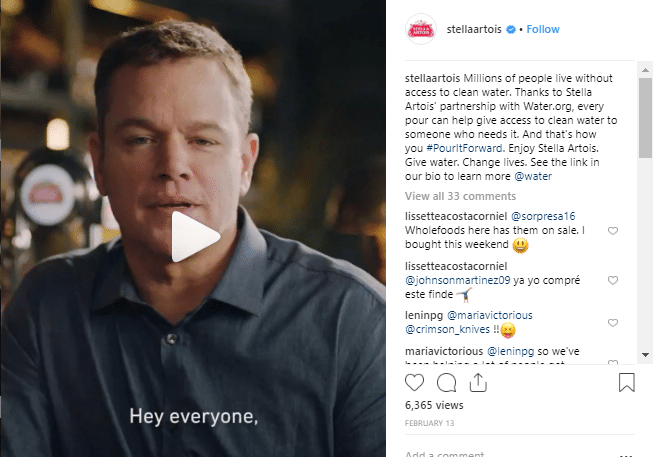 How to Ace an Account Takeover
Team up with your chosen charity or a local conservation group to help spread awareness. Allow their coordinator to take over your channel.
If you're a business brand, give one of your clients a chance to introduce its services or products. Twitter co-founder Jack Dorsey's company @Square posts photos of the businesses and people that use its products.
Let different teams (e.g., IT one week, Marketing the next) in your company takeover your account. Don't forget the people behind the scenes on your factory floor or delivery service.
5. Food Pics, Videos, Everything Food
Whenever I'm tagged by our content manager Kelly on Instagram, the post is always about food like juicy burgers, beautiful ice creams, syrupy delicious waffles. Why? We love food—so does everyone else!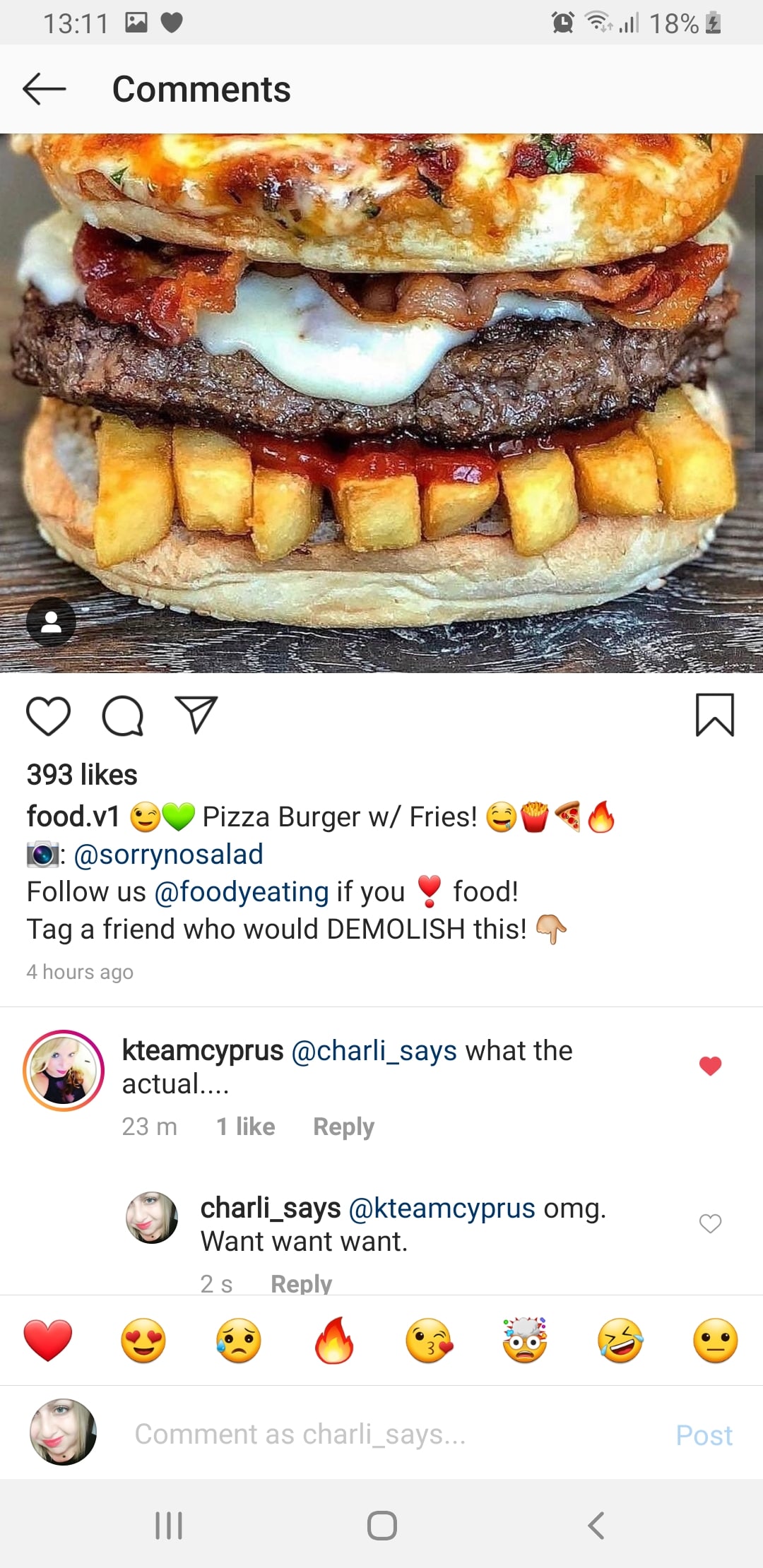 So, if you're running a café or restaurant, posting tantalizing photos of starters, desserts, and cocktails is absolutely the way to go.
And even if you're not a food brand, you can still do this type of post. Sharing photos of your team lunch, a company birthday cake, or branded cupcakes will absolutely get eyes on your posts. Why not make it a regular thing? You could travel around the office to see what everyone's eating for lunch or tag local eateries that your team likes to visit.
How to Ace a Food Post
Timing is everything. Restaurants post photos at around 11 AM because followers are hungry and thinking about lunch at that time. If they showed them at 2 PM, followers have already chosen where to eat.
Always use food hashtags in photos like this, even if you're not a food-based company. You will attract higher engagement and perhaps some new followers.
You don't need professional camera equipment, but you should aim to take clear, bright, and fresh photos. (Nobody wants to see Kevin from Accounting eat a dry tuna sandwich. Sorry, Kevin.) The idea is to make your audience hungry for your product!
6. Boomerang
Have you tried Boomerang yet? It's an Instagram camera app that creates short, auto-looping videos. (It's a bit like a GIF, but those are less easy for Instagram.) Your brand can experiment with Boomerang to introduce people, demonstrate a skill or technique, or show off a new product.
Mumm Napa Winery uses the short looping videos on its Instagram channel to show the wine being opened, fizz bubbling up, and glasses being clinked. This type of post ideal for these little snapshots in time. The great thing about Boomerang is it creates a studio feel without the need for expensive equipment. You can easily stage the perfect Boomerang from your office.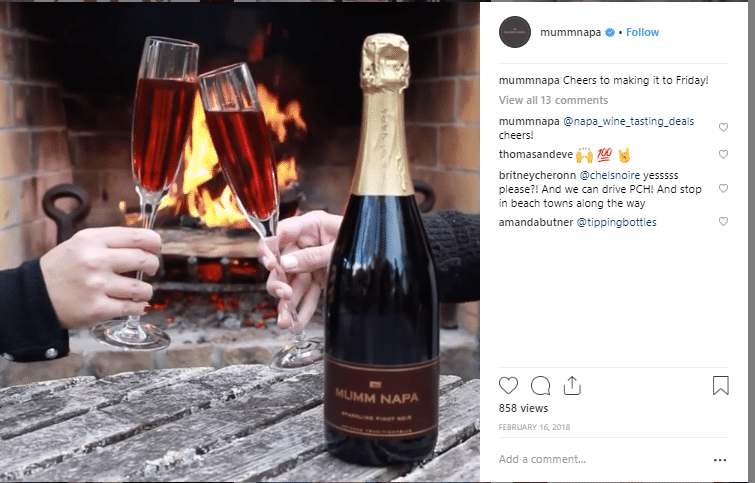 How to Ace a Boomerang Post
Don't try to get information across or to tell a story. Boomerang just captures a snapshot or gesture.
Remember that Boomerang plays forward, then loops backward and starts over again.
Make a live photo more interesting with Boomerang. Just open Instagram and swipe right to access Stories. Then swipe up on the screen to choose from the pictures in your camera roll taken within the 24-hour bracket. 3D Touch the screen to convert the picture to a Boomerang and post it to your Story.
7. Make a Slideshow
Instagram slideshows are great because you don't need to make a video. So, if you don't have the videographer and the studio but you want the effect, then this is for you.
Here's how you to make a slideshow post:
Hit the plus button to add a photo or video.
In the photo window look for "select multiple."
Choose up to 10 photos or videos.
Edit the order, add filters, write captions and tag people.
And you're done!
Slideshows work well for countdowns, top 10 lists, and step-by-step instructions. Slideshow posts are also incredible for showing before and after transformations or action shots that may be difficult to film. Check out Jason Paul, legendary parkour athlete and how he uses slideshow combinations of photo and video.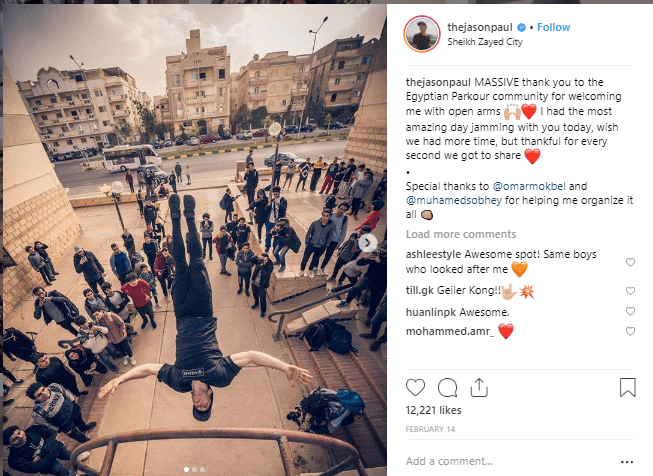 How to Ace a Slideshow post
Post pictures that share a theme. For example, a diner may share berry-flavored drinks or a small salon will share pastel nail polish choices.
Create a powerful story, and take your followers on a journey. Why not show the creation of one of your products, for example? Or the process of performing a service? If you are a hair stylist, show the color transformation from start to finish.
Use slideshows for panoramas. You can do classic panoramas, show them in bigger scale, or show different parts of an action shot. This would be perfect for outdoorsy brands like car companies, hiking equipment or sports accessories.
* * *
Instagram provides an ideal platform for you to get creative, and you don't need a big ad budget to get your brand noticed. Keep these Instagram content ideas bookmarked for those moments when you feel creatively blocked.