As a social media consultant, I work with a mix of small to medium size local businesses, all of which want to reach a local audience more than anything.
Here's what I tell them.
Step 1: Encourage your current loyal customers to join your online community.
If you have walk-in traffic at your brick and mortar location, have an email opt-in on your register so that local customers can be added to your email list where you offer incentives, coupons and introduce a loyalty program.
Do you attend local events? Don't forget to hand out business cards with your social media links so people can connect with you online. Don't forget to ask people for their cards and ask if you may connect with them on LinkedIn to 'continue the conversation."
Display signs at your location to encourage check-ins (on Facebook, Instagram, Swarm, etc.) so that customers' online friends will see their posts. Most often, when someone checks-in to Facebook, they will also 'like' the page; don't be afraid to ask them to do that.
Add your social media links to all current marketing material, including, but not limited to your:
Email signature
Receipts
Invoices
Glass decal
Brochures
Flyers
Business cards
Newsletter
Product packaging
Welcome packages
Appointment confirmation messages
Menus
Retail store signs
In short, you want everyone who already 'touches' your business in one way or another to know about your (new) social media channels. Ultimately, you want them to move from being an offline or in-person supporter to also being an active member of your online community!
Related Post: Social Media Marketing 101
Step 2. Use the right platforms.
Picking and using the right social media platforms for your specific business is important. Once you've picked the platforms, you also need to know about, and use, the right features, many of them specifically designed to help local businesses.
Determine which of these features will give you the greatest return for increased foot traffic, improved reputation, and greater sales.
Facebook
Facebook Reviews
Targeted Posts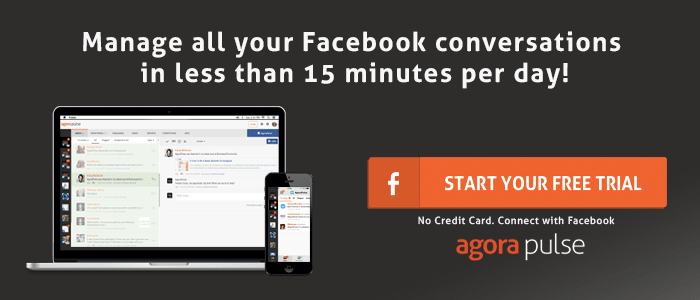 Google
Google Reviews
Google Analytics
Google Adwords
Page/Location Verification
Integration with YouTube
Reaching Mobile Customers
Pinterest
Verification
Group Boards
Location Named Boards
Promoted Pins
Buyable Pins
Instagram
Location Check-ins
Direct Message Option
Local Link in Bio
Location Keyword in Bio
Step 3. Find the right social media tools to manage your growing online brand.
Just being on each of these platforms isn't enough. The importance of using them correctly and to their full potential could be the difference between having a social media presence and having a thriving online community. To keep an online community growing, you need the right tools to manage, monitor and listen to what's being said about your business.
What better place to start with social media management than right here on Agorapulse!
If you plan to grow your social community, you'll need to monitor your accounts and Agorapulse is a perfect tool to
Track shares and mentions on Facebook
Listen for the keywords that matter on Twitter
Monitor hashtags and places on Instagram
With a good monitoring tool, you'll be able to listen what is being said about your business and where you are mentioned. Tools like Agorapulse make it easy for you to join relevant conversations — because you'll know that conversation is happening!
How do you market on social to your local audience? Let us know in the comments!
Burlington Mall and Claire's Corner Copia photos courtesy of Flickr/sierratierra.