One of the biggest advantages of working with a calendar is that you can see both the big picture and smallest details at once. A content calendar can also help your business:
o
Maintain consistent, on-brand messaging
o
Measure the most effective content you're posting and assist you with creating similar content
[Tweet "Take the guesswork out of posting to social media with a reliable content calendar."]
Do you have a system in place to boost your social media strategy and presence with measurable content calendar ideas?
If not, no worries, we're going to give you plenty of content calendar ideas for both new and old publishing calendars.
Start With The Basics
At B Squared Media, we use a content calendar to keep our Community Managers (CMGRs) organized, and since we share our calendar in Dropbox, we can see updates, suggestions, and changes in real time.
Here's a snapshot of what our calendar looks like …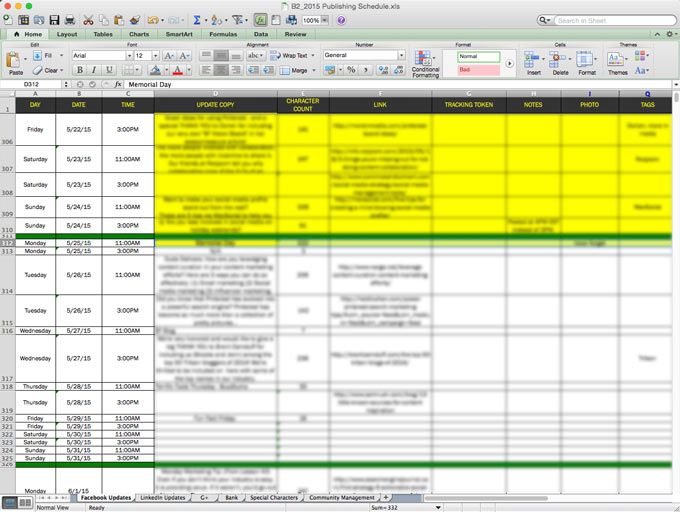 You can see that we house active social channels in different tabs, but the foundation of each tab is pretty much the same.
Every publishing schedule should at least have the following:
o
Active social channels: We have each channel listed except for Twitter — we use a different system for managing tweets
o
Date and time: We update our times weekly based on the analytics we review, such as Facebook Insights
o
Update Copy: We plug in our copy using spell check and Grammarly to ensure there are no spelling or grammar errors
o
Character Count: Some research indicates Facebook posts do better when they are 80 characters or less, so we like to keep track.
o
Link: Whether we're sharing a link to our own content or someone else's, we post the full URL here.
o
Tracking Token: When we're running a campaign to measure clicks we use this area for our tracking token or Bit.ly link
o
Notes: This area helps the writers communicate with the Community Manager who will actually post the content to a social site.
o
Photo: We name all photos and post them here since the person who created the visual may not be the same as the person who is writing the content or publishing the post.
o
Tags: Tagging helps with engagement! We list any people or pages that should be tagged with our content here.
Extras
We have a few extras that we've added over the years. We've found these items are critical to working efficiently and seamlessly as a team.
o
Bank: This is our repository for content that may be useful for us or our clients. When we bank a piece of content it often means we need a 2nd set of eyeballs to tell us if it's 100% on brand. This keeps all our content consistent with branding, messaging, tone and voice.
o
Special Characters: This area allows us to quickly grab any special characters we may need to post or tweet. It's especially hard to get the 'squared' part of B Squared shortened with an exponent, so we keep that 'B to the 2nd power' character seen on our blog posts here and ready:

o
Community Management: While posting to social pages is a big part of what CMGRs do, another highly critical part of their job is building the right community. The Community Management tab allows our CMGRs to note who they've followed and when.
[Tweet "These basic content calendar tabs will build a solid foundation, making your social media content strategy more efficient. "]
5 New & Improved Content Calendar Ideas
Now that you've got the basics down, let's get your content calendar up-to-date with fresh ideas for 2015.
o
Consider adding a 'Category' or 'Type' tab to help diversify content. Categories may list things like brand message, meme, fun/funny, PR, OPC (other people's content), thank you, engagement (asking a question or taking a poll), etc. Once you'e familiar with your own analytics, you'll start to see which types of content perform best. Or, you may find out that you're posting certain types of content (memes, generally) entirely too much.
o
Add outreach efforts. It's easy to get into promoting yourself and forget to thank your fans or followers for sticking around. Outreach efforts can help you schedule time to give thanks to your whole community or to one person in particular.
o
o
Manage your content assets in a tab. To help remix, reuse and recycle your content, create a tab that houses your assets by topic and type. For example, you may have sales or marketing decks that make great tips for social media use, or research for a blog post that can be turned into an infographic. When CMGRs get stuck, or when you're low on original content, one quick glance here can help you create new content from pieces that need a little dusting off!
o
Add a CTA column. The call-to-action (CTA) is all too often forgotten in the copy! The CTA is made up of words that entice the reader to take action, such as "click here," "read more," or "please share." By including the CTA in your copy, or adding a CTA column, you can ensure that you're always asking your readers to take the next step.
[Tweet "Use these 5 new & improved ideas to take your content calendar to the next level!"]
Persistence Pays!
Using and updating your content calendar often will not only help you grow your social media presence, but remain focused, efficient, and organized.
Are you using any unique content calendar ideas to keep your business running smoothly? Let us know what they are in the comments section below!
See you in the social sphere!