Your social media strategy may include brand awareness, lead generation, or customer retention. Those factors are all achieved through one thing: excellent social media writing skills.
Social media content writing includes short tweets, Instagram captions, and long-form LinkedIn posts and articles. It also includes responses, retweets, comments, and sometimes even TikTok and YouTube Short scripts.
In a nutshell, social media writing is your brand speaking on social media. So, writing for social media a critical role that directly impacts brand awareness, perception, and ultimately ROI.
In this article, I'm walking you through my five-point social media writing checklist.
Does Great Social Media Writing Increase ROI?
The short answer is yes!
Brands with consistently great social media content can spend less on paid advertising and glean a loyal following. Dutch chocolate brand Tony's Chocolonely has grown rapidly over the past few years yet spent zero on paid advertising.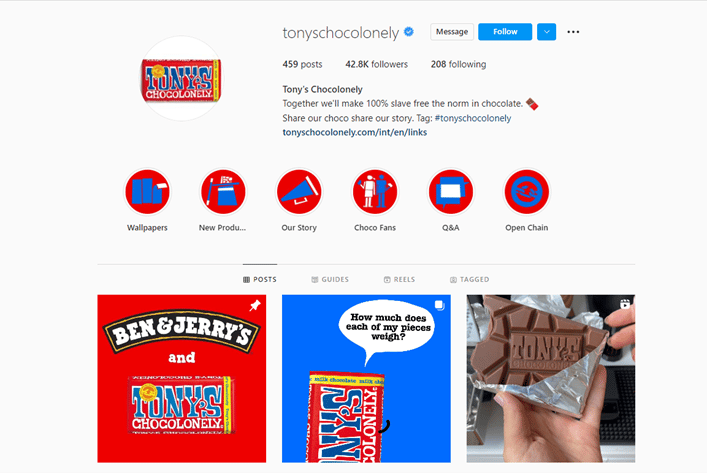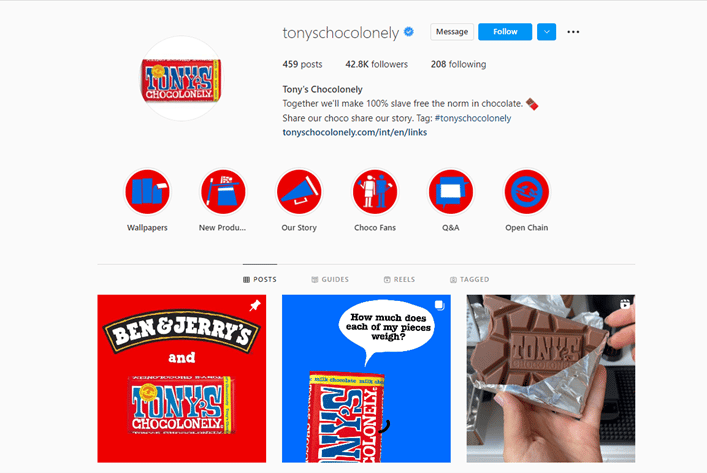 While its huge competitors invest millions into advertising each year, Tony's Chocolonely has reached revenues of over €100m (£83m) without spending anything. With a clear emphasis on corporate social responsibility and leveling the inequalities in the cocoa business, the brand places its product at the forefront of discussions with great content and messaging.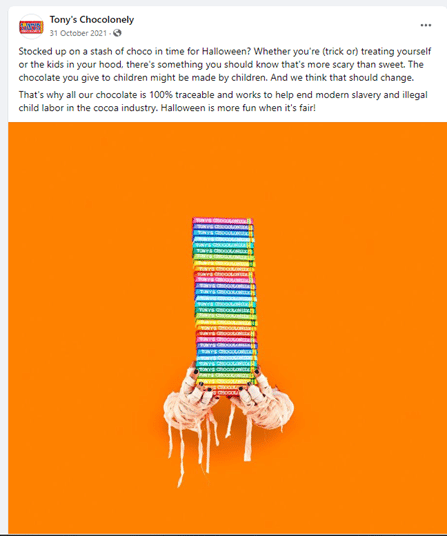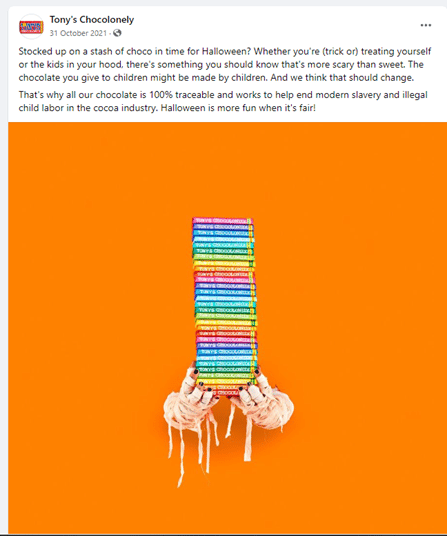 The awesome content tells the brand's story on the packaging and through social media content. "We really do believe if you've got a story worth telling then you shouldn't have to pay to tell it," says Nicola Matthews, head of Marketing at Tony's Chocolonely.
So, how can you nail great social media writing?
Let's look.
1. Know Your Brand Voice—and Use It!
A brand voice allows audiences to easily identify and relate to your brand. Sometimes called a TOV (Tone of Voice), most big brands will have this nailed down in an official document.
The tone of voice on your website, social media, video marketing, and offline/print advertising should be consistent.
Social media content must also adapt that brand voice to fit into relevant situations. For example, if you receive an angry complaint on Twitter, will your brand voice still be jovial? Probably not.
Budget airline Ryanair walks a nice line in regard to brand voice. Here's how they usually tweet. In fact, passengers troll them for fun and entertainment, much like @Wendy's.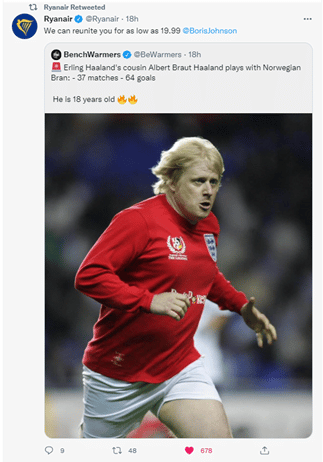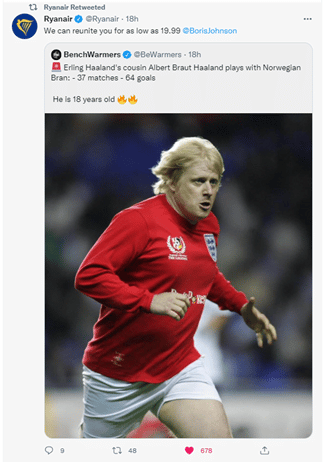 And here's how the budget airline responds to inquiries.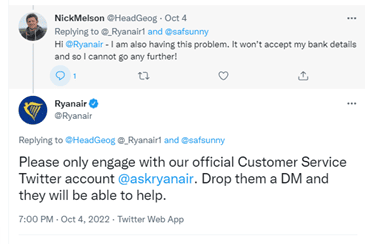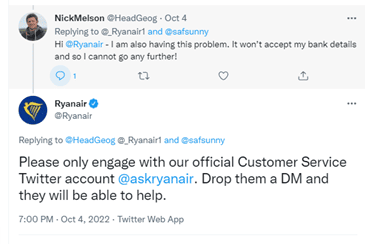 By keeping their customer service account separate, they can stay true to their TOV on the main account!
Quick tips for writing social content
Your brand voice may adapt slightly for different platforms. LinkedIn is less likely to be snarky and silly, for example.
Have a clear and actionable TOV document that includes social media.
Understand how to adapt your brand voice for different situations like complaints or PR disasters.
Know who you're talking to with a solid customer demographic documented.
Stay in character for responses and comments as well as proactive posts. (That is something many brands forget to do. Look at this cheeky banter I had with fun new cereal brand Surreal!)


2. Keep Your Writing Short and Sweet
One of the things done at Contentworks Agency is to break down very complex subjects, such as the stock market, blockchain, and cryptocurrencies and make them relatable.
Company founders and stakeholders often struggle to do that because their own knowledge is immense.
Realistically, though, social media fans won't have that level of comprehension. They also don't have the time or energy to read lengthy posts or technical ramblings.
So, keep your captions short and sweet.
Caption lengths vary between social media platforms, with Twitter allowing just 280 characters, TikTok now allowing 2,200, and Facebook allowing a whopping 63,206 characters!
But just because you're allowed to use 63K characters, doesn't mean you should. In fact, really, don't!
Studies have found that Facebook posts of around 40-80 characters perform best. And 40 characters or less will earn you 86% more engagement than longer posts.
Quick tips for writing social content
Hashtags are usually best placed at the end of posts. This is mainly for accessibility as contextual hashtags can be difficult to read. The exception to this rule is Twitter, where the character limit is shorter and contextual hashtags are commonplace.
Write the most important things first, especially in a longer post that might be cut off with a "Read More."
See how Fendi conveys the core messaging first followed by the list of credits. Core messaging in this case includes the campaign hashtag. For other brands, it might be the event, website, or discount deal.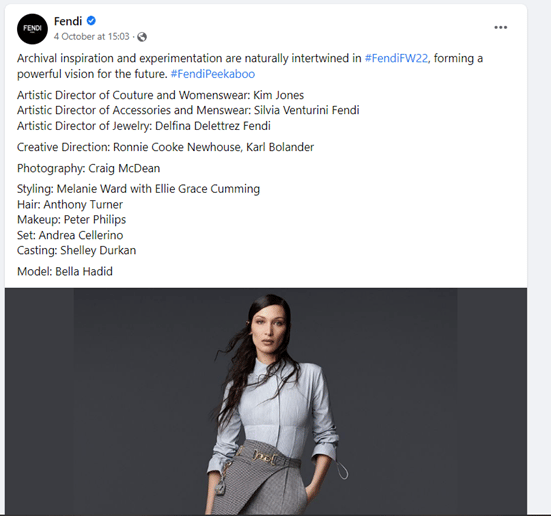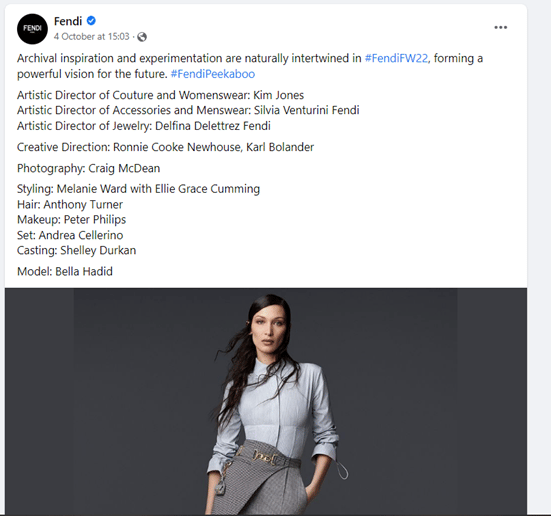 Write your posts out then edit them to be concise. Drop unnecessary words that don't add to the impact of the caption.
Use fewer words as a teaser to your link, video, or blog post. Create intrigue for the blog post rather than trying to write it all in a caption.
Convey your message with an image instead of a caption. For some brands, words don't speak as loudly as images. This is especially true on photo-heavy sites like Instagram and Pinterest.
Don't just tell your fans to buy a product because it's good. Describe the benefits of the product and what it will do for them. High-end London retailer Harrod's does this beautifully on Pinterest.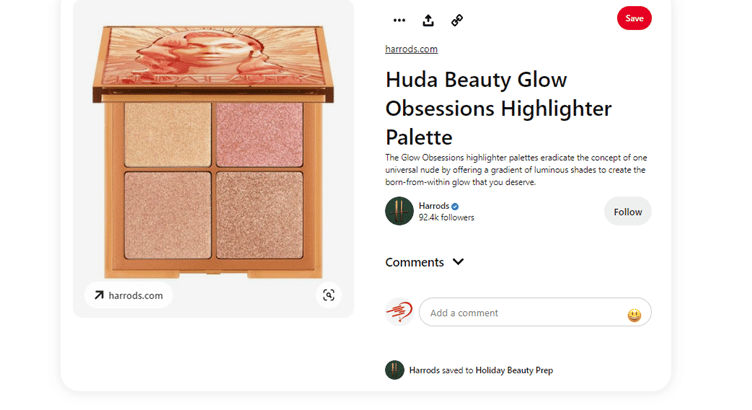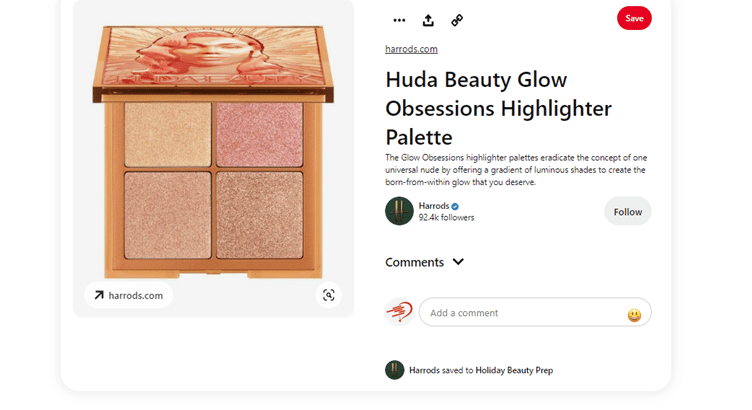 Keep your content focused on the end CTA. What do you want the reader to do? Read the blog/ click the link/ get the offer/ shop the discount.
Avoid asking multiple questions or giving different instructions in one post. Usually, readers will dismiss it as confusing or difficult and move on without doing anything.
3. Keep Your Social Media Writing Accessible
Social media accessibility is a hot topic at the moment. Many brands accidently alienate potential customers simply by the way they are writing and constructing social media posts.
If your social media content isn't accessible, you could be alienating those with impairments such as deafness, blindness, and color blindness. According to the World Health Organization, an estimated 2 billion people worldwide have some form of vision impairment, and 1 million people in the world are completely blind. Many people now use text-to-speech readers to read social media posts in their feed aloud. That means they can be a part of the social media ecosystem even if they can't see it.
Quick tips for writing social content
Hashtags not written in CamelCase are read as one word. For example, #Iwantaburger will not be read as words, where #IWantABurger will be.

Captions filled with emojis will be read by text to speech readers with the emojis in them. A few simple emojis will be fine. For example, a hamburger emoji swapped for the word burger will be OK. But cram too many into a sentence, and it will be hard to understand. If in doubt, look at the text that is linked to each emoji. That's what will be read aloud.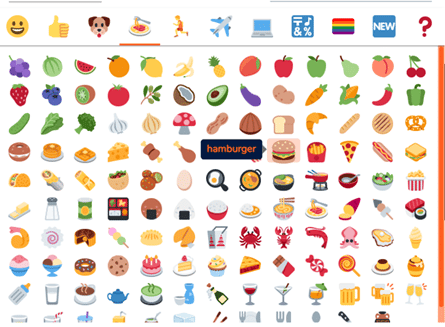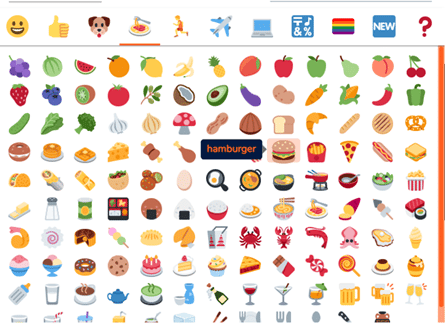 Text written in multicolored fonts (popular on Instagram) often isn't picked up either. The same goes for unique or heavily customized fonts like the ones below.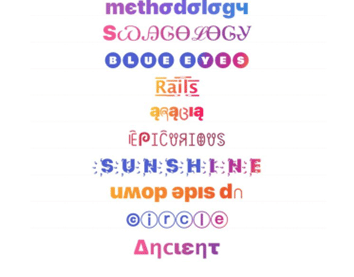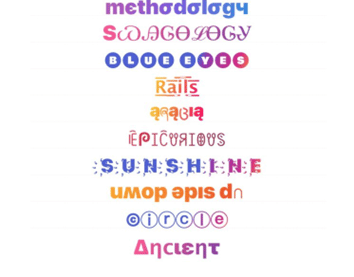 Alt tags are available on most social media platforms and allow you to describe the image to people unable to see it. Over on Twitter, alt tags look like this: Adding the alt text can be done when you upload the photo, like this one of my cat Pie.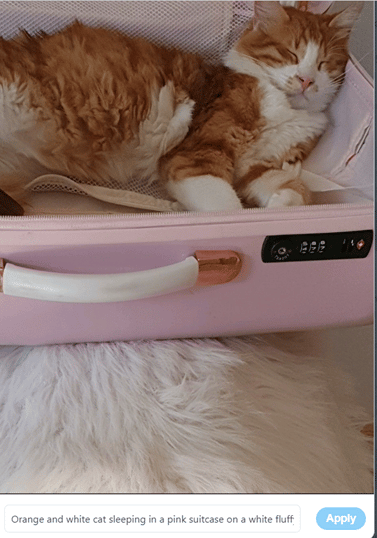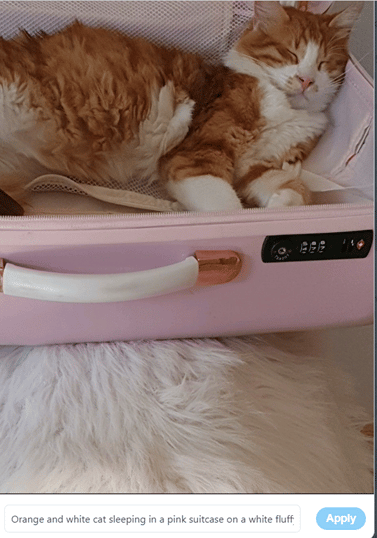 Include captions in your videos. This is accessible for everyone including the near 90% of us who browse social media without sound. Often, that is because we are at work, on public transport, or don't want to have ads blasting out as we scroll. Adding short clear captions to in-feed videos will ensure your video is watched by more people.
4. Craft Great Replies for Social Media Content
Posting updates is only part of the social media writing process. You also need to construct on-point and on brand replies. For social media managers with busy channels, writing replies can be labor-intensive and often rushed.
Rushed social media responses can easily fall out of brand voice,and they may also include spelling or grammar errors. For sectors heavily governed by compliance and legal, a poorly worded response could also spell legal trouble and huge fines!
Quick tips for writing social content
Replying promptly to questions is a key component for great social media management. Utilize tools to speed up the process like Agorapulse's saved replies. Saved replies are ideal for frequently asked questions like delivery costs, store opening times, business directions, and questions about your business or services. You can create as many as you like and easily edit them if things change–like Christmas delivery times. You can also create different messaging for different channels, which really cuts down on reply time! To create a new saved reply, click on "Create a new reply." First, name the reply, then add your text in to the field below. The next time you go to respond on that channel, you can choose from a list of easy drop-down replies.


De-escalate problems before they become huge. Posts and tweets can quickly go viral so social media managers are often tasked with preventing it. Swift and polite responses go a long way as do gestures if you're allowed. Notice how the

National Trust

below quickly de-escalated but also moved the conversation over to a DM. This is very smart because it shows publicly that the issue was dealt with and moves the rest of the conversation to a private space. The digital alternative to a free cream tea could be a discount code or free shipping.



Double-check spelling and grammar on all your replies. It doesn't matter how much fun your brand is, how casual you want to be, or how many abbreviations you're using. Poor spelling and grammar reflect badly on your brand and will give your audience the impression that you're not on top of your game.
5. Credit People and Engage Your Audience
Writing for social media isn't just talking at your audience and then walking away. It's meant to be social! That means posting, responding, engaging, and tagging others in your posts. Whether it's tagging another brand, a partner, contributor, ambassador or micro influencer, it's important to be sociable.
Quick tips for writing social content
Interact with competitors. This one isn't going to be right for all brands but it's an increasingly popular social media technique. Look at McDonalds and Burger King snarking at each other. They even perform

social media listening

on each other so they can jump in and troll.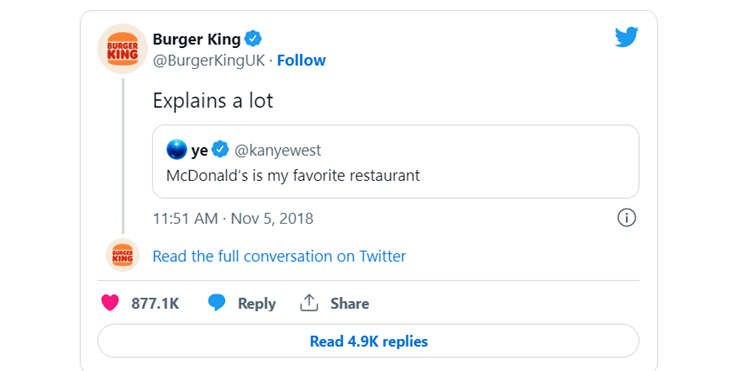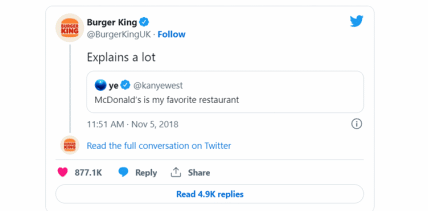 But it's all good-natured and entirely deliberate. In fact, the brands have been known to team up and encourage consumers to choose the other one for charitable campaigns.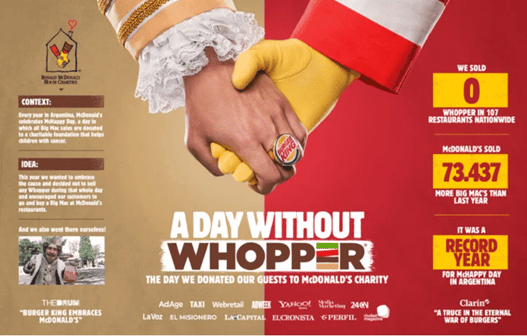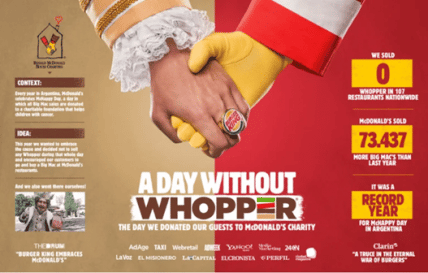 The comments you leave on fan posts tagging you or showcasing your products don't need to be elaborate. A simple "Thanks for the mention" or "We love this" is enough.

Team up with partners or complimentary businesses and use the same hashtag. This keeps your message unified and shows that you're working together.

Luxury furniture brand @luluandgeorgia

on Instagram keep tagging simple crediting customers and photographers neatly in captions. Failing to give credit can lead to a lot of resentment and backlash among creators.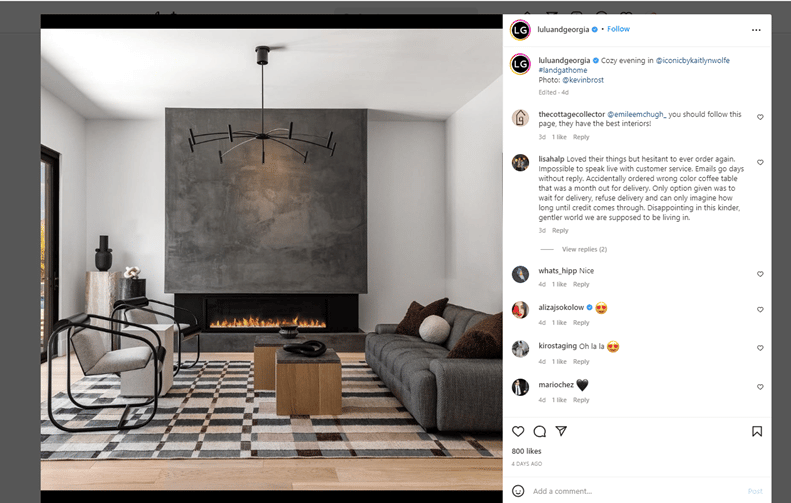 Writing for social media is an increasingly challenging task for which many big brands will either outsource to an agency, or source additional writers. Utilizing tools like post scheduling, listening and saved replies from Agorapulse keeps you organized, on brand, and free to identify brand ambassadors and juicy trends.
Ready to start writing great social content for all your social media channels? Start your free trial with Agorapulse here!