You've heard the words "dark social" bandied about … but what does it really mean? Is it as mysterious as it sounds? Actually, you've probably been making the shift to this form of social media marketing already.
Relationship marketing expert and thought leader Jessika Phillips recently joined Agorapulse's Social Pulse Weekly Show to share what social media managers should know about dark social.
Here are some highlights from Jessika Phillips discussing dark social media on Agorapulse's weekly Facebook Live show.
What Is Dark Social?
Dark social defined
JP: "It's not the dark web. Don't worry! It's completely different.
"What dark social ultimately is this shift that all of us are taking part in right now. (And we probably didn't even realize it.)
"But what we're doing is we're spending more time communicating with each other in private ways, meaning messenger messages and direct communication.
"One-on-one with each other has overtaken what we're spending on social. So, I'm talking like Facebook Messenger, Instagram messenger, Facebook private groups, and even email communication.
"Those one-to-one messages sent back and forth actually represent 80% of all of our traffic."
Download our free dark social ebook right now!
Is It Important to Know About Dark Social?
JP: "The shift is taking place where people are taking it less from putting it all out, public-facing to everyone and more.
"One-on-one, more intimate niche channels are where people are communicating with each other to share messages … and really messages about brands, too."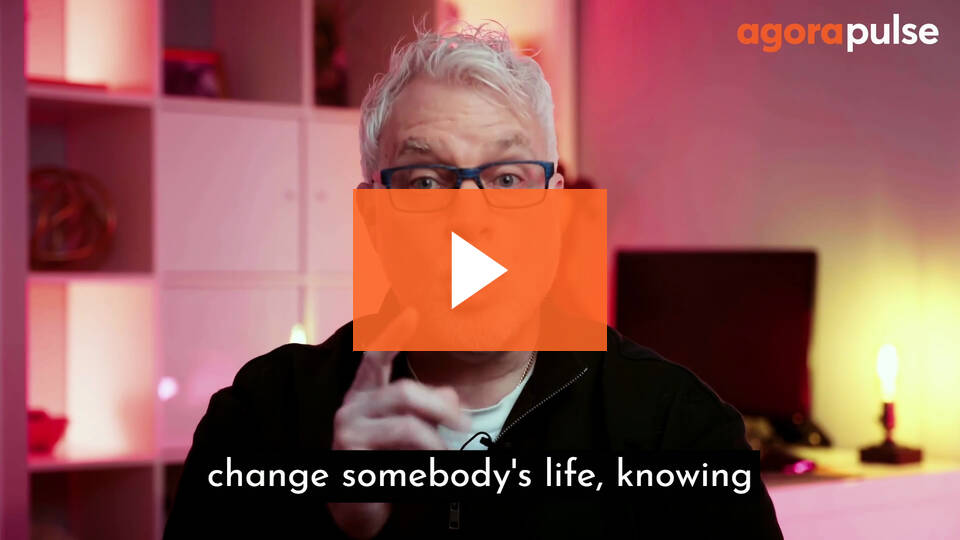 How Can My Brand Join in Dark Social Media Conversations?
JP: "It's really about just understanding how your clients communicating first and what they're wanting to communicate, one on one with each other.
"Typically, the conversations that are happening about brands are people asking for recommendations. It's asking how they can get assistance with something.
"If we're talking from a brand level, it's about starting the conversation personalizing conversations and also using a mix of some automation tools like messenger marketing (or some people call them chatbots) or conversation prompters right on your website as well as on your social media tools to kind of kick-start the conversations off and get people in your clients to communicate with you and get comfortable communicating with you.
"So you, as a brand, are thinking, "How can I not make this about my brand per se but make this about my audience and create something that people want to be a part of it they feel more intimately connected together?"
"To start, share, and continue those conversations. You, as the brand, get to be the person that brought them together, so you get invited into it."
If you want to dig deeper into dark social media, grab our free ebook about dark social right now.
How Do You Measure Dark Social?
JP: "It's really hard right now so unless you're part of it you, you can't—unless you purchase the tool to measure it. There's only a few that are out there, like some analytics tools and some of the others are trying to catch up with this.
"But really, it's not easy to measure unless you have something like UTM, you know, added in within each of your links or using a third-party tool.
"The only other way of measuring like your impact is knowing what you're starting the conversations about and what the results are."
Related Read: How to Measure Dark Social
"This was actually first talked about five years ago when the shift started happening. And people were like, 'Where's all this traffic coming from? It's great, but why are we getting our sales and where can we attribute this?'
"You know, it's driving people crazy. Our analytics people are trying to measure the effectiveness, so people are scrambling to get it done.
"I don't have like a solid right answer on how you measure it because I'm still trying to figure it out myself of how to truly attribute the conversation via impact to your website analytics!"
What Are the Biggest Mistakes Made in Relationship Marketing?
JP: "There are some things that tie into dark social to where it's making mistakes. I think we're at a weird point where we as consumers have been spoiled, where we bought things now, and we want to be able to do it on our own, and at our own convenience—right until we don't.
"I'm talking about like being able to fill out a form and order something online and be able to do it all on my own. I want that.
"But if something's broken or I can't get to that thing, I want to be able to connect with a human instantly or else I'm going to get a little frustrated.
"It's a weird place for brands because they think, "OK, do I either go all-in on automation and all in on this high tech and just let them self serve and kind of start hiding my phone number OR do I keep it my old school way of just making it all about our people?"
"You really kind of need to have the best of both worlds because that's what we, as consumers, really want.
"I think brands where they fail that in relationship marketing is that … they've only been taught to focus on getting new sales in, and that's it.
"I feel like they really need to take a step back and realize that their marketing isn't their marketing anymore. Their customers are the ones; they're sharing it for them; they're sharing it about how their experience has been with this company and really communicating with each other.
"Those are dark social conversations like we've been talking about.
"And then, if this is happening and the brand hasn't been able to be part of those conversations, they really have to be able to create some really magical experiences for their audience to spark the good conversations that are going to be shared and these channels when they're not around.
"To do this, they really have to focus on who is their ideal customer. What is their brand known for? What should it be known for? Like what doesn't make them special and what kind of magic little bits can they add and that people would want to talk about.
"And then lastly, [brands need to know] where they want to go. So really know themselves, know their client, and then plot in or add in the special sauce (I call it 'the craveable factor') to make people want to come back.
"Like focus on client loyalty, instead of marketing. And once you focus on that, you really do get this good blend of ease of doing business with you, reducing some friction points of doing business with you, but also getting super-personal and really connecting and building relationships like true relationships for repeat referral business.
"So people want to cheer you on instead of you just trying to go after all the new people all the time."

Video About Dark Social
Watch the entire video to hear more about Jessika's thoughts about dark social, networking, and creating craveable content:
Social Pulse Weekly with Special Guest Jessika Phillips!

Do you know what "Dark Social" is? Relationship Marketing Expert and Thought Leader Jessika Phillips joins us LIVE Friday to tell us what you should know about "Dark Social," how to grow deeper relationships online that lead to sales & the power of craveable moments. The brilliant Bella Vasta is this week's show sponsor and will also be sharing her insight! Join the conversation and start the new year with the tools you need for success!__ABOUT JESSIKA PHILLIPSSelected as One of the Top 12 Global Rising Stars on Social Media to Watch and Woman-Owned Business of the Year in 2018: Jessika is on a mission to make relationships the forefront of business marketing. She's known for this outspoken dedication to Relationship Marketing. Jessika lives by her statement that "Relationships will always be more powerful than marketing," and she believes in being a magnet vs a Bullhorn to truly connect with your tribe.As a social media strategist, Jessika founded NOW Marketing Group in 2010 with only a laptop and a vision. The company is now a Forbes recognized Agency Partner and a certified inbound partner with Hubspot. NOW Marketing Group works with more than 100 clients across the United States and beyond, choosing to serve – not sell.As a relationship marketing evangelist, Jessika also founded Magnet Marketers and The Relationship Marketing System, membership sites that provide curriculum to help businesses grow. Jessika also teaches comprehensive Relationship Marketing, presents in a weekly videocast "Magnet Marketers" and hosts one of the largest social media Midwest conferences, Social Media Week Lima.__ABOUT JENNIFER WATSONJennifer is the social media manager for Agorapulse, a podcaster and speaker. She has a diverse background from working on camera to executing digital strategies. Jennifer is a dynamic talent with a passion for every aspect of digital media from building brand strategies, creating content plans, to getting executive buy-in. She motivates audiences from the stage and drives engagement, including launching numerous Facebook Live campaigns for the biggest weather brand, garnering millions of views. She has been featured in Chief Content Marketer Magazine, and on stage at Social Fresh, Social Media Marketing World, Social Shake-Up to name a few.__ABOUT AGORAPULSEAgorapulse is the #1 rated Social Media Management tool! It helps businesses and teams manage all of their engagement and success on Facebook, Twitter, Instagram, LinkedIn and YouTube. You can learn more and start a free trial of your own at https://www.agorapulse.com.Music: "SuperZoom Dramatic Spy Remix" by Dren McDonald

Posted by Agorapulse on Wednesday, January 8, 2020
* * *
Sign up now for a FREE demo.