Dark (or unpublished) posts are incredibly popular at the moment—championed by large enterprises and small businesses alike—and it's not hard to see why.
(Editor's note: You can read more about managing Facebook comments in this recent article.)
Simply put, they're posts created for advertising that aren't visible on your timeline. You can only view them by clicking on an ad or another kind of direct link. They're very effective at a few things—like hitting multiple audiences or vetting ads.
But they can also be a little frustrating to manage, and comments on Facebook unpublished posts are impossible to manage without the right tools.
The Problem With Dark Posts
The thing is, fans like to comment on posts, whether published on unpublished and they don't actually know when a post is "unpublished" as it looks like every other post on their newsfeed. But as these posts are not present on your page. they are very difficult to find. So are the comments made on them.
That's why Agorapulse's Facebook Page Management feature that allows you to sync comments and likes on dark (or unpublished) posts along with everything else in your Facebook Page inbox.
And today, we're going to show you how that works.
Managing Dark Post Comments with Agorapulse
Agorapulse is a suite of social media management tools. One of its key benefits is its ability to organize all your fans' messages, comments, mentions, and shares in a convenient unified inbox.
We advertise regularly on Facebook using Dark/Unpublished posts, and we were getting a lot of comments on them. Finding and responding to these comments was a major headache, so we went digging on Facebook's API and found a solution to include all comments made on dark/Unpublished posts and we included them in our unified Facebook Inbox.
Now, we use the Facebook Moderation tool in Agorapulse.

You can see Agorapulse's Facebook inbox feature above. Dark (or unpublished) posts are now included with regular posts comments and private messages.
The following comment happened to come from Viveka von Rosen, a social media influencer, so we did our best to be charming and replied back.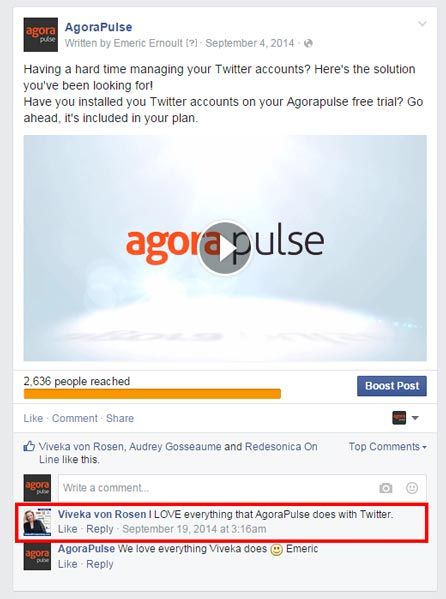 And a moment later, our reply was live. It's that easy!
Why Managing Comments Is Important
Would you leave a positive comment unanswered on a regular post? You don't want to ignore unpublished posts, either. But you need to see them in order to respond!
You may also receive comments that aren't so positive. Like this one: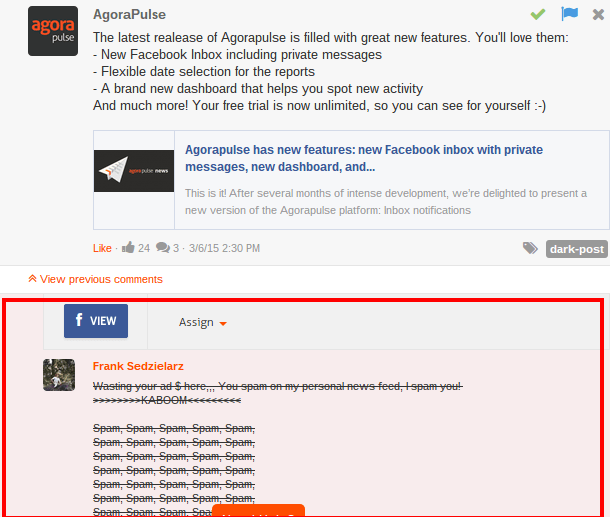 Not the kind of comment that would help our ad perform well, that's for sure. We were pretty happy to spot this one and delete it right away. This is the kind of feedback you need to be aware of and deal with.
This may also help you identify an issue with your targeting, maybe these targeted users are not in your sweet spot.
Recently, it helped us spot a typo in our ad. We were notified about the comment pointing that out and were able to make the appropriate changes: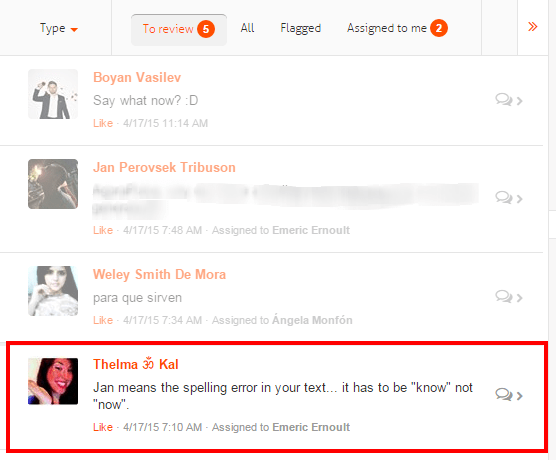 Leaving a comment (positive or not) unanswered on a Facebook unpublished post is like sending a sign that your brand doesn't care. And that's not the image you want to give to the users who'll be exposed to your ad, is it?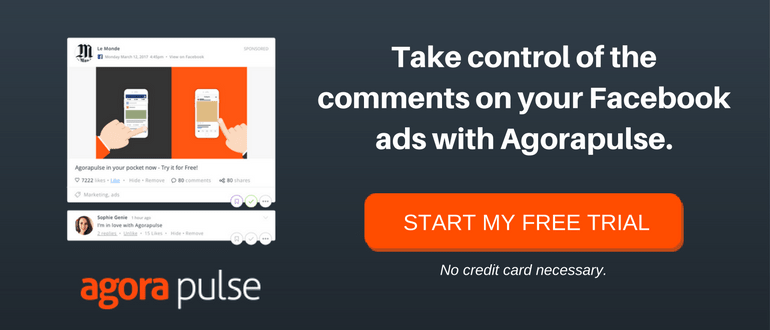 Creating Your Dark Post Strategy
Like most Facebook marketing tools, dark posts may pass out of fashion one day.
It could be an algorithm update, a setting change, or the release of a better tool. Full-scale adoption could even do them in. Whatever it might be, you have to keep an eye on industry news to find out, and blogs like this one can help you there.
That said, right now unpublished posts just work. If you're not on board yet, it's time to take the plunge and schedule a few.
But before you do, you should remember a couple of things:
Dark posts aren't published on your timeline.
Dark posts are only viewable through ads and direct links.
That means they won't get the same broad exposure regular posts will. We recommend saving your dark posts for a few specific things.
The two most lucrative ones are:
Targeting specific audiences.
A/B testing ad creative.
If you sell quite a few products, you're probably not going to get your fans to buy them all. It's better to target your posts, so you only go after the ones who are really interested and don't alienate the ones who aren't.
As for ads, if you have a few but you can't decide which one to go with, just run each of them in a dark post. Then publish the one that performs the best. It's like pre-emptive analytics!
Of course, there are more things you can use dark posts for, and your unique Facebook strategy may call for a few applications that don't work for anybody else. But you can't go wrong with these two.