Encourage your employees to share about your company on social media, and watch awareness and trust of your brand flourish. After all, employee advocacy really works!
Employee advocacy is the process of using employees to generate exposure for your brand using their own online networks and connections. In practice, that means every member of your organization—from the cleaner right through to the CEO—can assist you in promoting your brand and achieving your targets.
If you're a marketer, how can you coordinate employee advocacy for your brand?
As creative director for Contentworks Agency, I've rolled out social media employee advocacy programs for a number of brands. So, I'm sharing my tips with you.
Here's everything you need to get started with employee advocacy on social media.
Related Post: Social Media Marketing 101
Employee Advocacy Facts and Statistics
Employee advocacy is a lot of fun, but that's not the only reason we're doing it. Look at these stats:
LinkedIn found the employees of a company tend to have

10 times more followers than the company itself.
LinkedIn data also indicates socially engaged companies are 58% more likely to attract top talent, with the average organization tripling its number of job applications under an employee advocacy program.
79% of companies surveyed by Hinge Research reported more online visibility after the implementation of a formal employee advocacy program. 65% reported increased brand recognition.
Leads developed through employee advocacy convert 7X more frequently than other leads.
Employee Advocacy: Getting the Basics Right
Before you start making company announcements and promising incentives, get some basics in place first.
Employee advocacy on social media will only work effectively if your company culture is one of trust. That means employees can use social media for business and are trusted to do so in work time.
Similarly, employees will not be forced to use social media. Their channels remain their property, and a company should never force employees to share anything.
Before you start your employee advocacy program, you need to discuss this with company directors to ensure that they support you in your goals and understand your vision.
And while you're in there, get them to sign off on some incentives, whether it's coffee shop vouchers each week or an end of month tablet or iPad.
It's time for them to put some money behind your idea.
Training
Sure, hashtags and tagging are second nature to you—but do you expect everyone else to understand how to use them?
If you really want to give employee advocacy a shot, you must be prepared to invest time in basic training.
You should also be ready for a flurry of post-training questions and be on hand to give support.
Corporate training elements may include …
A basic presentation introducing the concept of employee advocacy to your organization
Department-specific social media workshops (how the sales team can use social media to improve their leads)
Providing access to any materials needed such as videos, JPEGs, and content
Guidelines
You absolutely must draw up some social media guidelines. They should be clear, non-ambiguous, and accessible to all employees.
Social media guidelines not only help your marketing efforts, but they also help protect your company's reputation and guard against lawsuits and security risks.
It's a good idea to run this past your legal team but remember to keep your language simple and easy to understand.
Social Media Guidelines: Example
Starbucks displays its employee social media guidelines on its website.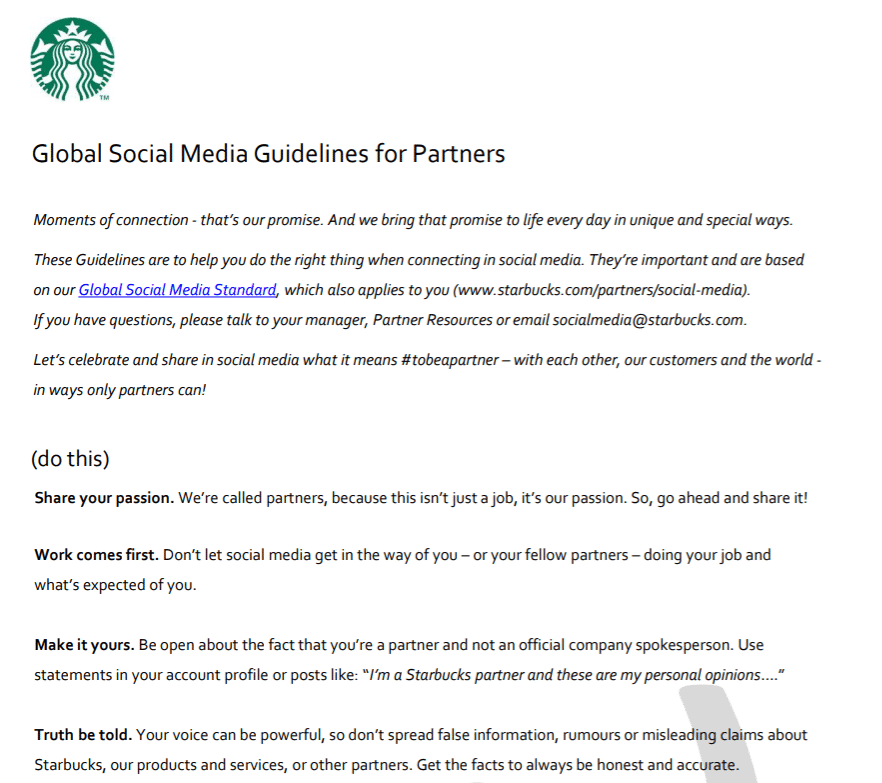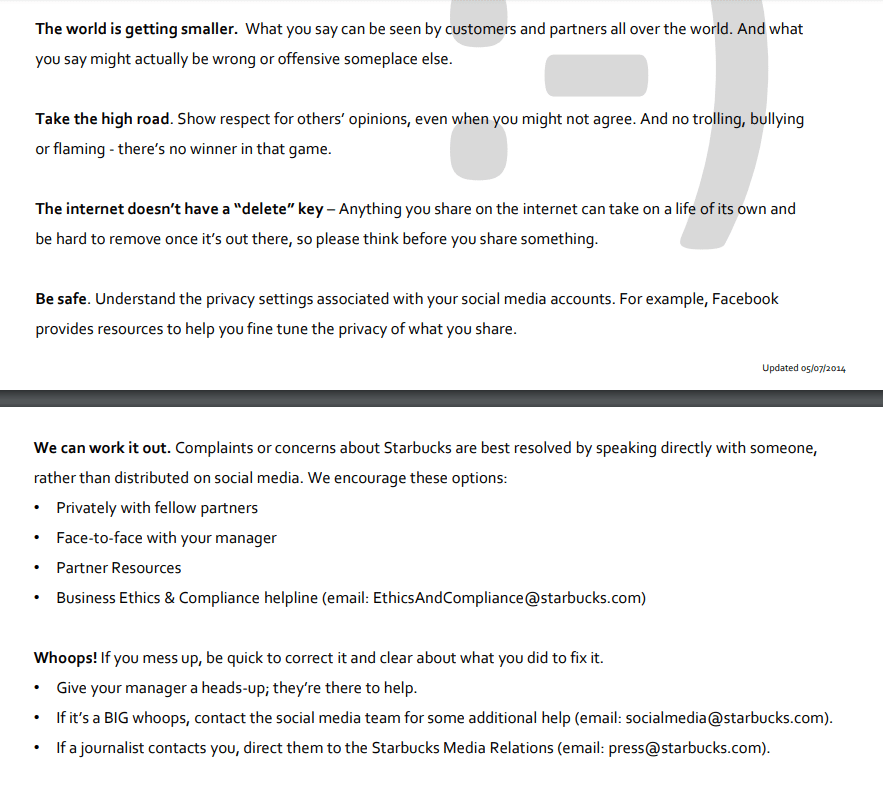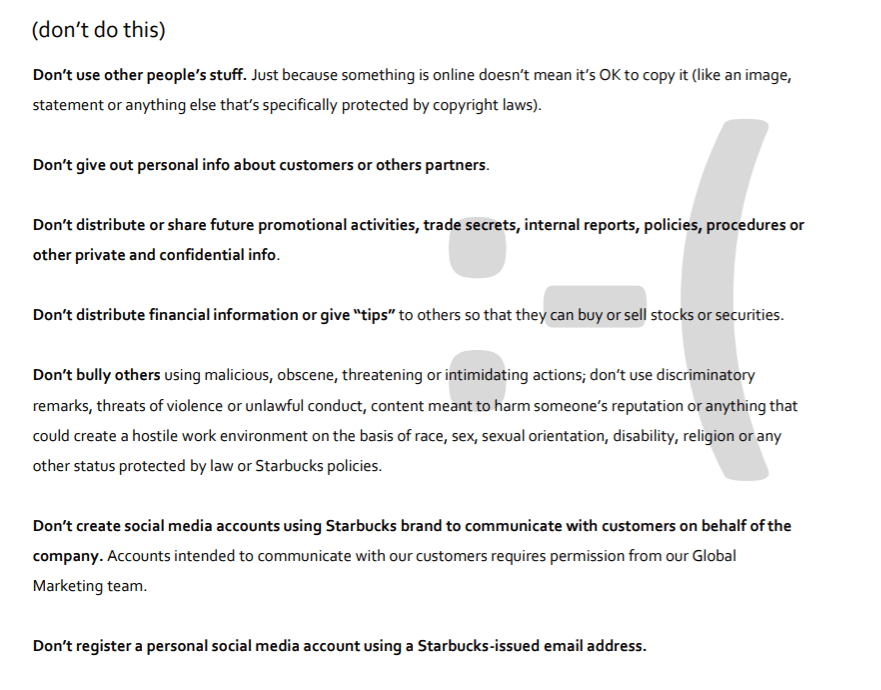 Having an online document means it can be updated at any time as opposed to a printed document that may become out of date.
I also love how transparent Starbucks is about social media guidelines. Anyone can read them; they have nothing to hide and they're right.
Lastly, you should understand why you are doing employee advocacy and how you plan to monitor the results. Using tools like Agorapulse, Google Analytics, and Meltwater, my agency can easily track the mentions and employee contributions each month.
Here are some of the metrics you can hone in on:
Top contributors. Which individuals are sharing the most/generating the most engagement?
Organic reach. How many people are seeing the content shared through your employee advocates?
Engagement. Are people clicking links, leaving comments, and re-sharing content from your advocates? What is the engagement per network?
Traffic. How much traffic did the content shared by employee advocates drive to your website?

How Big Brands Are Doing Employee Advocacy on Social Media
Employee advocacy works. That's why the biggest brands on earth are investing time and money in their employee advocacy programs.
Let's look at who's owning the space and take some tips.
MasterCard
MasterCard's Employee Ambassador Program incentivizes employees to share brand news across their personal social networking accounts and, yes, on work time!
In fact, the finance giant also included its employees in the initial decision-making process. Back in 2009, Marcy Cohen, vice president and senior business leader for Worldwide Communications, conducted an open discussion about the guidelines, inviting questions and helping employees to understand what was and was not allowed on social media.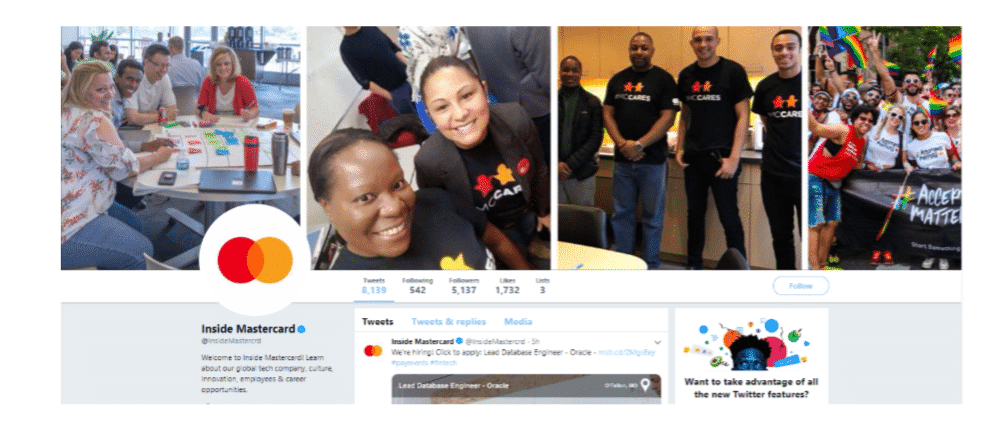 You can see how partners and employees use designated hashtags like #mastercardambassador from their own Twitter accounts, which are then retweeted by @InsideMastercrd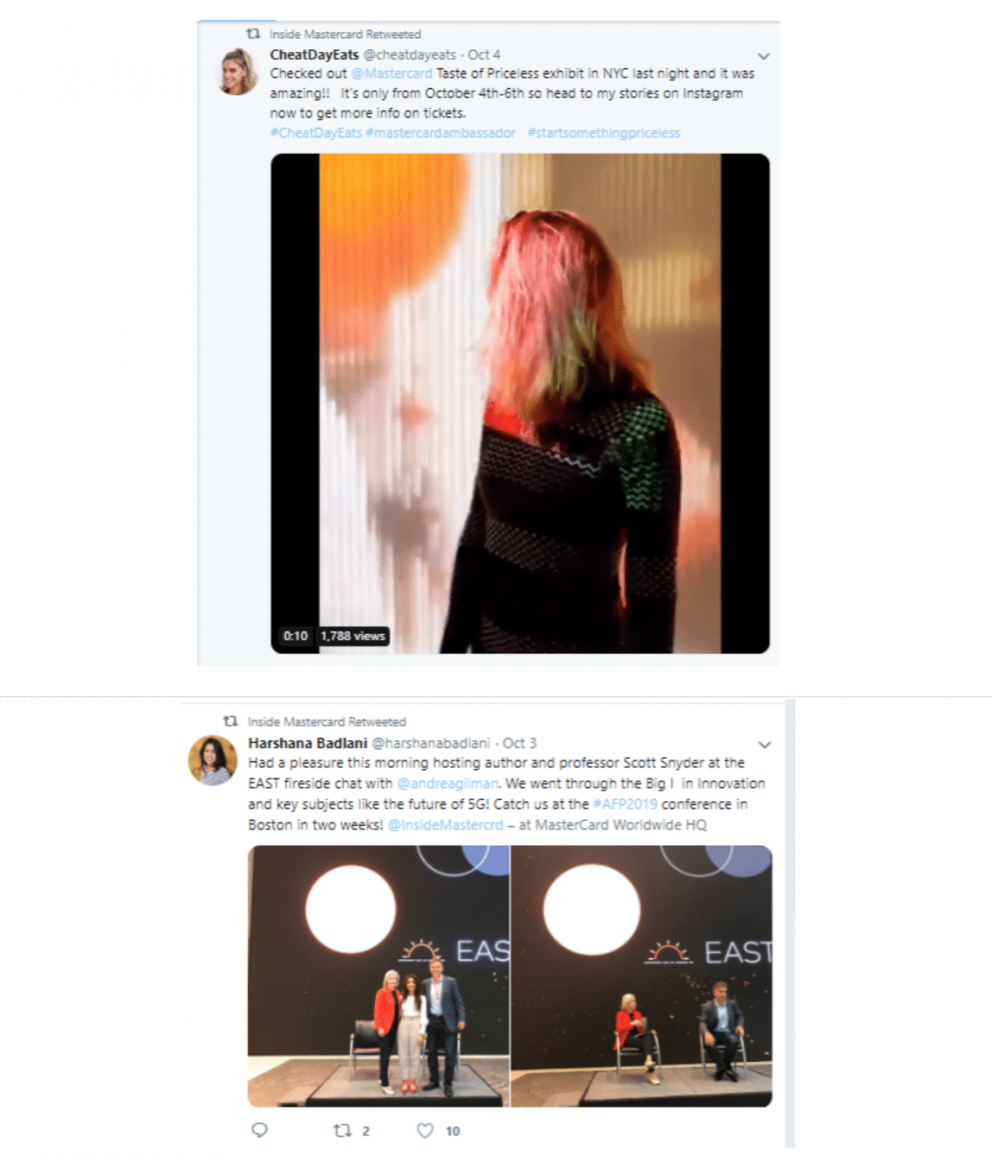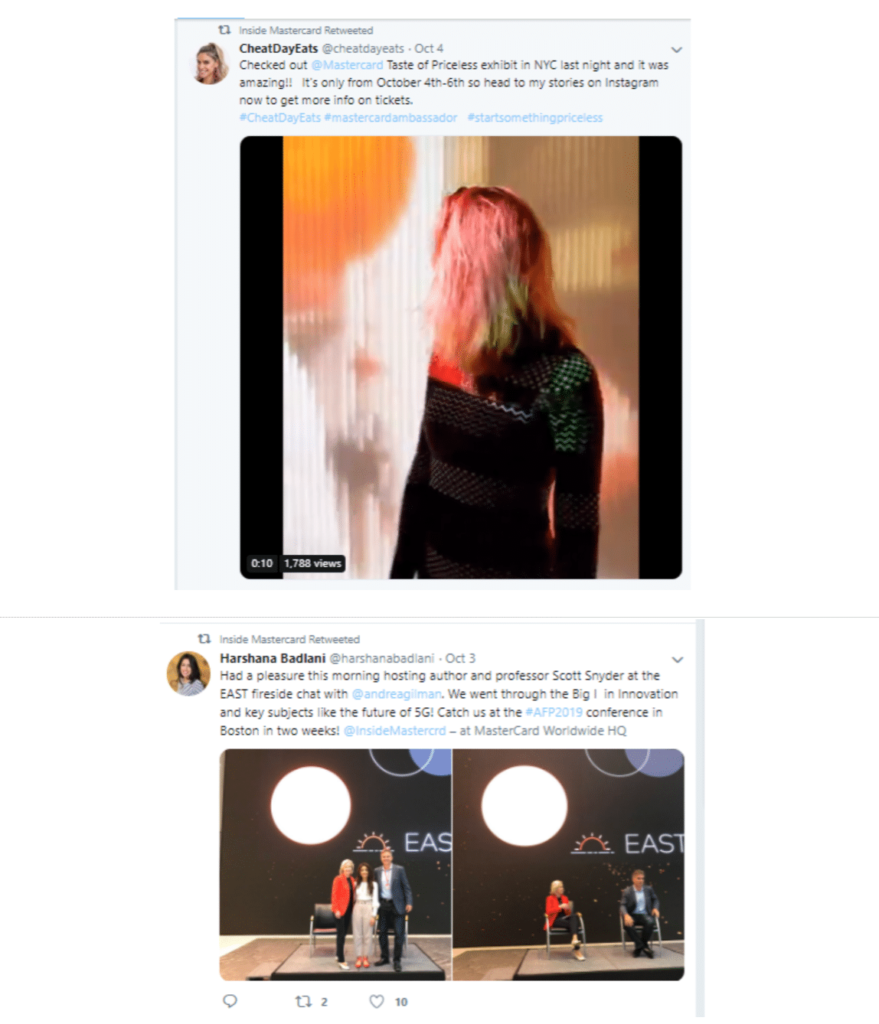 In addition, MasterCard created a training program called Social Media 101 and a communications plan to focus on how to train employees to use social media inside and outside MasterCard. That also included reverse mentorship with the MasterCard "YoPros" young Millennial MasterCard employees who mentor older senior MasterCard executives to get up to speed on the latest social media. Loving that!
Employee advocacy tip
One look at Mastercard's Instagram and other channels will show you a world of employee-driven content that's highly inclusive and shareable. Understand that your employees won't share overly promotional messages. They will share content that features their team or represents key social issues. Also, invite your employees to tag themselves and others in group photos to get more likes, shares, and comments.
Target
Nothing unites employees and customers as much as charity. In fact, Millennials are huge on charity with 64% volunteering locally and 55% attending fundraising events.
So what has this got to do with employee advocacy? Literally everything!
Brands that encourage employees to unite for a good cause are rocking the employee advocacy space and picking up some serious social media traction from followers, too.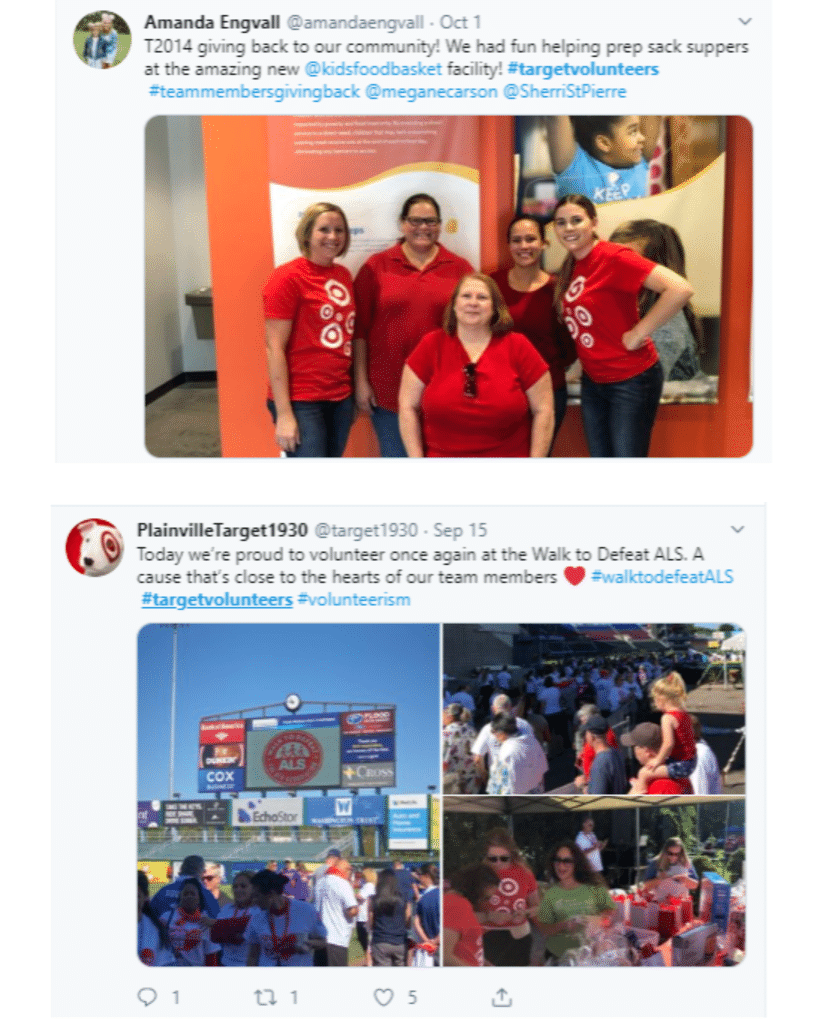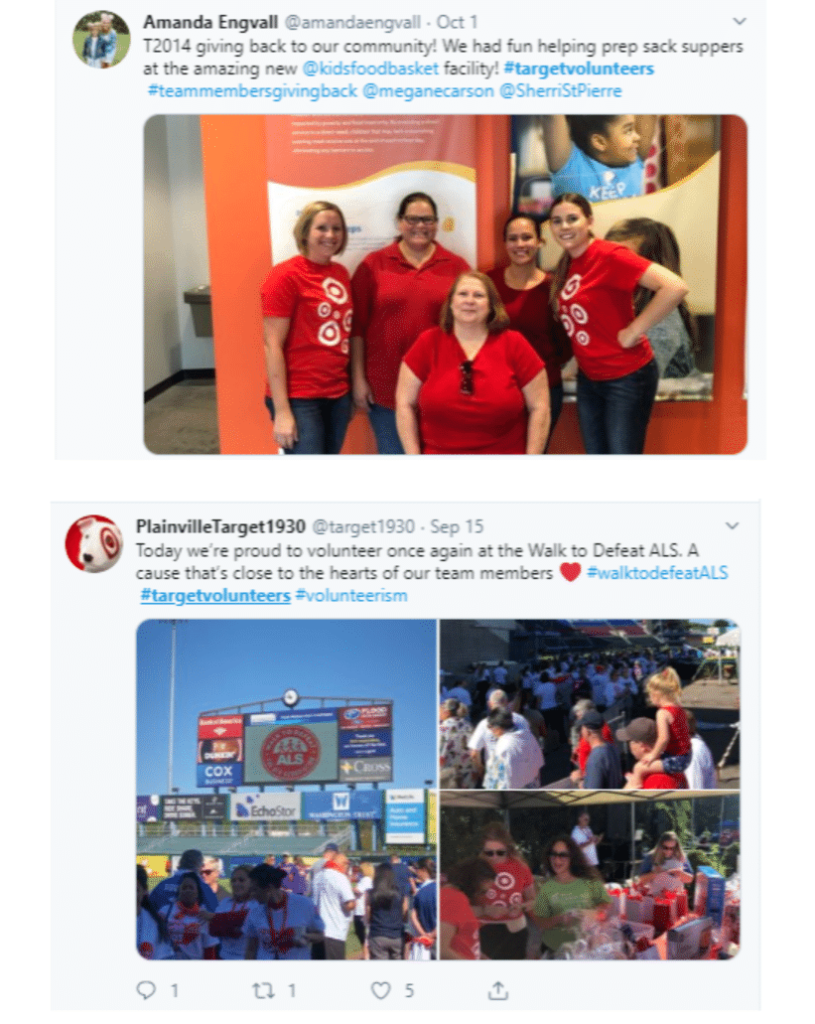 Target employees share the volunteer work they do with the social hashtag #TargetVolunteers. That is an excellent way to unite staff and showcase company culture along with Target's corporate social responsibility efforts. Check out this Instagram post below from Linkedin Talent Solutions, which identified Target as one to watch for employee advocacy: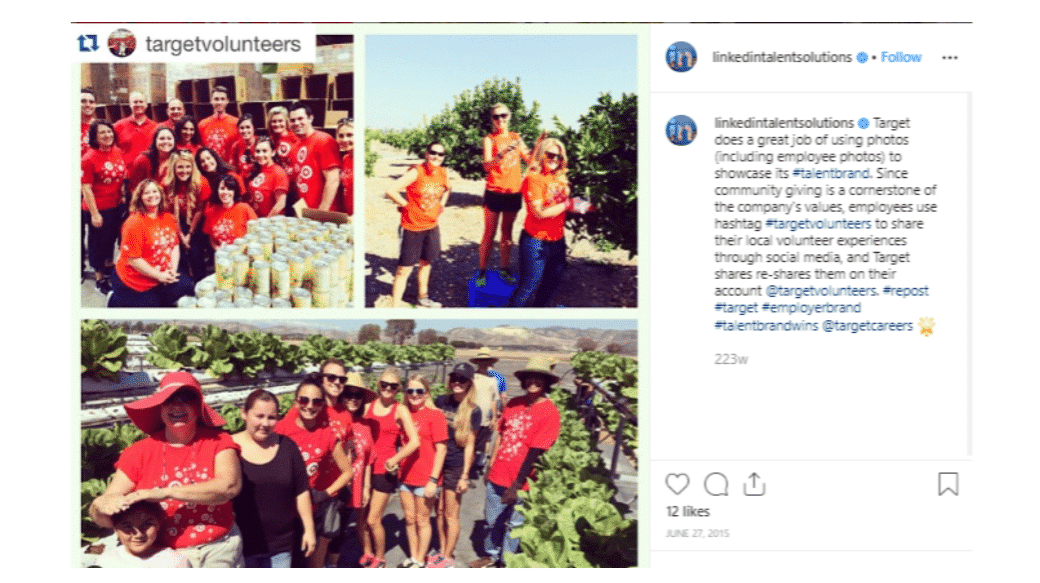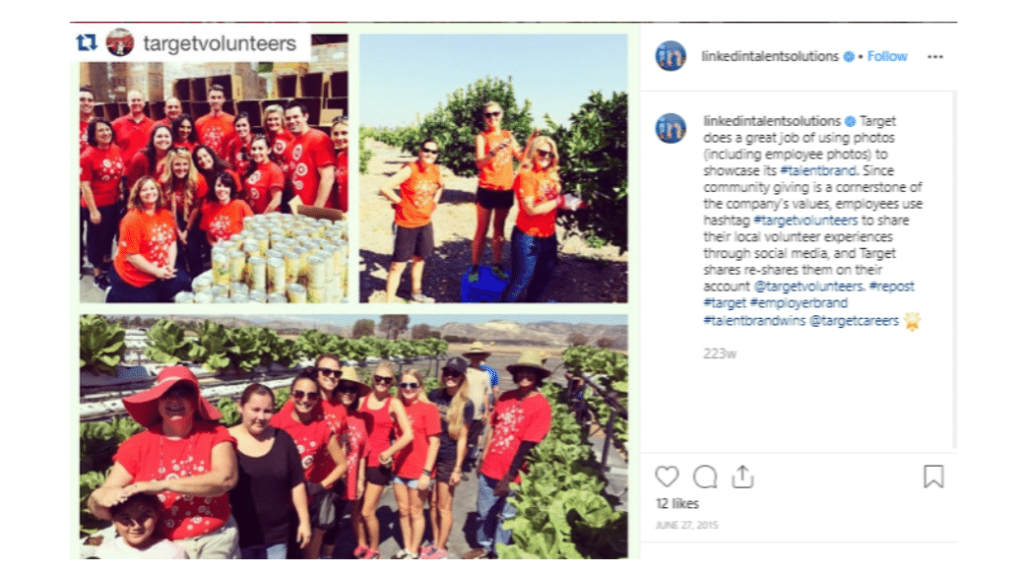 Employee advocacy tip
Give your employees one hashtag to use for all interactions. #targetvolunteers keeps things simple because it's one hashtag for all volunteer events. If you issue too many hashtags and rules, you are less likely to see positive results.
Starbucks
We mentioned Starbucks earlier for its excellent employee advocacy guidelines. However, its awesomeness doesn't stop there. Starbucks created employee social media pages, allowing employees to take part in discussions and share posts and stories.
The Starbucks employees' Facebook page has over 380,000 followers. Its Twitter account has 51,000 followers, and its Instagram page has 136,000 followers.
This is a brave move by Starbucks as other companies may be worried about the kind of information being shared. Will secrets be given away? Will employees say something they shouldn't?
Actually, trusting and empowering your employees and providing them with basic guidelines is a key element of employee advocacy.
Add to this, the transparency of the pages, which allow all of us to take a sneak peek inside their employee culture: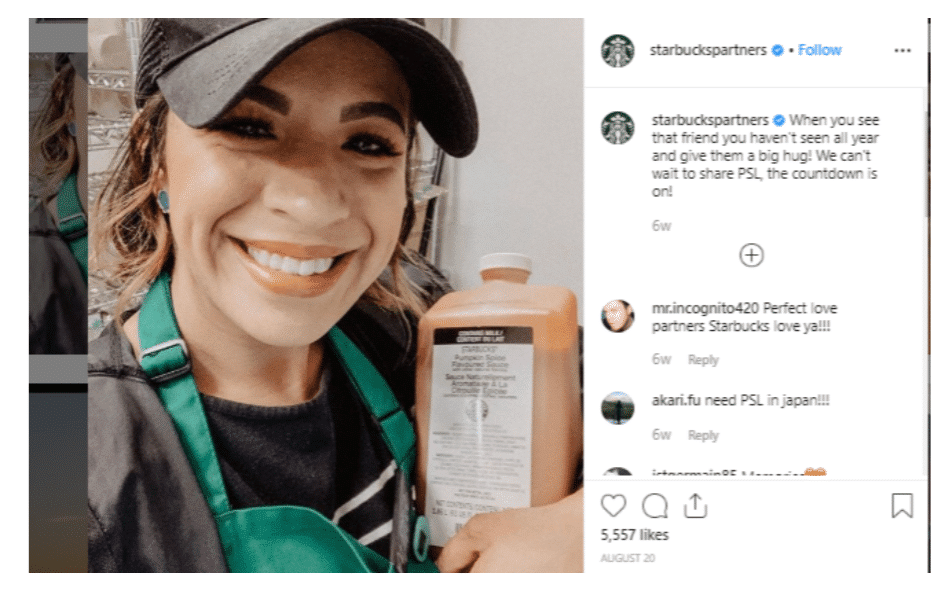 Employee advocacy tip
Keep it real. Never force employees to pose or do something unnatural for the benefit of your social media campaigns.
Similarly, ensure that employees are happy to have their photos shared on any corporate channels. Be super-careful when photographing family events. Always ask permission before showing children's faces on social media.
More Employee Advocacy Ideas
The great thing about doing employee advocacy on social media is you can be creative.
Here are a few tried and tested incentives for how your employees can share brand news.
Make employee advocacy a game
Who doesn't love a bit of competition? Create an internal leaderboard to show who is getting the most engagement for a particular hashtag. Send out reminders and updates to fuel the competition, and remind your employees of the prize at stake.
Allow employees to write a blog post
Employee advocacy can happen in all areas of your marketing operation. If you have a blog, why not separate it to allow individual authors to contribute? Perhaps your head of research wants to share some insights, or your affiliate manager wants to talk about a recent trip he took. That makes for valuable content that drives sales and boosts employee morale.
Do an Instagram takeover
Got an Instagram account? It's time to hand it over to your employees! By running a weekly takeover, you allow employees to get involved in your marketing and show fans different angles of your business. You also show yourself to be a transparent, honest brand.
Free Tool for Employee Advocacy on Social Media
Use Agorapulse's free Easy Advocacy tool to tackle your online employee advocacy efforts right now. It's incredibly easy to launch a campaign that inspires employees to share content easily and efficiently: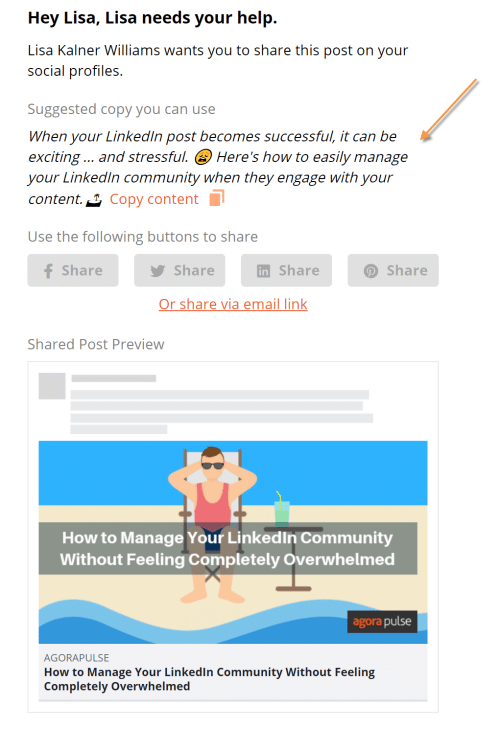 Sign up now for a FREE demo.