In March, the whole Agorapulse team traveled to San Diego on a mission to attend the best sessions at Social Media Marketing World, compile notes of the key takeaways and share them with you. We've created 20 blog posts from those notes, here's one of them!
Title of the Session: Powerful, Underused Facebook Ad Tools You Should Be Using
Speaker: Jon Loomer. Jon is quite literally "THE" Facebook ads expert. He specializes in advanced Facebook advertising strategies. His session at Social Media Marketing World was filled to capacity, and attendees were hanging on his every word.
Why you should read this session's transcript: If you feel like you're wasting money on Facebook ads then Jon's session is definitely for you. He shows people how to focus on what is really important – promoting amazing content! Do this properly and your Facebook ads will be successful.
Quote from the session: "You can't expect to target people who don't know you and sell them stuff"
The Problem: The biggest challenge that advertisers have with Facebook is allocating the time and resources to run successful campaigns. Facebook is not helping this situation with its strategy of constantly putting "press play" options in the way of business owners. These options encourage us to "boost post" or "promote page", but they just don't work as well as a properly implemented strategic advertising campaign. Thankfully, Jon has developed a step-by-step system that is easy to follow and will help you to:
o
Target customers

o

Target readers

o

Measure ROI

o

Optimize your ads
Want to attract fans, measure and optimize your Facebook advertising budget? Here are the steps Jon suggests:

#1 Target Your Customers
Any savvy business person knows that repeat business is vital to success, yet many businesses fail to use Facebook ads to target their existing customers. Jon says this should be your starting point. Create custom audiences based on your database and start targeting those connections on Facebook. When you have exhausted the option of targeting connections who already know you, the next step is to start creating lookalike audiences to attract people who are similar to the customers you already have.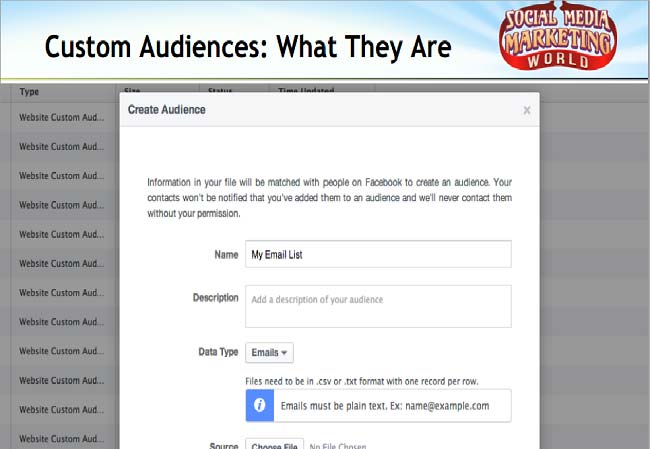 #2 Target Your Readers
"Website Custom Audiences" (WCA) is hands down the most exciting development by Facebook in recent months. Now businesses can target people who have visited their website with ads on Facebook. Building trust with readers who already know and like your content by targeting them on Facebook will deliver a much better ROI from your advertising budget. Jon recommends that you split test your ads to see which ones perform best.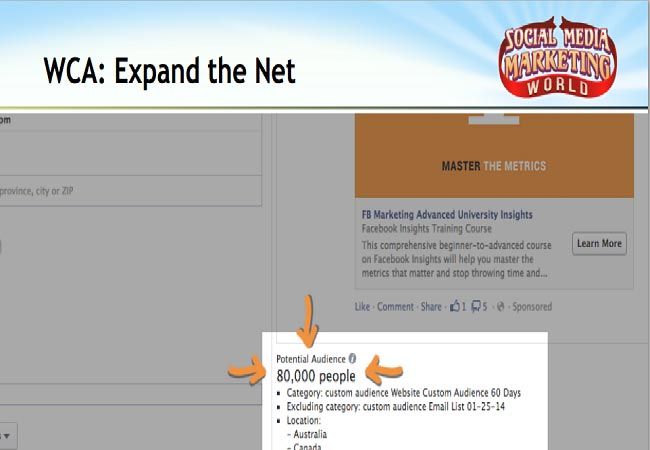 #3 Measure ROI
ROI is an almost mystical concept in social media. Any business owner, boss or financial controller needs to know what return they are getting from Facebook ads. The fact is that you can measure the ROI from your Facebook advertising campaigns. Jon talked the attendees through how to include conversion tracking on their ad sets to measure the best-performing adverts. By implementing his strategy, you will be able to track your cost per acquisition.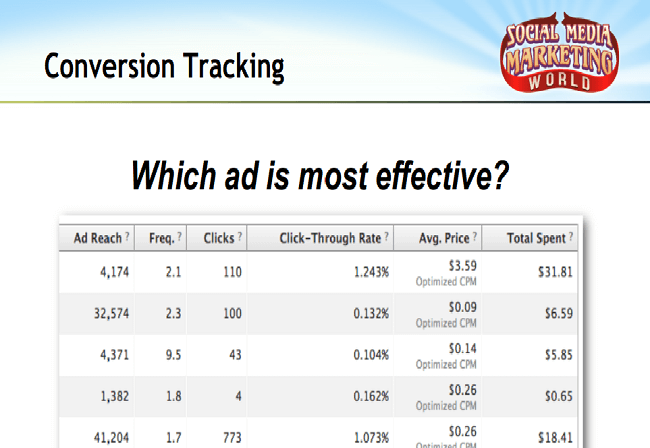 #4 Optimize your Ads
Advertisers are missing a serious opportunity by underutilizing the "Facebook Ads Report" feature. Jon encourages advertisers to use this information! The reports are full of useful metrics that break down advertising data based on your demographics. Know what you're spending and which of your target markets are giving you the best return on your investment. Facebook ads work if they are optimized well; advertisers are clear on their objectives and know what the goal of each campaign is.

Key Takeaways
o
Measure twice and cut once. Split test all your ads to get the best from your budget

o

Start by attracting your existing customers

o

Add value. Great content that is relevant to your potential customers attracts the right audience for your business

o

Measure your ROI. Having this information means that you can concentrate your budget on ads that work

o

Fans are people NOT robots so treat them as humans. You have to build a relationship before you try to sell to them
If you're trying to get the best from Facebook ads but feel you are struggling, then you should definitely visit Jon Loomer Digital for tons of helpful content.