You've probably heard that fan page posts with pictures and videos do a lot to increase Facebook engagement. I have too. And after Quintly recently did a study on Facebook content strategy, they had the data to prove it.
Along the way they also learned a few other things, too, and we'll share it all with you today.
1. Facebook Marketers Rely on Link & Photo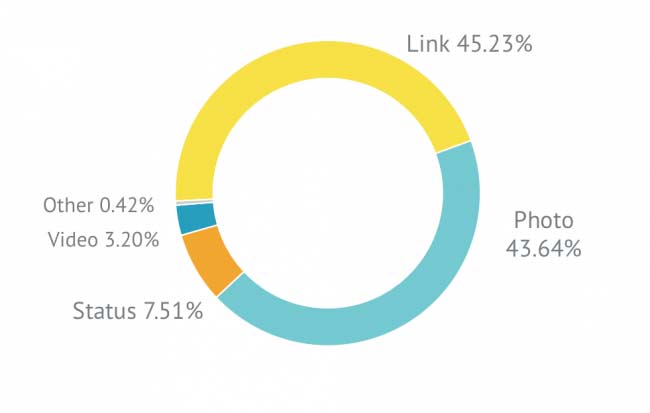 When marketers publish anything on Facebook, it's overwhelmingly photos and links.
The study looked at more than 80 million posts, and those two categories accounted for nearly 90% of them. Status updates are a distant third, and videos hardly even register at 3.2%.
It's safe to say that most of the strategies you'll read about will revolve around those kinds of posts. It's also safe to say that whenever you see a Facebook page doing particularly well, you'll have more than a few photo and link posts to study.
However, it also means when it comes to alternative post types, you're really on your own. You don't have a strong precedent to follow.
And that's a problem, because. . .
[Tweet "9 out of 10 Facebook marketing posts are links or photos."]
2. Video Posts Get the Most Facebook Engagement
Simply put, they work.
Facebook users like videos. They like clicking on them, they like watching them, and they like commenting on them.
They like sharing them with their friends, too. On Facebook and off it. Unsurprisingly,
Unfortunately, only 3 out of every 100 posts that most brands publish will be a video.
Fortunately, brands make up for it by posting a lot of photos, which is the second most engaging kind of content on the world's most popular social network.
From there, status posts followed, then link posts and everything else.
That's also a problem, because roughly half of the posts you see on Facebook are link posts. Not good.
[Tweet "Most engaging FB posts in order: videos, photos, status updates, links."]
3. Organic Reach is Declining
Facebook organic reach is declining. There's no other way to put it.
In the chart above, you can see the last year or so – June 2014 to June 2015. It's not hard to notice that while the average interaction-per-post is rising, the number of posts getting any interactions at all is falling. And it's not a short drop.
That tells us 2 things:
Facebook marketers are creating better, more engaging posts.
Facebook users aren't seeing as many of those posts.
The reason?
Algorithm updates. It's almost a pejorative term in marketing – and certainly in SEO. Though they do serve a purpose. Users want great content. They visit sites with great content, which gives marketers – and search engine wizards – a job. These updates keep that content great – usually.
But it does mean life is a little harder in the short-term for many Facebook marketers. And it's one reason why you should really be considering Facebook ads.
It doesn't take a massive commitment – really, you can see a difference on just $10 a week – and now is the time to do it. The competition is still relatively low.
Of course, be sure to invest in a quality social CRM to make your job easier – and more profitable. And choosing one that's designed for the size of your company – enterprise solutions for enterprises, start-up solutions for start-ups – will keep your costs low and productivity high.
[Tweet "FB organic reach is down, but FB ads can keep your content front & center."]
(Click here for a free trial of Agorapulse, a social media management tool with CRM functionality.)
Now, what does this mean for your Facebook content strategy?
Of course, the usual caveat applies – it depends! But we can definitely be sure of a few things:
Visual posts get the most Facebook engagement.
Status updates and link posts get less engagement.
Too many people rely on link posts and too few on video posts.
Facebook organic reach is slowly declining.
Paid Facebook ads can help give you some reach back.
But if you're a bit stuck – if you're not sure quite where to begin – just try making a video. Of all the content types you can post, videos generally have the best chance of going viral.
What kind of content do you usually post? What gets you the most engagement? Let us know in a comment below!