Are your Facebook analytics looking a little lackluster? Want to create content that really resonates with your audience—but running short on truly great Facebook post ideas?
High-performing content can skyrocket your social channels and help you reach ambitious goals ranging from expanded brand awareness to increased ecommerce sales.
So how can you create amazing Facebook content for your company or clients? You're in the right place.
In this guide, we'll walk through the anatomy of a good post, cover the steps for creating social media content that resonates, and look at 12 Facebook post ideas you can use right now.
What Does a High-Performing Facebook Post Look Like?
Let's analyze some of the most engaging posts by some of the biggest Facebook accounts and pinpoint what makes them work so well.
Example of a catchy Facebook post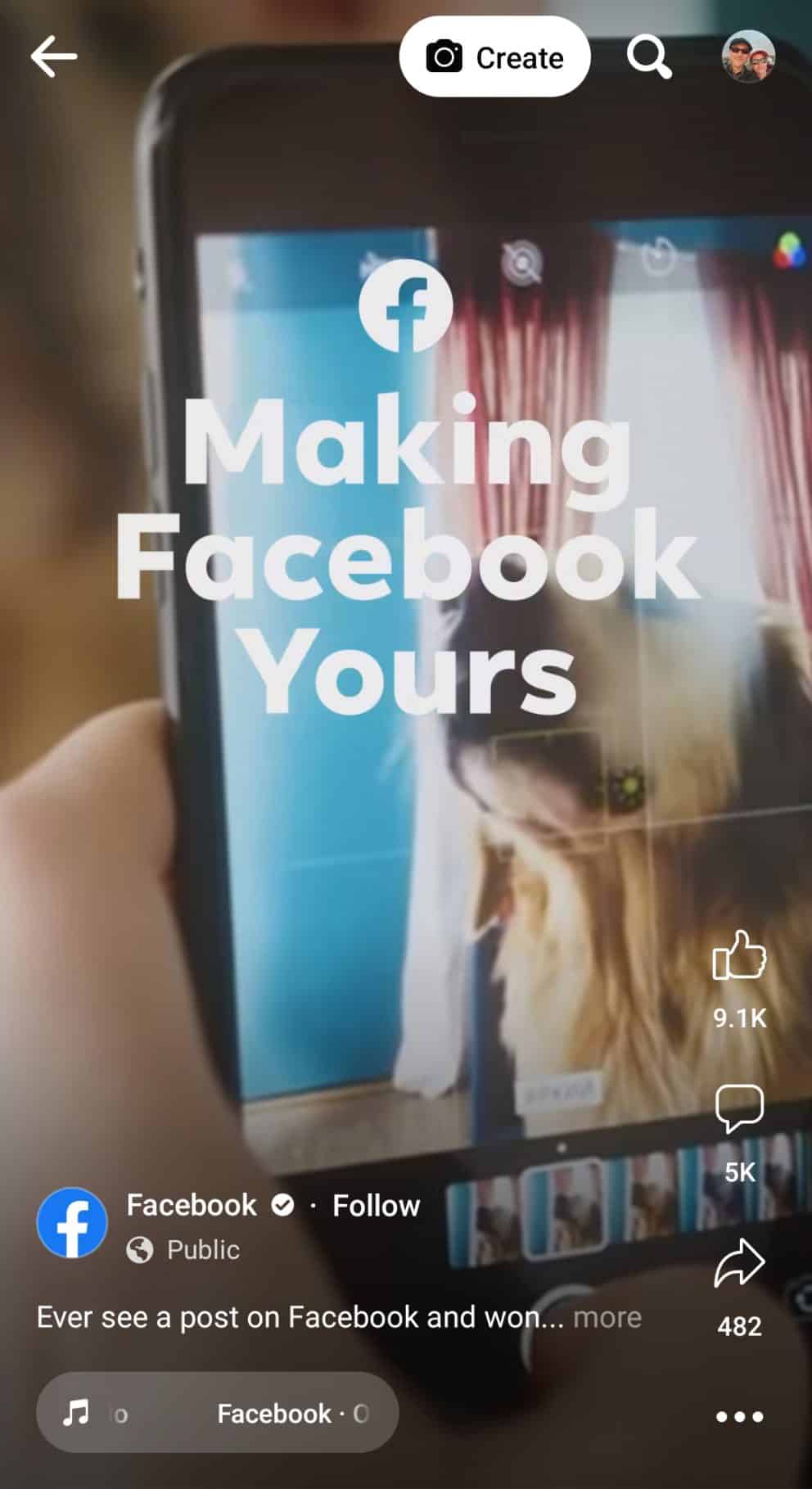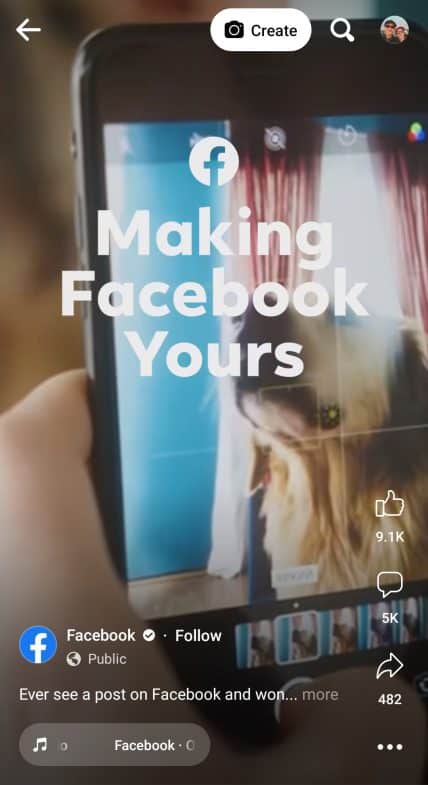 With nearly 200 million followers, Facebook's own business page is one of the network's most popular accounts. Like many of Facebook's posts, the reel above received over 9,000 reactions, over 5,000 comments, and nearly 500 shares. It works so well because it:
Leverages the reels placement, which Facebook actively promotes
Hooks viewers with a commonly asked question
Shows viewers a simple step-by-step guide for resolving a problem
Another example of a catchy Facebook post
With an average of dozens of posts per day, Tasty has a busy Facebook content calendar.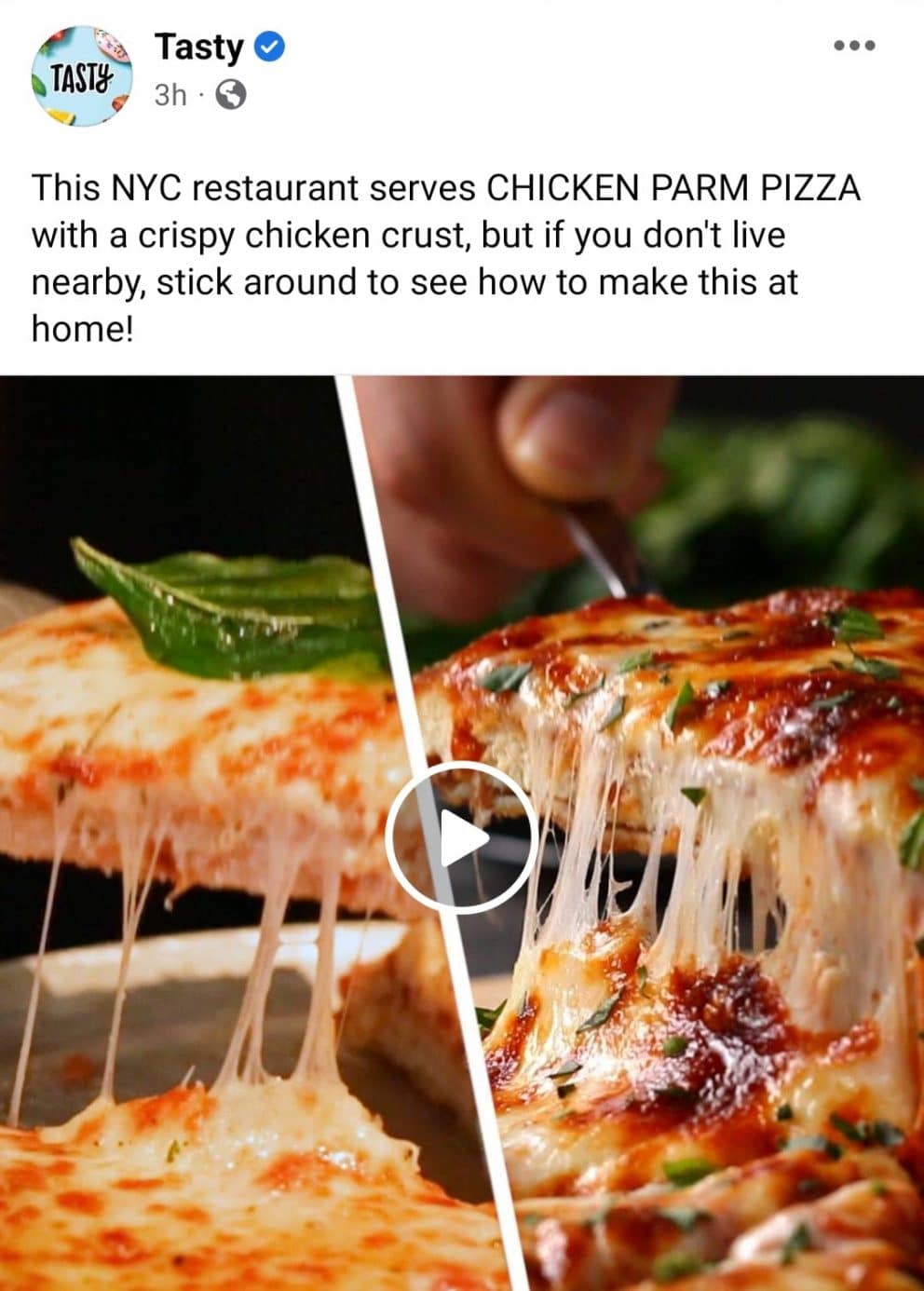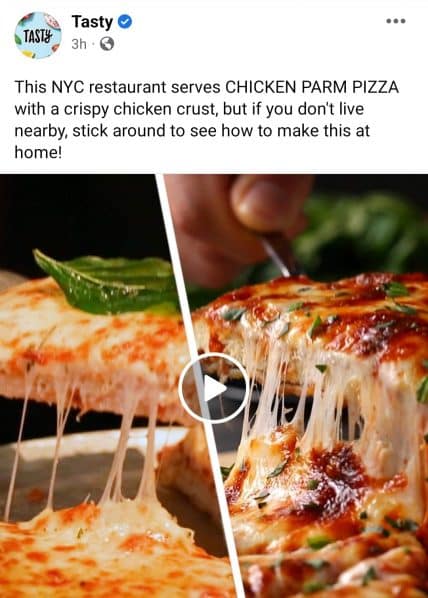 The post above generated over 67,000 views and nearly 500 reactions within 6 hours of publishing.
The post stands out in the feed because it:
Includes a video optimized for both mobile and desktop users
Uses a simple hook and a mouthwatering graphic to grab attention
Entertains viewers and educates them by sharing a step-by-step recipe
Example of a highly viewed social media post


Can social media posts without videos get results on Facebook? The McDonalds post above includes a single sentence, yet it generated over 36,000 reactions and 30,000 comments.
This social media post works so well because it:
Teases a highly anticipated product launch with a simple text-based announcement
Creates a sense of urgency by announcing a limited-time item
Gets followers talking by tapping into a sense of nostalgia

How to Create a Great Facebook Post in 4 Steps
You don't need tens of millions of followers to achieve impressive engagement rates. Follow the steps below to find winning Facebook content ideas that work for your business and your audience.
1. Clarify your objectives
Before building your posts, clarify the goals you want them to achieve. Use your social media marketing strategy and your content calendar as a guide.
Here are a few common objectives to help you get started.
Brand building
Brand-building posts introduce or reinforce your brand, products, and services to your audience, just like the McDonalds post above. They often include announcements that expand awareness or inside jokes that appeal to loyal customers.
The Art of Brand Storytelling for Modern-Day Marketers [Free Ebook]
Community building
Community building content focuses on starting conversations and getting your audience talking. For increased Facebook engagement, post ideas might include open-ended questions or "this vs. that" comparisons.
Educational
Educational posts teach followers about your products or walk followers through how to do something, just like the Facebook reel above. They can convince prospects to make a purchase they've been considering or help customers get more value from a purchase.
Entertainment
Entertainment content is designed to make the audience laugh or feel inspired, just like the Tasty video above. This type of social media content is great for sharing your brand's values or mission in a way that delights followers.
Website traffic
Traffic-focused content drives followers to click or tap a link to an external website. This kind of content is ideal for getting prospects to dive deeper into your brand's resources, consider a purchase, and get added to your remarketing list.
Conversions
Conversion-focused content gets followers to complete a specific action. Unlike brand building content, conversion-focused posts generally include strong calls-to-action (CTAs) like prompting followers to sign up for a list, download a lead magnet, or make a purchase.
2. Choose the right post types
From status updates to disappearing stories, your team has plenty of options for creating engaging Facebook content. Let's look at how the objectives above fit with Facebook post types.
Status
Status updates (or text posts) use copy and emojis only, getting messages across without creatives or links. They're great for community building (i.e., asking questions) and for educating customers via long-form posts.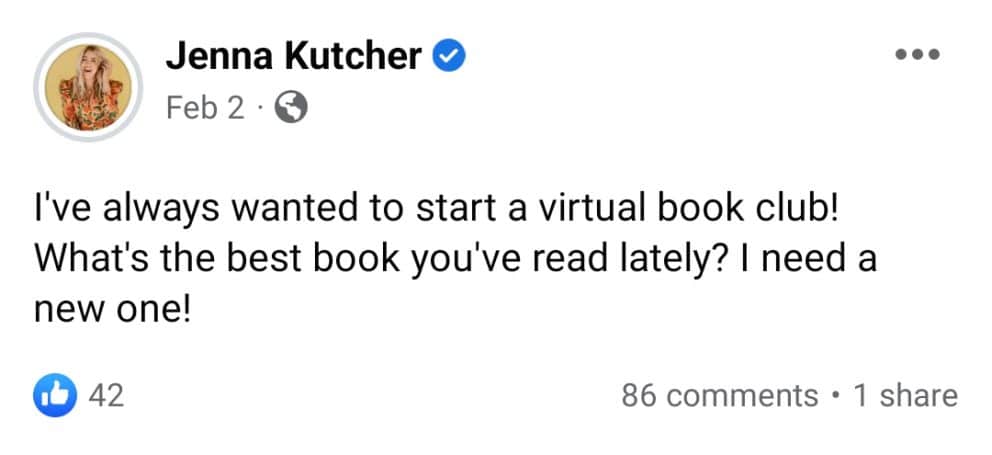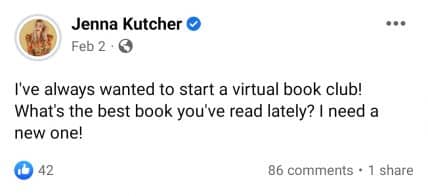 Above, the text post from Jenna Kutcher asks for book recommendations. In addition to starting a conversation, the post can help the marketer identify new ways to connect with her audience.
Link
Link posts are best for driving traffic away from Facebook and to your website or landing page. Although link posts often generate less engagement on Facebook, they can contribute to key conversions on your website.
Above, the link post from Molekule asks a question that's likely to be on followers' minds. To answer the question, Facebook users have to tap through to read the air filter company's linked blog post.
Image
Image posts are ideal for standing out in the feed and encouraging followers to stop scrolling. They can prompt followers to complete in-app conversions like commenting, messaging, or shopping.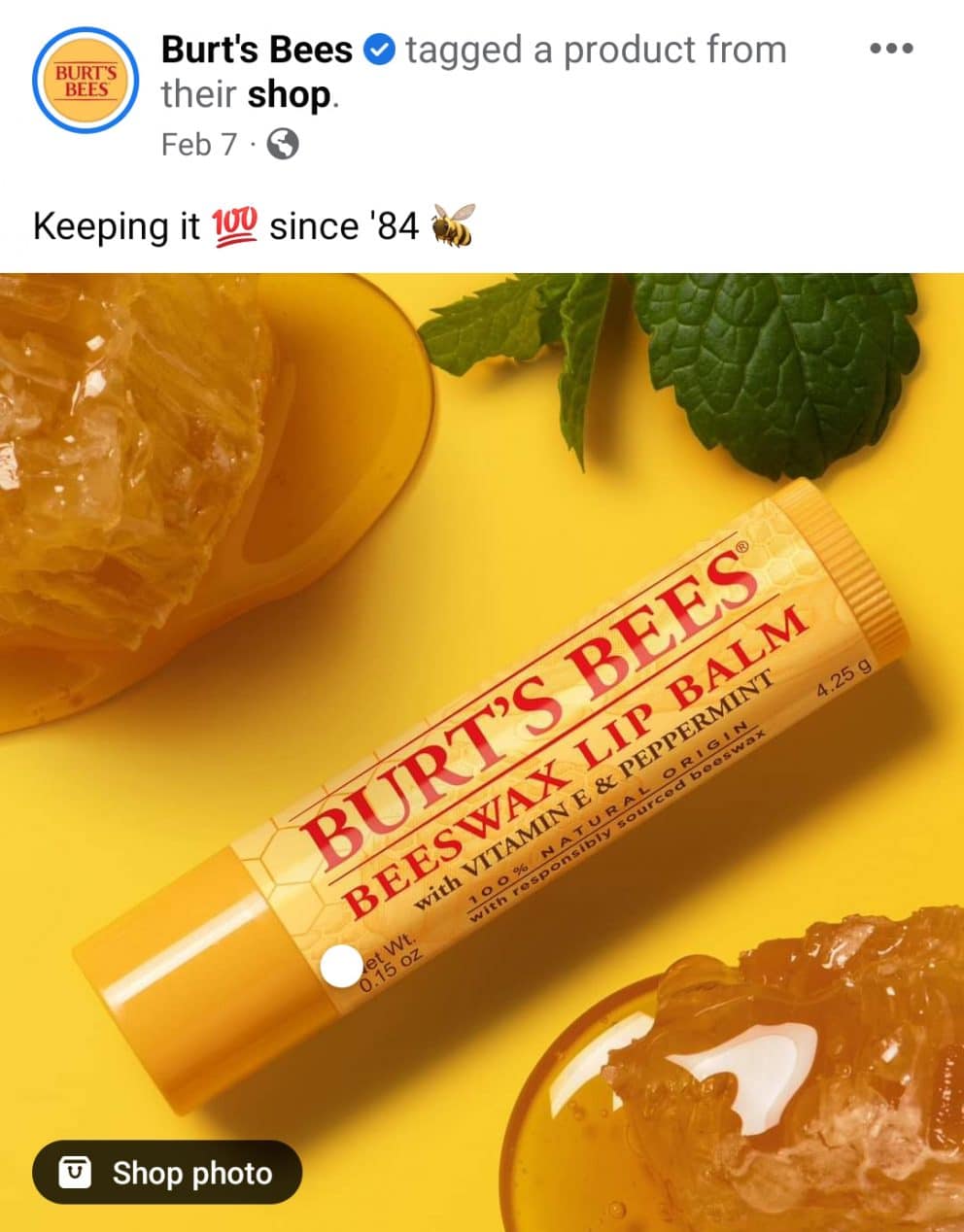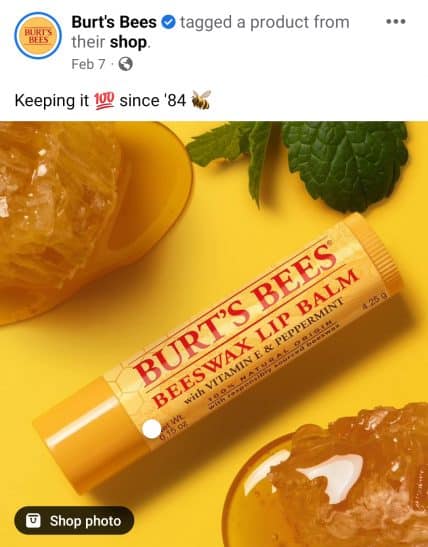 Above, the Burt's Bees post uses an eye-catching image to grab the audience's attention. To keep the focus on the shoppable image, the skincare brand uses a short and sweet caption.
Carousel
Carousels are best for telling stories with photos and graphics. Although Facebook carousels aren't quite as interactive as Instagram carousels, they're great for creating multimedia posts and for getting followers to swipe through and engage.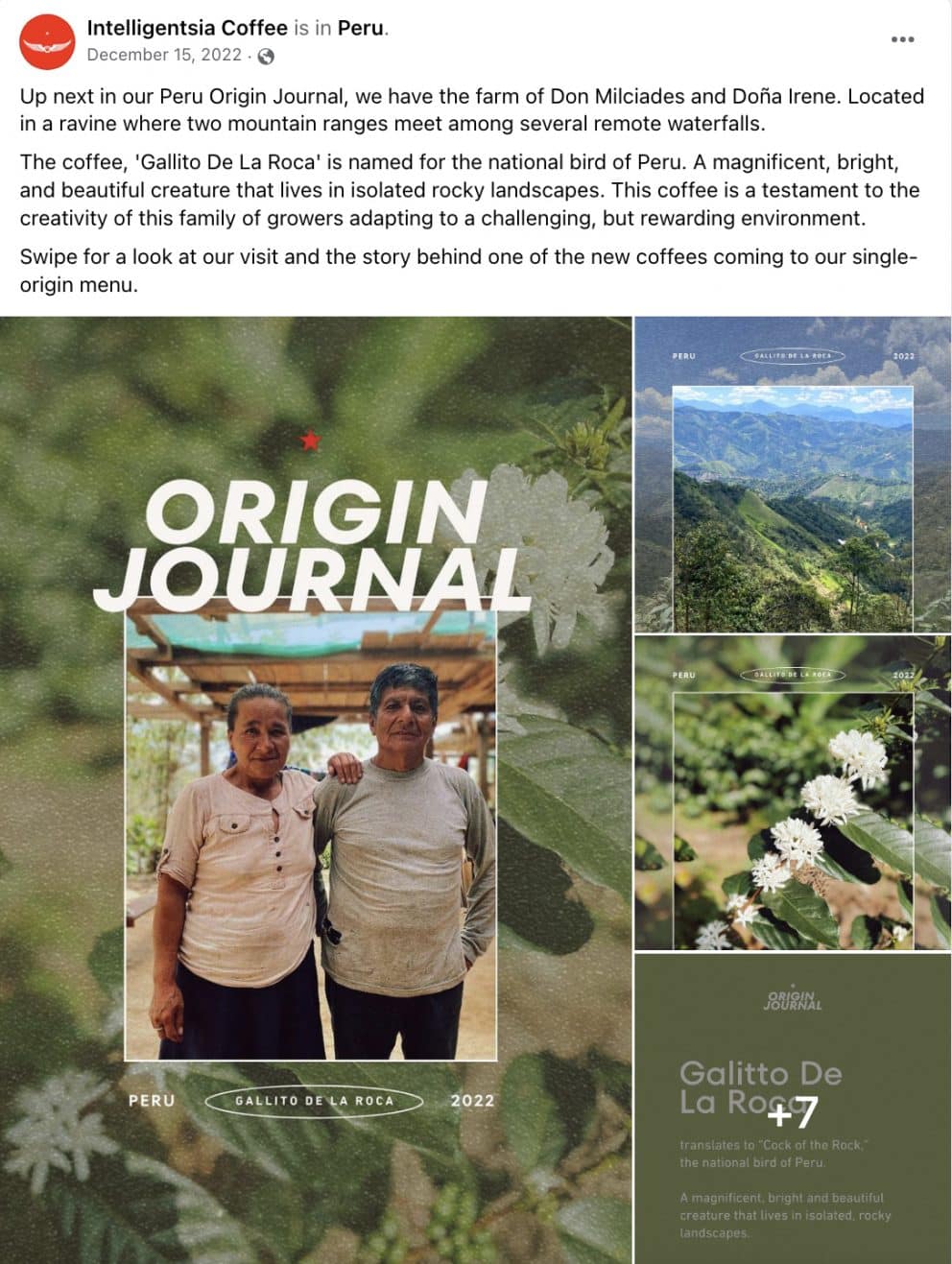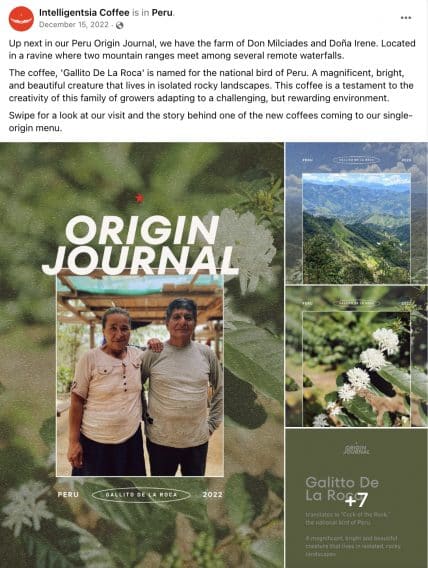 Above, the Intelligentsia Coffee post uses a combination of photos and text panels to tell the story of one of the coffee company's partner farms.
Video
Video posts are ideal for illustrating more complicated concepts and for showing followers how to do something. Since Facebook videos can last up to 4 hours, they give your team plenty of time to get creative.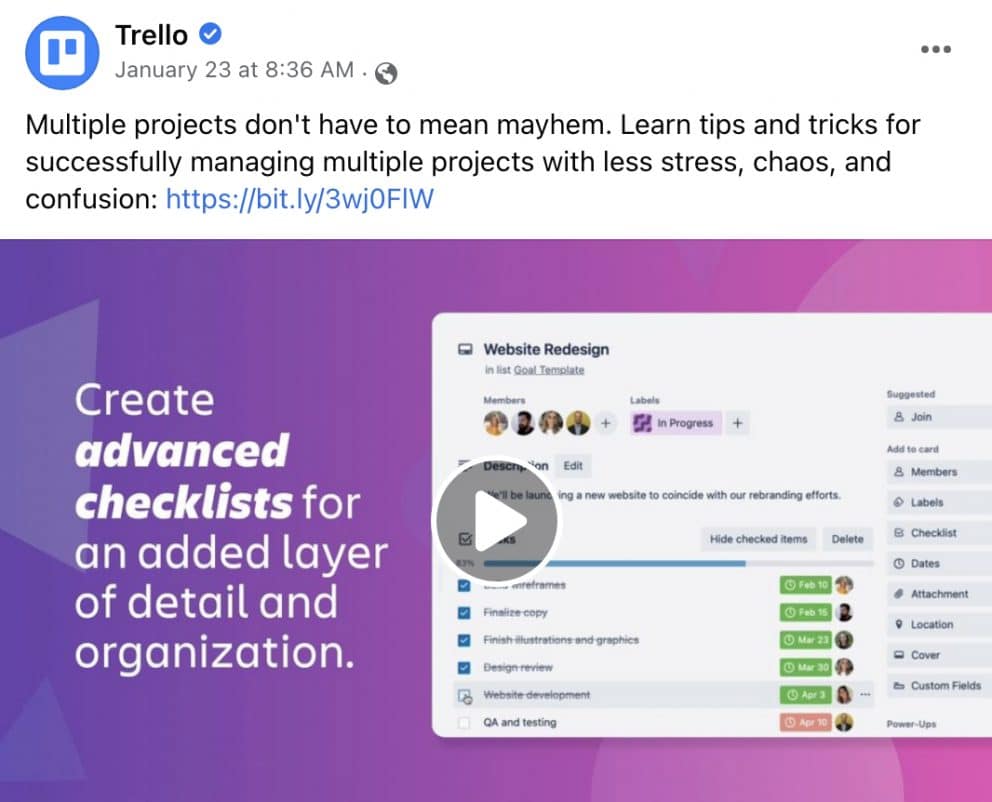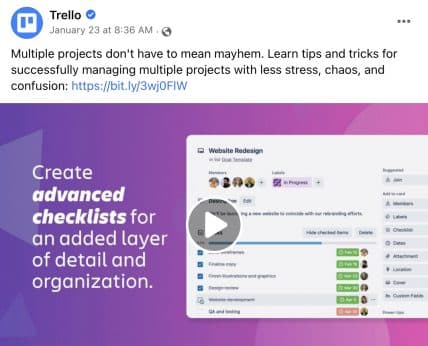 Above, the Trello video offers advanced tips for using the project management tool to juggle multiple projects. As an added bonus, the caption also includes an external link that the audience can follow to learn more about the topic.
Reel
Reels give your team tons of options to add effects, transitions, text, and even interactive stickers to your video content. They're best for punchy content that's designed to engage and entertain mobile viewers.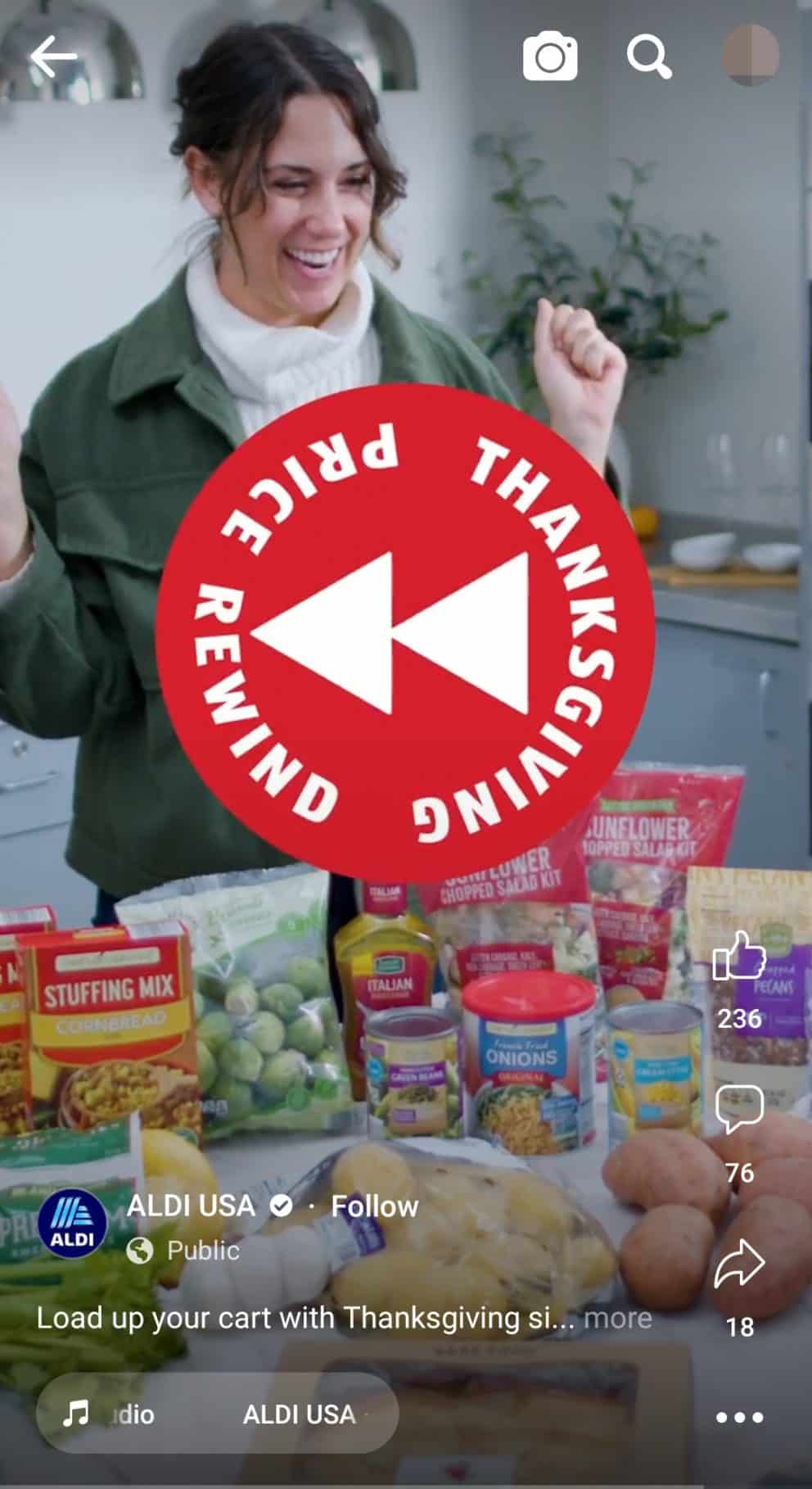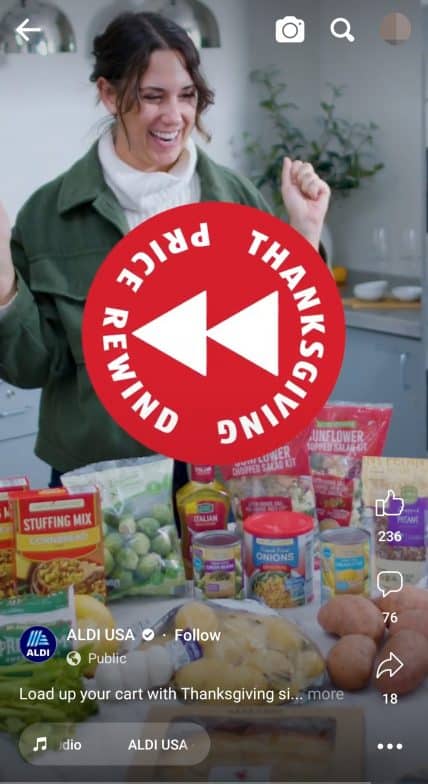 Above, the Aldi USA reel promotes the supermarket's low holiday prices by sharing quick cuts that feature a variety of different sale items.
Live
Facebook lives are ideal for connecting with your audience in real time. They give you a chance to take followers behind the scenes, answer pressing questions, and prompt them to convert.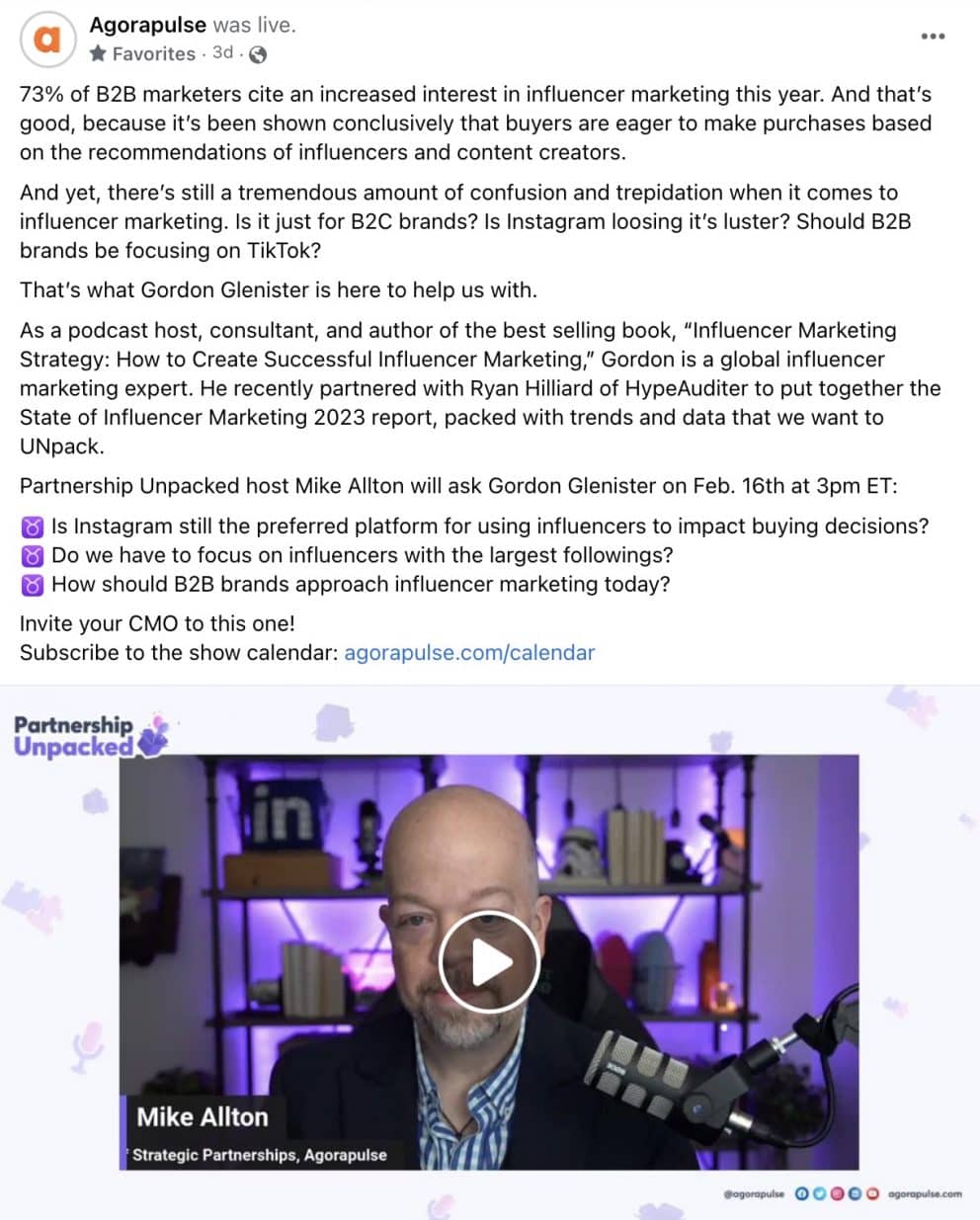 In the Agorapulse Facebook live above, the marketer opens up about her personal experiences with building a business and provides viewers with valuable resources for learning more.
3. Publish copy and creatives that resonate
To create high-performing Facebook posts, you have to get the creatives and copy right. So how can you figure out which topics, messaging, visuals, and post types work best for your audience?
Start by getting to know your followers.
Agorapulse automatically pulls audience demographics for Facebook pages with at least 100 followers, so you can easily check age ranges, gender ratios, and locations for your audience.
Next, pinpoint what works for your audience by checking the Facebook page analytics on your Agorapulse dashboard.
Agorapulse recommends the best post type to publish based on metrics like your page's reach or engagement.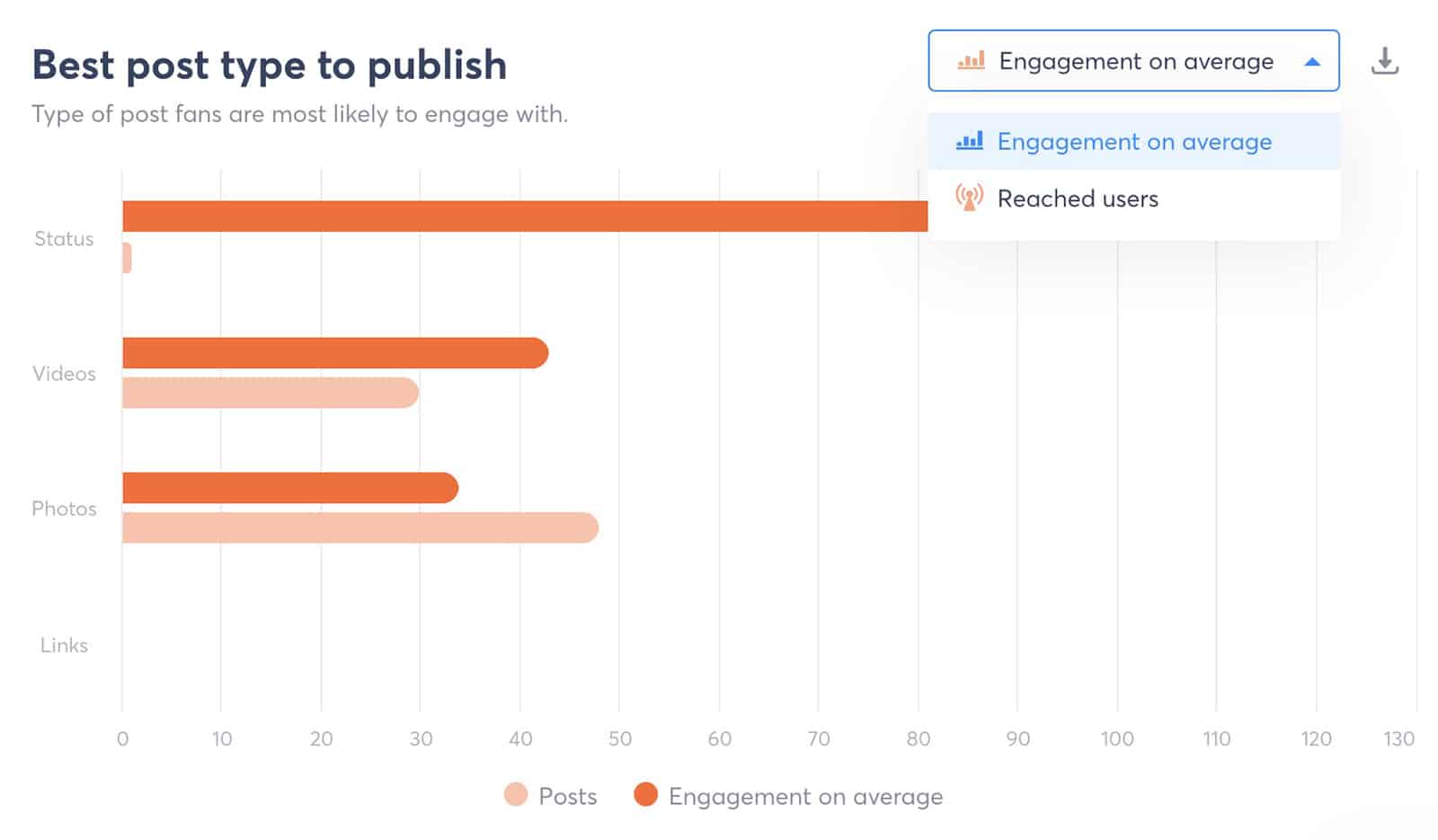 Then find your top-performing Facebook posts. Agorapulse automatically highlights your page's best posts and sorts them by the Facebook metrics that matter most to your team—including reach and clicks.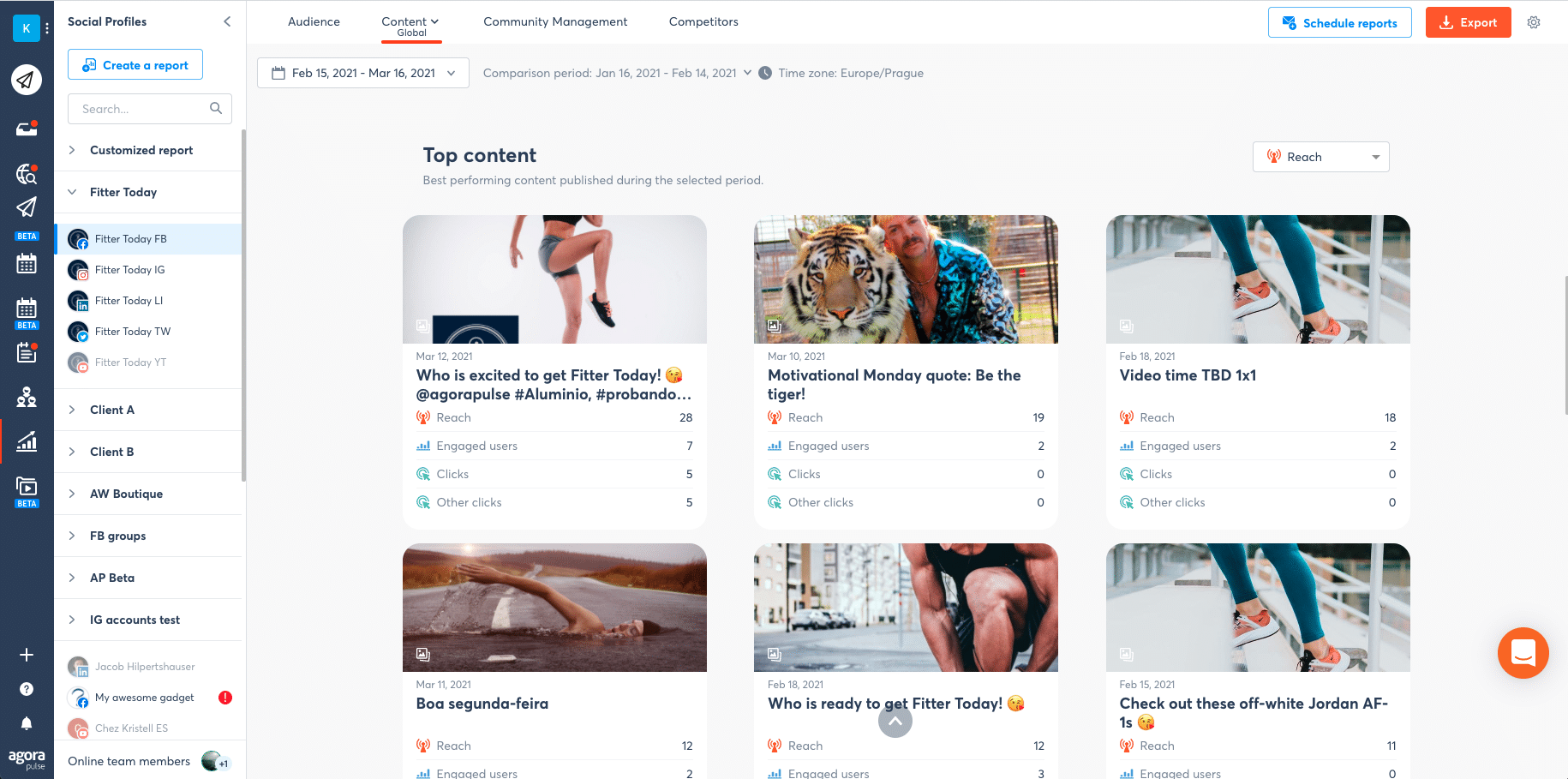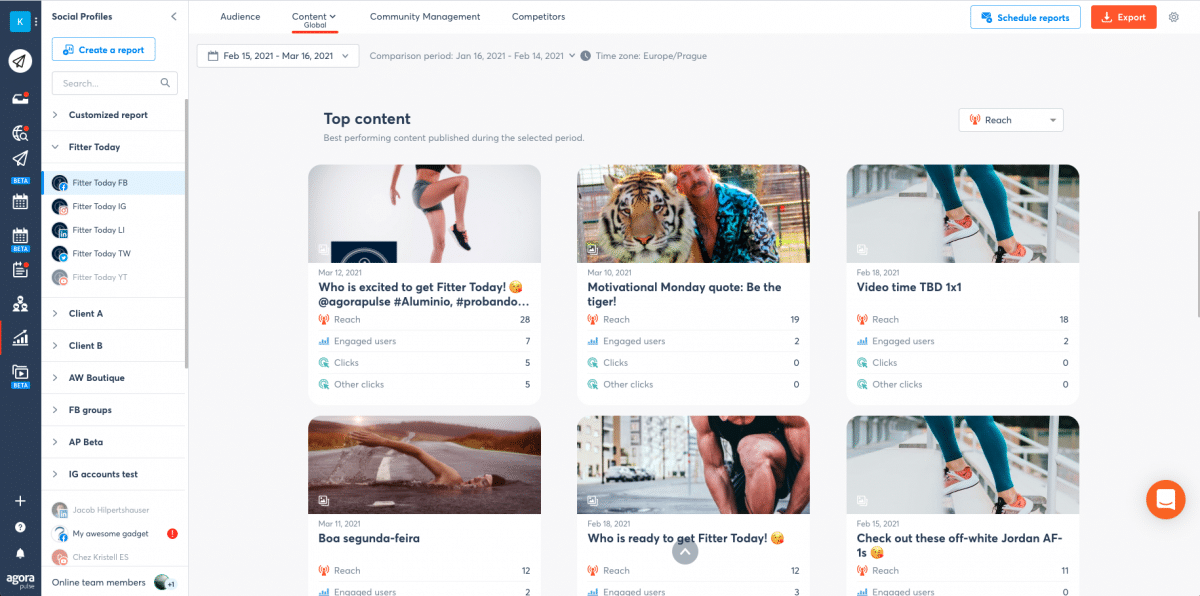 Make note of what your top-performing posts have in common.
For example, fast-paced brand-building reels or educational carousels might work best for your audience. Use your findings to fine-tune your messaging, brand voice, and creatives.
It's also helpful to check your competitors' Facebook pages to see what's working for them. Use Agorapulse's competitors' tool to identify pages with high engagement rates. Then review top-performing competitors' posts for added inspiration.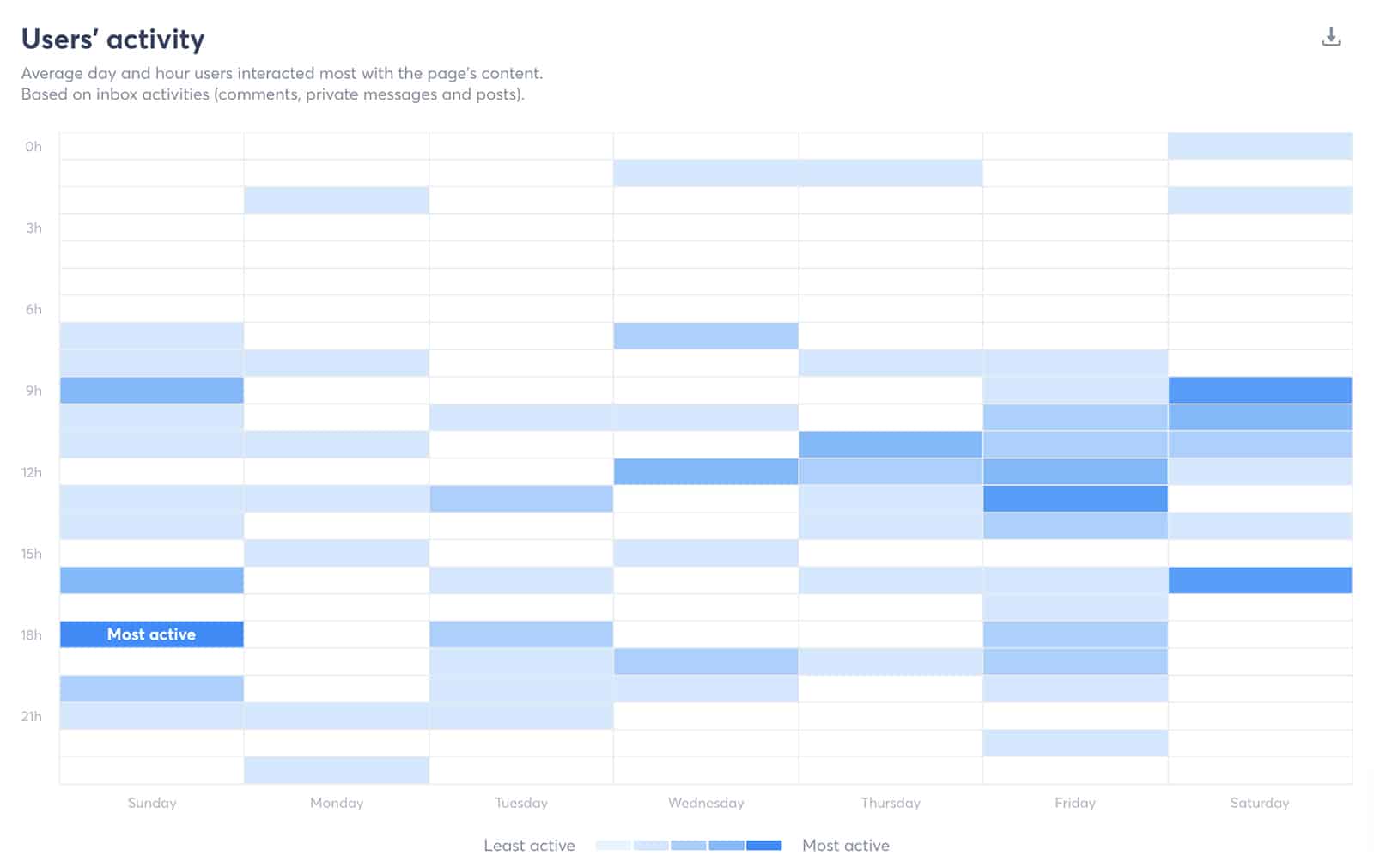 No matter what you post, make sure to publish content at the optimal times for your audience. Check your Agorapulse dashboard for the best times to post on Facebook. The user activity report reveals the days and times with the highest engagement levels.
4. Maximize Facebook ROI
In some cases, your objectives will focus on in-app results like audience growth, DMs, and comments. But in other cases, your goals will center more on website traffic and external conversions.
To truly skyrocket your Facebook performance, make sure you're tracking relevant results. As you experiment with Facebook post ideas, track the clicks, conversions, and revenue from your content.

Agorapulse automatically tracks return on investment (ROI) for Facebook and other social media channels. Once you connect your Google Analytics account to your Agorapulse dashboard, you can easily monitor social media ROI across Facebook.
Social Media ROI Ebook: Download a FREE Guide to Proving Social Media ROI

If you add campaign tracking (i.e., UTM codes) to the links you share on Facebook, you can also attribute traffic, conversions, and revenue to individual posts. With these insights, you can make data-driven decisions about the best content to publish on your Facebook page.
12 Facebook Post Ideas to Boost Engagement and Conversions
Ready to level up your Facebook marketing? Go above and beyond with these Facebook post ideas.
1. Hop on a trend
Over the past year, Wordle has made its way into the minds and smartphones of seemingly everyone. The Wordle-inspired board in this Silk video is instantly recognizable, prompting viewers to start puzzling out the answer.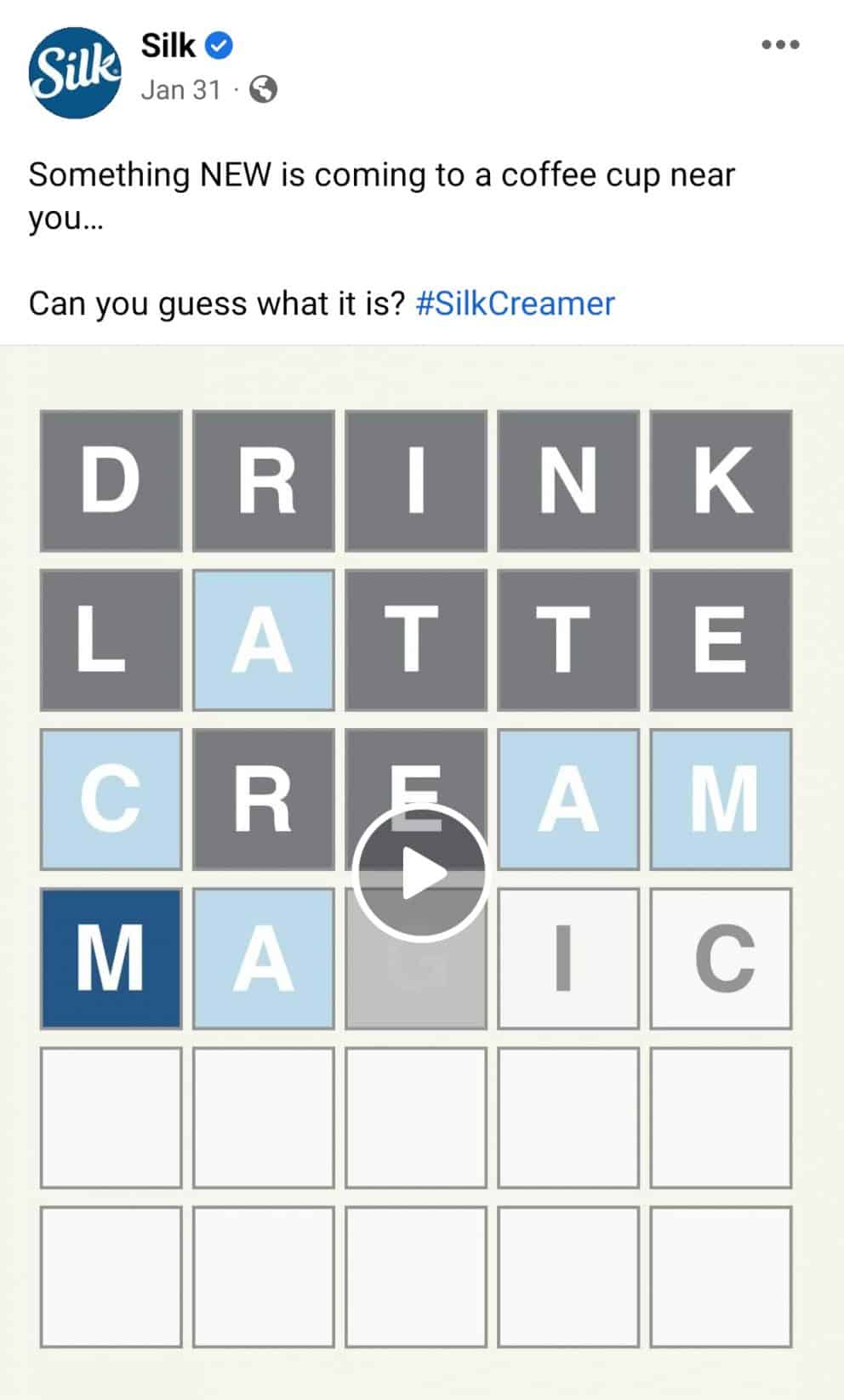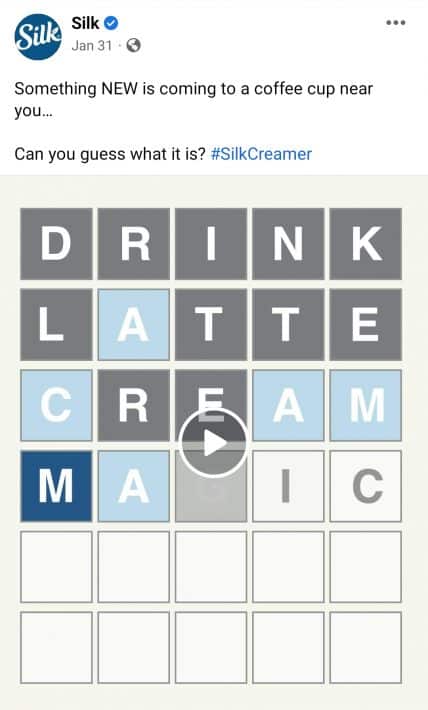 This Facebook video is a fun way to tease a product and generate interest before a launch—using a visual language that's both popular and easy to engage with.
2. Ask a question
Brands often use Facebook posts to share news, promote products, or broadcast content. In other words, they often use the social media network to create a one-way avenue for communication.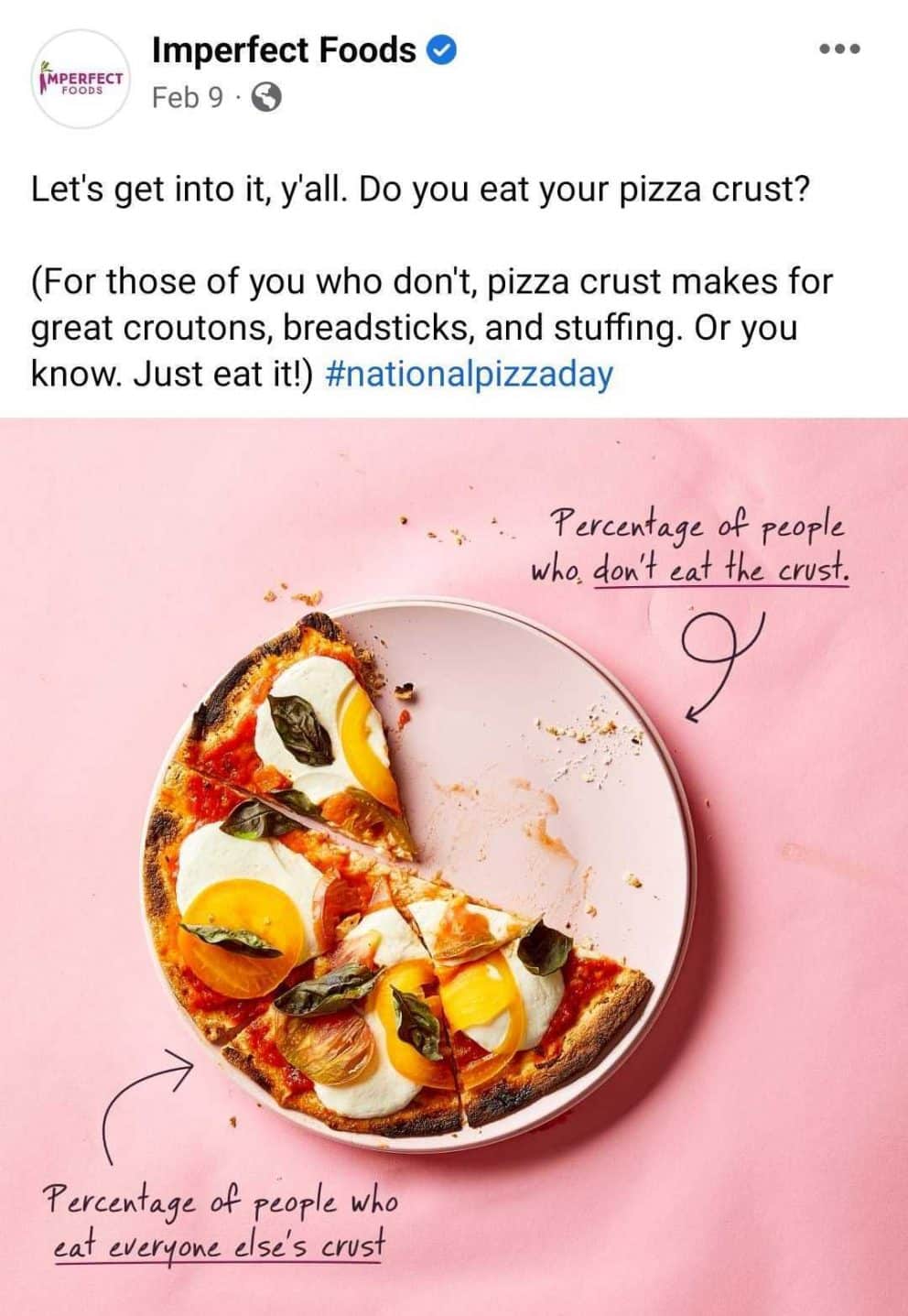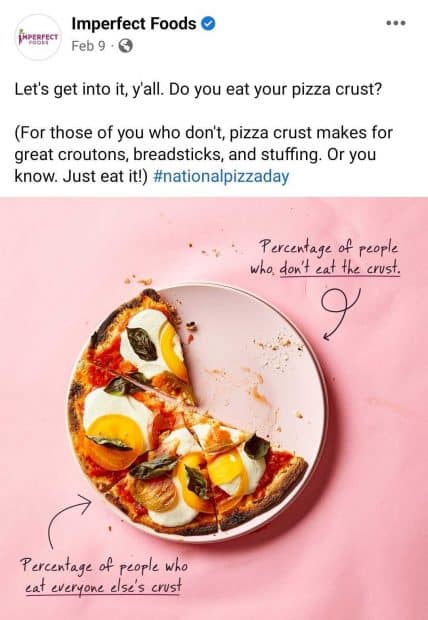 The Imperfect Foods post above takes a different approach: asking a question. Since it's a lighthearted question that's likely to be controversial, it's great for sparking a conversation. As an added bonus, the post includes actionable tips.
3. Compare this vs. that
With a this vs. that comparison, you can ask more pointed questions and do customer research at the same time. For example, you might ask followers to choose their preferred color or design so you know which to produce.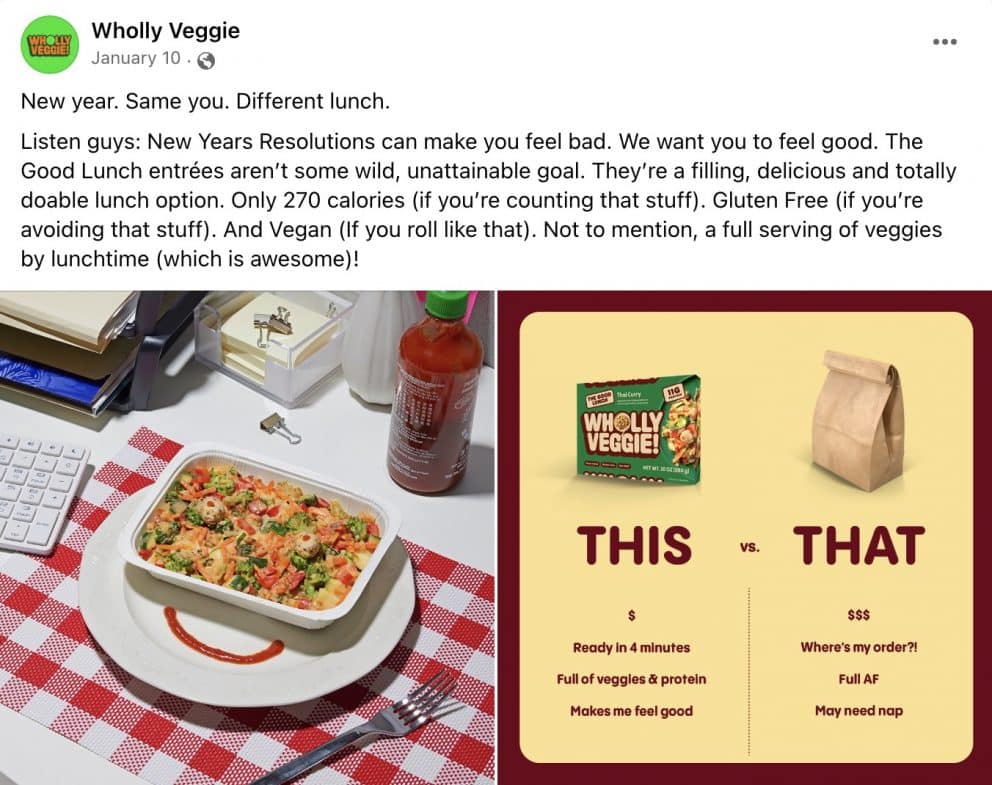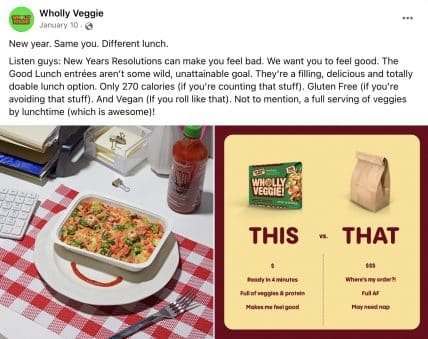 Above, the Wholly Veggie Facebook post puts a unique spin on the this vs. that concept. The brand uses the opportunity to highlight product features and benefits while contrasting them against the alternative.
4. Host an ask me anything session
Why not take that conversation to an entirely new level? In the Amy Porterfield video below, the marketer invites followers to an interactive livestream, where she'll answer questions in real time.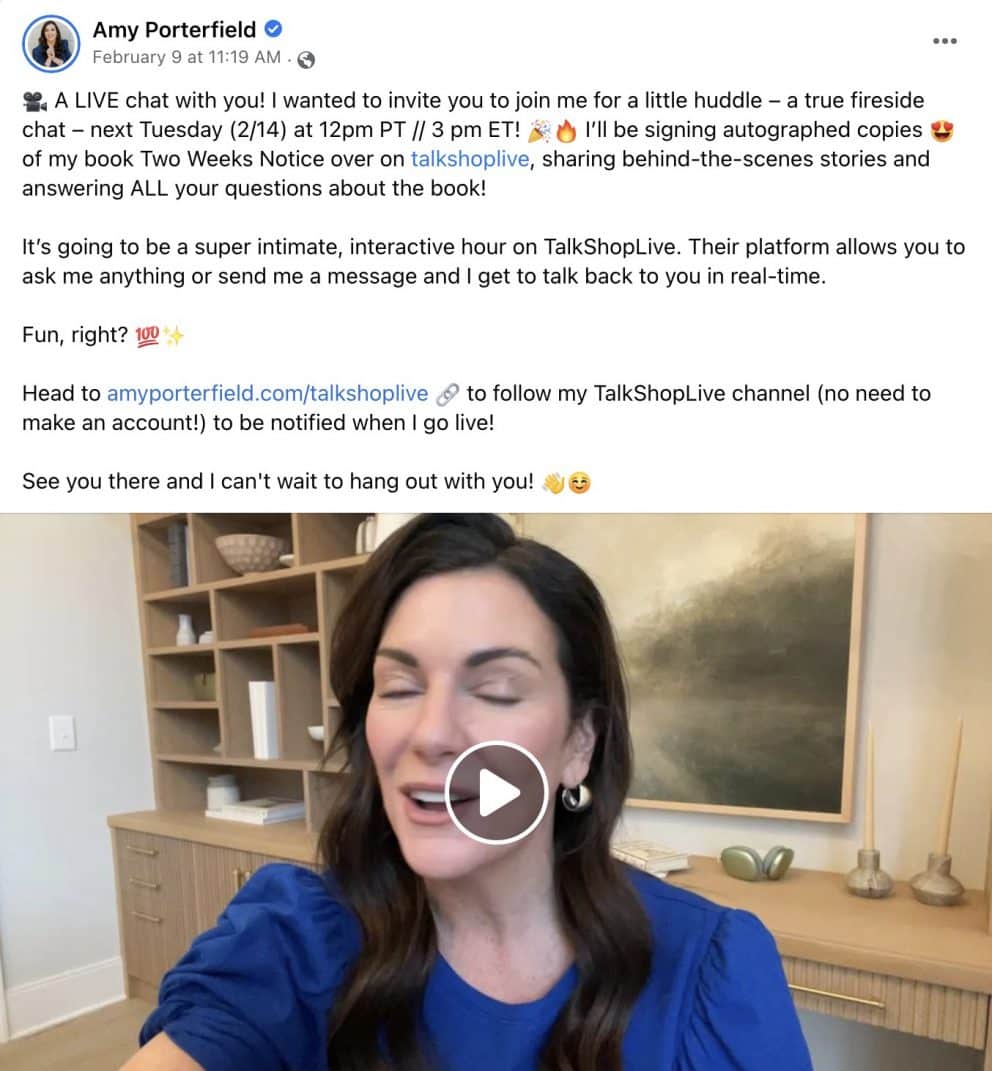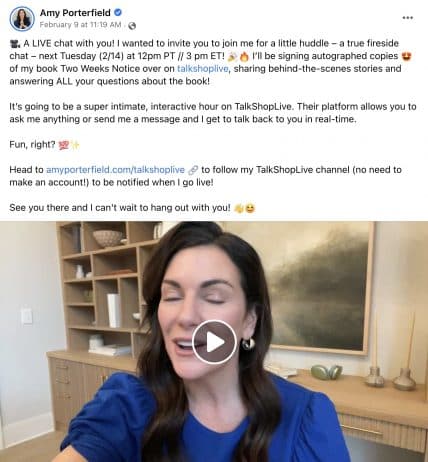 You can certainly use Facebook to promote livestreams on other channels like Amy Porterfield does above. But you can also host ask me anything sessions directly on the social media network—which is ideal for deepening connections with Facebook followers.
5. Take followers behind the scenes
Think your audience wouldn't want a tour of your company's kitchen, warehouse, or office? Think again. Since behind-the-scenes content gives your audience a glimpse of how you work, it can be great for building trust.
It can also be entertaining and educational, like in the XO Marshmallow video above. Although the topic (slicing marshmallows) is relatively mundane, it offers a fascinating look at how the company makes a signature product.
6. Introduce your team
To promote its upcoming webinar, monday.com could have published a simple Facebook story with a CTA and a link sticker. But by having a team member announce the webinar via a video story, monday.com creates much more compelling content.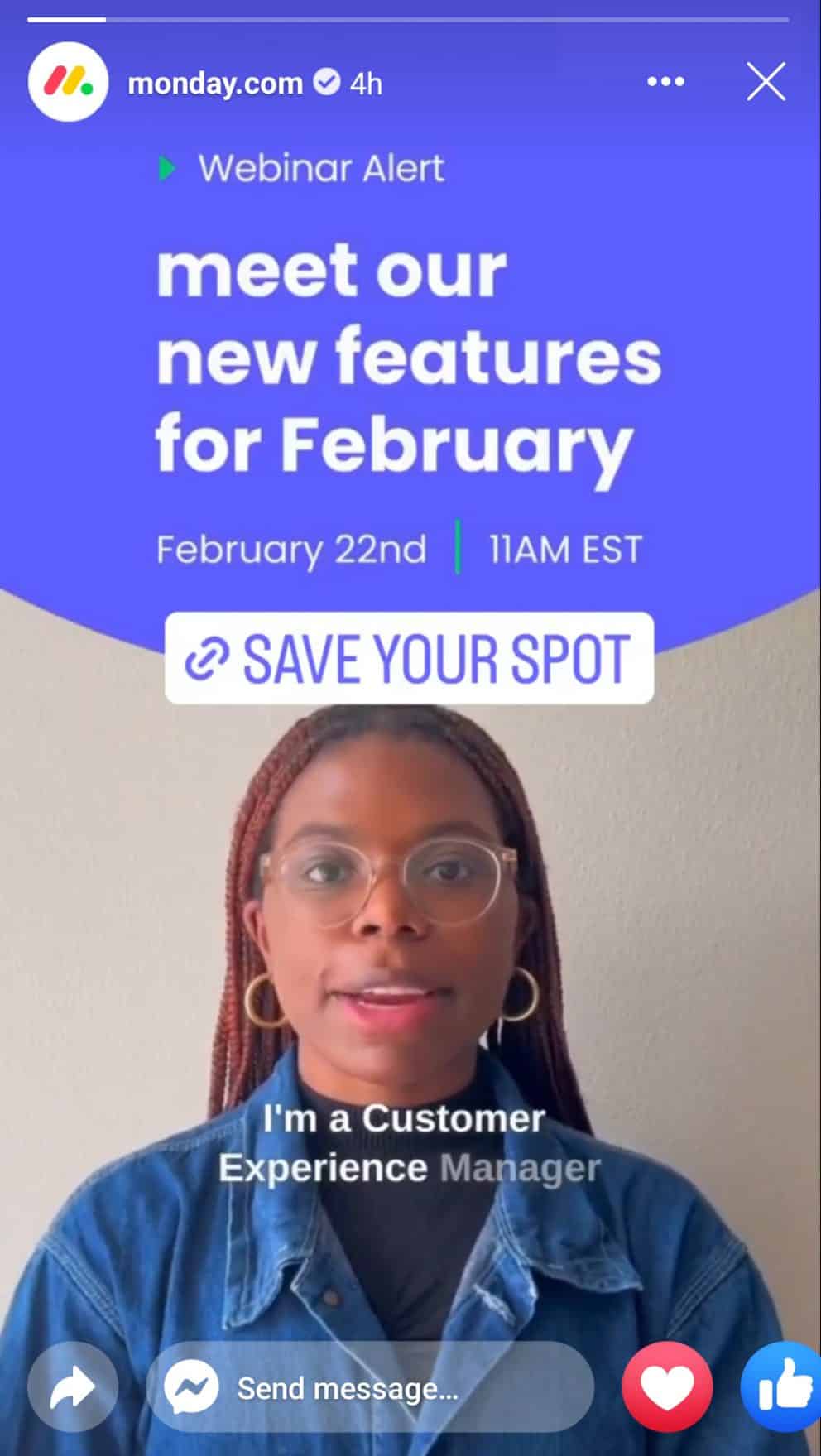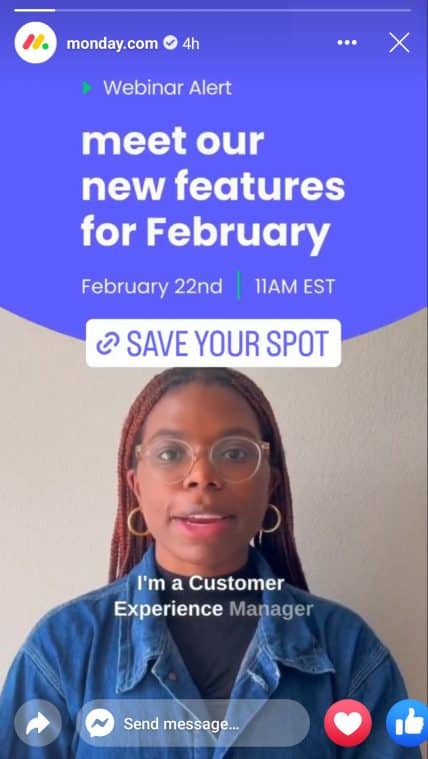 This Facebook post idea would work just as well with other kinds of content too, ranging from product announcements to company news. By getting your team involved, you can add a much more personal touch to your content.
7. Get personal with your audience
As your Facebook audience grows, it's important to remember that many of your followers don't know your story, mission, or values. By highlighting these essential elements of your brand, you can get personal and give your audience a new reason to appreciate your brand.


Above, Siete Family Foods shares a heartfelt post that recounts the company's early days. It reinforces the brand's roots while creating an inclusive community for customers.
8. Share user-generated content
Most of the posts you publish on Facebook will probably include either original or curated content. Yet user-generated content (UGC) should also have a spot on your organization's content calendar.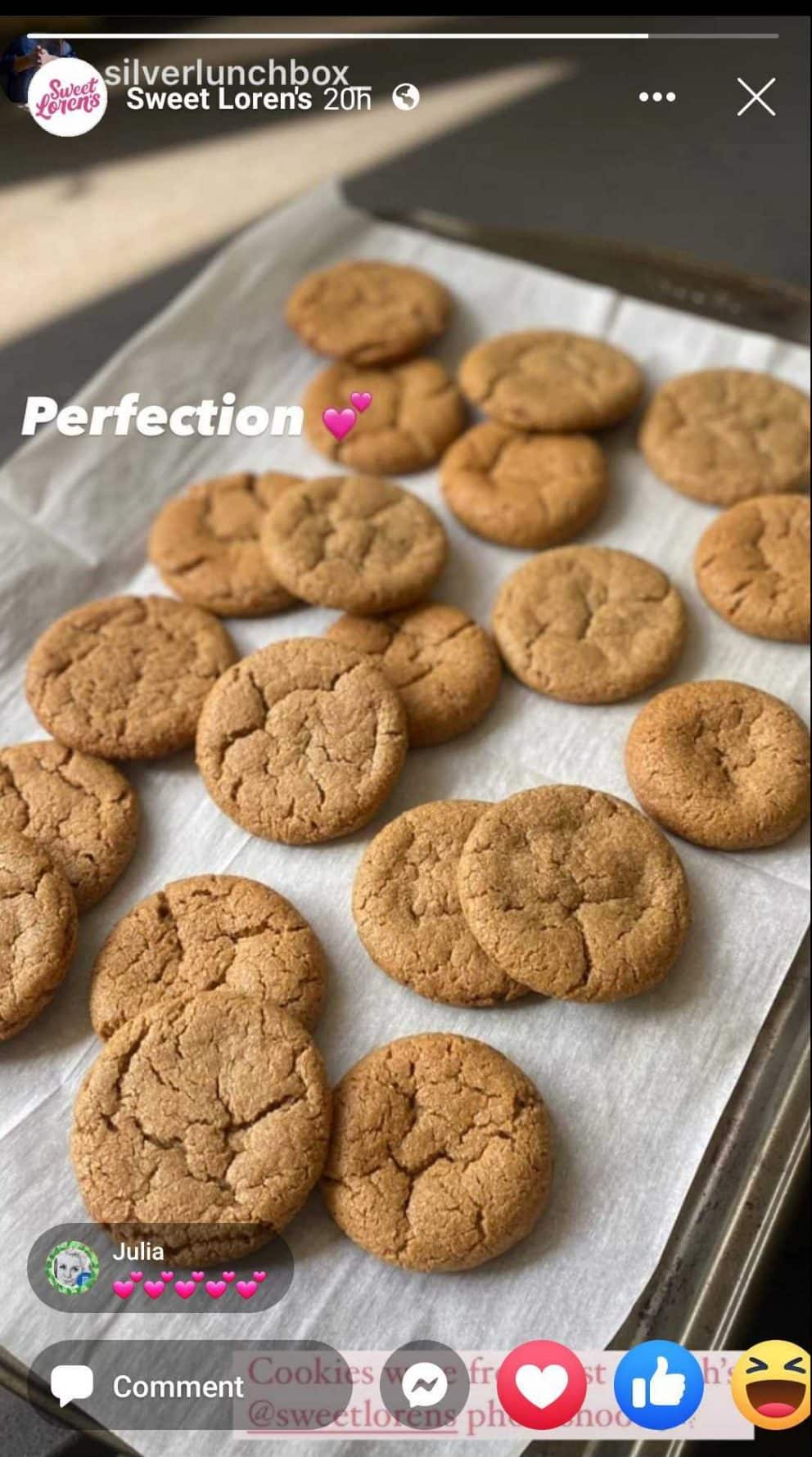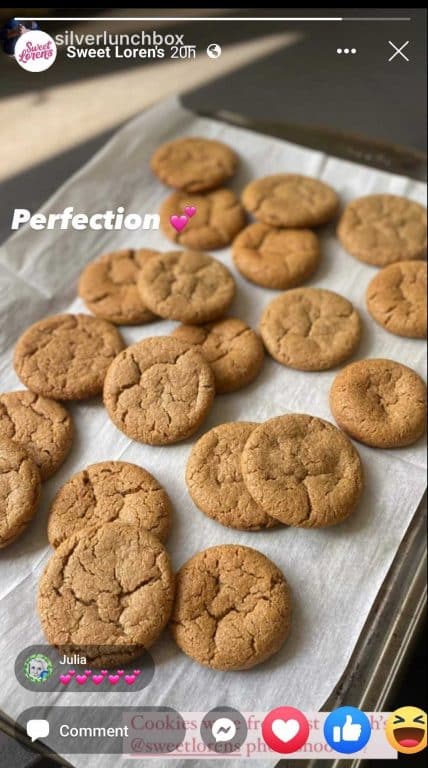 Above, the Sweet Loren's Facebook story features UGC posted by a customer. It adds a touch of authenticity to the feed and also gives the brand an easy way to thank the customer for the original post.
9. Let customers speak
You can find a million different ways to highlight features and benefits in your Facebook content. But it's often more effective to let customers speak about their experience with your brand.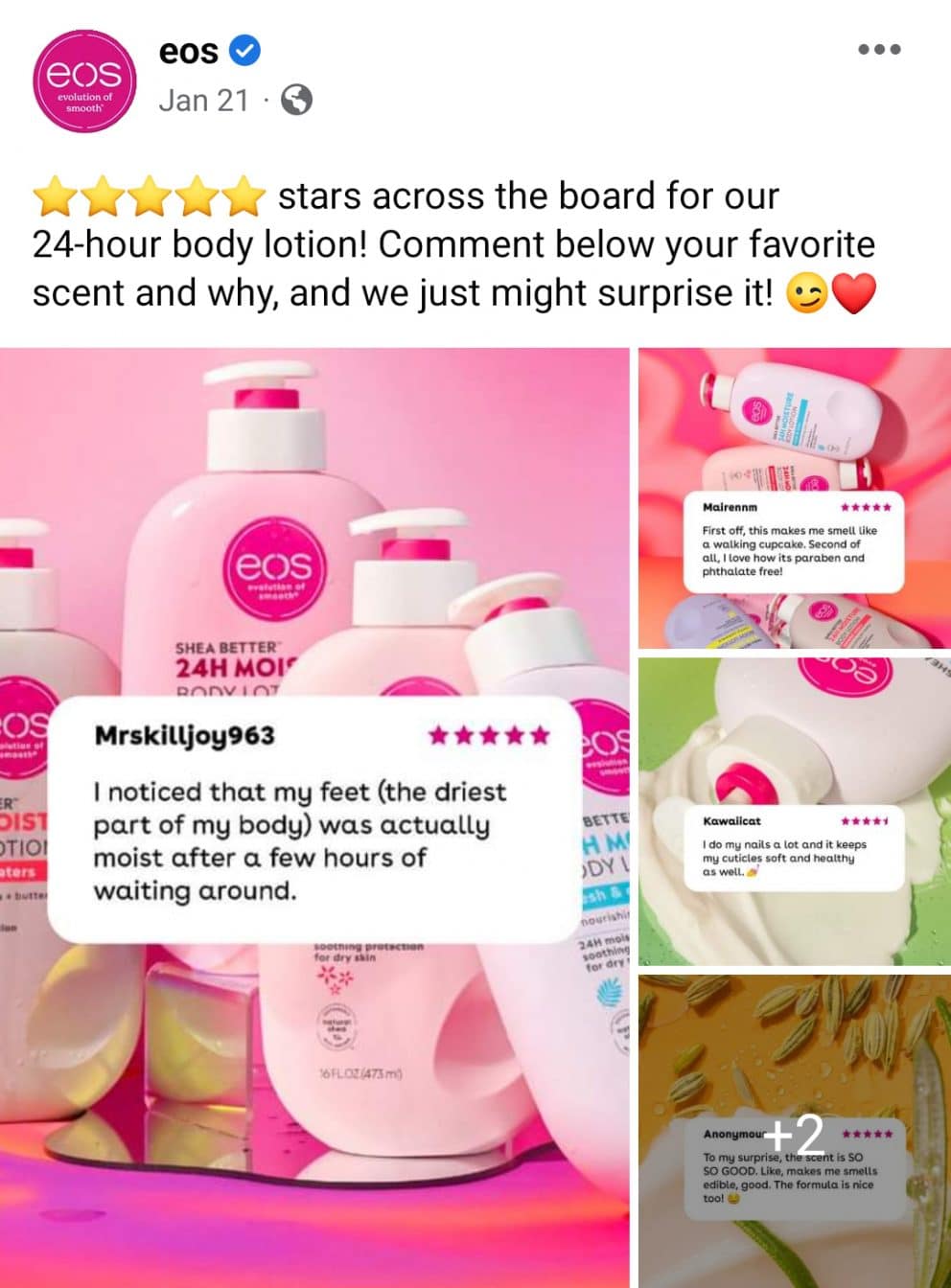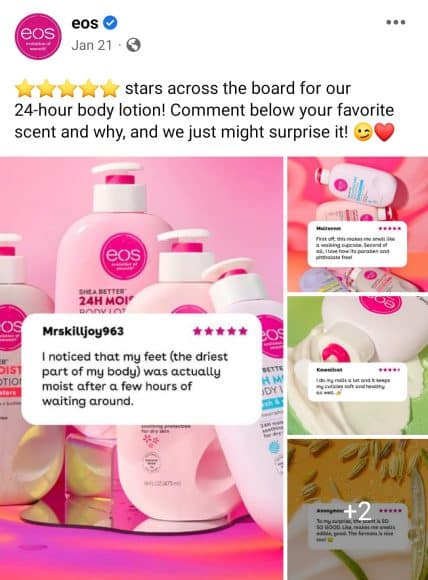 In the eos Facebook post above, the skincare brand highlights several five-star customer reviews. Because the comments come from real customers, they're likely to resonate with—and potentially convert—other prospects.
10. Create interactive content
When you want to get engagement and entertain your audience, interactive content is key. Facebook has several options for creating interactive content, including story stickers, polls, and GIFs.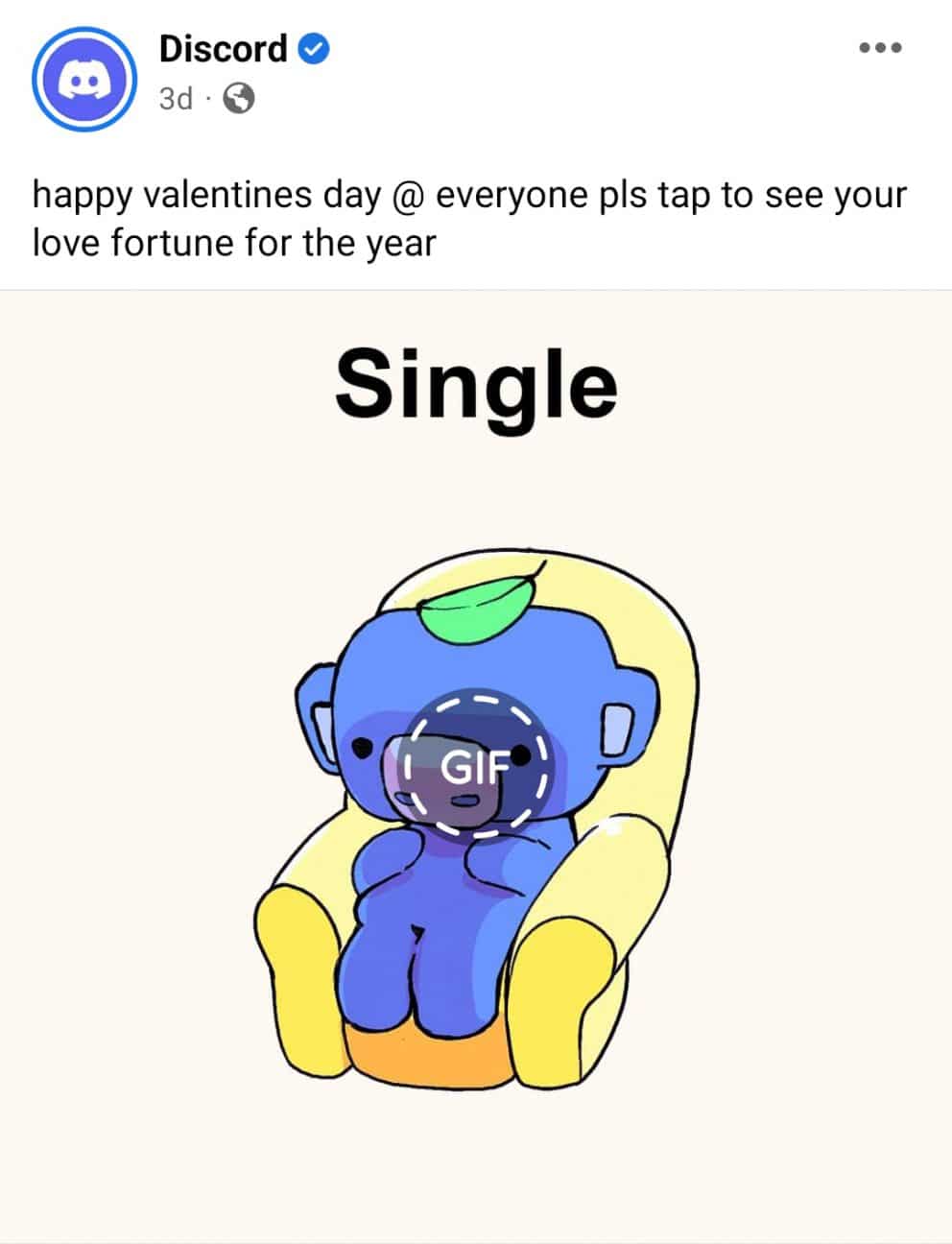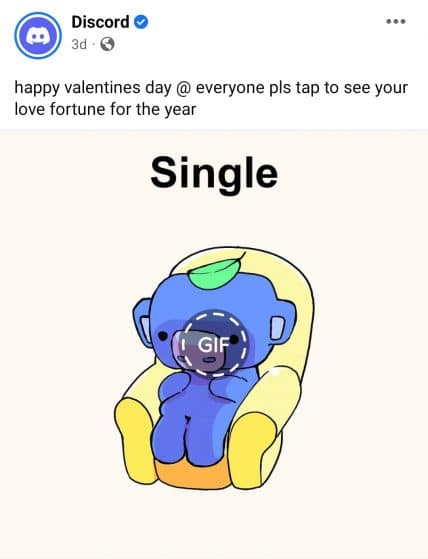 Above, the Discord post invites followers to tap the GIF to stop the animation and see their love fortune. By referencing the @ everyone tag—a feature common to Discord—the post uses language that's likely to resonate with followers.
11. Run a contest or giveaway
If you want to increase engagement, build buzz, or even get email subscriptions, running a contest can be a great idea. Just make sure you follow Facebook's promotion guidelines when you launch a contest or giveaway.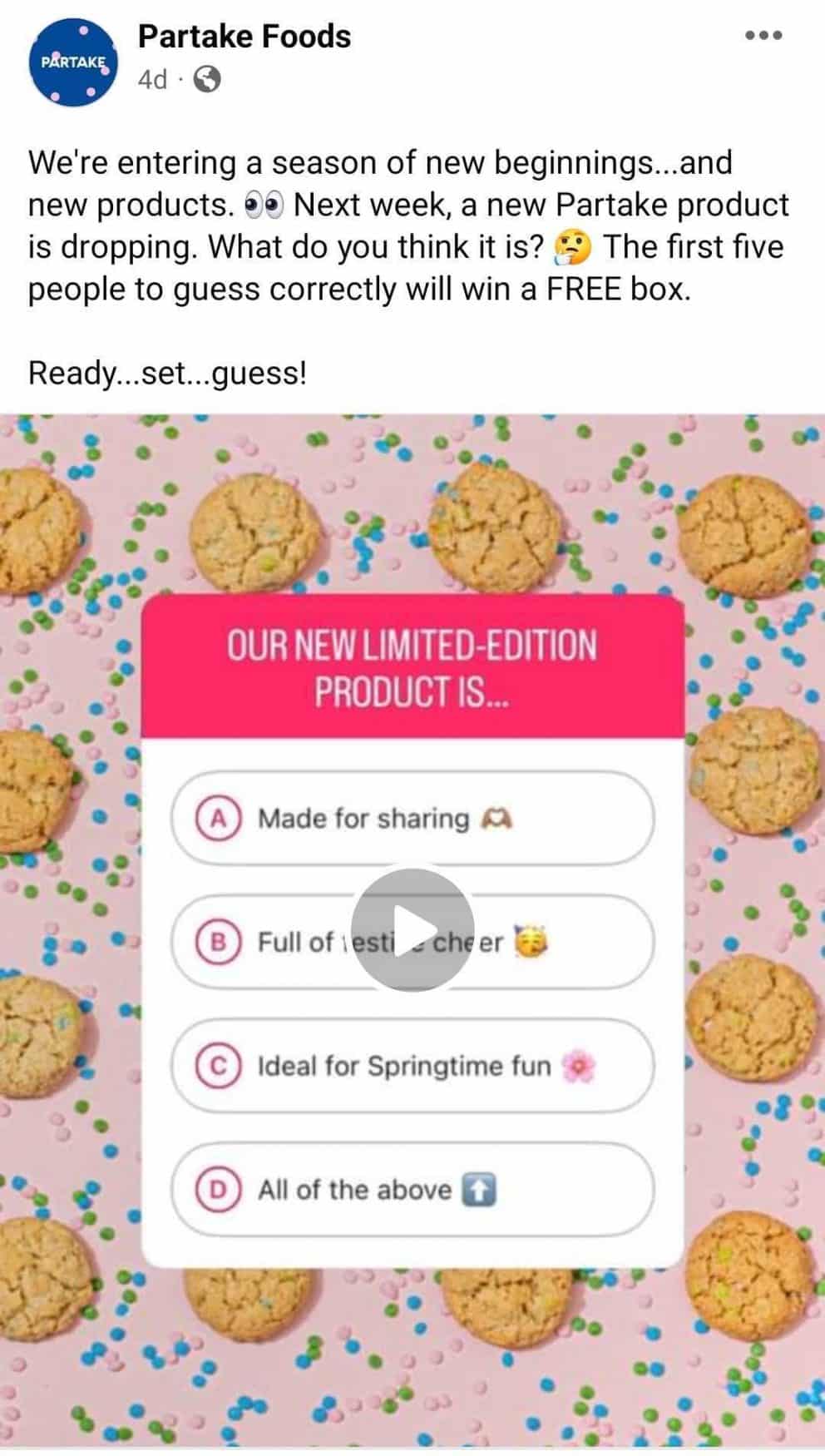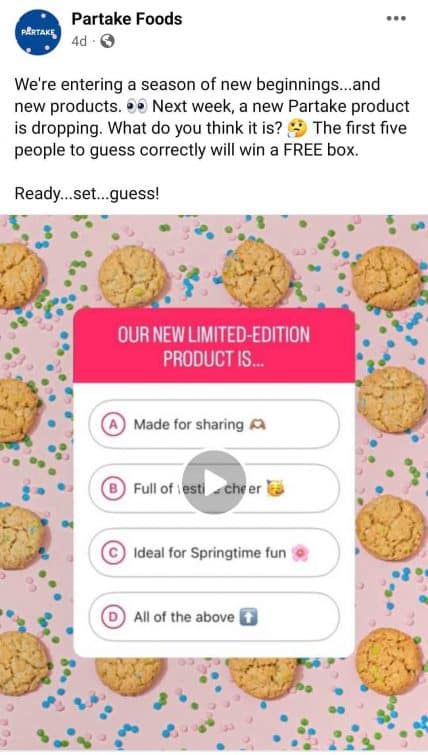 Above, the Partake Foods post teases a new product with a lighthearted quiz. The brand encourages engagement by giving away free products to people who guess correctly.
12. Repurpose content across channels
Not all your content has to be completely unique to Facebook. Have a top-performing tweet or Instagram post to share? Consider posting a screen capture to Facebook.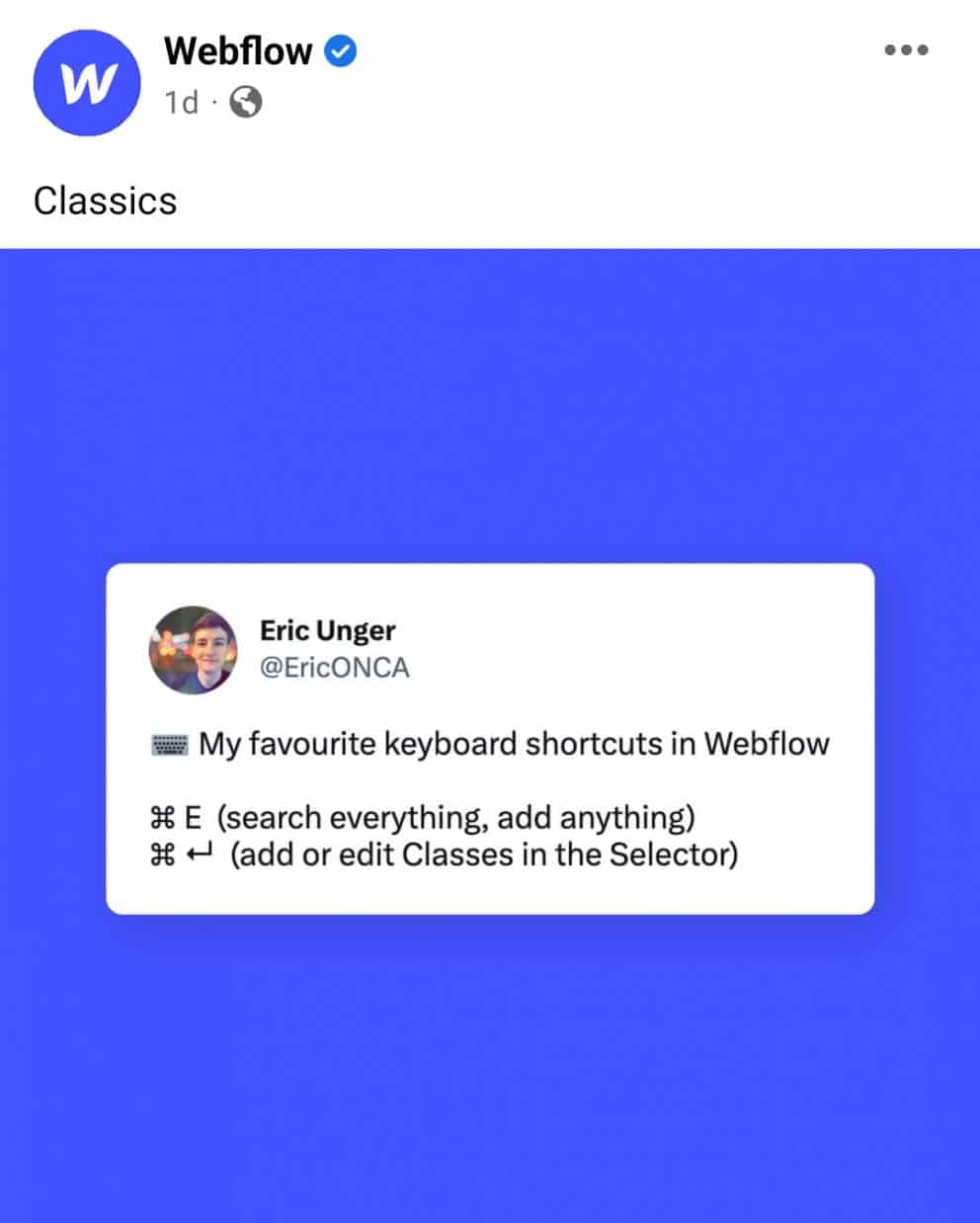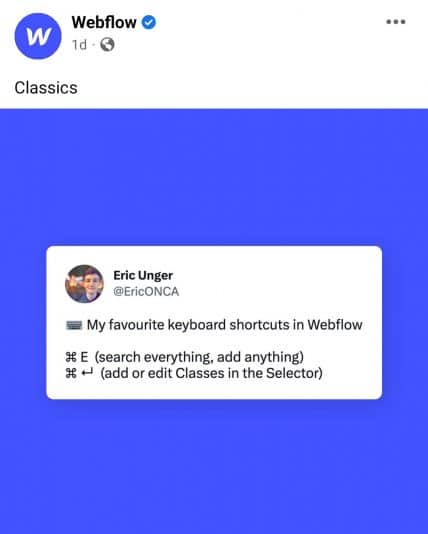 Above, Webflow shares a tweet from a customer. The post adds a one-word caption before letting the customer speak for the product.
Wrapping Up the Facebook Post Ideas We Covered
With a creative approach and a willingness to experiment, your team can find and implement tons of great Facebook post ideas. To take your social media marketing to the next level, monitor your Facebook analytics closely. By checking insights regularly, you can see what works, adjust your strategy, and maximize the value of your efforts.
Start scheduling, queuing, and publishing all your Facebook content from one place (and even prove its ROI). Sign up for FREE demo to find out how!