What's everyone but me doing?! Keep your audience curious about what your brand is up to and why they need to join in.
Fear of missing out (FOMO) is the idea that other people are enjoying experiences … and you're not. People want to feel part of things, and that's why FOMO marketing is so powerful.
If you can weave urgency, exclusivity, and excitement into your campaigns, people feel like they can't possibly miss out on what you have to offer.
Data suggests that FOMO is prevalent among millennials. 69% of millennials experience FOMO and it's a purchase driver for 60% of them. However, social media is a great platform for targeting other generations with FOMO marketing. With over 3.5 billion active users, social media provides a huge potential audience.
At my content marketing agency Contentworks, we have seen huge success with FOMO social media marketing techniques.
So, here are 10 FOMO social media marketing hacks you won't want to miss!
1. Focus on the Experience
Consumer values are shifting towards brand experiences over things. A total of 73% of consumers view good experiences as a key influencer of their brand loyalty. 52% would pay extra for a more efficient customer experience and 32% are willing to walk away from a brand they "love" after a single bad experience.
The need for positive experiences is a great tool for building FOMO. So, selling an experience that's attention-grabbing and appealing to your target audience is a great way to boost ROI.
What to do
Use exceptional imagery
Beautiful, eye-catching photos pique interest. That's why image-sharing platform Instagram is a good social media channel to use.
Focus on how the experience you're offering can make your brand sound unique.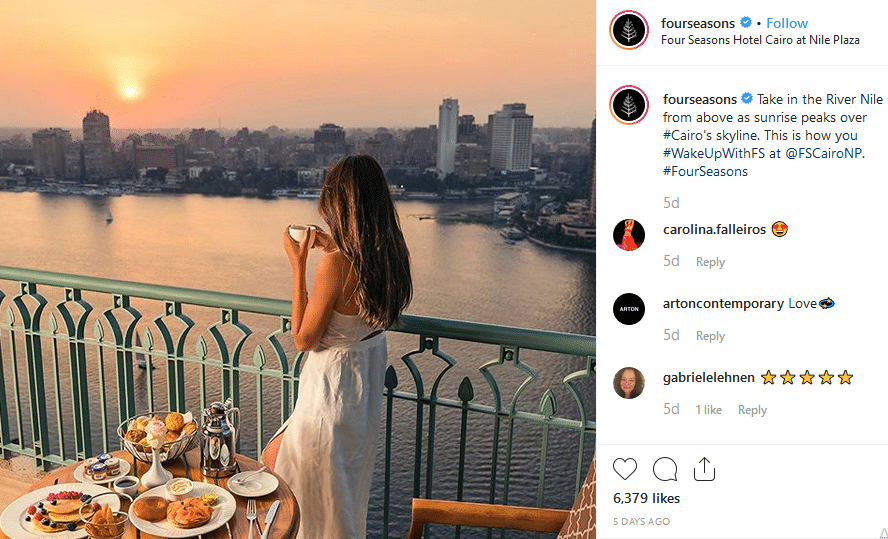 Make the most of user-generated content (UGC)
What better way to create FOMO than with something tried and tested?
Daniel Wellington is firing up followers with its #DWPickOfTheDay contest, which uses UGC. Remember to tag winners in your posts to drum up excitement and extend your outreach.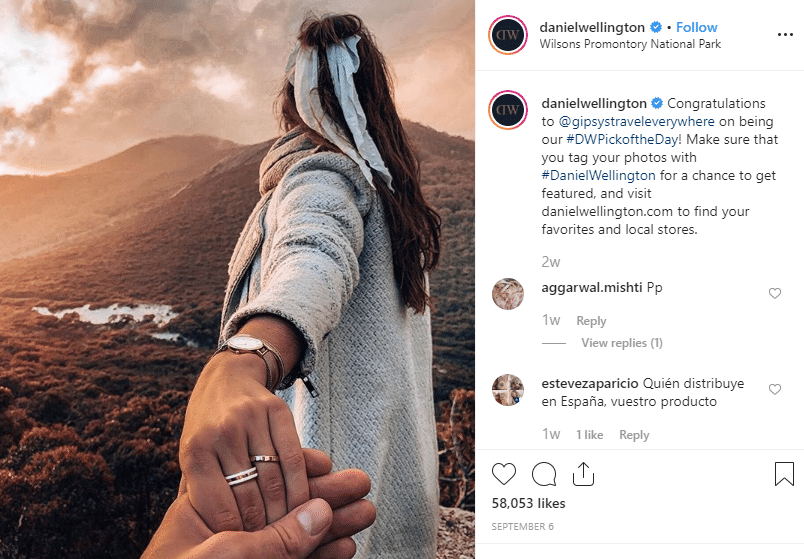 2. Merge Scarcity and Urgency
Creating urgency has always been a top marketing tactic.
"Today only" offers have long been known to pull in customers. For example, Black Friday brings in over $6.2 billion in sales because people don't want to miss out on the big deals of the day. That is a classic case of FOMO marketing on top form.
Urgency can also be neatly merged with scarcity.
There's something intriguing about a special edition handbag or a webinar with just 12 spots left. Urgent situations with an element of scarcity trigger anxiety. That can be used to boost conversions, increase sales, and increase followers.
What to do
Use a countdown clock
90% of information that enters the human brain is visual. So, showing an actual symbol of passing time can trigger immediate action.
Instagram now has a Countdown sticker, which has excellent features. Followers can share the timer, and when the countdown ends, everyone who saved the reminders gets notified.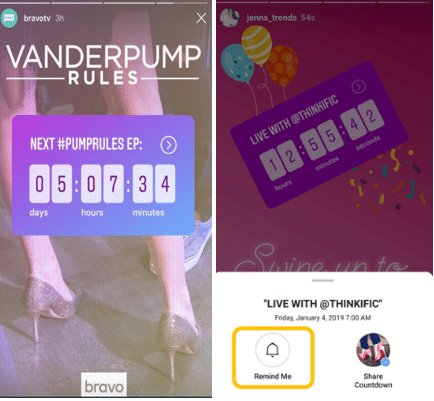 Have an offer of the week
Another way to create urgency is to switch up your offers weekly. The limited time period will spur people into action and keep them watching your page constantly for more great deals.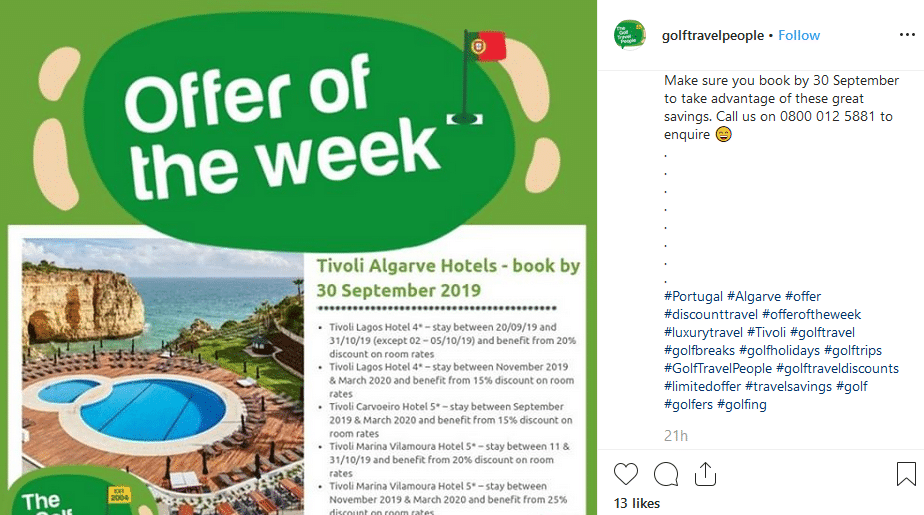 Provide instructions
Creating a sense of urgency works more effectively when it's paired with follow-up instructions. Reap the benefits of FOMO by creating urgency or scarcity backed by clear instruction on what to do.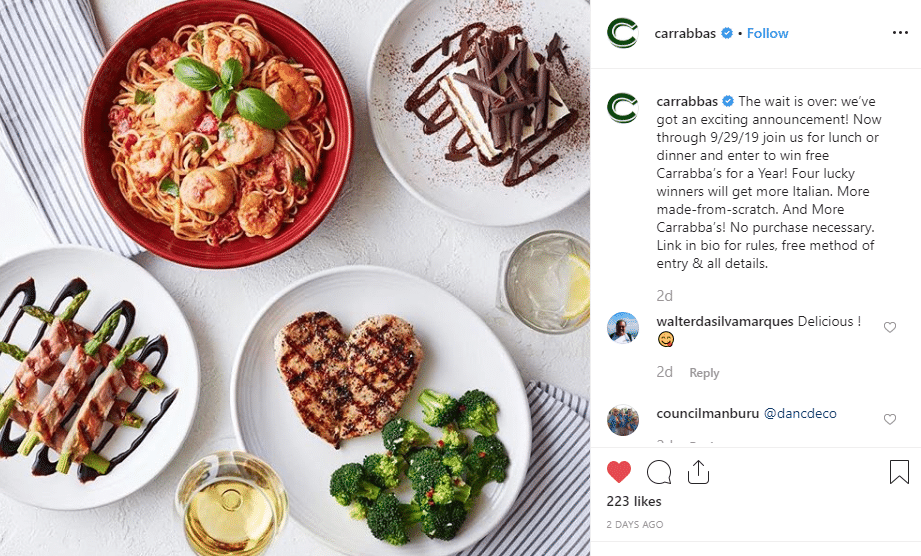 Use color
Color can evoke a sense of urgency. The most effective colors for creating a sense of urgency are blue, orange, and red.
3. Create Expiring Content
Our clients are often afraid to create expiring content in case they miss out on sales. But the opposite is true.
Content that expires gives the ultimate FOMO vibe. One of the reasons why Snapchat is so successful is because the platform uses the expiring content concept. Once the content is gone, you've lost your chance to see it forever.
GrubHub, a food service company, provides a good example of the effect of expiring content. The company created suspense through a series of Snapchat story snaps that each revealed part of the promo code as more pizza was consumed.
The campaign makes me feel impatient and keeps me checking back for that all important code. Oh, and of course, pizza …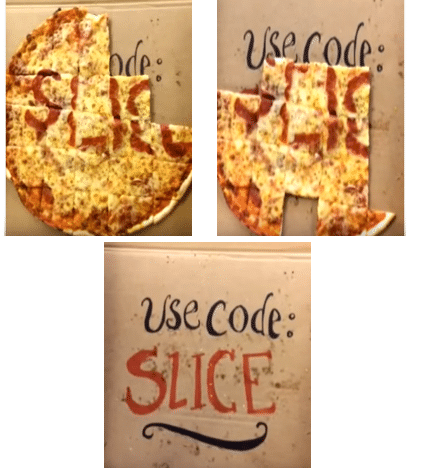 Why this campaign worked well:
The limited-time 15% discount that ran for a few days created urgency and scarcity.
The campaign was exclusive to customers.
The campaign used gamification to build anticipation and get interaction. More of the surprise code was revealed as the audience ate more pizza slices.
What to do
Don't be afraid to let your offers expire
If you keep extending them, consumers will become complacent and fail to respond to the FOMO feel you want to create. Make all offer expiration dates very clear, and use a timer (as mentioned above).
Let people miss out. They won't next time!
4. Leverage exclusivity for FOMO
Just like urgency and scarcity, exclusivity triggers FOMO because it's common for people to want something that not many others have.
For instance, over 100 million people have signed up for Amazon Prime to get deals that non-Prime members can't get.
Consumers are wary of sharing their data but close to 30% are willing to provide personal information on social media in return for exclusive offers.
What to do
Create a single-channel campaign
By promoting an offer on one channel only, you can effectively drive traffic based on FOMO. This is also ideal for companies with smaller budgets that don't want to splash the cash on a multi-channel campaign.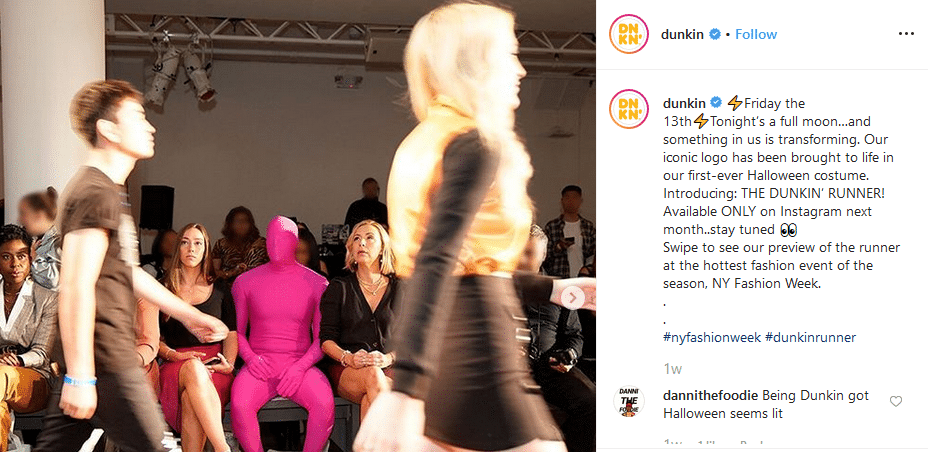 Be location specific
If people think they're getting something others can't have, they're more likely to go out and make a purchase.
Shout about products exclusive to certain stores or geographical locations.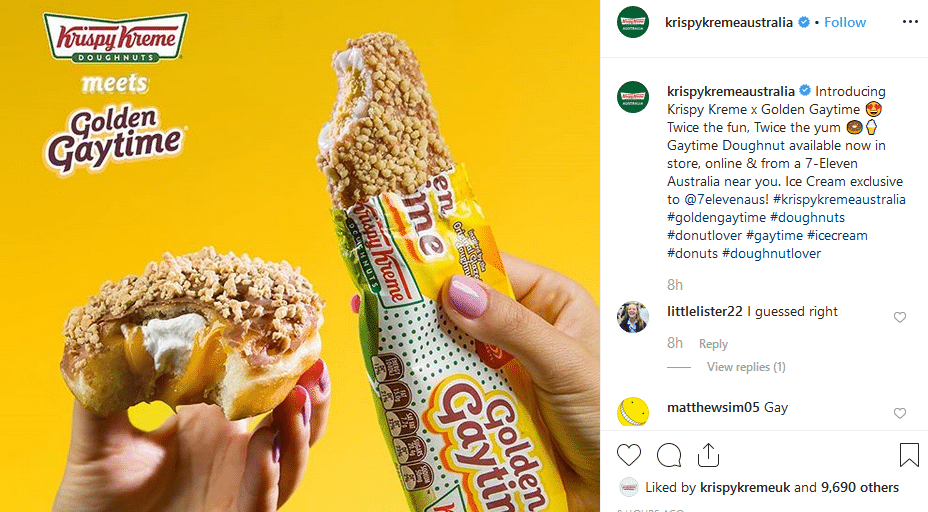 Use the allure of mystery to fuel your exclusive offer
People don't want to be left out, and mystery will likely pique more interest and add to the appeal of your offer.
Fuel conversion by using a clear CTA that makes the exclusive group stand out from the people who decided not to opt-in.
Shoes.com had lots of success with its Mystery Flash Sale campaign because the deal was only exclusive to people who chose to reveal the deal.
5. Use Language Carefully
Posts that include images produce 650% higher engagement than text-only posts.
That said, all marketing content must be strong. Language matters in FOMO marketing. Your audience needs to feel like they are about to lose a great offer if they don't take action.
Creating the message
Create impactful imagery with words. Use strong adjectives and verbs that make the audience want to act.
Examples of smart messages include …
"For a limited time only." The customer will be in a hurry because of the urgency and scarcity elements.
"Offer ends on XXX." Be specific to avoid confusion.
"Last 10 in stock. Grab yours." You've pitted social media fans against one another to get the last items.

6. Make the Most of Social Proof
Social proof is a marketing technique based on the concept of herd mentality. If we feel others are doing something, it helps to justify our own decisions.
Therefore, social proof can be used to build FOMO.
What to do:
Show reviews
For 9/10 consumers, an online review is just as important as a personal recommendation. Consumers want proof from unbiased third parties.
You can use this proof to increase FOMO on excellent products. Testimonials, ratings and reviews can increase conversion by 270% as they show real people are using the products and this increases FOMO.
Consider influencer marketing
82% of consumers are likely to follow influencer recommendations. So, influencers are a great source of reviews.
Amex has increased credibility with its Amex Ambassador campaign, which gets over 3.7 million engagements per year. The campaign uses influencer engagements to provide reviews and build FOMO through scarcity marketing. People want to be part of the luxurious Amex lifestyle.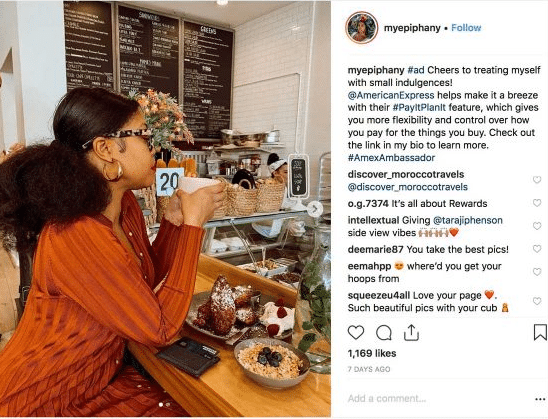 Feature happy customers
People love to be featured across social media, so why not showcase them using your products or services as social proof?

7. Use incentives and rewards
Incentives can create FOMO. After all, people don't want to miss out on bargains and rewards.
90% of consumers say that free shipping is their biggest incentive for shopping online. And 60% of all businesses now have an online presence.
So, go above and beyond where possible.
Additionally, 22% of rewards customers are likely to spend more on a brand, and 83% are more likely to repeat business.
Rewards can boost FOMO, business, and loyalty. For example, Birchbox offers regular bargains and loyalty rewards, and these campaigns garner on average, 71% more interaction than regular engagements.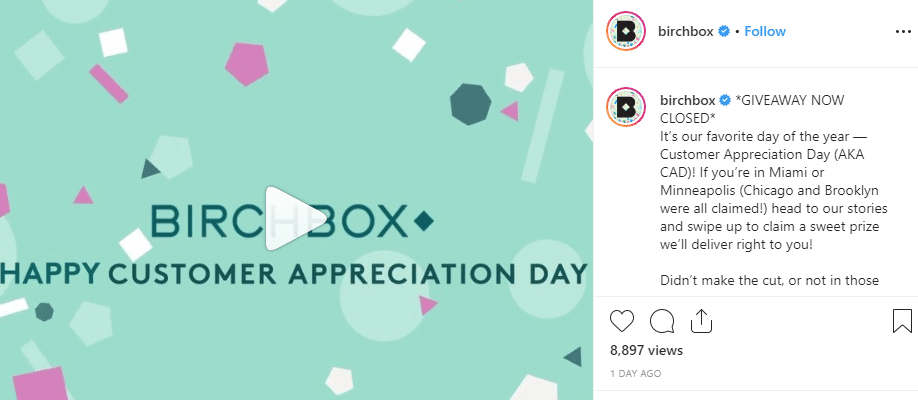 What to do
Give away freebies
Whether you're giving away online resources, such as courses and e-books, or physical products, such as make-up, be sure to promote your offer and use #specialoffer hashtags.
Never give away more than you need to, and consider attaching your giveaway to a purchase. For example, "Get a free body spray when you spend $30 or more …"
Limit the offer
Making the offer available to the first 50/100 people only who sign up/like your page will create FOMO and a sense of competition.
Birchbox knows the power of limited offers and runs them regularly.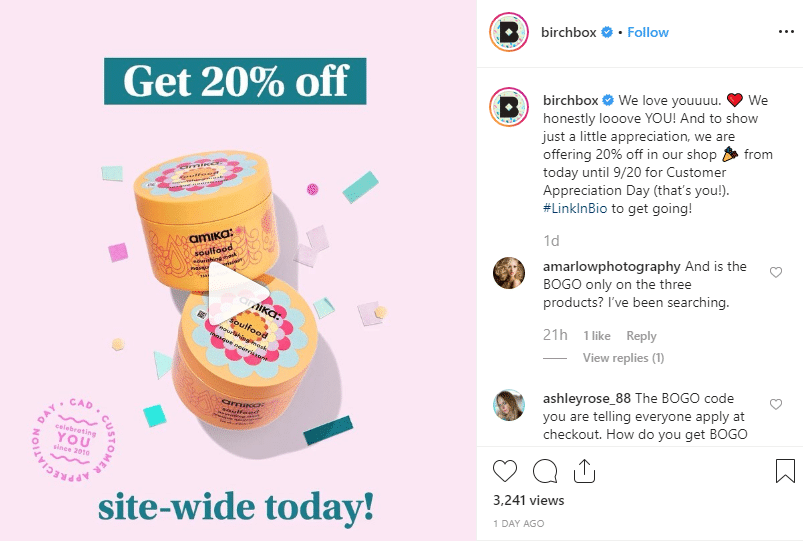 8. Create hype
70% of millennials feel FOMO when they can't attend an event and will try to be part of the action where possible.
Create shareable content that gets your target audience talking. When people see the excitement others have, they are likely to want to book their own tickets and join in the fun.
Why do people get in long lines on launch day to get a new phone or try a new pizza recipe? It's all to do with hype.
In short, people don't want to miss out on the experience of being the first to get the experience. Carrabbas' post of an upcoming announcement got 3.5x more engagement than regular posts. The post created a buzz and no one wanted to miss out on what was coming.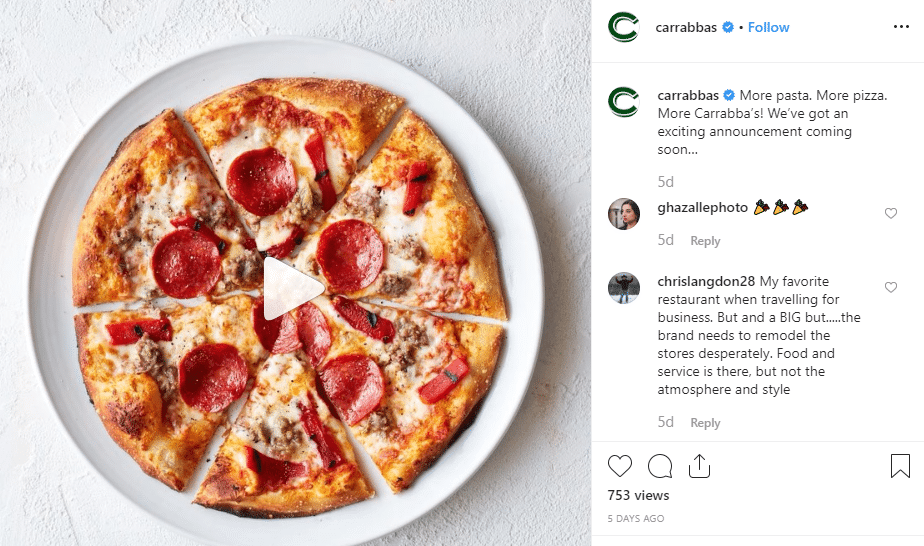 What to do
Share teasers
Carrabbas' teaser include a mouth-watering video of delicious food. People have come to love the brand's food, and this teaser was enough to spark anticipation and discussion.
Images work well. But for a greater effect, you can create video content, which increases interaction by 88% and results in 66% more leads.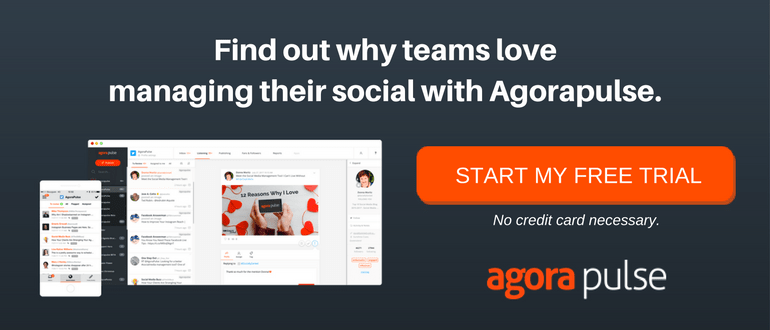 9. Say It Like It Is
In most cases, brands create FOMO without mentioning it explicitly.
But being open about it can be exactly what gets you more results.
It's quite unique for brands to reveal that it is creating FOMO, and doing this can give your campaign an edge.
Rue La La ran a campaign that outright talked about FOMO, and this directness resonated with the brand's millennial audience, which is all for authenticity.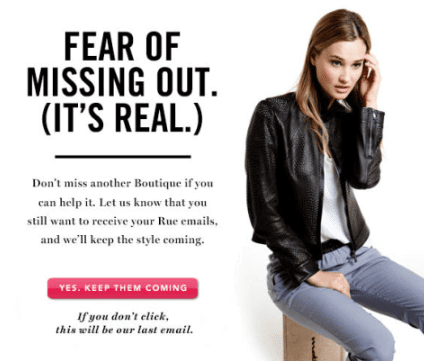 When to say it like it is
Use FOMO campaigns responsibly. FOMO sometimes triggers negative emotions and a sense of unease in people. 39% of people feel envy with FOMO and 21% feel sadness or disappointment.
Being too over-the-top with FOMO marketing, deliberately trying to trigger these negative emotions is sure to backfire and cost you much more than just sales.
Create campaigns that are not manipulative. Today's consumers are smart, and they will pick it up if you try to manipulate or trick them.
10. Provide useful content
You can also create FOMO by providing useful, interesting and engaging content. If people can see that your product/service is relevant to their daily lives, they're more likely to want it ASAP.
To ensure you excite your target audience and stimulate their interest:
Promote blogs on Twitter, Facebook, LinkedIn that link back to more detailed content. This should not necessarily directly promote a product but highlight the benefits of your brand. If you're offering discounted flights to France, for instance, why not write a few articles based on "top things to do in France" or "the best places to eat in Paris"? Extending your content will help to boost FOMO.
Create a series of videos and release one each day leading up to the product launch. Make the launch day clear and drip feed your audience with intriguing content.
Social media marketing and FOMO are a powerful combination when done right.
* * *
Get started on creating FOMO right now and check out our free trial of Agorapulse to help you schedule, track, and measure all your social media efforts.