Are you getting frustrated with how low your Facebook page post visibility is? Not getting the reach and engagement you think your content deserves? Want to see more engagement from your fans but unsure where to start? These are common complaints from businesses that are trying to harness the power of Facebook but finding it difficult to locate that elusive power.
The first step is in understanding who Facebook really cares about and what they are trying to achieve.
Further on in this post I'll share 3 strategies on how to increase your Facebook page post visibility, engagement and reach your goals, but first I want to make sure you really understand how the newsfeed works.
How the Facebook Newsfeed Works
Facebook cares – yep they really do – about each individual and their experience on Facebook. Every single person sees an aggregation of all the posts from personal connections (friends), people they are following, pages they have liked and groups they are a member of. On average each person can receive over 3000 pieces of news each daily. It is impossible for all these news stories to be seen so Facebook helps out by filtering.
The goal of News Feed is to deliver the right content to the right people at the right time so they don't miss the stories that are important to them. Ideally, we want News Feed to show all the posts people want to see in the order they want to read them. –Facebook
Facebook's newsfeed algorithm filters posts based on many factors. Some of these factors have been in place for years, others are as new as last month. Some of the main filters that Facebook use are:
Affinity – how much does an individual person engage with your content. The more they engage with posts from your page the more likely they are to continue seeing your page posts.
Engagement and overall engagement on a post – if a post receives a lot of engagement from within a person's own personal network (friends) or Facebook bumps the post because it is popular
Like baiting – if you publish a post and Facebook sees that a lot of people are clicking the link but coming back to Facebook straight away then they may deem that post as like baiting and will demote it, therefore it will get less visibility.
Overly promotional posts – it is called social media not sales media so do not keep pushing sales and promotional posts at people. Facebook has done research on this and the response is that users on Facebook do not want to be constantly sold to. If you want to share promotions or discounts etc. use ads to promote these types of posts.
Time spend on post (most recent) – this is a recent update where Facebook is saying that posts where people start spending some time will become more visible as they deem them to be more interesting
Filters – users can create their own filters e.g. hide specific posts, hide all posts (a user does not have to unlike a page to stop seeing their posts), activate notifications from that page, like but unfollow the page.
So how do you work the newsfeed in your favor? Share posts that are relevant, interesting, engaging, targeted (how to do this is coming a little later) and entertaining. Some examples below.
3 Strategies to Use to Get Better Visibility
1. Understand your customers and what they want from you.
It's important that you know what your customers want and expect from you. If you go at Facebook on an ad hoc basis that is exactly the result you will get – ad hoc. Learn about your customers, create customer personas. You can never know too much about your customers and the people you are trying to reach out to on Facebook.
Gender: Are your customers male or female?
Age – what age are they
Where do they live
Where do they work
What are their life values
What are they doing online e.g. do they read articles, watch videos, listen to podcasts etc.???
What do they want / need from you?
Add to this list as needed but you should at least know this amount of information. Now that you know who you are talking to on social media you can plan your updates.
Here is an example of a small festival page in County Kerry, Ireland.
Their engagement went from 2% to 14% and they reached a lot of potential customers that they may not have reached before by going through an exercise that helped them understand who their customers are and what they wanted. Instead of sharing links with a flat description, they changed the tone slightly to suit their brand and shared photos that would appeal to their existing fans and would also reach outside their fan base.
The photos that got the high level of engagement and reach appealed because the people they were targeting did not just want to know about the standard stuff e.g. what festivals were on, who was attending their writers week etc. They also wanted to see the hidden Ireland, the hidden Listowel. These pictures were taken on a nice autumn morning, right outside their offices in Listowel so it did not take a lot of time or effort. It was all about seeing and taking the opportunity.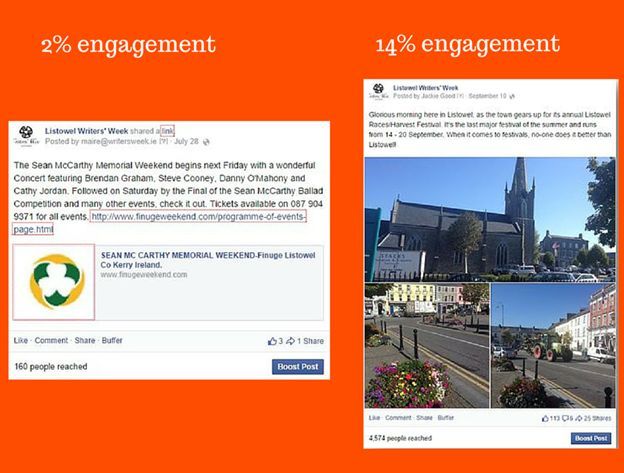 2. Using the post gating feature – important for businesses with diverse markets
One way to get more of the right people seeing your posts and avoiding some of the newsfeed filtering is to use the post gating feature in Facebook. This is one of the most underused features and one of the most powerful if used correctly.
Let's say you are a bar & restaurant and you have many different customer segments. Here's an example of two-
Segment 1: 18-26 year olds for bar and disco
Segment 2: 30-55 year olds for restaurant, evening meals
Now let's say you want to share photos of last night's niteclub action but you feel that it is not relevant to segment 2 and fear it will put them off booking a table. What you want to do is share the post with segment 1 using the post gating feature. This means that you can select an audience based on a few different factors. This audience will be taken from your current fan base (it is not a way to advertise)
To activate – go to your page settings. In general settings activate "News Feed Audience and Visibility for Posts"

Now go back to your page, create your post, choose your audience, then schedule or publish.

Facebook's newsfeed filter will still kick in but it will help Facebook filter the post to the correct people. If the correct people see the post it will mean better engagement which in turn means better visibility.
3. The ripple effect – using relevant engagement to reach a wider network
It's important that you drill down and see what is the quality of the people who are liking your pages. Are they the correct people? No point having lots of 18year olds liking your page if your product is aimed at 30+. Use Facebook insights to drill down to see who is liking your page, where are they from, what age are they etc (remember we talked about knowing who your customers are above)
If you have the right people connected and you are sharing the right content then your page will naturally grow organically as the ripple effect begins.
When users engage with your content Facebook will create a news story. This story will be shared with that person's network. If someone in that network engages with the same post, Facebook will create a story for their network and so on.
I would not have known this page existed until my sister commented on their post. Now I have the opportunity to like the page and/or engage with the content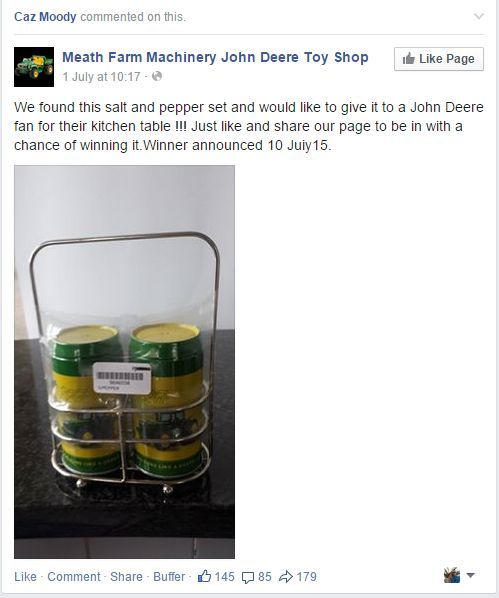 The keys to success:
Share content that is relevant to your business – don't fall into the trap of sharing lots of images of fluffy animals because you know they will get engagement.
Post content that appeals and is entertaining – use Facebook insights to gauge which pieces of content are getting the most engagement
Know who you are sharing with. The more you know about the people you are targeting the more you can tailor your posts accordingly
Use the post gating feature to help Facebook publish it to the newsfeeds of the right people