With live video being the hottest trend on social media, Facebook Live has become an important part of a page's marketing strategy. In fact, with new changes to the Facebook algorithm, Facebook is giving preference to those some live video posts.
But where do you start? What 'must do' Facebook Live tips should you implement each time you go live?
Let's learn these easy-to-do suggestions that will leave your visitors wanting to come back for more.
Before You Go Live
Let People Know in Advance You'll be Going Live
Every little thing you can do to let more people know you are going to be doing a Facebook Live, the better. One easy way is to send a Facebook post saying that you're about to have a live video.
Use other social media platforms (like Twitter) to let people know you will be going live. Or you can create a schedule and continually train your audience to know you'll be going LIVE at a specific time.
Use a Compelling Title to Attract Your Target Audience
People are busy. When you state exactly what the video is about, and they are able to see how it can help them, it increases the chances people will watch your video. Rather than saying "Look at the fun we had!", have your title read "3 Tips to Enjoy the Palmetto Falls Waterpark this Summer." The latter gives much more details as to what the video will be about.
Once You Go Live
Say the Topic of the Video Right Away
Time is of the essence of video so make sure that as soon as the broadcast begins that you say what the video is going to be about. Use language that is easy for people to see how it helps them. This will increase their interest and it will help them watch your video longer.
Make Eye Contact with the Camera
No one wants to feel their being talked at but rather that someone is having a conversation with them. Therefore, make sure before you go live that you know exactly where the camera is on your phone and look into the camera just as you would if you were speaking to someone in person.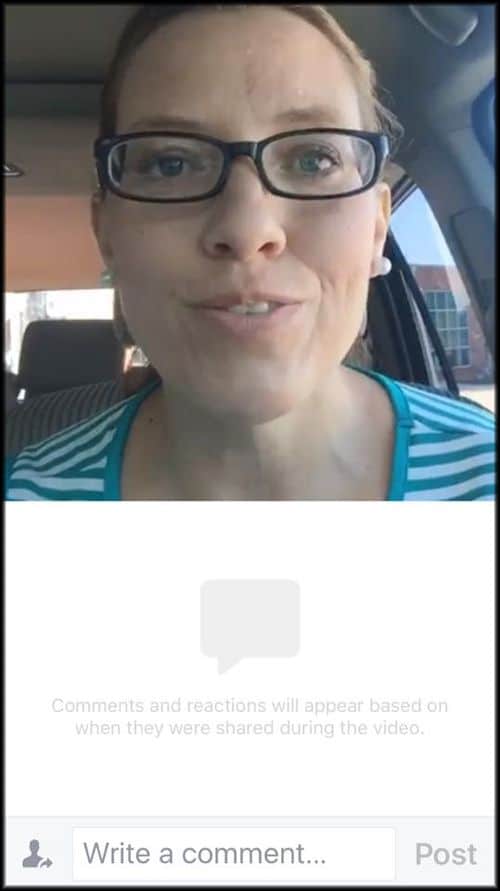 PRO TIP – Pretend you are just talking with one person about what you want to share. That can help reduce some fears or worries and can often times make you speak more naturally.
(After your topic) Introduce Yourself and Establish Credibility
Immediately after you shared what your topic is for the video introduce yourself and your business name. This is ideally a great place to give your 30 second pitch on what you do or as some like to say, how you serve people.
Relax
It is not uncommon for the idea of live video to make people nervous. And like many things in life, the more you do Facebook Live the easier it becomes. Just make sure that you be yourself. There is nothing worse than someone coming across as too polished or scripted.
One of the gem's of live video is that people expect it to be more raw and to not be as polished. That said, if you are thirsty, drink something, just as in this Facebook Live below. If your store telephone rings while you are live, go ahead and answer it. That will show authenticity in your live video.
Deliver Helpful Information Within Your Expertise
The information that you think is commonplace knowledge often times is new and helpful to others. When you show up to Facebook Live, share your area of expertise because this increases your level of influence and it gives you credibility with the audience.
Display a Confident Disposition
Smile – Maybe you aren't the smile-all-the-time person. But consider a glimmer of a smile when doing your Facebook Live. It not only is warm and welcoming, but it can make people be more interested in what you have to say.
Positive Tone – Display your energy within your tone. It doesn't mean you have to sound as if you just ate an energy bar, but you should have some pep in your step and convey that to your audience.
Interact with the Live Viewers
There's nothing worse than a broadcaster not acknowledging that they have a live audience. As soon as you have any live viewers, you'll not be able to tell who they are unless they make a comment or give you a 'LIKE' in the Live video. But you can see that people are watching. mention that you are thankful for the live viewers with you as well as those that are watching the video after it has aired.
PRO TIP – Ask questions if you have several viewers with you and when you get responses read the replies and say thanks to those that engaged with you.
Communicate Knowing the Video Stays Available on Your Newsfeed
When you are ready to end your Facebook Live, you simply click on the red button that says FINISH. Then it can take up to a few minutes, but the Facebook Live then becomes a recorded video that will remain and stay on your Facebook page unless you delete it. With that in mind it, say something such as "If you watch this later on my Facebook page but still have questions, please feel free to contact me….."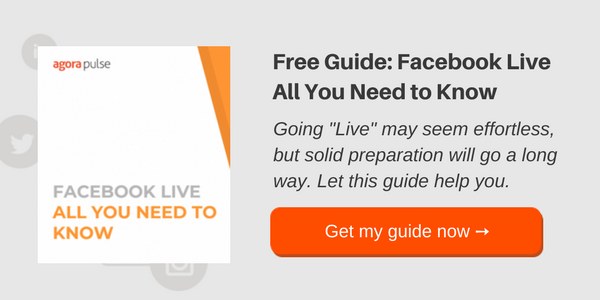 Before You End Your Live Broadcast
Always End Broadcast with a Bold CTA (Call to Action)
Here are a few suggestions on how you can include a call to action at the end of each and every Facebook Live.
Ask your audience to Like your Facebook page if they want to continue getting helpful tips and information from you about your industry
Invite viewers to join a Facebook Group you have (and post the link to it after the video ends or include the link in the actual title of the Facebook Live)
Offer your services or products at a discount for those that reach out to you with a special coupon code
Encourage people to catch your next Facebook Live and share with them the topic and time
Share with your viewers that if they want more behind the scenes and tips they can follow you on a different social platform (such as Instagram)

After Your Facebook Live Broadcast
Advanced Ninja Tip: Check out Create Facebook Ads Targeting Those That Watched Your Videos (this includes Facebook Live as well as other videos you have uploaded directly to Facebook.) Retargeting will help you keep in touch with your Facebook Live audience once your broadcast ends.
Whether you have yet to do your first Facebook Live or you are regularly creating content on Facebook, you hopefully found some Facebook Live tips in this blog post that can help you.
Have you done your first Facebook Live for business? Have any of these Facebook Live tips or suggestions helped you thus far in your video creations? Share in the comments below!