Whether you want to increase brand awareness, drive sales, or achieve other ambitious goals on Facebook, a paid social strategy can help. So how do you get started with Facebook ad campaigns?
It's easier than you might think.
Let's look at how to set up Facebook Ads Manager and how to create an ad campaign on Facebook.
Know How Facebook Ad Campaigns Fit Into Your Marketing Strategy
Facebook Ads can help your organization reach Facebook-specific objectives like attracting more followers. But these ads can also help you achieve much bigger marketing campaign goals related to your website, email list, or e-commerce store. Here are a few ways to build Facebook Ads into your team's marketing strategy:
Get more email subscribers: Offer incentives for people to sign up for your list, and then email more targeted promotions.
Generate new leads: Find prospective customers on Facebook and collect their contact information so you can follow up.
Retarget customers: Show ads to people who have already indicated interest in your business.
Sell products: Share links to your e-commerce site or Facebook catalog and drive sales.
Related Post: How to Plan and Implement a Social Media Campaign
What Is Facebook Ads Manager?
To run an ad campaign on Facebook, you need Facebook Ads Manager. Don't have an account yet? Let's look at how to set up and navigate Facebook Ads Manager.
How to Create a Facebook Ads Manager Account
When you create a business page, Facebook automatically prepares an ad account for you to use. To review your settings, navigate to your ad account and click on Ad Account Setup. Here, you can add your business information and change your currency.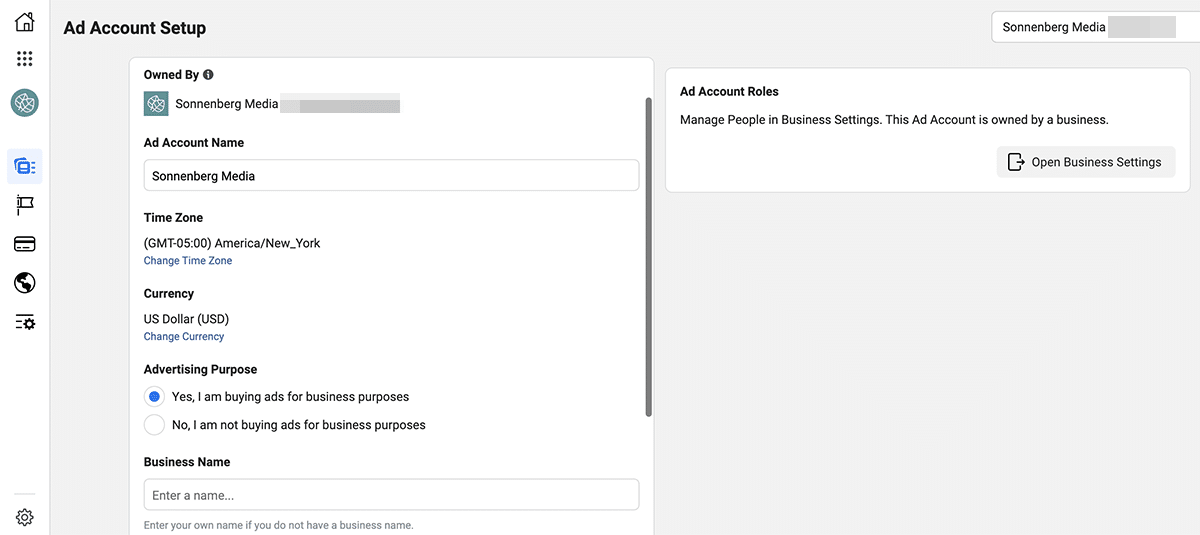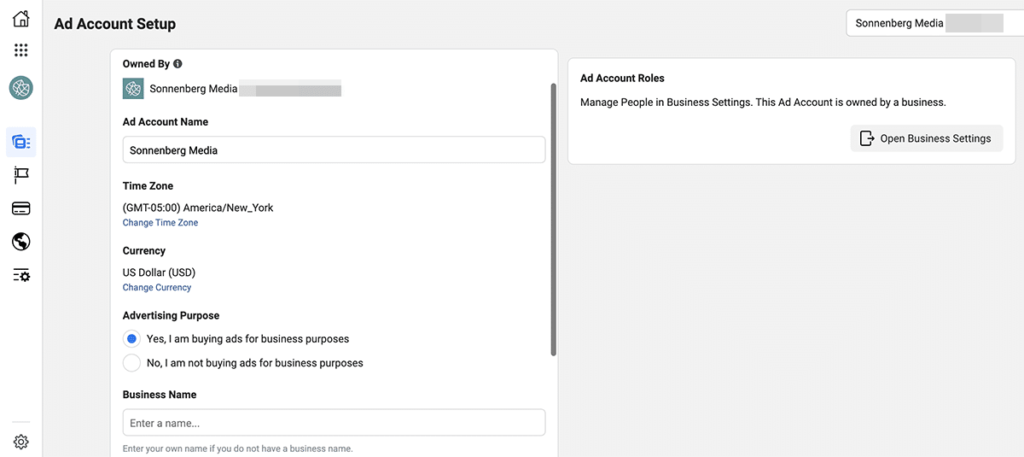 To add a payment method or update billing information, head to Payment Settings. Here, you can link a credit card or bank account and change your billing threshold or account spending limit.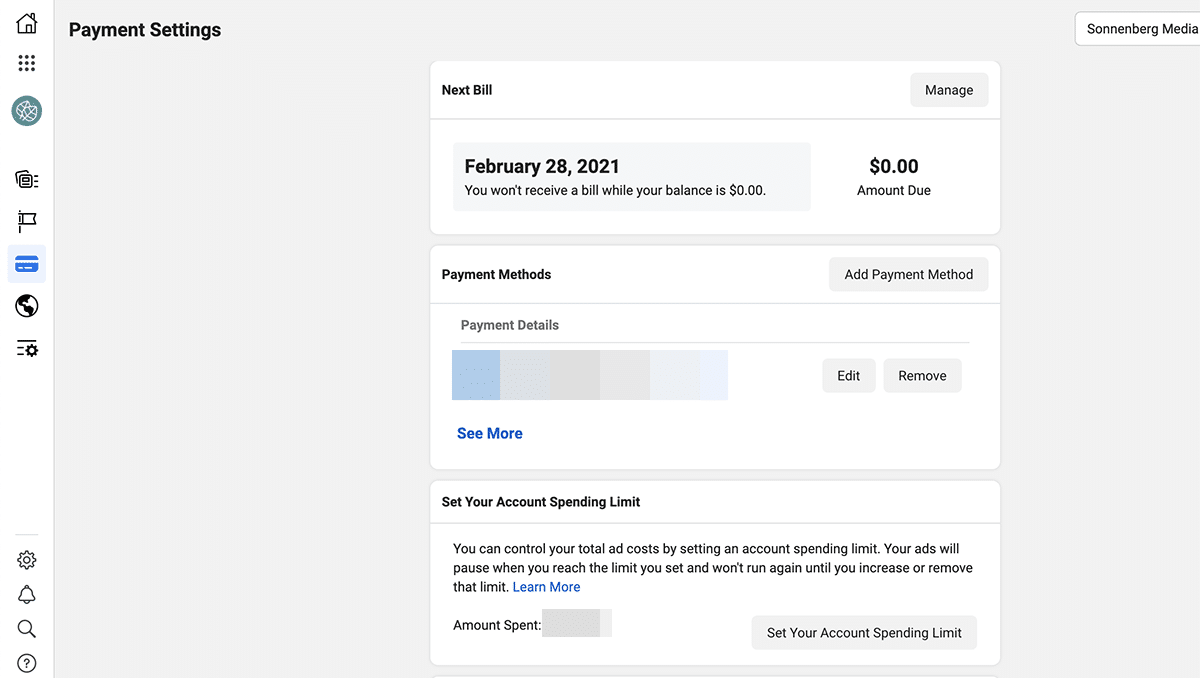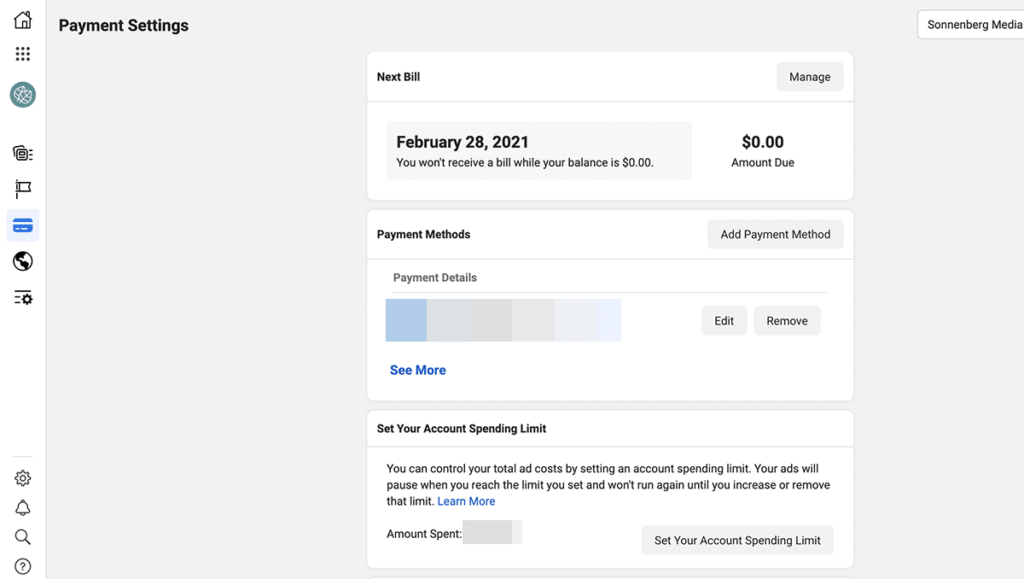 How to Navigate Facebook Ads Manager
Next, familiarize yourself with how to use Facebook Ads Manager. Here's a quick breakdown of where you can find key Facebook ad creation features:
Account Level
This is where you can change business information, add payment methods, and manage team members.
Campaign Level
At the campaign level, you can choose an objective, a buying type, and a bid strategy for your campaign. If you want to distribute your budget across all ad sets, you can also select Campaign Budget Optimization and set a budget.
Ad Set Level
If you opted out of campaign budget optimization, you'll need to create an ad set budget. Here, you also set start and end times, create audiences, select placements, and optimize for ad delivery.
Ad Level
At the ad level, you write the copy, add the creatives, and set up tracking for your app or website. If you're running an ad for a third party, this is where you add sponsored content tags.
How to Set Up a Facebook Ad Campaign
Once you've set up a payment method and familiarized yourself with the platform, you can set up your first campaign. Here's how to create an ad in Facebook Ads Manager:
1. Choose a Campaign Objective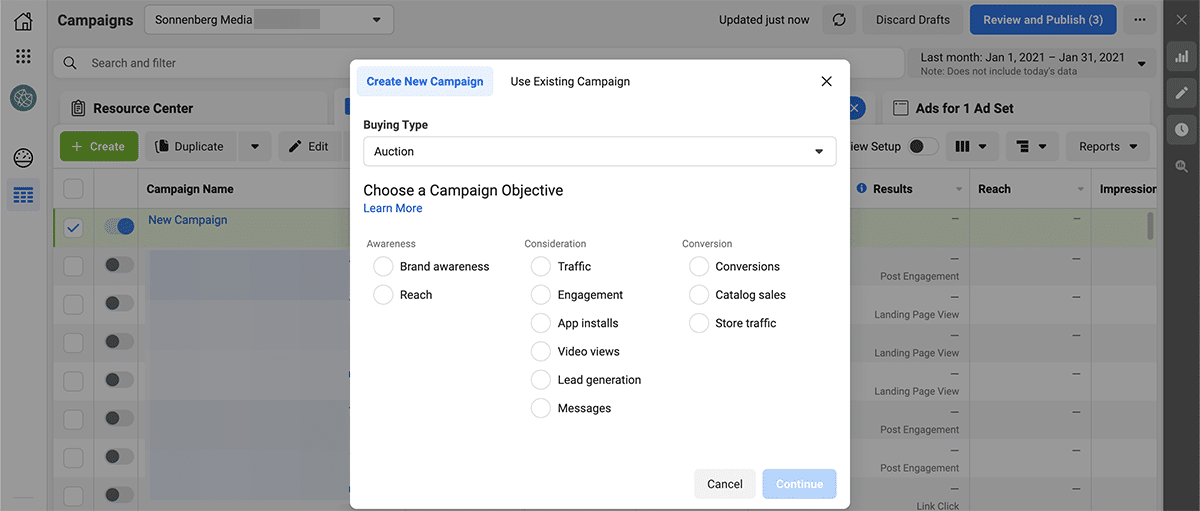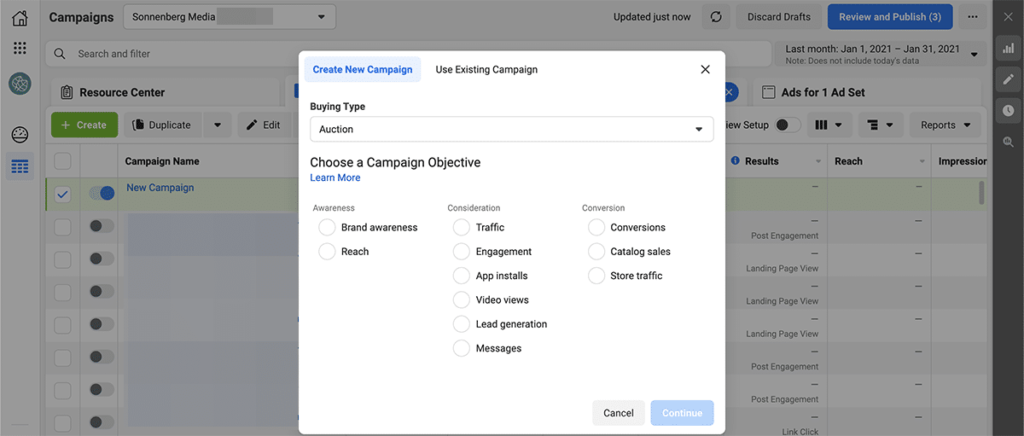 First, select a Facebook Ad objective based on your goal for the campaign. Options include:
Brand awareness: Introduce your brand to more potential customers.
Reach: Place your ad in front of as many potential customers as possible.
Traffic: Drive Facebook users to your website.
Engagement: Encourage people to like or comment on your Facebook post.
App installs: Invite people to download your app.
Video views: Get people to watch part or all of your video.
Lead generation: Collect potential customers' contact information.
Messages: Prompt customers to start conversations with your brand.
Conversions: Get people to complete an action, such as making a purchase on your site.
Catalog sales: Drive purchases from your linked e-commerce catalog.
Store traffic: Get customers to visit your organization's physical location.
2. Decide on a Budget
Then decide how much to spend each day or over the course of the campaign. By default, campaign budget optimization is on, letting Facebook draw from the same budget to place ads across all ad sets. If you want more control, turn this option off and apply budget settings at the ad set level.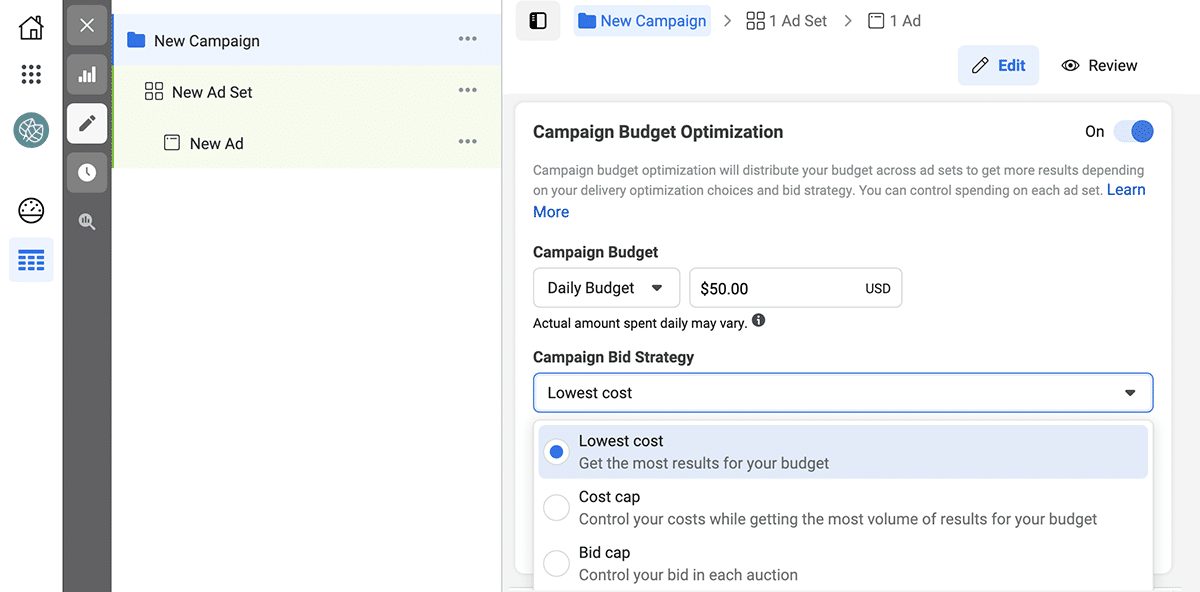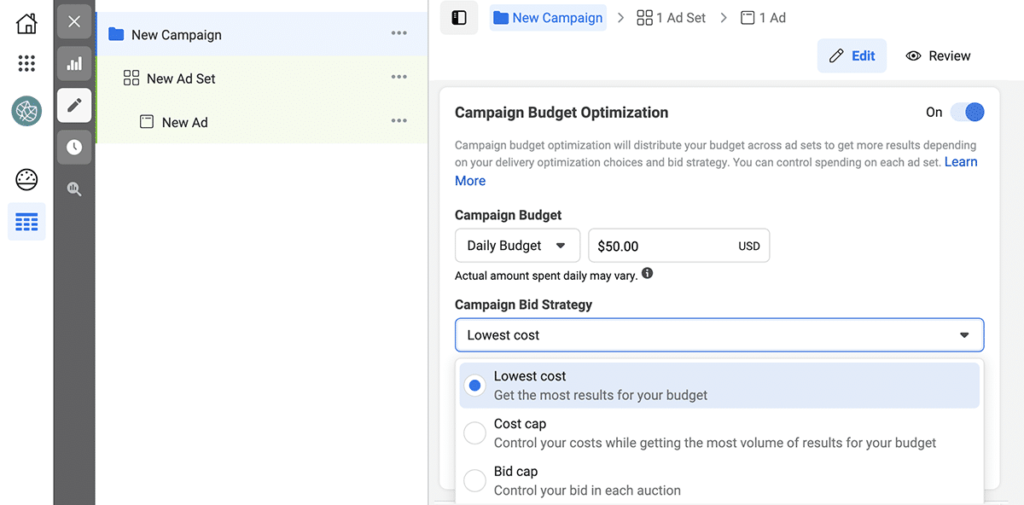 Be sure to choose a bid strategy, too. Options include:
Lowest cost: Generate the most results for any amount you spend.
Cost cap: Set bidding limits while driving as many results as possible.
Bid cap: Decide how much to bid on every auction.
3. Set an Ad Schedule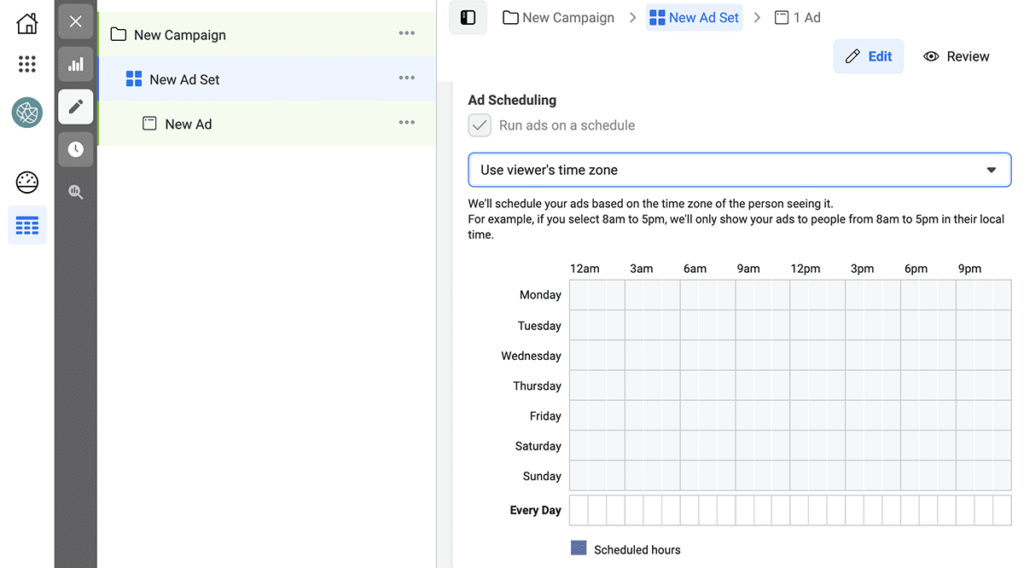 Next, choose a start and end time for your campaign, down to the minute. By default, ads run around the clock, which can help Facebook optimize delivery. However, if you want more fine-tuned control, you can set the times when you want your ads to run each day.
4. Create an Audience
Who do you want to see and respond to your ads? Facebook offers several options for building your ad set audience:
Manual targeting: Use Facebook's demographic, interest, and behavioral data to create an audience that matches your ideal customer.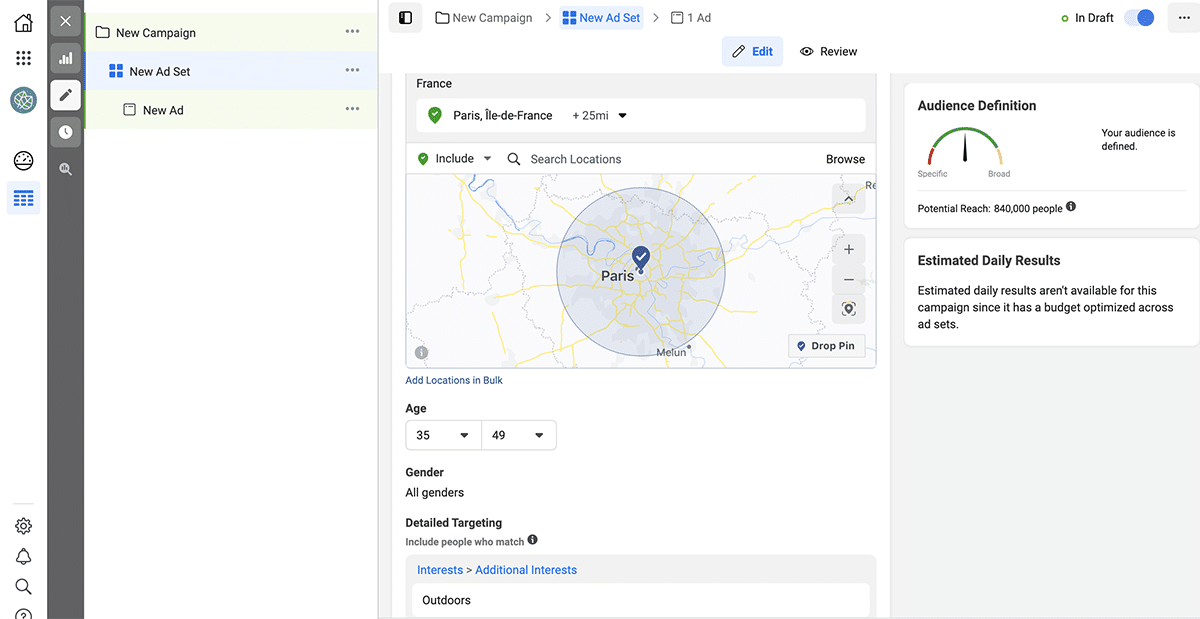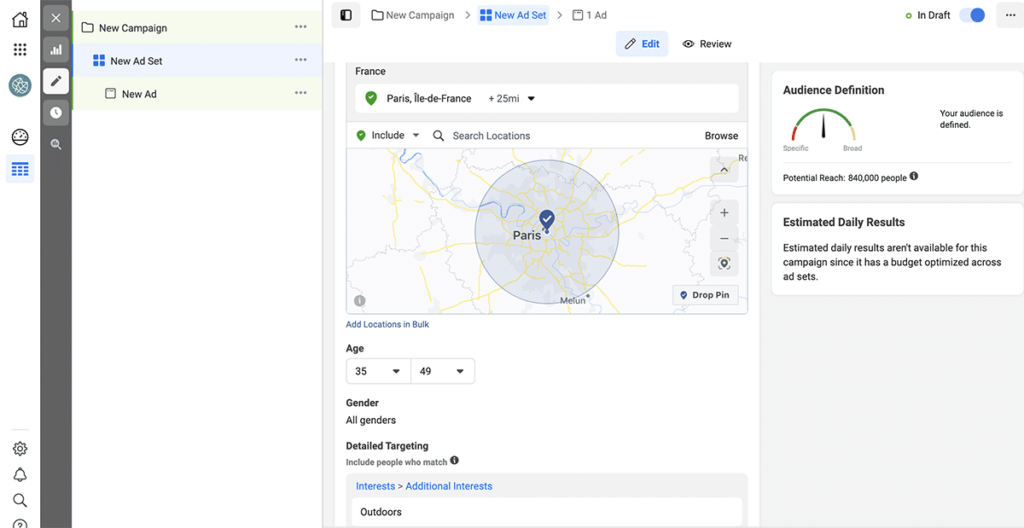 Custom lists: Leverage data from Facebook or from your own organization to remarket to customers who have shown interest in your brand. For example, you can use your website or customer lists as sources.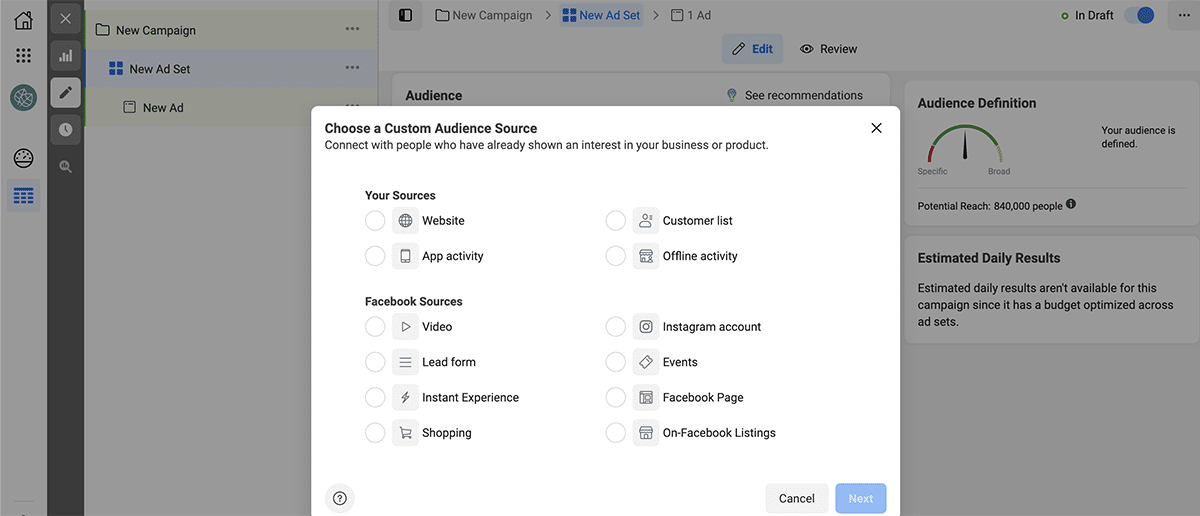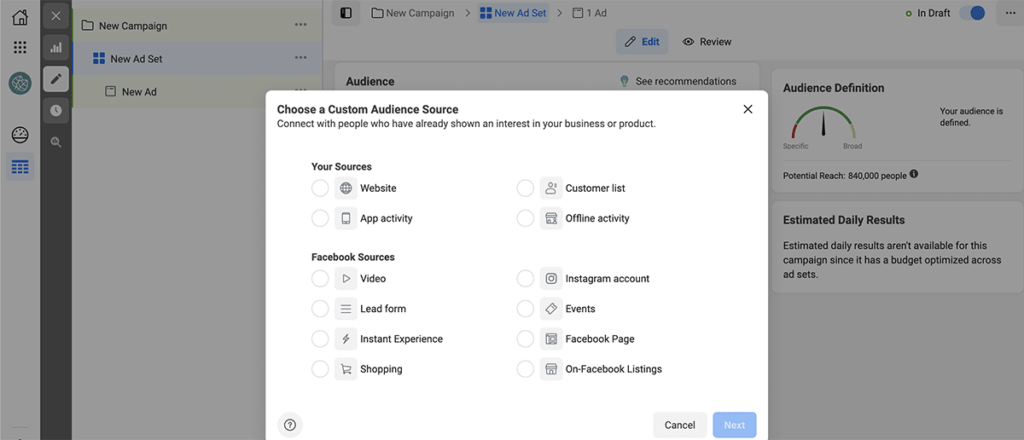 Lookalike audiences: Select data sources and then let Facebook automatically build audiences that share similar characteristics. Choosing a 1% lookalike results in an audience that's most like your data source.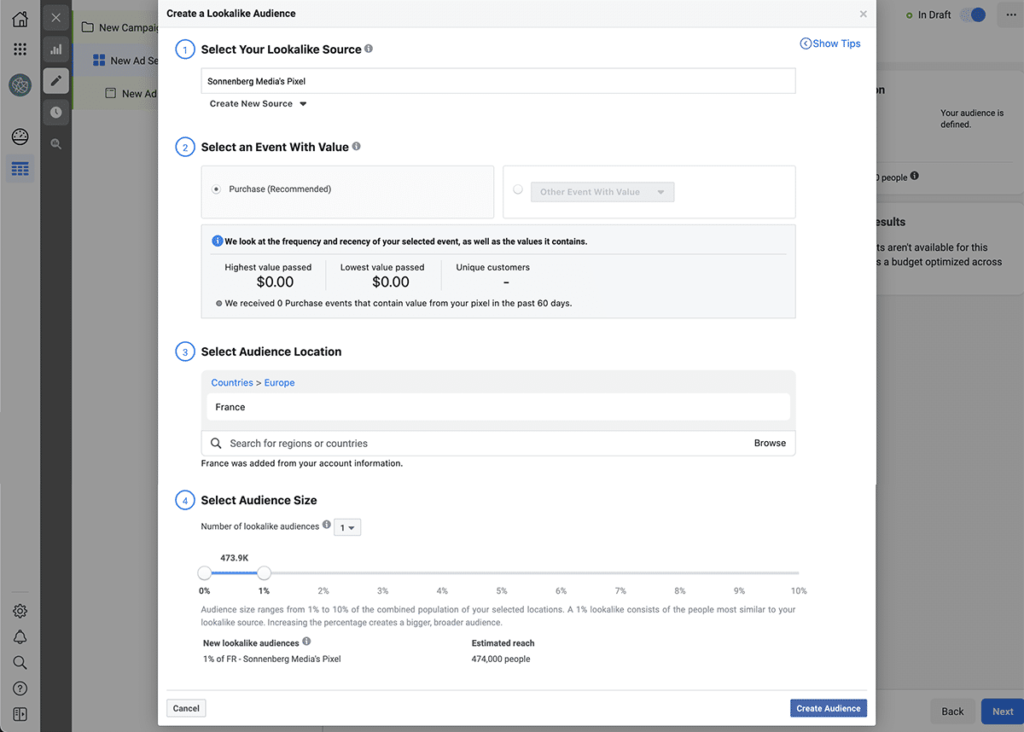 5. Select Ad Placements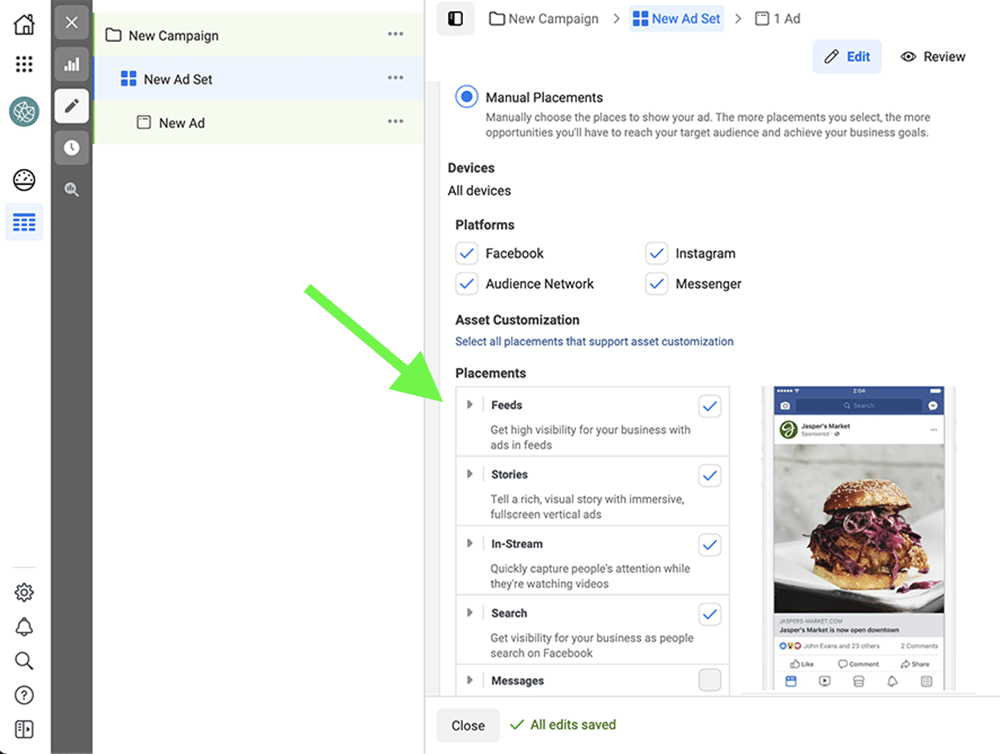 By default, Facebook automatically places your ads in as many spots as possible, based on where they're likely to do best. However, you can choose manual placements to eliminate platforms where you don't want to advertise or slots that won't work well with your ad type. You can consider placements like:
Feeds: Facebook and Instagram news feeds as well as desktop right column, Facebook Marketplace, and Instagram Explore
Stories: Instagram, Facebook, and Messenger Stories
In-stream: Facebook in-stream videos
Search: Facebook search results
Messages: Sponsored messages in Messenger
In-article: Facebook instant articles
Apps and sites: Audience network native, banner, and video ads
6. Check Optimization & Delivery Options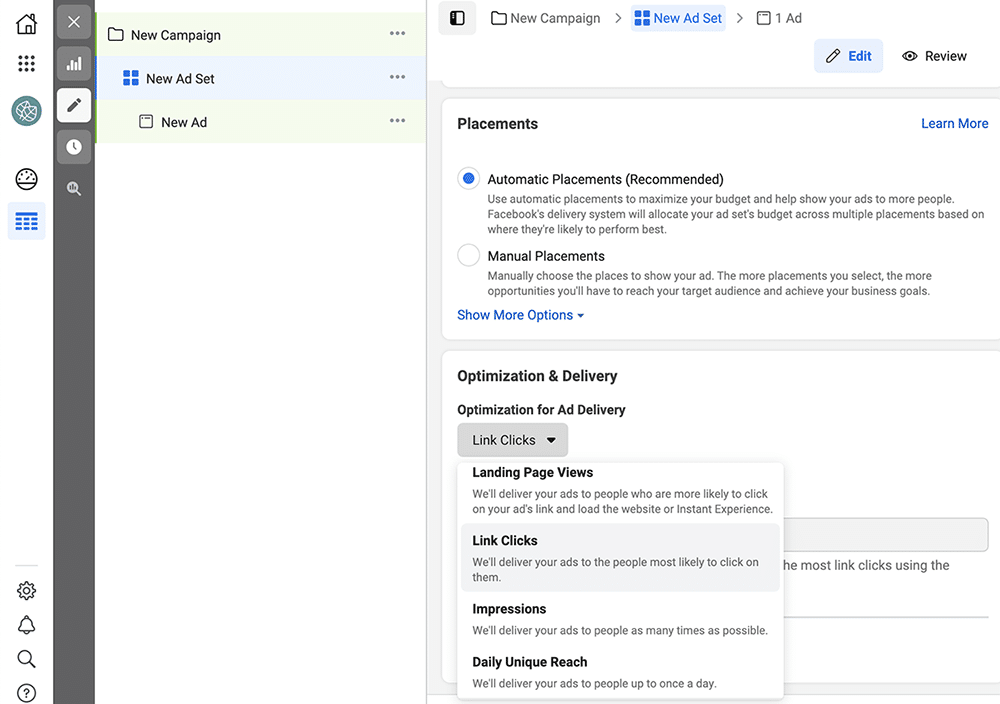 Depending on the campaign objective you choose, you'll also have options to optimize who sees your ads. Some of the most common options include:
Impressions: Show your ads to as many people as possible
Daily unique reach: Deliver your ads to as many people as possible up to once a day
Link clicks: Show your ads to people who are most likely to click your URL, similar to a pay-per-click (PPC) campaign
Landing page views: Deliver your ads to people who are most likely to click your URL and view your landing page
Conversion events: Show your ads to people most likely to complete actions like making a purchase
Value: Deliver your ads to the people most likely to result in the highest return on ad spend (ROAS)
7. Build and Test Your Ad Creative
Finally, you're ready to design your ads. Most campaign objectives let you choose from these two options:
Using an existing post: Promote an organic post to get more traction and better results.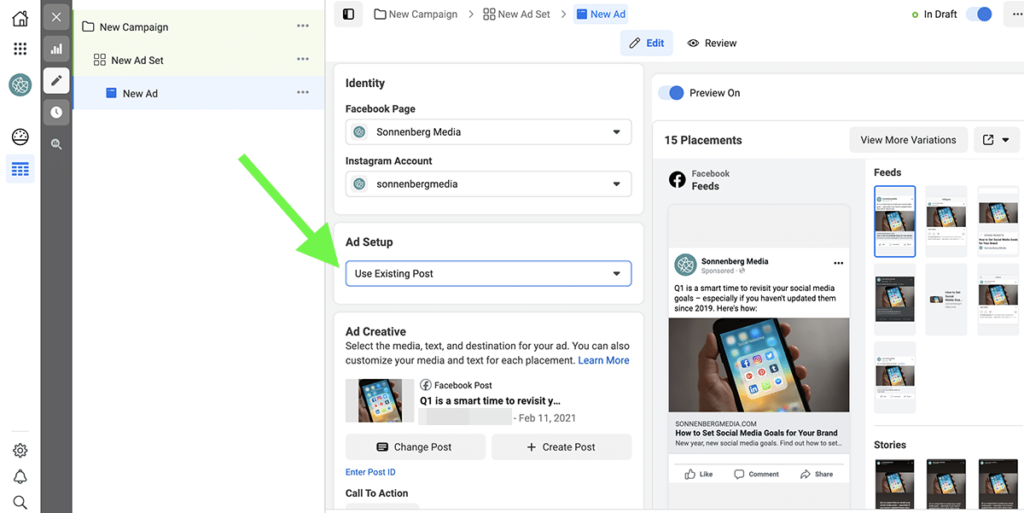 Creating a new ad: Design an ad with a custom combination of copy, creatives, and landing pages.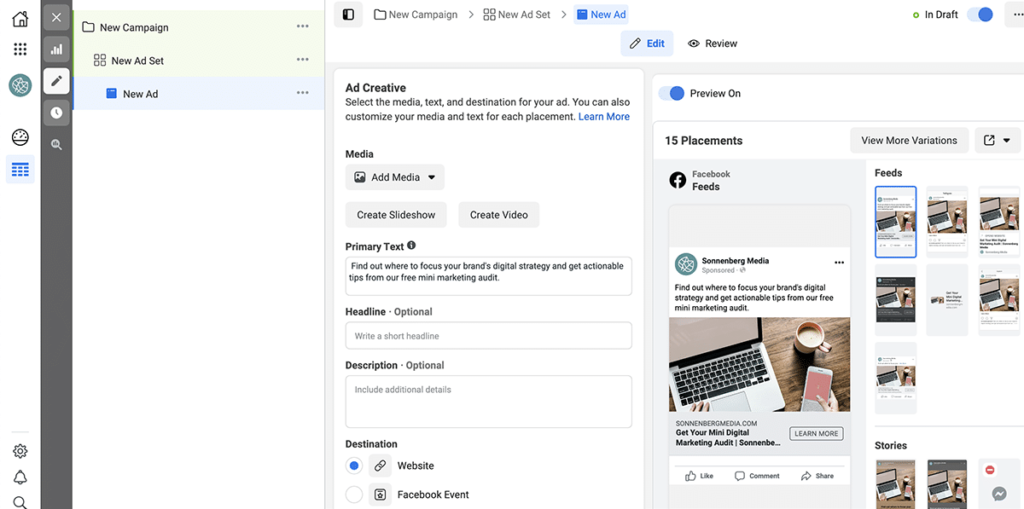 Facebook Ad Specs and Image Sizes
If you opt to create a new ad, be sure to upload correctly sized images and videos to get the best possible results. Browse Facebook's image specs guide to find current ratios and resolutions for every ad placement.
Landing Pages for Facebook Ads
If your ad points to a landing page, be sure to follow Facebook's best practices. For example, the content and branding in your ad and your landing page should match.
Calls to Action for Facebook Ads

Select the best call-to-action (CTA) button for your ad. Typical options include Download, Learn More, Get Offer, and others that relate to your objective.
8. Add Tracking Options
To track your campaign results outside of Facebook, use these tools:
Facebook Pixel or SDK: A snippet of code on your website or app that tracks user data and behaviors.
UTM parameters: Extra tags that you add to landing page URLs so you can track results from campaigns, ad sets, and ads.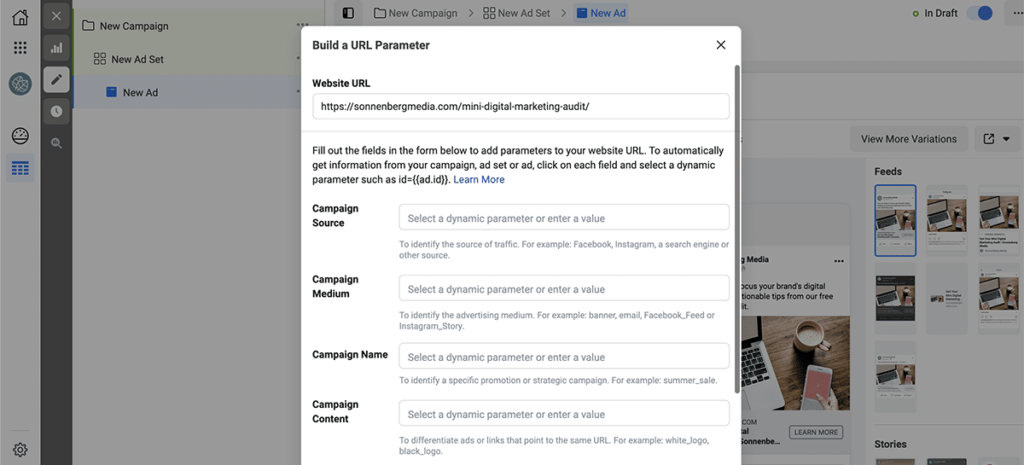 How to Analyze and Optimize Facebook Ad Campaigns
Once your campaign starts running, analyze the results in Ads Manager.
Monitor Your Facebook Campaign's Performance Metrics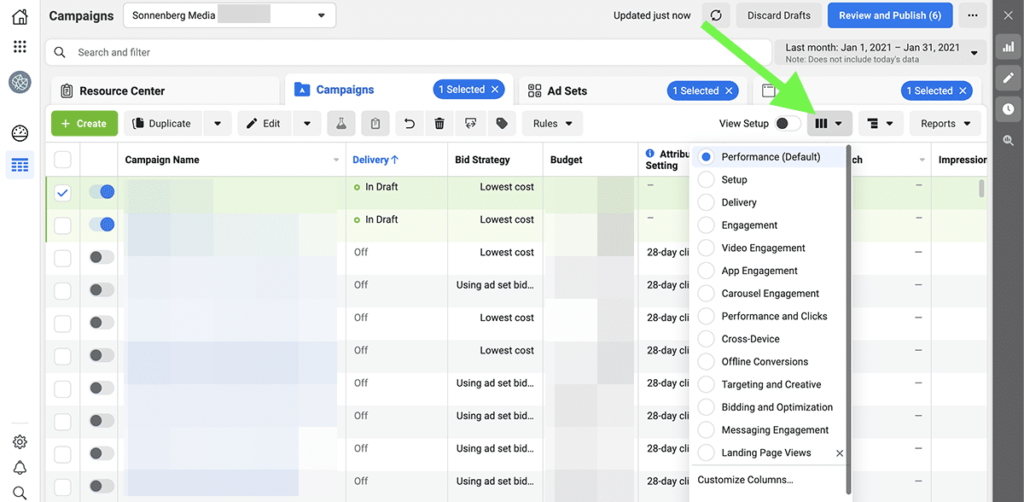 Adjust the display columns so they reflect the metrics that matter for your campaign. For example, you might select Delivery to check impressions, reach and frequency or Performance and Clicks to keep an eye on the click-through rate (CTR) and cost per click (CPC). You can also design your own custom reports with the metrics you care about.
How Much Does Facebook Advertising Cost?
Then compare the results against what you hoped to achieve. It's also helpful to compare your results against Facebook Ads benchmarks to get a better sense of your performance.
For example, the average CPC for Facebook Ads is $1.72, but the retail and education industries tend to have much lower CPCs. In addition, the average cost per action (CPA) is $18.68, while industries like apparel and health care tend to have lower CPAs.
Optimize Your Facebook Ad Campaign
If your campaign is underperforming, consider these Facebook Ads optimization tips:
Review your ad delivery optimization: For best results, align your delivery optimization with your business goals, such as clicks or sales.
Narrow your audience: Add more parameters to your audience or narrow the targeting for your lookalike to ensure you're reaching the right people.
Reconsider your landing page: Make sure your landing page follows best practices and speaks to your target audience.
Add more ad placements: Switch to Automatic Placements or allow Facebook Ads to run your campaign in more placements to improve delivery.
With the right objectives, suitable audiences, and high-quality ads, you can launch successful Facebook advertising campaigns. As you optimize your ads and master the Facebook advertising steps, you can take your strategy even further and reach more ambitious goals.
Take control of your social media! Check out our free trial of Agorapulse to help you schedule, track, and measure all your social media efforts.