Publishing LinkedIn articles? Here's what you can do right away to start growing your readership.

What makes LinkedIn different than other social media channels is that your published articles have the opportunity to show up not only on the newsfeeds of your connections but also to the broader LinkedIn community.
More views on your LinkedIn articles mean that you have the ability to build more credibility and recognition, make new connections, and get additional proposal requests and clients.
How to Write LinkedIn Articles and Publish Them Regularly


A good first step to getting your content seen more frequently is to write more frequently.
You should create a plan that you can stick to, whether that is once a month or once a week.
Creating more content also offers the added benefit of being able to see what your readers respond the best to, so you can write more of that type of LinkedIn content.
If you use a social media calendar, make sure you include on your to-do list "Write a LinkedIn article" at least once a month.
If you already have a blog, you don't need to reinvent the wheel. You can republish your blog posts on LinkedIn as well. There are a couple of extra steps you need to make sure this is successful:
Make sure to publish on your own website first.
Include canonical tags on your site.
Write a note at the bottom of your LinkedIn post and include the link back to the original post.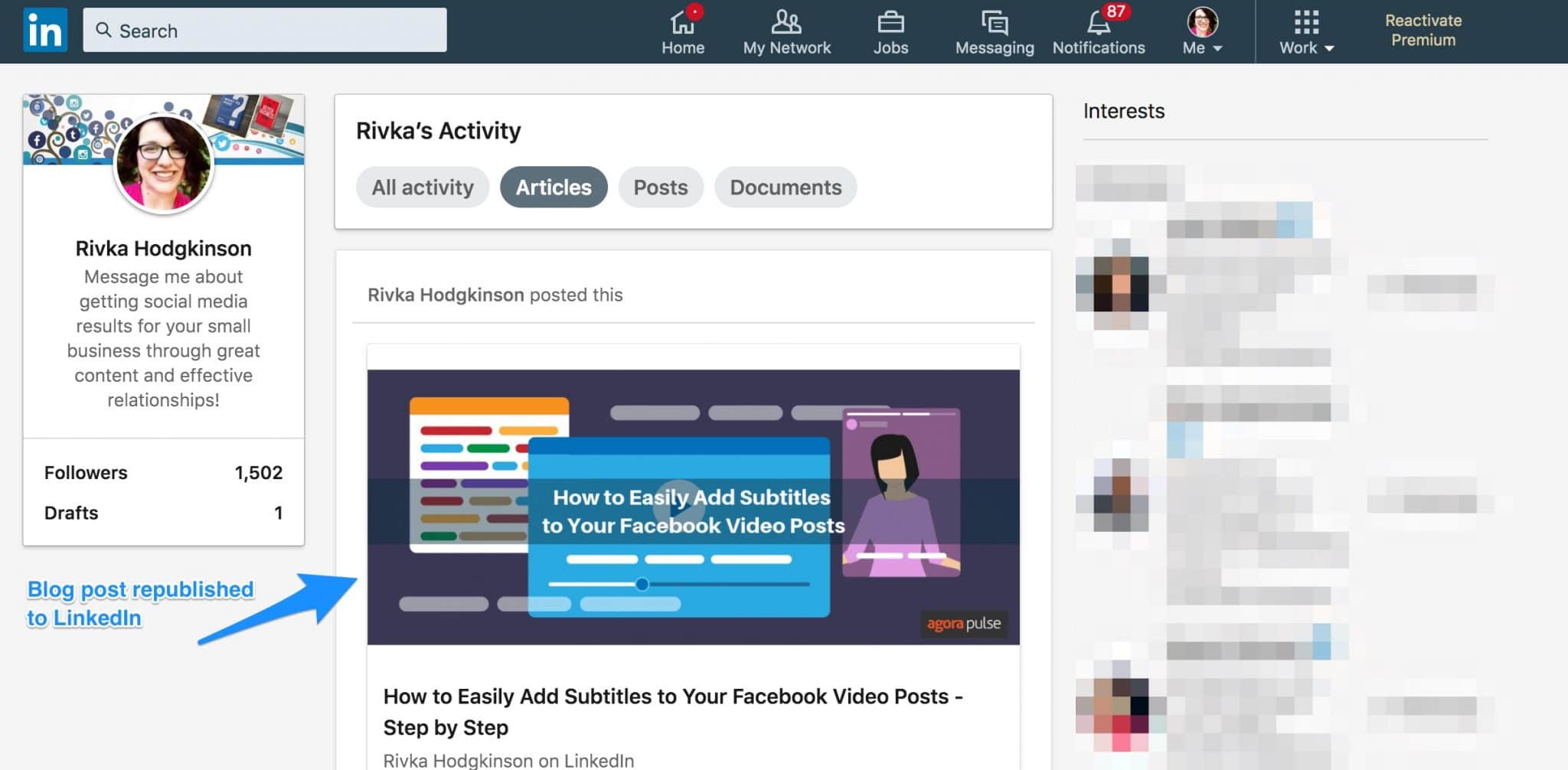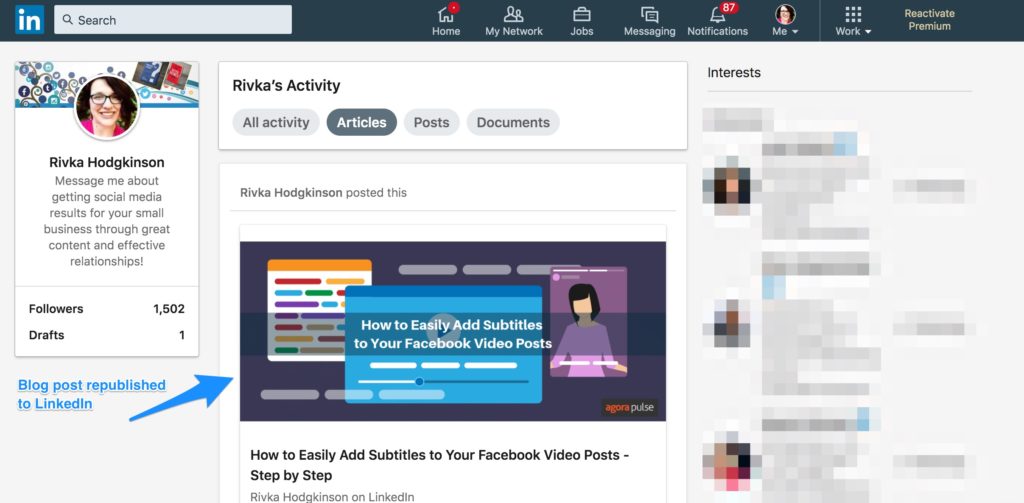 Also, use LinkedIn regularly. When you are on the platform and interacting in groups or newsfeed posts, people will be more likely to click through to your profile and see your posts and articles.
Write LinkedIn Articles That Are Screen-Friendly
Just like on your blog, your LinkedIn article will be read and shared by more people if it is easy to digest on the screen. Take the time to format your LinkedIn articles to be easy to scan visually and mentally.
Your checklist of how to post articles on LinkedIn
Use subheadings to communicate the main idea of each paragraph.
Create bulleted lists when appropriate.
Write a clear and concise title that helps people understand what they will get out of reading the LinkedIn article.
Include links to resources that will help further explain your points.
Keep your paragraphs short.
Take the time to proofread and spell-check.
Include images, videos, and infographics where appropriate.
Share on LinkedIn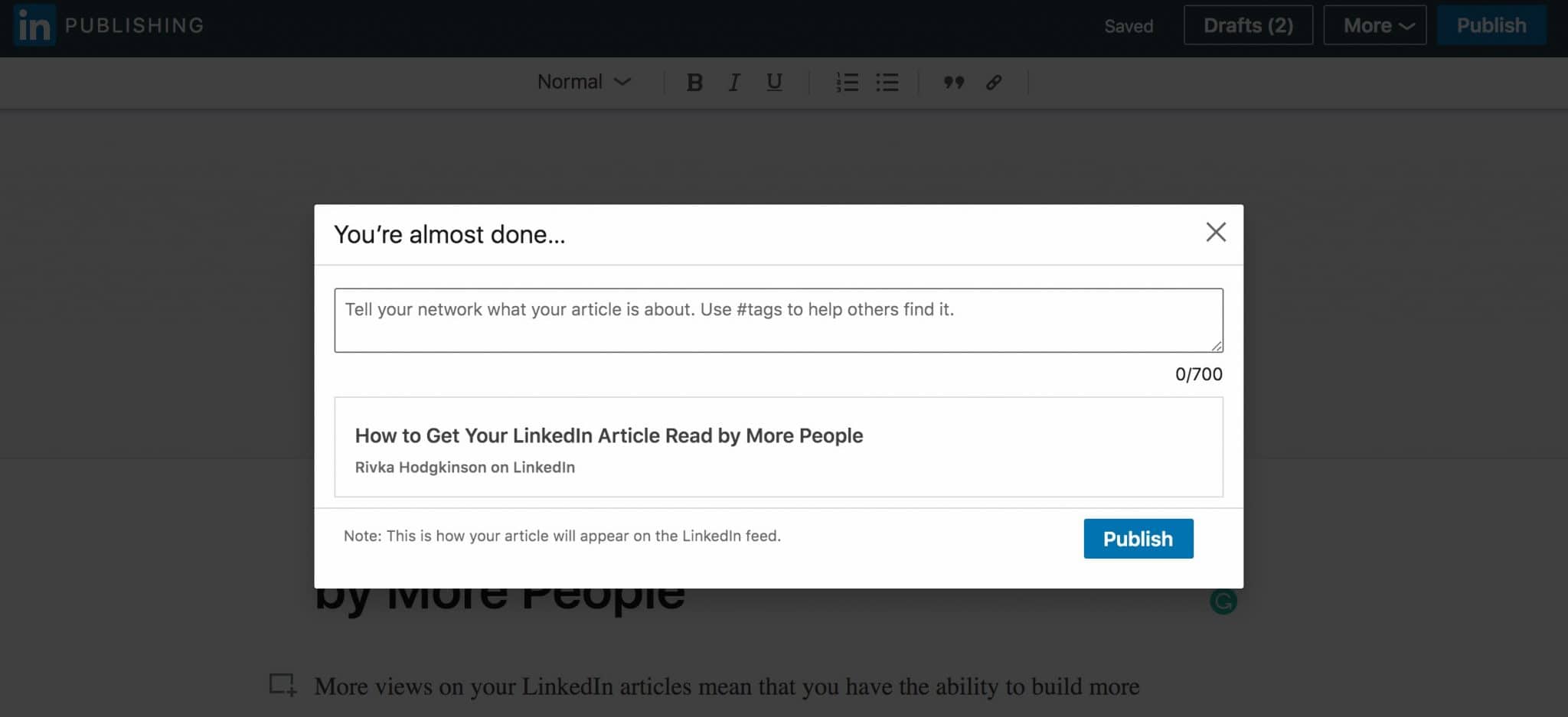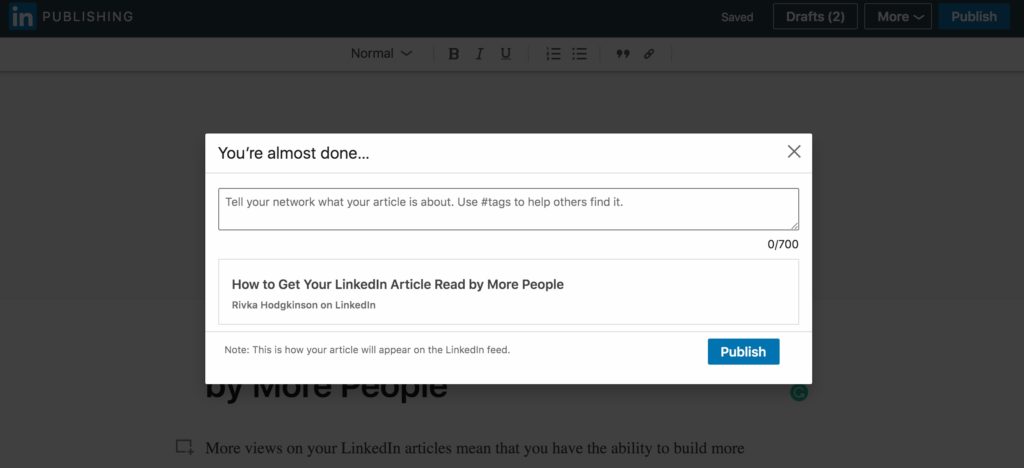 When you first publish a LinkedIn article, it will prompt you to add a message, and it will not only publish it to your profile but share it as a story to your newsfeed.
You can add a post up to 700 characters. (This is a great place to put a direct call-to-action to read the LinkedIn article or ask a pertinent question.) You will also want to include relevant hashtags.
One big mistake that people make is they stop there.
You can schedule it on a repeating basis to be posted on multiple platforms, using a scheduling tool like Agorapulse, and get a much wider reach for your content. After all, most of your LinkedIn articles will be evergreen content.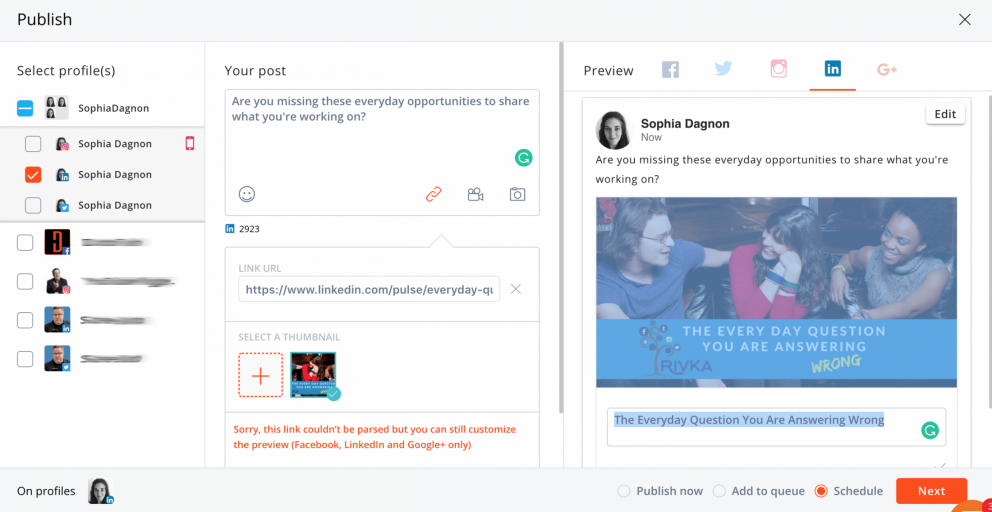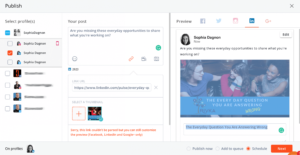 You can add your LinkedIn post to your regular posting schedule and choose a specific time, or you can add it to a queue.
Queues are a great way to theme your LinkedIn articles, so that your followers get different style posts on different days.
Share Your LinkedIn Articles with Specific People
Make sure you don't spam your personal contacts with an individual message every time you publish a LinkedIn article.
Think through who in your contacts would genuinely benefit from the knowledge and information you shared in your post. Then send them a personalized message with a link.
Something like:
"Good morning/afternoon, [First Name]! I just wrote an article about how to get more views on LinkedIn Publishing posts, and I know this is something you had mentioned you are exploring. I hope you find it useful and would love to know your thoughts if you have a minute. Thanks!"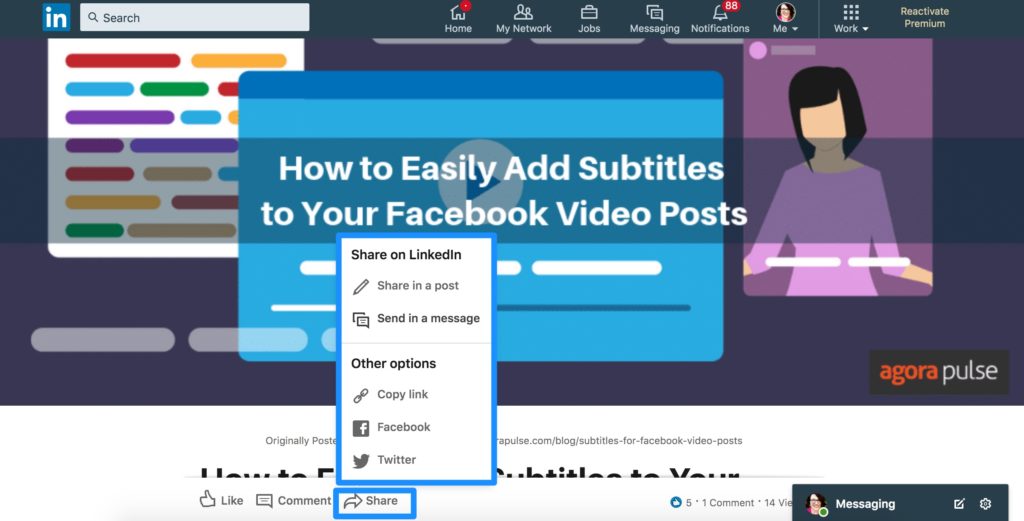 Share with LinkedIn Groups
The most effective way to share your LinkedIn articles within a group will be to copy the link from the "share" button and then write a post specific to each group that includes the link.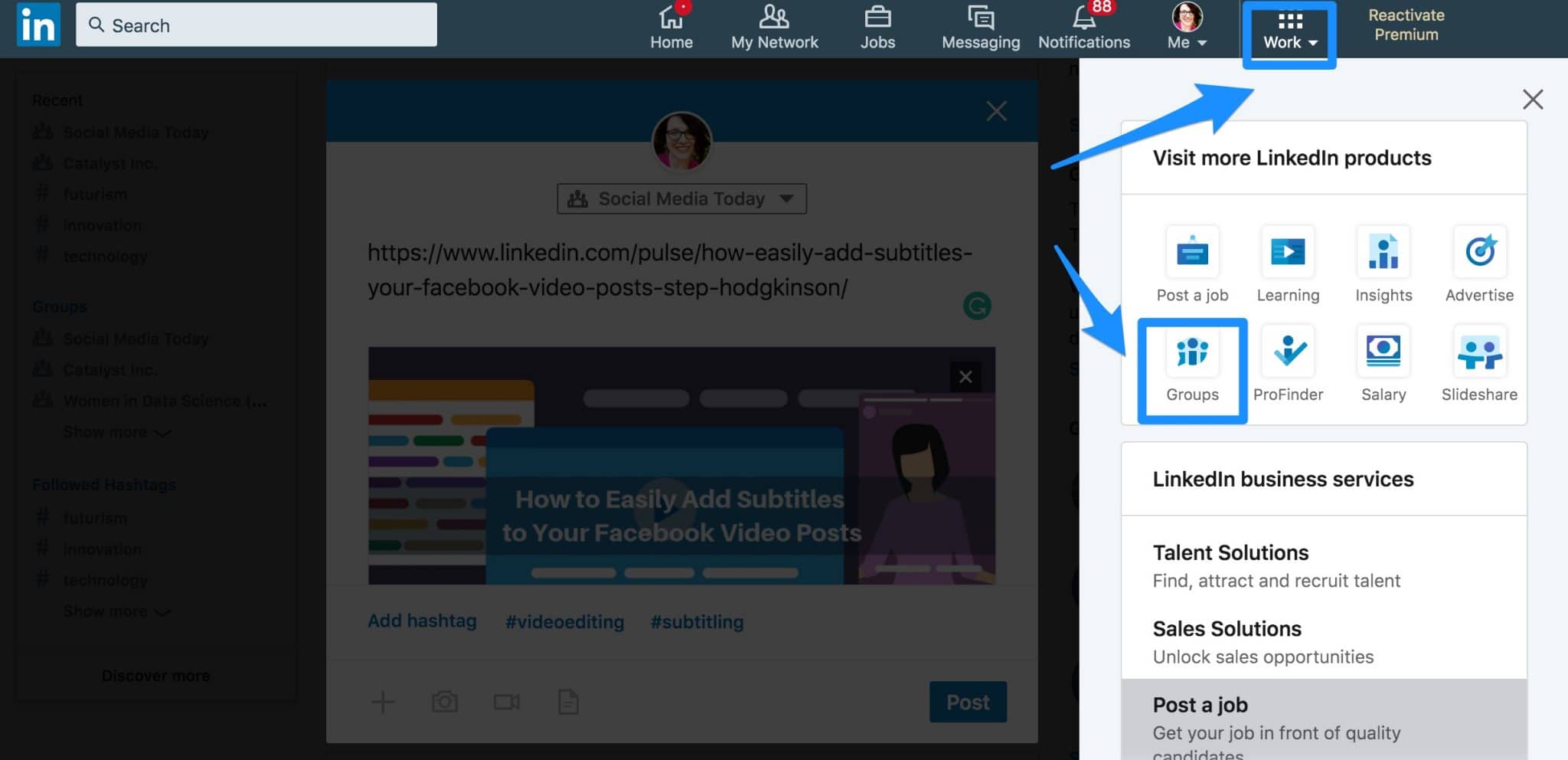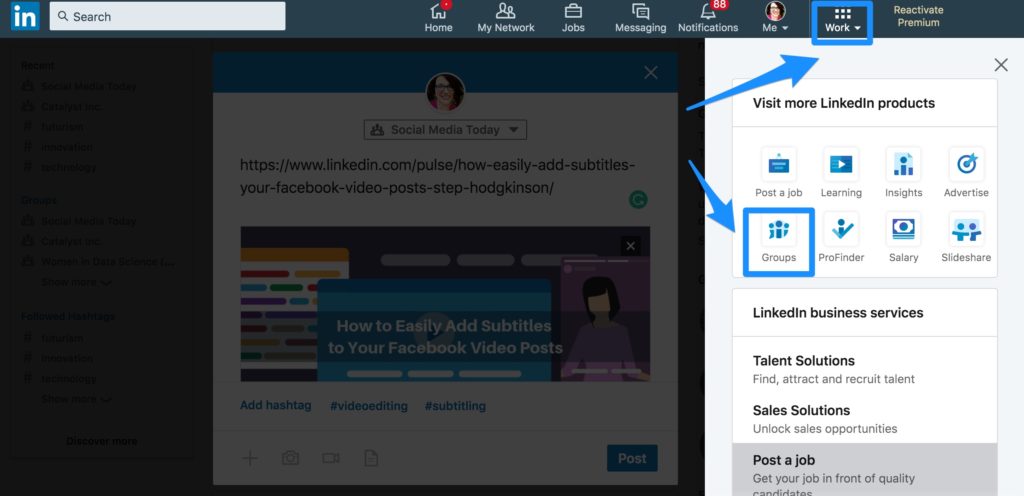 Like with personal messages, there is a right and a very wrong way to share in groups.
How to share your LinkedIn articles the right way
Always read the group rules first to make sure they don't explicitly ban sharing your own links.
Participate in the group regularly, not only when you have something to push.
Make sure your content is genuinely helpful information and not a promotional tactic.
Customize which content you share based on the specific purpose and demographics of the group.
Personalize your message to make it clear why you are sharing this article with this group.
Make sure to comment and follow up on any comments and responses in the group; don't drive-by link drop.
When done correctly, this is a great way to be seen as a useful resource. Do it wrong, and you will more likely be thought of as a spammer.
Share with Other Social Media and/or Email
This one is a tricky one, as it depends on your bigger picture social media strategy and goals. If you are repurposing your own blog content as LinkedIn articles, then you may prefer to send them to the original source on your website rather than your LinkedIn profile.
If, however, you have not shared the same content in another way with your email list or other social media accounts, then share on! Follow all the same guidelines to personalize and customize.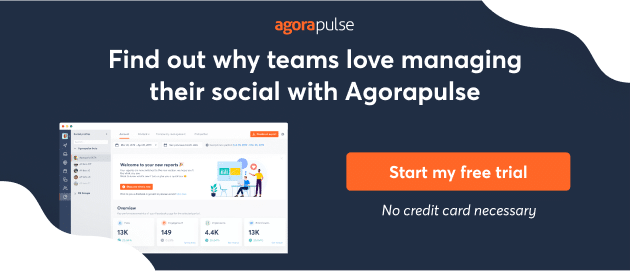 Be Aware of Search Optimization Best Practices
Are you still not seeing the number of readers you would like on your articles? Maybe the way you wrote the article itself needs to be evaluated.
LinkedIn is really both another social media platform as well as its own search engine. Optimization is important in your headline, text, and images.
Think through who it is that you want to read this article, and what they are searching for, or what frustration they are having. Do you answer their questions? Do you solve their problem?
How to Engage with Your Readers on LinkedIn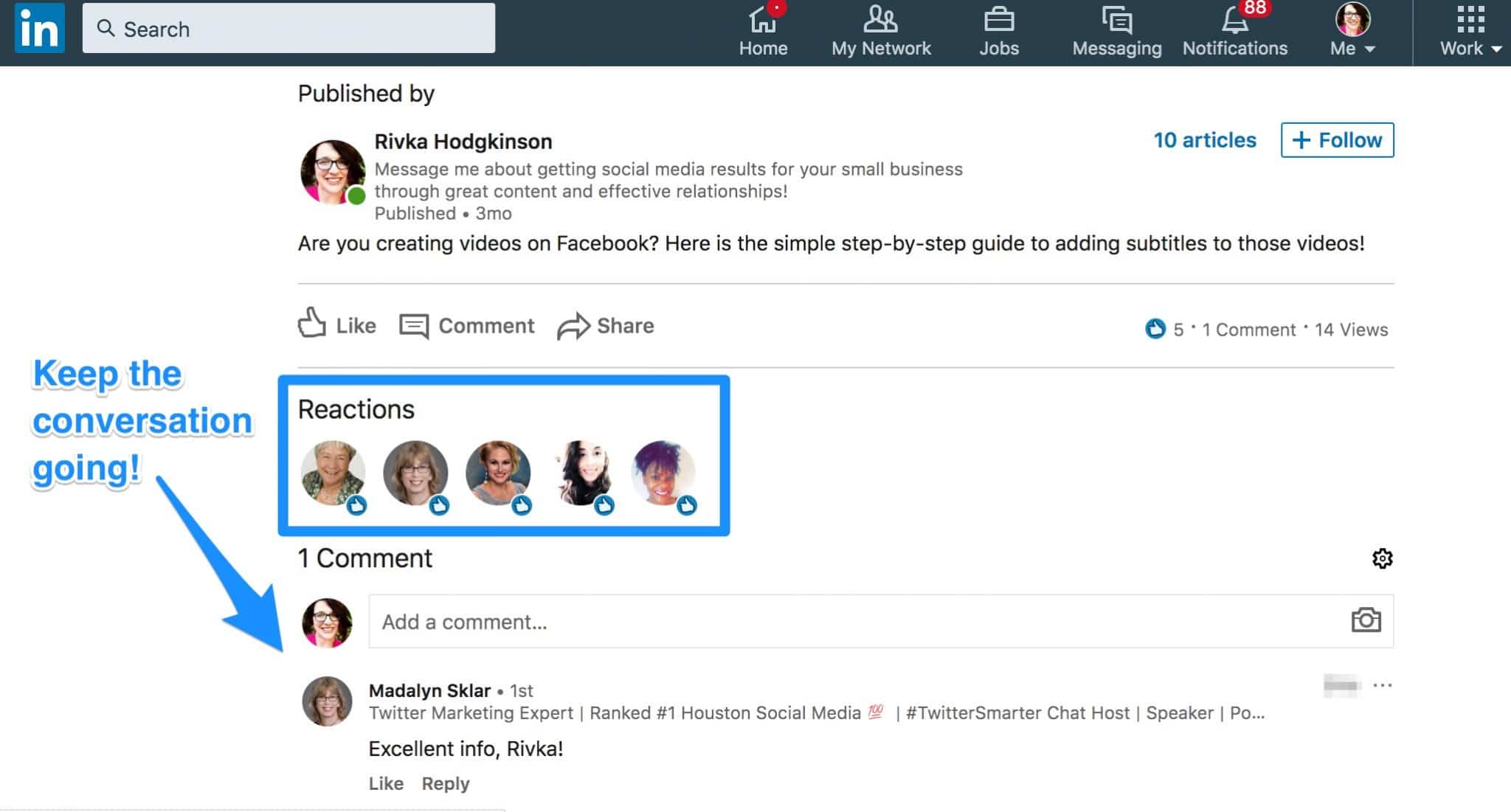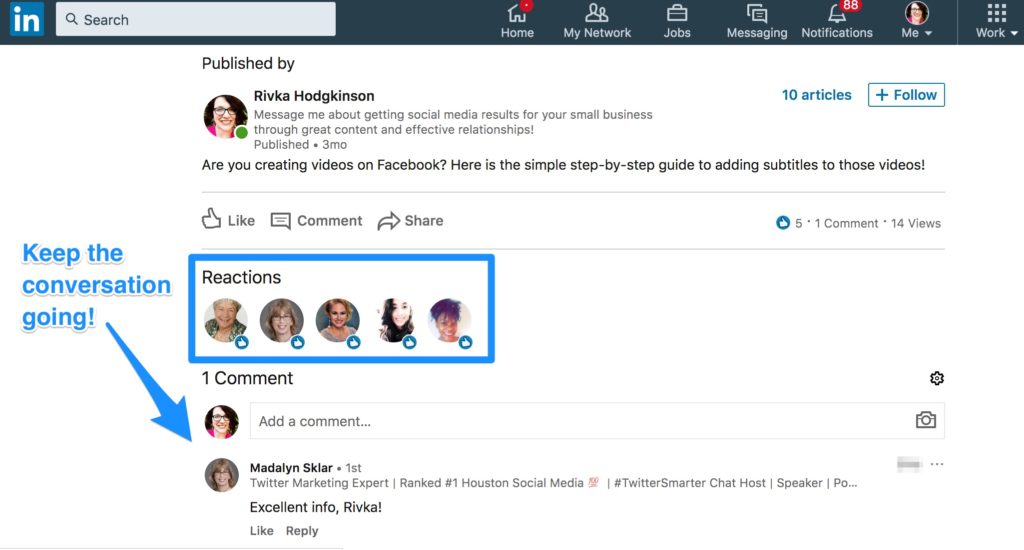 Last, but not least, you can get more readers by rewarding the ones you have! LinkedIn will show you who has liked your article, how many views it has received, and any comments on the article.
If you see that someone liked your article and you feel like it is appropriate to the relationship you might follow up with an individual message. Something along the lines of "I see that you liked my article about ____. Have you been using ___ in your business lately? What kind of results are you seeing?"
Definitely take the time to respond to any comments with a comment of your own. At a minimum, thank readers for taking the time to comment, and if possible, keep the conversation going with engagement strategies.
* * *
Sign up now for a FREE demo.