How do you feel about LinkedIn? Do you consider LinkedIn boring, irrelevant, or overly sales-focused? It can certainly be all those things. But you can engineer your LinkedIn to be fun, interesting, and lucrative. Creating a LinkedIn profile that converts while you sleep is entirely possible with the right tweaks.
Let's check out how.
Why Should You Care About Your LinkedIn Profile?
LinkedIn launched in 2003 and has grown to be the largest professional social network. The ethos of the platform is to "connect the world's professionals to make them more productive and successful."
Through LinkedIn, you can network, advertise, post content, and recruit. As with Facebook, there are personal profiles and brand pages as well as groups.
But why should you care about your LinkedIn profile?
LinkedIn has over 930 million members from 200 countries and regions worldwide. That's a huge pool of potential customers, employees, investors, and mentors.
Plus, according to LinkedIn's research:
"Audiences exposed to brand and acquisition messages on LinkedIn are 6X more likely to convert."
"B2B brands experience a significant 2-3X increase in their brand attributes by advertising on LinkedIn."
"40% of surveyed B2B marketers say LinkedIn is the most effective channel for driving their high-quality leads."
So, regularly updating your LinkedIn profile is worthwhile.
After all, your likes and dislikes change, skills improve, you have more work samples to show and you have more happy clients. You might also be looking for something different than when you first created the profile.
Related content: Social media expert Judi Fox discusses how to create a LinkedIn content that converts in this Social Media Pulse video:
1. Make sure your LinkedIn profile is accessible
Take your time to go through the LinkedIn privacy settings and ensure you're visible outside the LinkedIn network. That means if someone types your name into a search engine, your LinkedIn profile will show up.
In terms of acquiring new business, investment or sales, this is probably the platform you want people to see.
Switch your off-LinkedIn Visibility to green in Settings & Privacy/ Visibility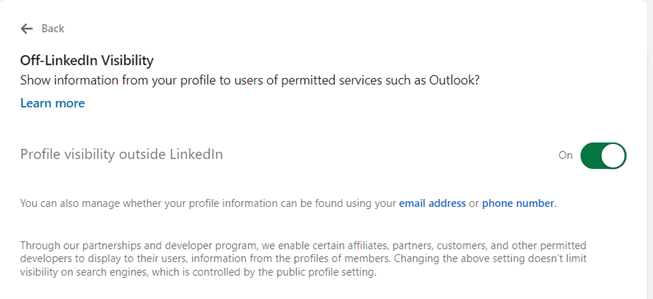 Turning on Creator mode will also ensure you get more eyes on your content. To turn on Creator Mode, you can View Profile/ Scroll down to Resources and tap on Creator mode.

Once you've turned on Creator Mode, you can choose up to 5 topics that represent your areas of expertise. These will help your content get discovered by people who are interested in these topics.

LinkedIn tip: Choosing "private mode" in your Visibility settings means you can view other people's profiles without them seeing you. But, in return, you won't see the names of people viewing your profile. You might want to upgrade to LinkedIn Premium where you can get the best of both worlds, plus 90 days history of people viewing your profile.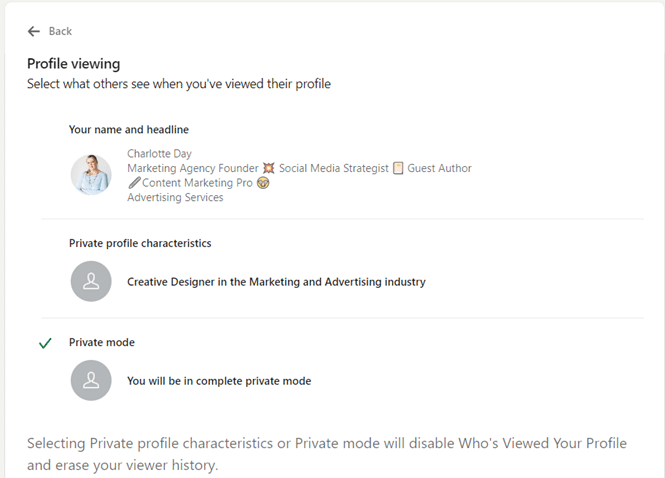 2. Use searchable words in your LinkedIn profile
Working in marketing we're familiar with search engine optimization (SEO). We optimize articles and social media posts for popular keywords so that search engines show our content. The same logic applies on LinkedIn.
If a company wants to hire a social media manager, they will search for "social media manager." They won't search for intergalactic guru of the social media planets. (Yes, that was one I saw recently.)
By having the right keywords throughout your Headline, About and Experience sections, you will show up on search. Even outside LinkedIn as we discussed in step one.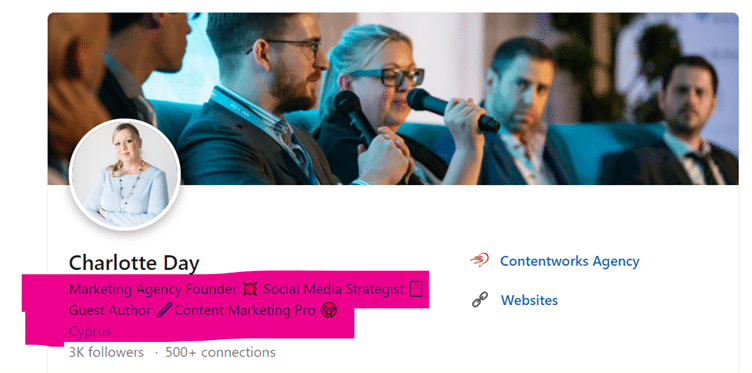 LinkedIn job searches will tailor job recommendations based on the words you use in your profile, and you will be shown to recruiters if you're open to work. Be consistent with the words you use to describe your skills and avoid being overly complicated with the wording.
Related read: KPIs for LinkedIn
LinkedIn tip: Your LinkedIn profile reflects your personality and skills. As you can see from mine, I like to keep it real and showcase my humorous side. Professional doesn't have to be boring or stuffy. Plus, you want people to invest in the real you.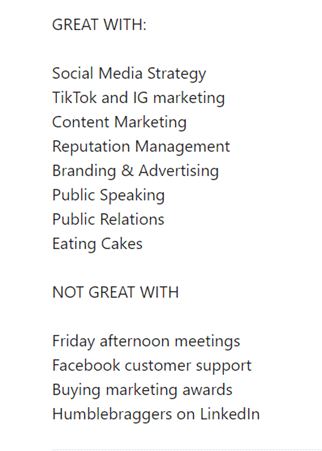 3. Post consistently on LinkedIn
Only 3% of members post more than once a week and they might be missing out.
Posting regularly on LinkedIn means more eyes on your LinkedIn profile, more interactions, and a stronger community following.
Having a content strategy for your own LinkedIn profile is a good idea. This can help you to align your content with your target audience, keep your posting schedule varied, and cover both trending and evergreen topics as well as personal insights.
Here are some ideas on what you can share:
Evergreen content
Each platform you post on has a unique set of parameters and different content types will have a different "shelf life". For example, a LinkedIn post is around 24 hours, a YouTube video is 20 days, Pinterest is 4 months and a blog post is 2 years. Evergreen downloadables like an eBook or Whitepaper are great for LinkedIn because they can be reshared and may influence buying decisions long after they were first published. You can display these in your LinkedIn profile by adding media to your job role. Review them regularly to add new ones and remove old or outdated materials.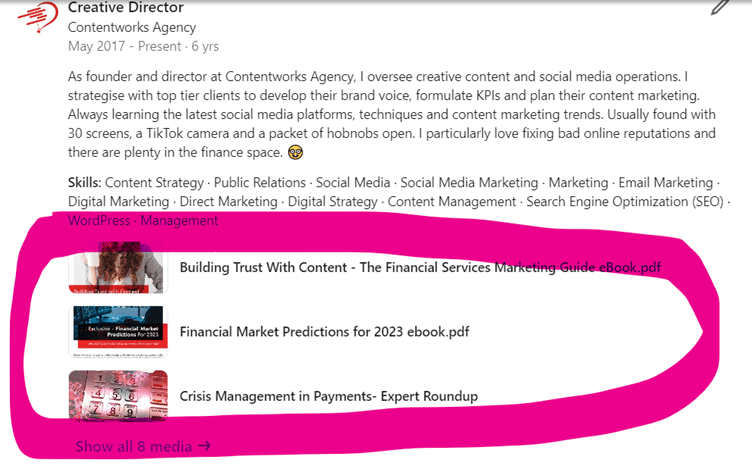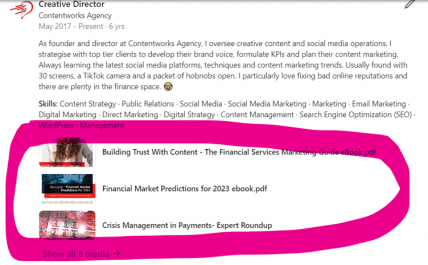 Personal updates
Nobody wants to follow a machine churning out generic content. LinkedIn is rapidly becoming a more authentic human focused platform where you can share traditionally "nonprofessional" photos and updates. Your cat on your desk, the doughnuts your CMO brought to work, your team outing and out of work hobbies that help you to destress. I follow Sara Davies MBE (best known from BBC Dragon's Den) and I love her balance of work and fun. Her positive photos and invites to comment make her a community focused thought leader who is approachable and inspiring.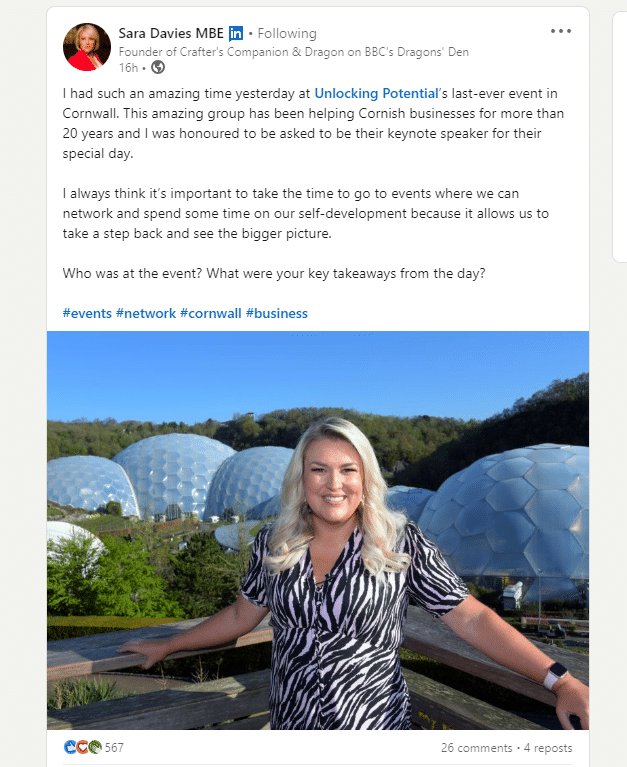 Mentions and tag
Creating posts or articles that @tag other connections is a good way to get more eyes on your LinkedIn profile. But these should be meaningful mentions. Mention people in your articles who inspire you, speakers you enjoyed listening to at an event or companies you had a good experience with.
We saw excellent LinkedIn traction when we shared this article and tagged the women involved.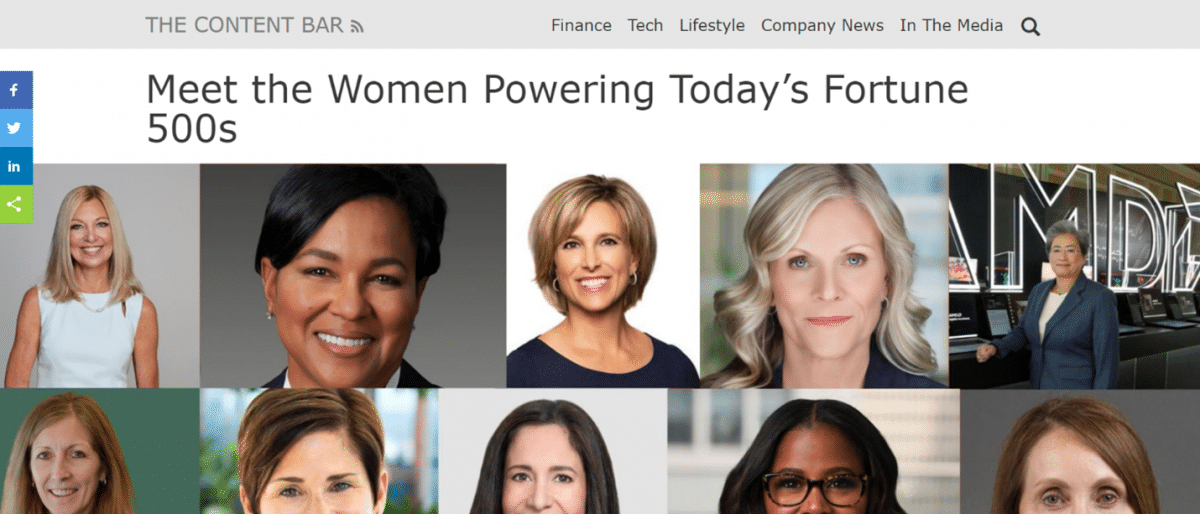 Funny GIFs and pictures
These aren't for everyone, but a relatable GIF can be great for community building and engagement. I don't plan to include GIFs in my LinkedIn strategy … It's only if something is trending and I see the perfect GIF.
In 2023, LinkedIn is much more authentic than it was 10 years ago when we were just posting about awards and promotions. So, use a fun GIF to keep it real if that feels right for you.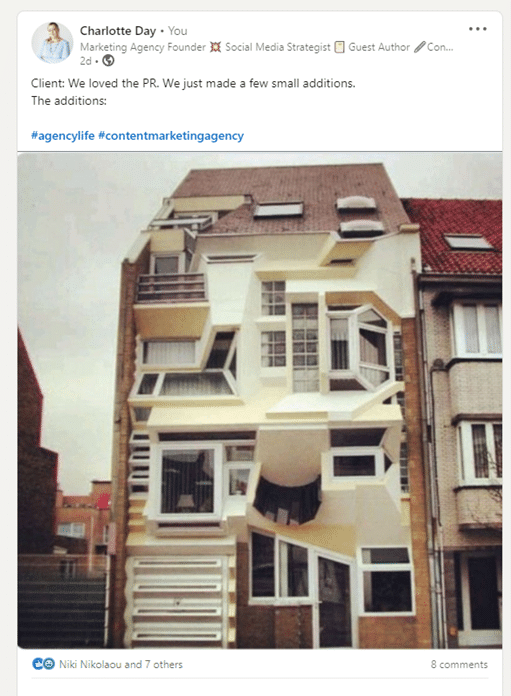 Polls on topical issues
Polls are great for understanding audience sentiment on topical issues. They can help guide your content and serve as quotable sources.
For example, 81% of people polled agreed with CEO Evan Spiegel. If you run a poll you can share your findings later to spark discussion and debate. In terms of converting connections to business, polls showcase you as someone who follows trends in their space and is listening to others.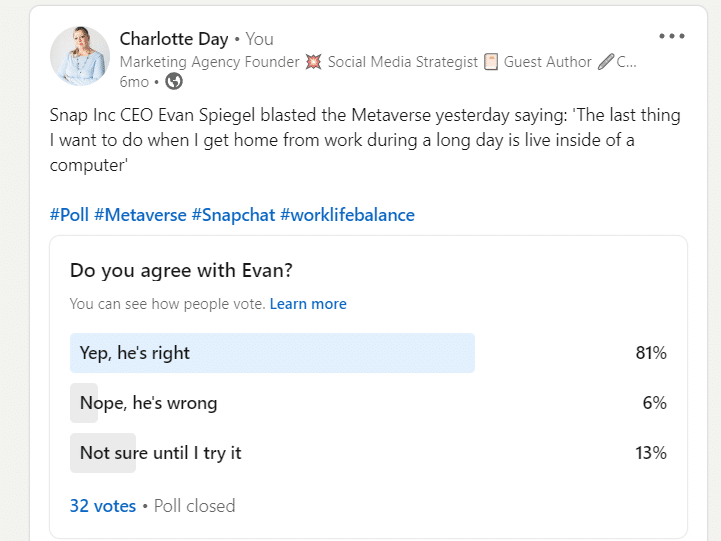 Share and promote podcasts
Podcasts are a win with LinkedIn decision makers. My connection Collins Tarus did a great job sharing their new podcast with a link so we can go listen to it.
Remember the description and CTA are so important if you want people to take action on your post.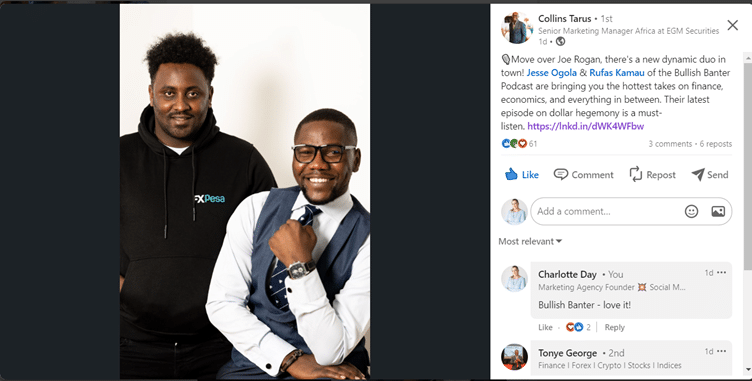 Articles that reflect your expertise and interests
Creating regular articles on LinkedIn allows you to build a following who will be notified when you create new content. They also open the floor for great discussions, ideas, and new connections.
I aim to publish a new article once a month on LinkedIn covering topics that interest me or where I feel I can add value. Sometimes, the articles are on the lighter side like this article I wrote before Christmas.
In your LinkedIn profile, you can choose to feature articles you've written for easy discovery. You can click on the + to add and remove articles and keep this section fresh and interesting. It's also a great idea to follow people who inspire you and read their articles. As with any social media network, LinkedIn shouldn't be one-sided.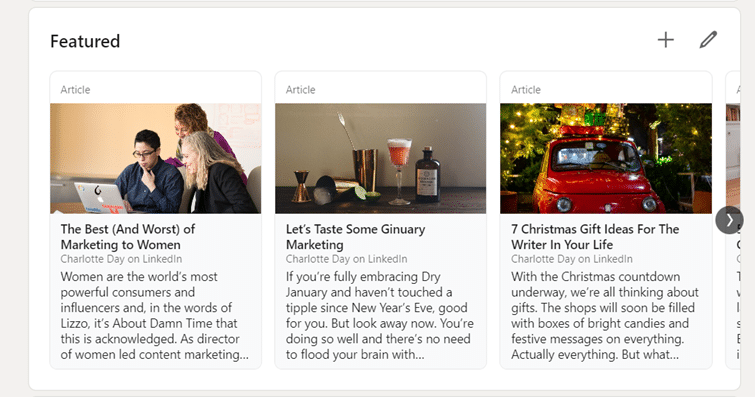 LinkedIn tip: Use your Agorapulse content calendar to keep your content scheduling consistent.


With Agorapulse you can add your LinkedIn Profile as well as your LinkedIn Page and schedule for both. The content on your page and profile won't be the same but you can share from one to the other later if you want to.
As a marketing agency, we manage several LinkedIn profiles for senior level company directors, and schedule their content through Agorapulse. If they are located in the USA then we schedule the content to hit their feeds at peak USA time.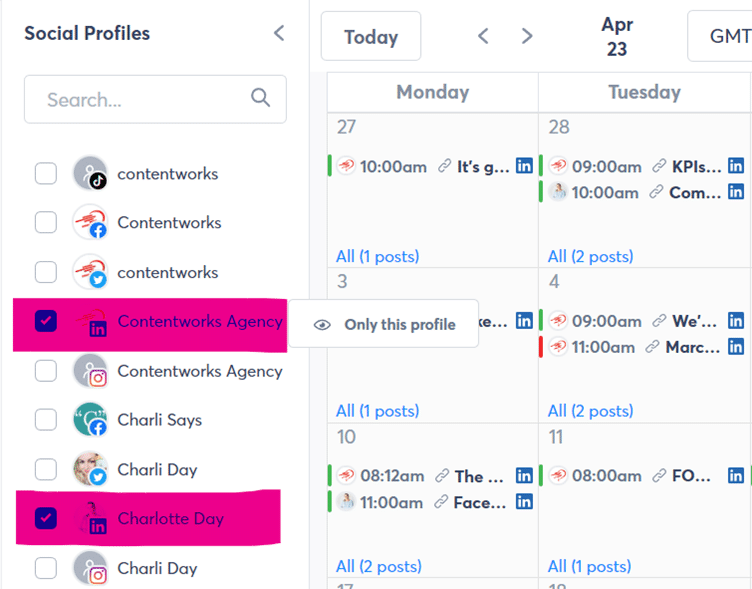 We often schedule shares of company LinkedIn content for Twitter, too.
4. Avoid the cringe factor
The reason most people give for not using LinkedIn is that it's cringe. Braggy salespeople, fake award winners ,and those awkward made-up stories.
In fact, LinkedIn can be so cringe it's even inspired accounts dedicated to shaming the perpetrators. On Twitter @StateOfLinkedIn rounds these up for all to see. Like this treasure below of which I have blurred the name. Truly cringe and likely made up.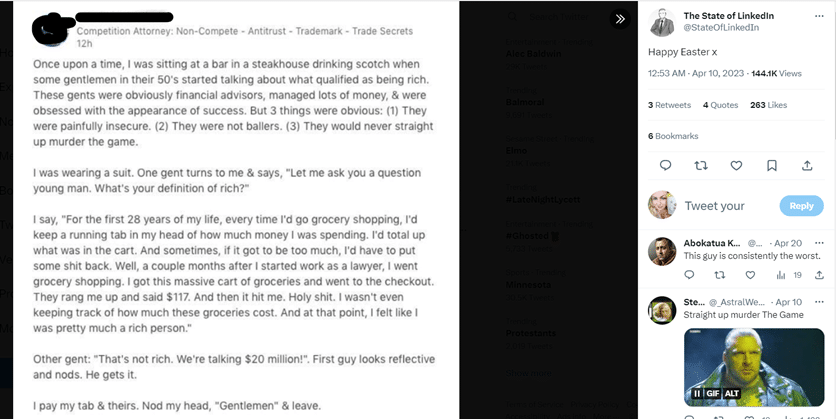 What not to do in a LinkedIn profile
Here are some things to stop doing if you want to convert without the cringe!
Stop humblebragging.
If you make casual, self-deprecating statements on social media to showcase what is an admirable achievement, you might be a humblebragger.
If you're proud of something, such as an industry award or professional milestone, just say it.
Humblebragging is particularly awful when it involves some kind of good deed. If you happen to buy a homeless man a sandwich on the way to work, don't post pictures or some long post about humanity. You can engage in acts of kindness or charity without telling everyone. Corporate social responsibility is a great thing but not when it becomes all about you.
The post below leaves me completely cold with its excessive humblebragging and "good guy" vibes.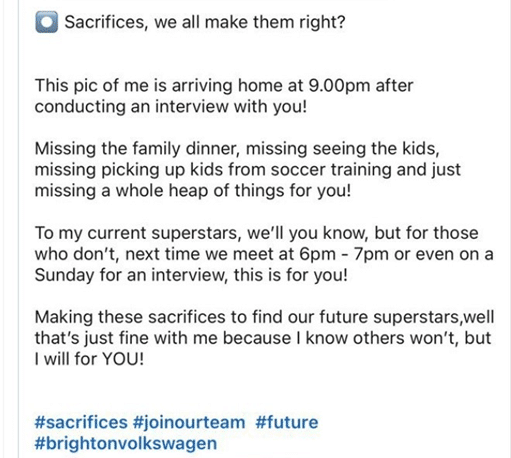 Don't be a sales spammer.
My pet hate is accepting a new connection and immediately receiving a sales message. If it isn't a personalized message or something I asked about, then I'm likely to remove that connection immediately.
Instead, take your time to introduce yourself to your new connection, interact with their posts and learn more about them. Your first message shouldn't be a sales one, unless your connection specifically asked for rates/product information.
Take your time to do some research and reference it in your message.
When you make a new connection, send them a personalized welcome message or introduction but don't be selling to them!

Don't add connections to your email list.
Connecting with someone doesn't mean you can export your connection list and add it to your database. Your email database should always consist of opted-in, willing participants.
Recommendations look great on your LinkedIn profile, but don't ask strangers!
I don't give recommendations to people I didn't work with, and it isn't polite to ask. However, if you worked well with a client or colleague then do send them a personalized request. You can even guide their recommendation to be about a specific quality or skill you want to highlight. I love this recommendation from our client Tom, which sits proudly on my profile and shows visitors a real experience of one of my clients.

Social proof on your LinkedIn profile converts connections to cash and 63% of consumers indicate they are more likely to purchase if they read good ratings and reviews.
LinkedIn tip: If you wouldn't do it or say it in real life then don't do it on LinkedIn. Would you walk into a bar and announce to everyone that you're an incredible award-winning company employee? Or race in and start selling to the first person you meet? Hopefully not.
5. Add strong networking touchpoints
To create a LinkedIn profile that converts, it's important to add clear touchpoints to bring clients closer to you.
Examples of this might include:
Subscribe to my newsletter/blog. You're now ensuring that the connection is getting all your emails and updates directly outside of LinkedIn. They will also be correctly opted in and therefore GDPR-compliant. You can also send newsletters inside LinkedIn. Just click on Write Article and then choose Create A Newsletter. Remember though, it's easy for people to unsubscribe, so add value, don't be salesy, and value your subscribers.


Join my community. Share your LinkedIn group in posts and articles, so people can join your community and participate in discussions. If you don't have a LinkedIn Group, then it could be a community on another platform or your own forum. LinkedIn connections often join numerous groups and then snooze them Facebook style when it all gets too much. So be sure to create amazing content and build strong communities.
Collab with me. Inviting collaboration is a great tactic and will certainly boost your LinkedIn profile. It also adds a user-generated content/influencer element to your presence on the platform. When you collaborate with another LinkedIn member be sure to share the video/podcast/photo or article and tag them. This opens up your content and LinkedIn profile to a whole new audience.
Use strong hashtags. A strong hashtag is a networking touchpoint and brings together others following a trend, cause or topic. I like to use a few strong hashtags at the end of a post and invite others to comment. You can choose to add or follow anyone commenting outside your connection circle.
Monitor your success on LinkedIn with the right tools. Imagine implementing all this and not being sure if it made a difference! You can view your impressions by clicking the analytics inside your profile:
You can also see demographics for who is viewing your profile. If you're looking to convert on LinkedIn, then directors, company owners and CEOs are ideal.
Here's a look at how to view LinkedIn demographics on Agorapulse:
Infographic
Need all these tips in a quick, easy-to-read format? Check out the infographic below.

Want to learn about how to use Agorapulse for LinkedIn reports, content scheduling, and more? Sign up for a free demo today.