Are you missing opportunities to promote your blog?
When I first started blogging I'd spend hours writing the perfect post, share it out on Twitter, Facebook, LinkedIn and then move on to the next one.
Sometimes I was lucky and my posts would strike a chord with someone, they'd get shared or make their way up the Google rankings but in most cases, they'd remain dormant.
These days I'm more strategic and I've developed a system for promoting my posts not just when I publish them but for weeks and months into the future. It's this 8 step system I'm going to share with you today.
Step 1: Write three blog headlines
Writing a good blog title is an art. It's one I used to ignore but thanks to tools like Emotional Marketing Value Headline Analyzer, I've gotten better. I wrote about the process I use to create headlines on my blog earlier this year.
It's worth spending some time crafting not just one, but at least three headlines for each blog post you write. You'll use each of these when promoting your blog later.
Step 2: Categorize your posts
I'm not talking about the categories you use on your blog here but the type of post you have created. I have four buckets that all my content fits into:
1. Evergreen
2. Seasonal
3. Topical (newsworthy but not recurring events)
4. Check for updates (as social media moves so fast I check the info in these before resharing)
By categorizing them this way I can make decisions about how often they should be shared.
Step 3: Choose the people you want to credit
Go through your post. Do you link to content from other people? Quote them? Give them shout outs? If so make a list of the social media handles for each person you mention.
Step 4: Find relevant hashtags to promote your blog
Make a list of hashtags that are relevant to your content. I use RiteTag to search for popular tags to use when promoting my content.
Step 5: Create a spreadsheet
My master 'blog posts' spreadsheet is my bible when it comes to promoting my posts. It brings together all the information collected above.
Here are the column headings I include in mine:
Date of post
Evergreen
Seasonal
Topical
Check for updates
Keyword
URL
Title 1
Title 2
Title 3
Twitter handles
Hashtags
Step 6: Solidify your publication day blitz
I have a specific process I follow for each network on the day my post is published. You may want to vary your posting frequency and create your own blog promotion schedule. The important thing is to have a process that you follow. This will save you time and ensure that your posts are getting exposure.
Before I share that with you, I want you to check something:
Do you have Twitter cards installed on your site?
If you do, you will be able to see a preview of links you post directly in the Twitter feed (see below).
This acts like a Facebook preview. The whole area is clickable and will bring people directly to your post.
If you don't see a preview when you post a link to Twitter you'll need to enable cards on your site. I use the Yoast plugin for WordPress to do this (so does the Agorapulse blog). If you aren't a WordPress user you may need to talk to your website developer.
Twitter
Immediately
1 hour after post including user names (more than one tweet if necessary)
Once a day for 7 days after publication
28 days after publication
Alternate:
The three headlines
Hashtags
Tweet with image / Tweet with link preview
Time of day
Facebook business page
On day of publication at 11am or 4pm (whichever is closest).
(These times are specific to my page and are popular with my audience, you will need to determine the best time for you to post.)
Google+ Business page
On the day of publication at the time of publication. Include keyword in description when posting to Google+.
Google+ Personal
On the day of publication at the time of publication. Again, include the keyword in the description when sharing it.
It's thought that including the keyword in your description will help the SEO of your post. I've noticed that my Google+ posts often rank even if the post itself doesn't.
Instagram
I've neglected Instagram for a while as the only way to get clickthroughs is to advertise. However, now that I can schedule Instagram posts using AgoraPulse I'm going to add it back into the mix from a brand awareness point of view.
On the day of publication directing people to click the link in bio.
Step 7: Share after publication
This is where your spreadsheet really comes into its own. Once you have populated it with at least four 'evergreen' or 'check for update' blog posts you can start recycling them.
Each week, I choose the post at the top of the list and share it again using the same frequency that I've described for new posts above.
I only publish blog posts on Tuesday, Wednesday and Thursday so I promote one evergreen post each Sunday.
Seasonal Content
You can schedule your seasonal content to run again every year. Don't let your holiday season tips post die. It may not have taken off this year but it could well be a winner next year.
Step 8: Measure, measure, measure
I was sitting pretty on my three blog titles method until last night. Last night I attended an event where Wordstream's Larry Kim was speaking. He didn't recommend three blog titles, he recommended at least ten. But it wasn't the number of titles that impressed me, it was his method for choosing the best one.
His recommendation was to use Google AdWords to split test them. Choose a cheapish keyword to target and run an ad with each variable. Whichever gets the most clickthroughs should be the main title of your blog.
I have a cheaper method. Because I alternate the titles on Twitter, I can download a report from Twitter analytics and see which headline generates the most clicks. It's not 100% scientific as there are other factors like time of day, hashtags and images to take into account but it's a good guide.
I'm declaring headline #3 (pink) a tentative winner in the example below:
Keep an eye on your Google analytics. Monitor the traffic that is coming to your site from social media before and on a regular basis after you implement your system. This will give you a good idea of which networks are working best and what times of day people visit from those networks.
With this information to hand, you can plug your best times into the Agorapulse queuing system to ensure you are sending tweets at the optimum time.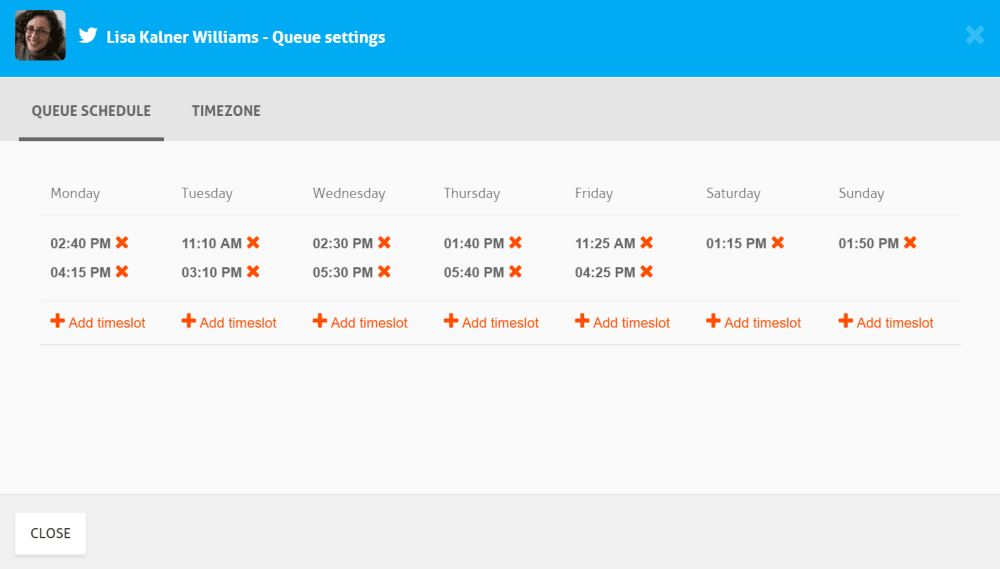 Takeaway
It's time to get serious about ways to promote your blog. The more you share, the more opportunity others have to discover, read and share too.
Set up a system for yourself and monitor the results. You may be pleasantly surprised.
What's been your most effective way to promote your blog? Let us know in the comments!