New year, new you, right?
January's a great time to break those bad habits and set your positive plans in motion. So how about we shape up your social media for 2019?
That's right. In this article, we're trimming the fat, toning up your channels and muscling up for summer. Ready for your social media workout? Let's do this.
The Warm Up
Warming up is essential for an exercise regime. It prevents injury and creates the right mindset. It's no different for social media managers. Here's how to warm up for success.
Plan your day
Social media management in 2019 is intense. We have a million tasks to get through across an increasing number of channels. And there's more pressure than ever to deliver regular stats and reports.
This interesting infographic from Meltwater sums it up. So it's no wonder that in multitasking so many things, we can get stressed out and disorganized.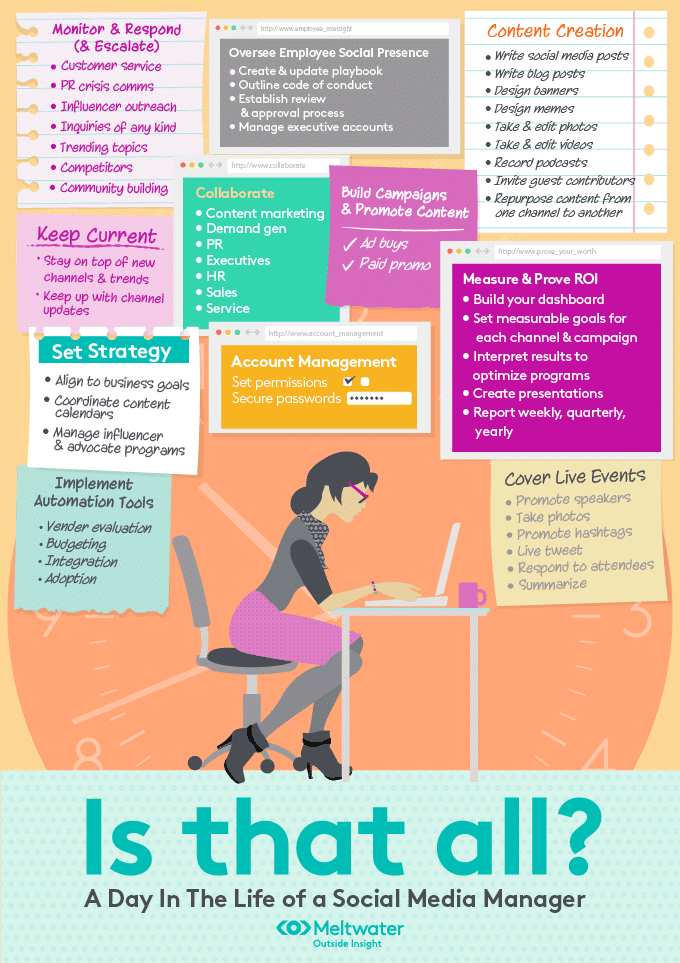 Taking action:
Spend 20 minutes at the start of your day making a to-do list. Prioritize essential, time sensitive tasks, community management, updating your channels, answering emails and sending out PRs. Next, allocate time for evergreen content, future scheduling, creatives and planning.
By learning to use scheduling effectively, you will feel more in control of your day. Use the multi-channel scheduling and queuing tools from AgoraPulse to really get on top of your social media management.
Having a plan at the start of the day with actionable items that you tick off as you go will help you stay on track and make you feel great when you achieve it all.
Eliminate distractions
As we head into 2019, take some time to think about what's distracting you from completing key social media tasks and hitting your KPIs. Here are some of the possible culprits:
Social media notifications
New emails
Skype chats
Instant messaging
Desktop notifications
YouTube Videos
Slack notification
Whether it's disappearing down the YouTube rabbit hole or getting pulled into instant chats, distractions will keep you from accomplishing your goals.
Taking action:
Don't be afraid to mute social media notifications and emails while you work on content writing tasks. Instead of constantly keeping an eye on them, schedule time in your calendar to read and respond to emails and check your social media channels.
If you're working on an important report or deadline, set your out of office to "away" to eliminate non-essential distractions. Be mindful of the time you're spending on sites like YouTube. Just in case you were curious, Google recently introduced a new tool so you can monitor your usage!
And don't forget to take breaks. Studies suggest that you should work for 52 minutes and break for 17. While that is probably not possible for social media managers, treat yourself to a short video in your structured break!
The Power Up
A little less conversation, a little more action please!
Elvis has got a point! We've done enough talking and planning and it's time to power up. Getting better results than last year doesn't necessarily mean working harder. It means trying new things and optimizing your existing practices. Here's how to power up your social media in 2019.
Explore new social media channels
Nothing dooms a new routine to failure like boredom. So, this year, break out of your social media routine by adding a new channel.
Let's take a look at Medium. The channel now has 60 million monthly readers, publishes nearly 8 million user articles per month and its visitors are increasing by 140% year on year.
Don't fancy Medium? Then why not check out messaging platform Telegram. The channel is a messaging app that syncs across all your devices and can be used on desktops, tablets and phones alike. It's not exactly a social media network yet but watch this space.
Another possiblity is Vero, hotly tipped as the next Instagram! This app allows for easy sharing of movies, music, TV, books, photos, and links. Right now, there's no capability for advertising but there's plenty of scope for research and discovery.
Taking action:
Don't get complacent about the big five (Facebook, Twitter, Instagram, LinkedIn and YouTube). In 2019, take the time to add at least one new channel and begin including it in your social media activities.
Shape up your video marketing
While many people hit the gym in January, you can start getting your video marketing in shape. Video is going to dominate 80% of all web content by 2020 and as viewers retain 95% of a video marketing message as opposed to 10% when reading text, it makes perfect sense. But wait – what if there's no time or budget for making high quality videos?
Taking action
There are some great video marketing tools available right now and they don't cost the earth. My favorites are Powtoon, Poster my Wall and Biteable.
Remember that the average viewer tunes out after 10 seconds which makes it essential to create short, snackable videos. So enough with the "video is too expensive and time consuming" excuses. Start creating short, cost effective videos or go live. It's completely free!
Check out the short social media videos from Contentworks Agency for inspiration.

The Cool Down
Social media managers in 2019 may find it difficult to cool down and switch off. With smart technology integrated into every facet of our live, the working day can seem never ending. The social media pace isn't set to slow down any time soon so it's on us to find (and keep) that elusive work/life balance.
End the day with a soothing activity
Ok, it's still work, but hear me out. Your day as a SMM has been hectic. You've consumed gallons of coffee; your heart rate is up and you've got 30 minutes left. Your priority tasks are done and now you're just flitting around trying to cram in more. Now's the time to start preparing yourself to switch off for the day but how do you do it?
Taking action:
Watch a TED talk – Remember story time at the end of the school day? TEDX is the grownup version. Pick a subject that interests you, relax and absorb.
Listen to a podcast – A few of my favorites are Copyblogger, a weekly, short-form broadcast hosted by Sonia Simone. Also, best-selling author and entrepreneur Tim Ferris whose guests discuss their favorite books, morning routines, exercise habits, time management tricks, and much more. There are thousands of podcasts to choose from and the best thing is, you can listen to them while exercising or even closing your eyes. Or how about Social Media Lab — a podcast full of social media experiments, powered by Agorapulse?
Jump on a fun hashtag– This is one of my favorite ways to end the day! Jump on a fun hashtag like @Wendys #NationalRoastDay, sit back and LOL at the comments.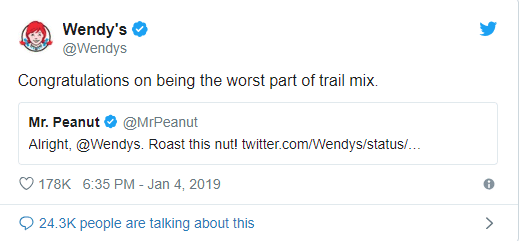 Watch your app usage
If you struggle to switch off in the evenings (literally), you're not alone. Studies show that smartphone users look at apps 80-150 times a day and that's not even the social media managers!
Unless you're a community manager, there's no need for you to be trawling your brand's social media networks out of hours. Shaping up your social media in 2019 also includes having a work/life balance. But how can you achieve it?
Taking action:
App addiction is such a problem that other apps have been created to solve it. I know, it's ironic.
Apps like SPACE and Moment can help social media managers monitor and balance screen time. There is also a trend towards using the physical versions of digital apps. For example, a pen and paper instead of a notes app or reading paperback books to avoid the digital versions. The aim is to be more productive during the day and switch off in the evening.
And here's an interesting one. Tristan Harris, Co-Founder of the Center for Human Technology says we should go grayscale! That's because research shows that colors are attached to emotions and priorities, especially that wretched red notification bubble that controls all social media managers! Turning your phone to black and white can reduce the urge you have to view new notifications therefore enabling a more effective timeout.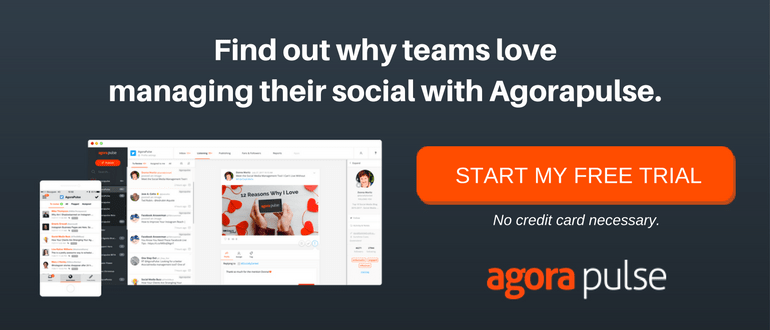 More Tips To Shape Up Your Social Media for 2019
Repurpose content – Save time and resources while improving your social media channels by repurposing content. Juicy stats from a LinkedIn post can form a series of tweets or be transformed into an eye-catching, relevant and engaging Facebook infographic.
Experiment with AI — Using AI in your social media can make your more agile. Brands who set up auto-messaging are saving time, keeping customers satisfied and improving their sales.
Ditch poor performing channels — Trim the fat and ditch the channels that aren't performing for you. If a social media channel is draining your time and resources and bringing nothing to the table, delete it.
As with all resolutions, shaping up your social media in 2019 is not an overnight thing. It takes time to implement new strategies, see results and improve your daily social media management. But aim to start now and we're sure you will see results by summer!
How are you planning to shape up your social media for 2019? Tweet us and share your tip.