Social media platforms are continually evolving … so shouldn't the tool you use to manage them do the same? We believe so, and we work hard to keep our tool growing and adjusting.
Our social media management tool allows you to publish, engage, and report on social media from one easy-to-use dashboard.
For some SaaS companies, this functionality would be enough to tell their tech team to hang a "Gone Fishing" sign in their office while their customers continued to manage social with their tool.
But that's not Agorapulse.*
There are so many changes taking place in the social media networks we support that we can't sit idly by. And there are so many constant changes in how teams and agencies manage social media that we always strive to help them work efficiently and produce great results.
By staying on top of social media trends and API changes, we adapt to new marketing opportunities offered by social media networks.
And by having daily conversations with social media managers and marketers like you, we hear how you do business and adjust our tool accordingly.
Over the past twelve months, we added new functionality to nearly all the social networks we support. We added new ways to engage in your inbox, publish content, and report on your social media efforts.
Fueled by that creativity, we also found time to create two free tools to help you manage Facebook ad reporting and employee advocacy.
Let me give you a quick, colorful look at the biggest 2019 releases then dive into each of these features. You might discover a feature or two you have yet to try!

January
Instagram video publishing
We began 2019 with the rollout of Instagram video publishing. Customers found direct scheduling Instagram video almost as easy as scheduling a photo. (Maybe you noticed more videos in your Instagram feed as a result.)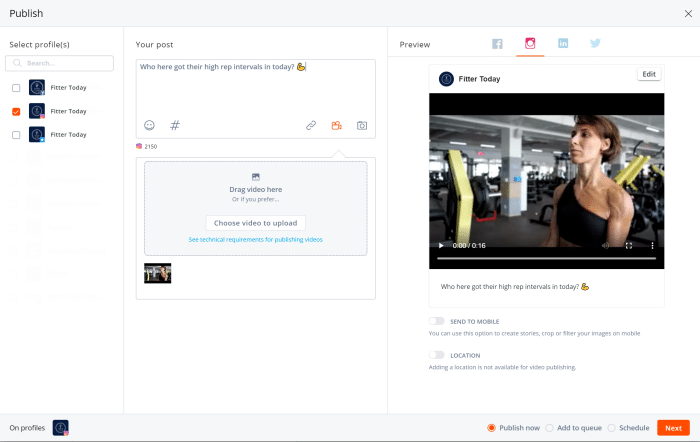 Instagram user tagging (on photos)
Getting more Instagram reach is the Golden Ticket of social media marketing these days. Tagging public profiles can certainly help increase reach numbers. The tagged post appears in the "photos of" tab of the tagged person's profile, and often, a tag notification will nudge a brand or public figure to regram your content.
Adding an Instagram photo tag only takes mere seconds on Agorapulse, but doing so can go a long way in terms of reach and exposure.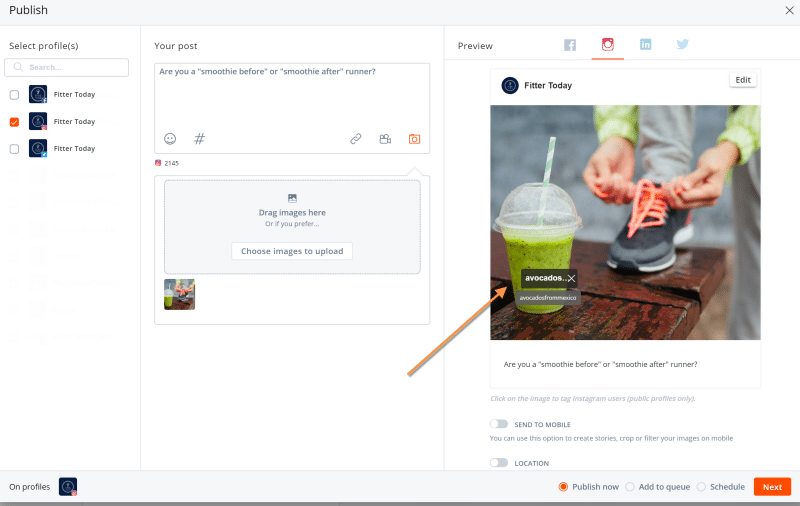 February
Saved hashtag picker
Successful content on Twitter and Instagram relies on the strategic use of hashtags. But among all the other things we need to remember as social media managers, recalling which hashtags to use with each tweet or post can be a challenge.
Enter our saved hashtag picker. Create and save groups of thematic hashtags and click on them whenever you need that lift in reach.
Geotagging posts
Another tactic to increase reach and exposure is to add a geotag (or location) to your posts. It's now simple to say where you are on your Facebook, Twitter, and Instagram posts.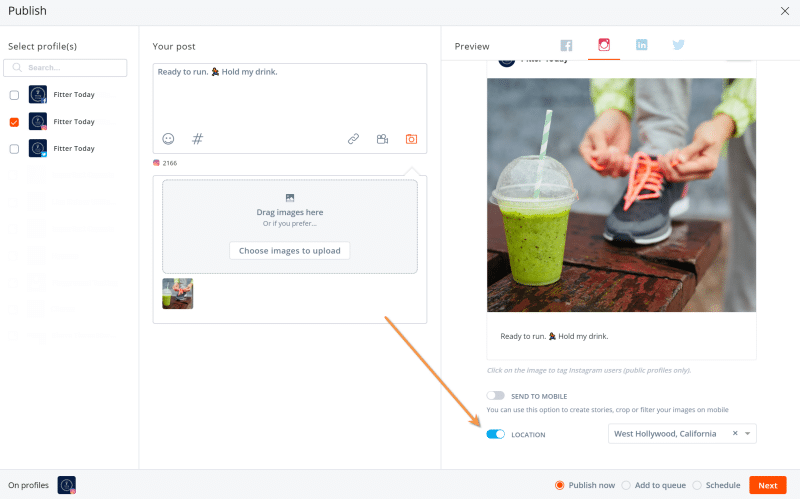 User option with Instagram push notifications
In February, we gave teams an option when scheduling Instagram Stories or sharing other Instagram content via push notifications with Agorapulse.
By turning on the "send to mobile" option, you can select which teammate should receive the push notification to natively publish a given piece of content. #teamwork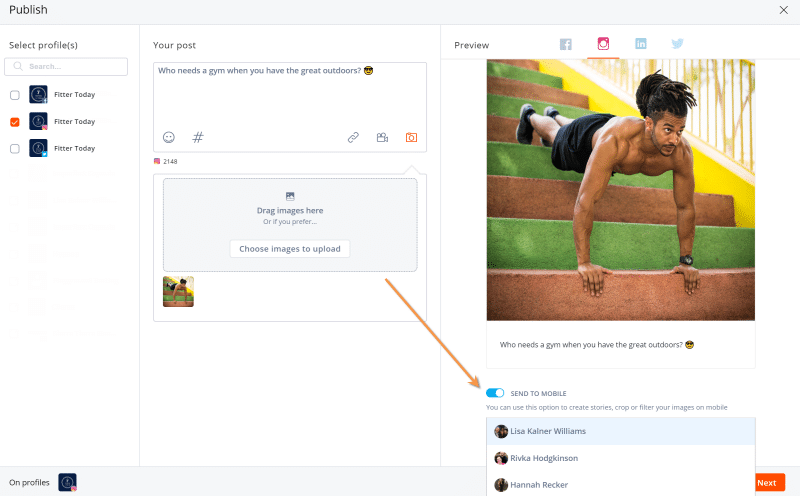 LinkedIn video and multiple photos
LinkedIn content has gone far beyond merely sharing job listings and Entrepreneur articles. The ability to publish video and multiple photos to LinkedIn from Agorapulse will help you and your clients better engage on this professional network.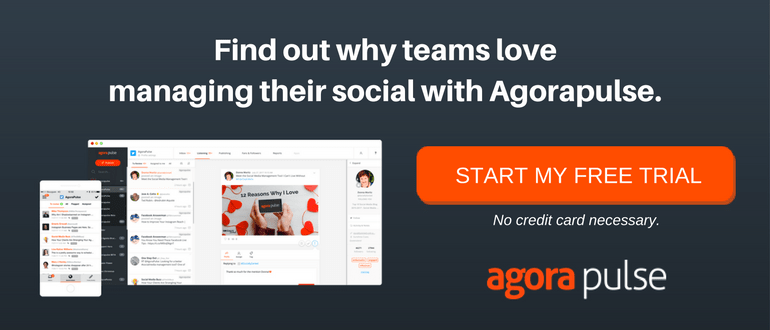 March
LinkedIn targeting
Want the right set of eyes on your LinkedIn Page content? We hear you. So, we added a targeting option on your Page's organic posts.
Select the language and/or country option to hone in on the audience most receptive to each of your posts.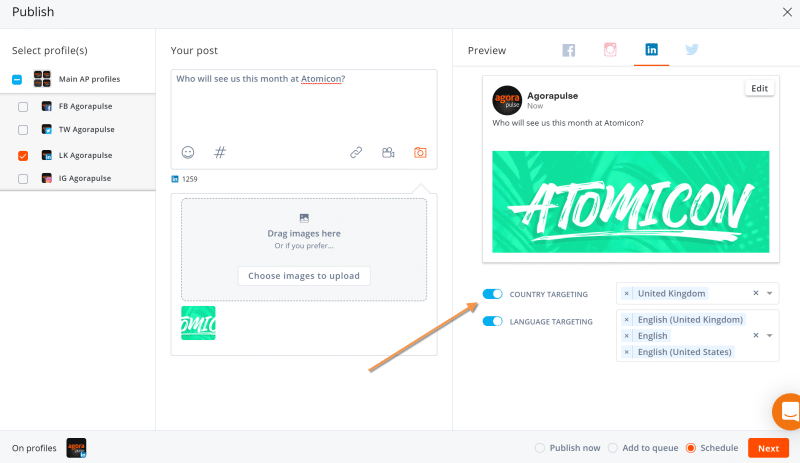 Facebook reactions display
Facebook is clearly no longer just about post likes; reactions are here to stay.
To get a quick read on the sentiment of a post, click or tap on it on your publishing calendar. There you'll see a variety of statistics, including who liked, loved, wowed, "angried" or "sadded" that post.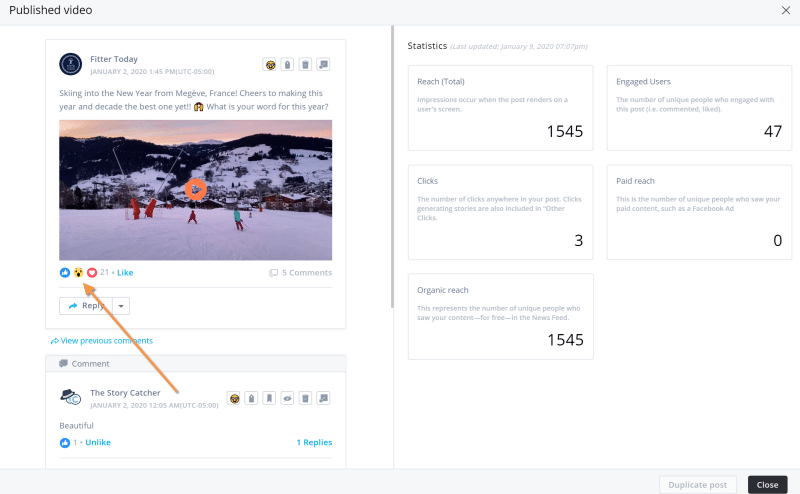 April
Instagram Stories reports
We wouldn't let you schedule Instagram Stories without finding out how they're doing, would we? So, we added Stories reports in April.
The first page of the Web reports gives you top-level statistics: reach, total engagement, and impressions.
Click on a thumbnail of a Story to get more statistics, like taps forward, taps back, and exits.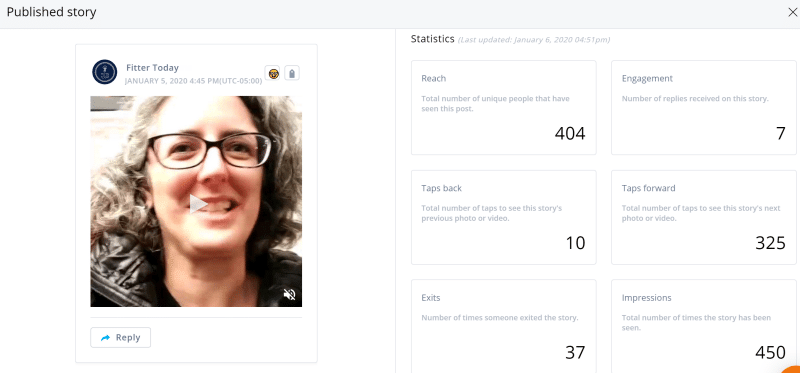 These reports track Stories scheduled through Agorapulse and those posted natively to Instagram.
(New to reporting on Instagram Stories? Check out this story on important Instagram Stories metrics.)
New Instagram metrics
We added other metrics to our Instagram reports this month, including reach, reached users, and the average engagement during a given day or time or for a particular media type.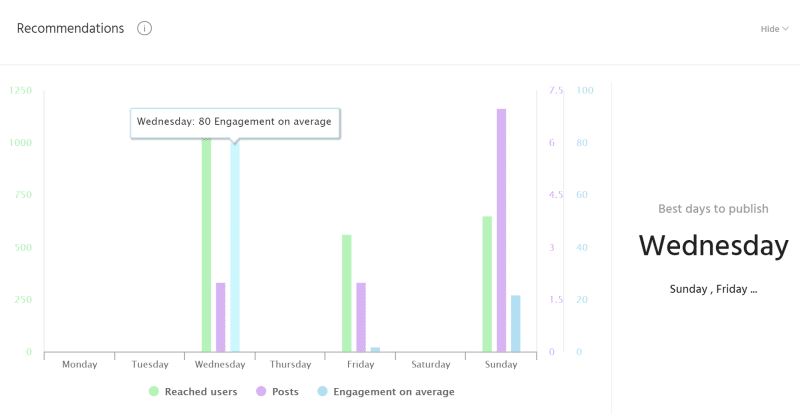 We also built new sections dedicated to impressions and demographics of your Instagram business profile.
May
Unified calendar
Isn't it nice to see all your scheduled posts in one glance on one calendar? That was our rationale behind our unified calendar (for Large plans+).
Select the social profiles you want to look at and, BOOM, you'll see them on one handy calendar.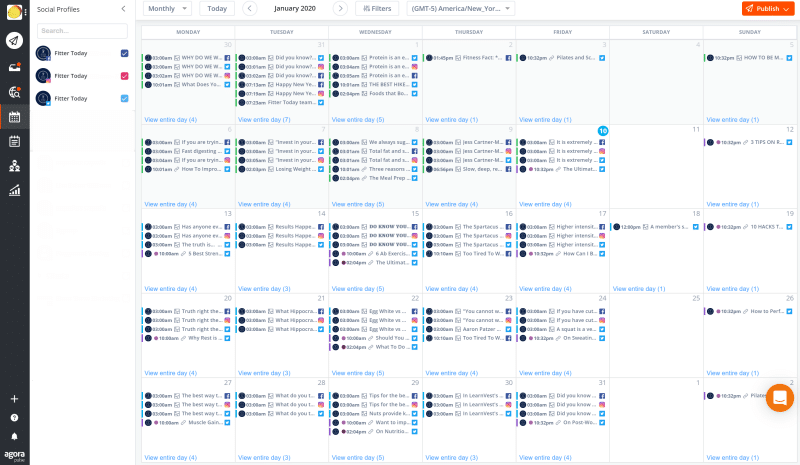 To accommodate this feature (and dare I say, more unified features to come?), we rearranged the interface of the dashboard to have a new left navigation bar that displays our social media management features (publishing, inbox, listening, publishing calendar, publishing lists, fans and followers, and reports).
Once you select a feature (say, publish), you'll see all the social profiles on which you can use that feature.
LinkedIn Live comments
For those lucky enough to have LinkedIn Live, check your Agorapulse inbox. It syncs comments on your LinkedIn Live videos (live broadcasting) alongside the comments on your LinkedIn posts.
June
Instagram multiple image publishing (aka Instagram carousels)
Customers were so happy when we launched publishing for Instagram carousels! (Believe me: I was the recipient of the message that went out to our users. I'd never seen so many smiley faces in a 24-hour period.)
By using push notifications, users can schedule a single Instagram post with swipeable multiple images.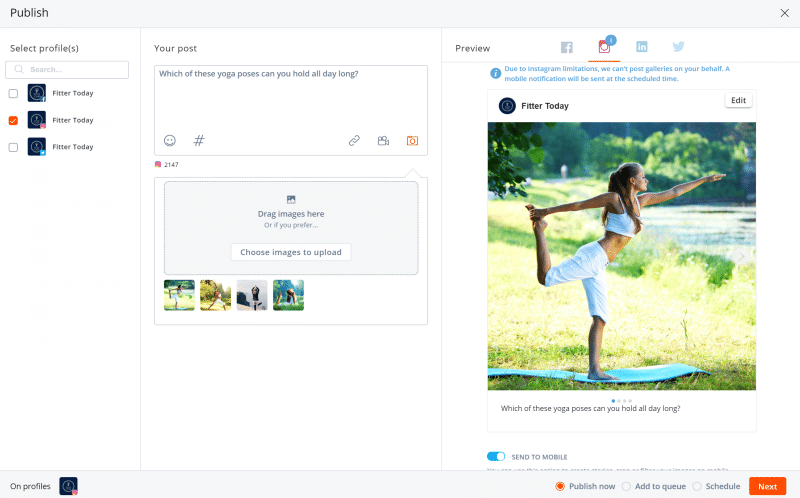 Bulk actions in list post views
In June, we also released bulk actions to quickly manage several scheduled or "to-approve" posts at once.
July and August
We took the summer months to dig deep into the back end of our social media management tool and make some proactive security improvements and to prepare the release of our two free tools.
September
Facebook AdsReport was the first of two social media free tools we released in 2019.
AdsReport is a perfect tool for those who feel overwhelmed by Facebook Ads Manager's columns. Log in with your Facebook account and get a clear view of your Facebook ad account, ad campaigns, and ads for a given period of time.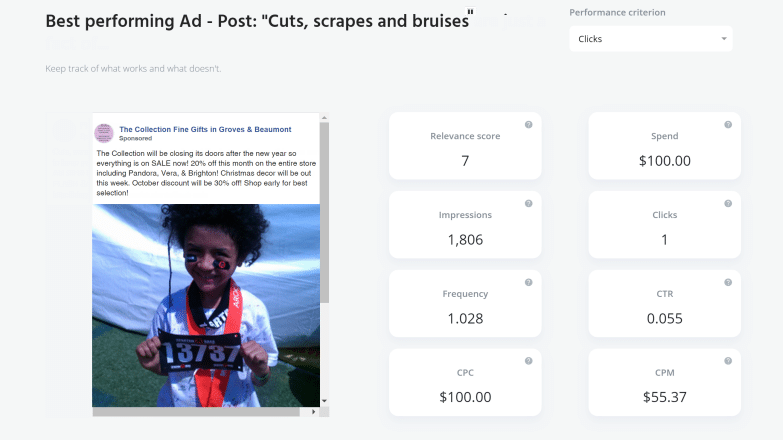 So that you can keep your conversations going within Agorapulse, our Facebook listening tab allows you to reply to public mentions of your Facebook Page. (You know that we capture those public mentions in your listening tab, right?)
We also made conversations easier by adding a way for you to easily reply to the threaded comments on your Instagram ads within Agorapulse.
October
Easy Advocacy
Our second free tool of 2019 was Easy Advocacy, a tool to allow your team or business to easily share company news. Simply enter your employee distribution list, create the suggested copy that you'd like socially shared, and send it off to your team.
We'll track the engagement of the email among your employees as well as which of your employees gets the most clickthroughs with her/his social shares.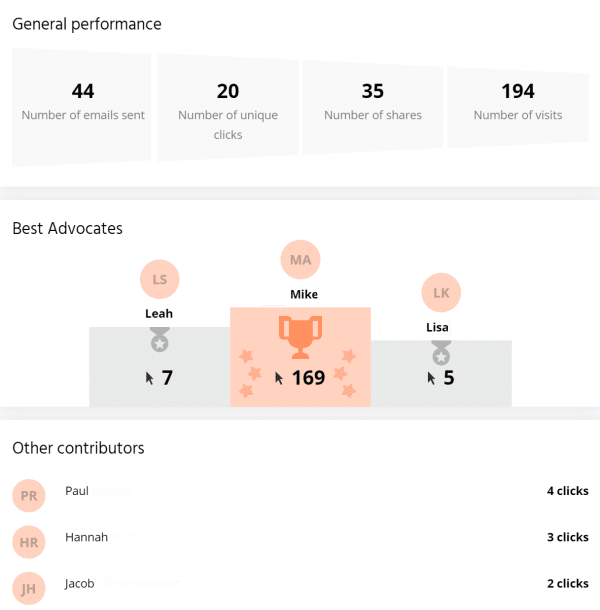 Facebook sponsored post metrics
We've added one-click metrics for each of your sponsored posts. Click on the post in your publishing calendar to see how it's doing.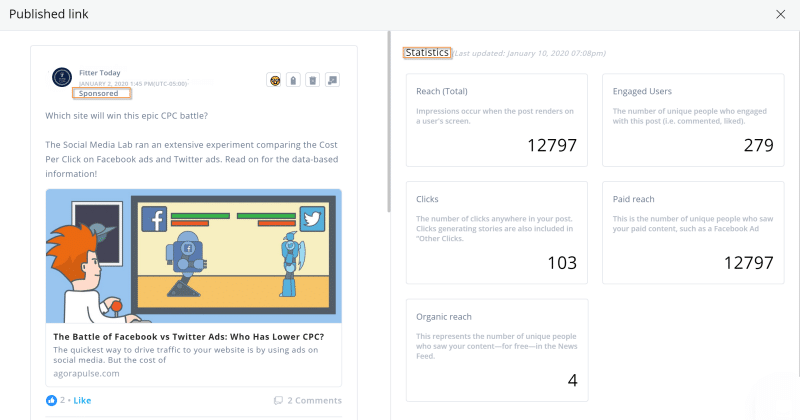 November and December
All year long, we've been listening to our customers. We pay serious attention to the comments in our inbox, the replies to our emails, the reviews on sites like Capterra, and conversations with our support team.
From these discussions, we know that there a few publishing and reporting features that will be making a BIG difference in the way you manage your social media profiles and prove the ROI of your social media efforts.
I've been told that they'll cut my WiFi if I reveal too much. But hmmm—do you think the left navigation and the unified calendar might be the start of something massively helpful that we're building here at Agorapulse?
New in 2020
Want to find out when these our new are released this year? Subscribe to Agorapulse Release Notes and you'll get an email when we publish a release note about them.
Here's to even easier social media management this year!
*And truth be told, there's not world-class fishing in the Seine River.
* * *
Sign up now for a FREE demo.