Think of social media marketing, traffic, and landing pages of a trio that can, when united, help expand your business. Check out these tips for uniting them from marketing expert Lilach Bullock.
Many in the digital marketing community have or are starting to get a grip on social media marketing, SEO and targeted traffic, and (to a lesser extent) landing page creation and utilization. However, many times, these three tools are seen as separate responsibilities.
Why do marketers treat these different tools in relative isolation?
The answer is that they've been taught to do so. Social media implicitly (and indeed often explicitly) encourages marketers to focus on improving vanity metrics such as "likes," shares, clickthroughs, follower numbers, and so on. Web traffic analytics tools steer their user's attention to monthly visits, click-paths, downloads, and so on. And landing pages focus their users' attention almost exclusively on conversion rates.
With so many seemingly different objectives, it can appear that these tools have indeed been created to achieve entirely different things.
[Tweet "Here's to all you who think social media should be separated from your Website."]
But the truth is that they can all be subsumed by a larger category: digital presence.
Creating and maintaining a high-grade digital presence is the target of all digital marketing, and those working on any of the various aspects of digital marketing should remind themselves of this from time to time. The other metrics – "likes," traffic numbers, conversion rates, etc.–can all be viewed as indicators of the state of your digital presence.
Related Post: Social Media Marketing 101
It's a subtle shift, but by conceiving of social media, site traffic, and landing pages as multiple aspects of the same thing (namely, a comprehensive digital marketing strategy), online marketers can create something more consistent, integrated, and, more importantly, effective for business growth.
This article will illustrate how social media, SEO, and web traffic, and landing pages can be used together to generate qualified leads and grow your business. Combined, this trio can be used to achieve epic digital marketing results and business growth—far more than doing each in isolation of each other!
Social Media, Traffic, and Landing Pages: The Self-Fulfilling Prophecy
A business' digital presence is made up of multiple elements; some static and some dynamic.
The static elements include its:
Social media pages
Website
Landing pages.
The dynamic elements include its:
Social media posts
Conversations and interactions it has with consumers
The steady flow of content that it produces.
The static elements facilitate and support the dynamic elements. For this reason, they need to be of a high-quality (which means having good usability, being highly informative, and being clearly branded).
Assessing and ensuring high quality can be achieved using social media analytics for social media pages, usability testing for websites, and A/B split testing for landing pages. Getting all three to a high standard will provide an excellent base from which to conduct your dynamic digital activities.
This, of course, is easier said than done.
Although static in terms of a single or a handful or marketing campaigns, even the static elements of any digital marketing strategy need, in the long term, to be updated regularly to remain effective.
If the overarching objective of digital marketing is to create and maintain a good digital presence, then the objective of creating and maintaining a good digital presence is to increase sales and revenue.
To do this, you need leads.
Eighty-one percent of online shoppers conduct online research before making a purchase. This means visiting your social media pages, visiting your website, and, if you have them and they are well placed, downloading content or claiming an offer via a landing page.
The order in which consumers do these things is by its very nature unpredictable. So it's important that each of the static elements point to each other or are linked together in a sort of "digital marketing web."
However, take just one possible example: Imagine a consumer stumbles onto your site through an organic search that led to some of your content–your blog, say. They like the look of your operation, and click to be redirected to one of your social media pages. After reading one of your social updates, they click a link that leads to a landing page. Finally, they type in their details and appear on your sales list.
I'm sure you can imagine countless other scenarios in which a consumer floats between some or all of your various static platforms before becoming a lead. But the important thing to note is that, in all of these circumstances, they've already been able to get a good idea of who you are and of what you do and, so long as your static elements are of a high quality, they've been able to navigate between each in a simple, intuitive manner.
Improve Business Growth with Social Media, Traffic, and Landing Pages
The least risky business growth strategy is to attempt to sell more of your current products to your existing target market. Social media, SEO, and landing pages are perfect for just this type of growth. (And, when the time is right, they can also be used to move into adjacent markets and to promote new products.)
All are highly targeted, have proven effectiveness in today's digital economy, and are extremely scalable. Dedicating time to all three, then, will put you in a good position to grow in a sustainable fashion.
Bearing in mind that all good growth strategies are unique to the companies that they were created for, whatever growth strategy you decide to pursue, creating and maintaining a strong digital presence will be essential.
By combining social media, SEO and targeted traffic, and landing pages, businesses can expect to generate leads in a more time- and cost-efficient fashion. They will also ensure that their brand messaging is consistent and create a consistent brand story.
So, when it comes to your next campaign or initiative, be sure to approach social media, traffic and SEO, and landing pages in a consistent, holistic fashion. To help you, here are a list of some of my favorite tools for each.
Social media for business growth
Hootsuite and Agorapulse (natch) are both comprehensive and up-to-date social media management tools. Offering social inbox solutions, publishing tools, monitoring tools, detailed analytics and reports, CRM functions, and more, such tools make planning and implementing a great social media campaign as easy as it can be.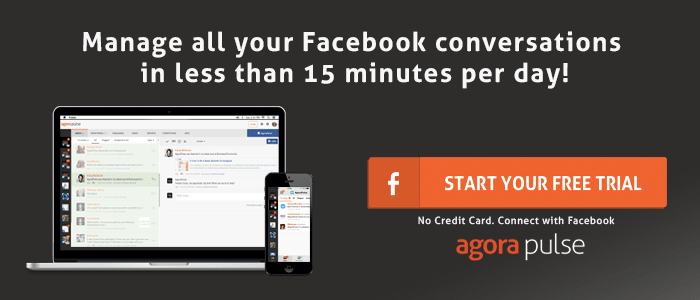 SEO and targeted traffic for business growth
Paid SEO and marketing tools, such as Raven, provide tools for preparing and running great SEO campaigns, and is equipped with everything from keyword planning to current website analysis. If you'd prefer a free option, using Google AdWords you can analyze keyword performance and search popularity.
Landing pages for business growth
Solutions such as GetResponse's Landing Pages tool allows users to create responsively designed landing pages instantly, using templates and user-friendly design tools. They also, of course, offer the A/B split testing function which is so crucial to their success.
* * *
Sign up now for a FREE demo.
About our guest blogger: Highly regarded on the world speaker circuit, Lilach Bullock has graced Forbes and Number 10 Downing Street. She's a hugely connected and highly influential entrepreneur. Lilach has been named by Forbes as one of the top 20 women social media power influencers and was crowned the Social Influencer of Europe by Oracle.