Marketing for veterinary practices takes both a specialized knowledge of the pet care industry and an insider's insight into how people choose and trust someone to take care of their furry family members. A waiting room full of limping doggos, squawking parrots, and unamused kitties can leave little time for self-promotion.
That's where Vet Help Direct step in to give a voice to the ever-valiant saviors of our animal pals.
Taking care of every aspect of a vet practice's digital marketing, their team of vets, vet nurses, and digital specialists help spread the good word via social media, websites, SEO, blogs, client emails, Facebook ads and PPC. They even have a vet directory and review platform to amplify their online presence.
Sarah Spinks, the Veterinary Education and Content Manager at Vet Help Direct, spoke to us about the service they provide to vets.
"We believe that vet practices consistently underplay their clinical excellence, standard of care and impact they have on the lives of their patients and clients."
Being a specialized industry, with individualized client bases, presents both opportunity and challenges across social media.
"Each practice is unique, so we design individual approaches using the practice's voice and specific strengths to educate, gain, and retain ideal clients. Our clients tell us that they feel they are in safe hands, that we listen and deliver so that they can get on with being a vet."
Herding Cats:
Social Media Scheduling Efficiency
Building a social voice for each clinic was an arduous process and extremely time-consuming. The team managed Facebook, Twitter, and Instagram pages for each Vet Help Direct client―this meant posting out content daily and managing communities with direct engagement.
Going in and out of each individual page was taking up weeks of Account Manager time just to schedule the created content.
"We were using a mix of Business Manager and Hootsuite. We needed a way to streamline our work and enable us to use our time more efficiently."
The team at Vet Help Direct knew there was a better way to operate. They just needed to find the right tool.
Scalpel… Sponge… Tweezers… Agorapulse!
Sniffing Out The Top Dog in Social Management Tools
Given the nature of their work, it's no surprise that Vet Help Direct take reviews very seriously. So when they started hunting for a social platform that would help them with their hairy scheduling situation, they did their homework.
Sarah attested, "We knew there were specific things we needed a programme to deliver in order to be the right fit for us. We searched online, read articles, and compared different programmes. We looked at reviews very closely"
Online opinion seemed to point in one particular direction―the social marketer's best friend―Agorapulse.
"Agorapulse initially seemed to provide a lot of what we were looking for. We found it very user-friendly when we tried it, and really liked the dashboard and the general setup."
Sarah added, "We then had an excellent training session with Jenny [from the Agorapulse customer team], who was so warm and helpful, we all felt confident that customer service and support would always be a priority."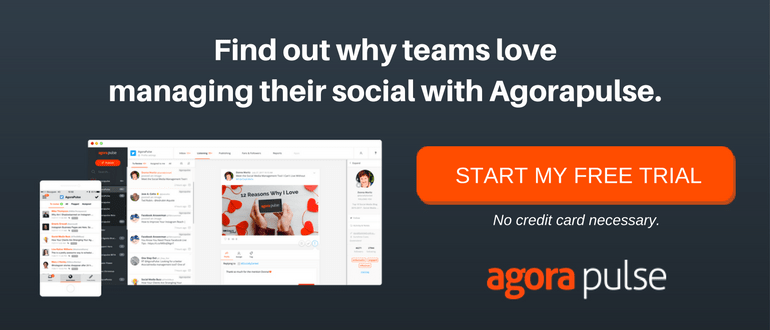 Barking Up the Right Tree:
Bulk Upload Saves Weeks of Work
Since Vet Help Direct started wrangling their social scheduling through Agorapulse, Sarah tells us it has made a world of difference and saved them dog years, so to speak.
"The bulk upload feature allows us to easily schedule a month of content to a page in a matter of minutes."
Previously, scheduling content for a month for all of Vet Help Direct's client pages would take each of the account managers around 2 weeks, based on the number of pages they dealt with.
"We can now do the same amount of scheduling, for the month, within a couple of days on average―as long as we're prepared and have the content ready!" Sarah reported back happily.
The time saved from using Agorapulse has made a huge impact to their business. Vet Help Direct have been investing those saved weeks into improving and developing their educational content and looking at different ways of conveying messages.
They've even been able to expand the breadth of their digital services.
"We're better able to support our clients, and help them to develop their businesses further. We're also now able to offer things such as social listening, which we previously weren't able to, and give more detailed reports on social media performance to our clients."
It goes both ways too. Sarah and the rest of the team have continued sharing their thoughts on the tool and sending over new feature requests.
"We really like the fact that [Agorapulse] is constantly evolving and looking for ways to improve, and every suggestion we've made so far has been implemented!"
Thanks for helping us be our best self, VetHelpDirect.