You know videos pack a punch. But maybe you've only practiced it inconsistently. Let's dig in and look at reasons for making video marketing a regular offering of your social media agency. Then get inspired to start.
Anyone can make videos for social media. This article shows social media managers and digital agencies how to make videos that stand out from the crowd.
Social media and video were made for each other. Social media attracts droves of people, and video keeps them entertained. And there's tons of evidence for video on social media. But before we dive into stats, we need to talk about the challenge of creating a video.
Sure, creating videos sounds exciting. But if you're working on a tight budget, can you still produce social media videos that help grow your brand?
The answer is yes.
Today, the barriers of entry into the world of video creation are much lower than a few years ago. Online video marketing platforms allow you to quickly create high-quality content in minutes.
In this blog post, I'll share how to get started with video for social media. I'll show you how to think strategically about the content you'll produce, and what types of video to create. I'll also give you examples, unpack a simple three-step formula for making engaging videos, and leave you with seven powerful tips to elevate them.
But first, let's look at why this is the best time to use social media video marketing.
Why You Should Be Using Social Media Video Marketing
There's no getting around how powerful social media is. As someone involved in social media marketing, you're likely familiar with Jay Baer's famous quote on the topic: "Content is fire, social media is gasoline."
Whether you're marketing video membership apps or consulting services, social media offers brands the chance to get in front of their audiences and share their best work.
To illustrate why social media managers and digital agencies should be using video, here's a look at how engagement, views, ad spend, and consumer behavior point to social media video as a must.
Engagement is higher
Most people get that video is engaging. On Facebook, the average page user engagement rate for video is almost 2% higher than image posts. While engagement is a powerful metric, video views are also telling. Did you know that Twitter gets more than 2 billion video views a day and Facebook gets more than 8 billion? That means you'll get more attention through video.
Competition is growing
Digital video advertising spend is also growing. It's set to balloon to about $45 billion in 2021. If you're not creating videos, your competition is and will reach more buyers.
Consumers take action
People are also more likely to make a purchase after watching social media videos. A total of 84% of consumers state being convinced to buy a product or service by watching a brand's video.
It's pretty clear that video should be part of your social media marketing video should be part of your arsenal.
Here's how you can get started.
Think Strategically in Video Marketing
Nothing about marketing is haphazard or spontaneous. Successful marketing is well-planned and refined. (Successful social media managers and digital agencies know this!)
Video marketing is the perfect way to connect with buyers at each stage of their marketing funnel.
So when thinking about strategically using video to generate leads and sales, creating social media videos for each stage of the funnel is your best chance at attracting, educating, and converting more people into customers.
But building a video marketing funnel requires more than just shooting video.
Brands today go through a lot more than the early days of marketing to win customers over. From digital PR to influencer marketing, brands need to be trustworthy to earn their wallet share. Though that may sound like a difficult feat, it's easier when you understand how to apply the "know, like, trust" methodology.
It's based on the idea that people need to trust a brand to invest in its product. But before they can trust you, they have to like your brand and what you stand for, and liking a brand means knowing or becoming aware of a brand.
Why does this matter and how does it relate to the video marketing funnel?
Wooing customers is done in one social media post or video. It happens over time. Developing trust has to happen organically. When you focus on creating videos to attract people and turn them from strangers into followers and fans, converting them into customers becomes infinitely easier.
The social media video marketing funnel
Like the content marketing funnel, your social media video marketing funnel will include videos at the top, middle, and bottom of your funnel.
ToFu or top-of-funnel
Build awareness by attracting strangers who may be looking for answers to a challenge your solution may solve.
Important: People at this stage are not ready to buy. They need help to better define their problems and also require a little education to make them problem-aware.
MoFu or middle-of-funnel
Middle-of-funnel viewers have a better idea of what they want. They are ready to find a solution. This where educational content plays an important role. Giving viewers all the information they need to find the best solution is essential. Once they're educated, there's a good chance they'll turn to a trusted source (your brand) for the solution.
BoFu or bottom-of-funnel
Viewers at the bottom of your funnel are ready to buy but often need a little push to commit. Your goal is to give buyers proof that investing in your solution will deliver results.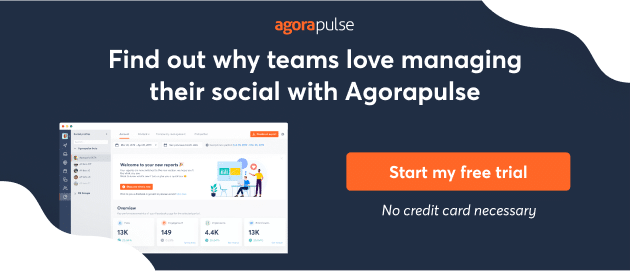 Types of Videos to Create for Every Stage of Your Funnel
With an understanding of the video marketing funnel, here's a collection of videos, with examples, that social media managers and digital agencies can create for their clients.
ToFu social media videos
ToFu videos create brand awareness. They do this with smart and catchy ideas that draw attention. Ads and short explainer videos work perfectly to turn heads and can go viral.
Quickbooks wanted a way to appeal to business owners looking for easy-to-use accounting software. So they turned to Danny De Vito and produced a series of videos that are fun but also showcase how effective the accounting solution is.
You know what hurts? Twelve reps of bicep curls with Jody. You know what shouldn't hurt? Managing a small business. Use QuickBooks to snap and sort your expenses, saving you over $4,600 at tax time. #BackingYou

Posted by Intuit QuickBooks on Thursday, December 6, 2018
MoFu social media videos
MoFu videos are educational. They help fill viewer knowledge gaps. Explainer videos are a marketing staple. They simplify what could be a complex and lengthy explanation of how your solution works into easy-to-digest video.
Monday.com is project management software. To explain how easy it is to use, they released an entertaining explainer video that covers how the platform works and also introduces key features.
Tutorials are a perfect way to show how your product works, especially to people looking for solutions. Elegant Themes is known for creating a wildly popular WordPress theme called Divi. To help people learn about all you can do with Divi, they produced this live video tutorial on how to perform specific tasks with Divi.
How to Use Global Presets with Divi Layout Blocks to Streamline Blog Post Design

Go to the blog post: https://www.elegantthemes.com/blog/divi-resources/how-to-use-global-presets-with-divi-layout-blocks-to-streamline-blog-post-designWith Divi, we get more control over the design experience of a blog post. Divi's global presets allow you to create a site-wide design (like a child theme) for elements throughout your site with the added convenience of being able to tweak the design however you want with a few clicks. Plus, if you are used to creating content in the default WordPress Block editor, you can harness the power of the Divi Layout Block to pull in those Global Preset elements on the fly within the post content. This will allow you to add brand new design elements within a blog post that matches the template and the rest of the site.In this live tutorial, we are going to show you how to use global presets with Divi Layout blocks to streamline the process of designing a blog post. To do this we'll show you how to use Global Presets to design new blog post content quickly and efficiently. This will help to create a blogging experience that doesn't compromise the overall branding of your site.Let's get started!If you don't have Divi yet, you can learn more about this powerful theme on our website using the link below:https://www.elegantthemes.com/gallery/divi/ Want to give back to the community? Share your empowering knowledge, skills, experience, and creativity on the Elegant Themes blog by contributing:https://www.elegantthemes.com/blog/community/elegant-themes-blog-submissions

Posted by Elegant Themes on Tuesday, August 18, 2020
Pro tip: Leverage live streaming as part of your video mix. Give your viewers helpful content and make an offer that's related (more on this in the calls to action section below).
BoFu social media videos
BoFu videos help buyers settle any lingering questions or doubts before the purchase. Examples include video case studies, demos, and testimonials. Together, these show buyers how well your solution works and that it can produce results for them.
Explainly is a video production company. To show how easy it is to work with them, and how great their work is, they created a short testimonial with HubSpot.
How to Create Engaging Videos for Your Social Media Content Marketing
Video marketing funnels aside, let's dig into creating social media videos.
If you've struggled to piece together videos in the past, this simple three-step formula will help.
1. Create a powerful hook
A hook is the first idea you share with viewers. Hooks are designed to do one thing: Grab attention.
To create a powerful hook, speak directly to your audience by addressing a point of interest. You could share a stat, ask a question, identify a problem or exactly what you will be covering in your video. Whatever your choice, be sure that the idea resonates with your audience. If it doesn't, they'll keep scrolling.
Take this video from HubSpot. It opens with Wombi Rose, CEO and founder of Lovepop Cards saying, "What startup founder wouldn't love a unicorn?"
This video is part of a series about marketing and it sheds light on challenges and wins brands experience on their growth journey. The hook is strong enough to make viewers wonder what the video is all about.
2. Deliver value
Value is currency today. Whether you're teaching people how to create amazing video membership sites or how to improve their golf swing, delivering value is all about making your videos make an impact in the lives of viewers.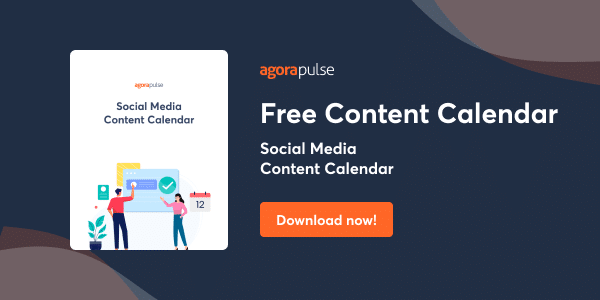 How do you gauge what value is?
As a rule of thumb, I consider value as any information that creates a shift in perspective for your audience. This shift in perspective should impart a new way of solving a problem or learning something new that viewers would otherwise not easily discover.
Ahrefs is known for creating strong tutorials to boost collaborative learning. In this one, Sam Oh delivers value by going into detail with a step-by-step process for how to write a blog post that attracts backlinks and also by using paid ads—something most marketers and SEOs may not have considered.
3. Use a strong call-to-action
Calls-to-actions are likely the most undervalued marketing tools today. Most are generic and leave little to be desired.
To make your audience move to the next step of your buyer's journey, you have to make it worth their while. One method worth testing out is the "C-T-A" method.
Your CTAs must be:
Clear. Clearly state the value on offer. Explain how viewers will benefit from taking the next step.
Timely. Create an offer directly aligned with where your buyer/viewer is in their journey. For example, a video designed to attract viewers at the top of the funnel shouldn't pitch a product for sale. It should pitch more educational content on what types of solutions exist to help solve the buyer's problem. Once options have been explored, then introduce your solution in a follow-up video and why it's the best option available.
Actionable. CTAs must evoke interest. Your offer and the timeliness thereof must blend into a message that viewers easily understand, appreciate, and can easily act on. Actionable here means lowering any barriers of friction that may make viewers think twice about taking up your offer.
Aim to do away with doubt about the value of the offer and inspire interest and a positive response to the result of viewers taking action.
Bloomberg uses a five-second video to capture subscriptions. Note how the copy in the video is designed to inspire action.
Subscribe to Bloomberg.com for just $1.99/month for the first 3 months.

Posted by Bloomberg on Friday, July 31, 2020
How to Generate the Best Results From Your Social Media Videos
While I've given you a complete framework for creating social media marketing videos, there's always room for improvement.
To help elevate your videos, here are seven highly effective tips for social media managers and digital agencies.
1. Create engaging thumbnails
Thumbnails are the first form of imagery viewers will see in their social media feed. To make sure yours stand out, try these three hacks:
Use conflicting colors
Most posts on social media have a way of blending into the rest of the platform. Make your thumbnails pop by using colors that differ from the platform you're on.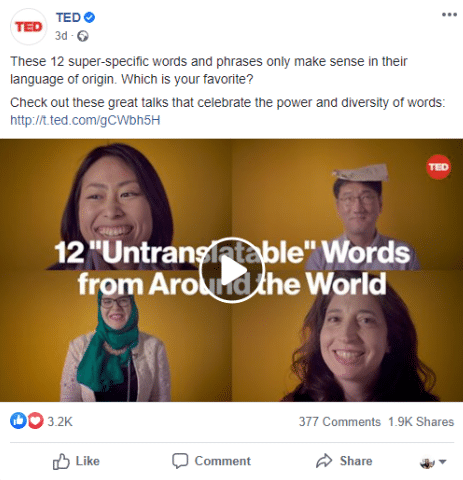 Use text
Text on video thumbnails matters. It quickly draws attention. But not any text will do. Yours must be intelligently woven into the rest of your post. It must add to the social post copy and offer a little more on what your video is about. The example above from TED shows how to grab attention.
Use images and infographics
Most people are visual learners. We're wired to look for and be attracted to images. Using images and infographics in your thumbnails makes them more appealing, especially as people scroll through busy feeds looking for stimulations.
2. Write compelling copy
Copy is powerful. And while your video will do the heavy lifting, don't disregard the role copy plays. Copy can capture attention as people scroll. It gives them context for what they are about to watch. Lead your audience. Pique their interest.
Framer is a prototyping software. It makes bringing new software ideas to life easier. And if you're constantly prototyping, you'll relate to the painful process of having to create a canvas for each prototype. Framer's post copy addresses this issue.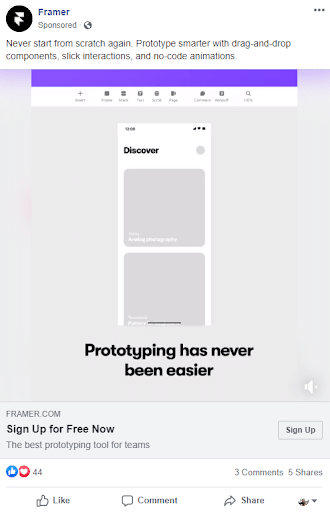 3. Use pattern interrupts
Pattern interrupts were discovered in the field of neuro-linguistic programming. They involve the sudden introduction of a new, seemingly unrelated idea. When a new idea is introduced, it instantly pulls the attention of the viewer, interrupting their thought process.
Why would you use pattern interrupts?
While social media pulls a lot of attention, people tend to get bored easily. Pattern interrupts help hold attention for longer periods of time by "resetting" the viewer's mind.
And they are effective. When used, the human can't help but latch onto the new idea to see where it goes.
Pattern interrupts come in various forms. They can be the introduction of a question, a change in camera shot, or the use of an image.
Just remember that the goal is to break the thought pattern of the viewer to hold the person's attention for longer.
Webflow uses cutscenes as pattern interrupts. Each cutscene shows Pablo experiencing Webflow and having hilarious reactions to how amazing the platform is.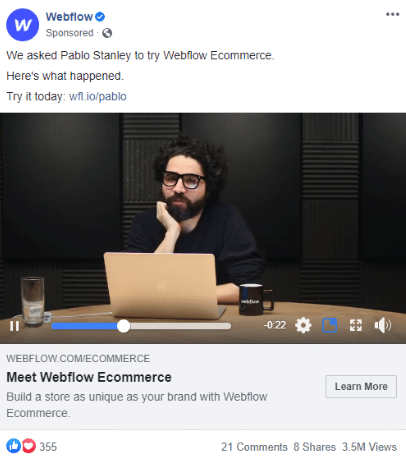 4. Use native video
Users favor native video over third-party video, according to a recent study. For social media users, it's just a better experience. There's no need to be redirected, creating less friction. So, take the time to upload your video to each OTT platform you use. It's a quick and easy way to score more user interaction.
5. Use captions
More people watch videos with captions on social media. In fact, on Facebook, that number is as much as 85% of users. Add captions to make your videos easier to digest. They'll help you attract buyers who would otherwise ignore your video.
6. Use online video marketing tools
Getting started with social media marketing videos doesn't have to break the bank. Today, there are tools you can use to quickly churn out videos to see what works with your audience. If you're looking for affordable online video makers, try Wave.video, Powtoon, Viddyoze, or Promo. Each tool comes with a collection of helpful templates, the ability to add text, sounds, and more.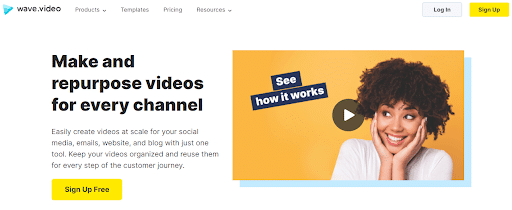 7. Repurpose video content
Smart social media managers understand that the more often people are exposed to a brand, the greater the chance of being top-of-mind when buyers are ready to buy. Use parts of your video that can be repurposed into quotes, GIFs, and social posts to strengthen your marketing message over time.
In Conclusion
Video is a must-have marketing tool for social. But before brands start producing content, they need to get strategic about their goals. Identify the content that will help their brand attract, educate, and convert buyers. Then take action and experiment. Create engaging videos and use these tips to generate the best results for your brand on social media.
* * *
Sign up now for a FREE demo.