Planning a social media marketing strategy may sound overwhelming. But when you break it down into five easy steps, it's doable and even enjoyable. (Really!)
Are you planning to boost your social media marketing performance? Or maybe you are going to start your very first social media campaign?
Whatever the case may be, your first step is setting up an effective social media strategy.
What Is a Social Media Strategy?
A social media strategy refers to a brand's overall game plan for reaching prospective customers on social media.
In other words, a social media strategy is the outline of what (and why) social media managers and digital marketing agencies are planning to do on social media.
How to Create a Social Media Strategy
Step 1: Identify your social media marketing goals and metrics
When you are setting up your social media marketing strategy, it is important what it is you want to achieve. I have seen too many brands trying to do social media marketing just because their competitors are doing that.
The result is always the same: Those brands see no results, and in a few months (or a couple of years) decide to move those budgets elsewhere.
Unless you know what you want to achieve, you cannot create a strategy around that.
Here are a few examples of goals you may want to set here:
More traffic (clicks to your website). This goal makes sense mostly for sites that sell ads
More leads. (People who signed up to your newsletter or asked for a demo of your product)
More conversions. (People who actually bought your product or service)
Higher brand awareness. (People who know your brand)
Happier customers. (People hearing back from your brand online are likely to buy again even if they were not really happy with their prior experience.)
It is a smart idea to come up with alternative goals to diversify your sales funnels. Examples may include:
Survey replies (to use in content marketing and for lead generation).
Online bookings (this one can be easily managed with an appointment booking

app

like Appointfix)
Demo subscriptions, etc.
Consequently, metrics you want to keep an eye on may include:
Traffic (especially from social media channels)
On-site engagement
Conversions
Brand-driven searches (search queries that include your brand name)
Number (and sentiment) of your customer support emails. Unlike the above social media metrics, this one should be going down.
Tip: Set several goals for your social media marketing
There's nothing stopping you from setting several (or all) of the above goals. In fact, the more goals you have, the more robust your social media strategy is going to be.
Imagine that your only reason for having a social media strategy is traffic. This may well result in a spammy execution where your managers are going after clicks without caring about anything else.
But when you add fewer customer support emails as a supplementary goal, your social media managers are going to be encouraged to develop a more personalized approach, where they will have to engage with the community, address customers' concerns, and answer their questions.
The important thing is that prior to setting up your social media strategy you need to know your goals as well as how you are going to measure the implementations.
Most of those metrics should be measured long-term. While a quick traffic spike may come quickly (especially if you are doing social media ads), if you do things right, over time you will achieve steady growth (from those brand-driven searches).
To measure quick results, you may want to add S.M.A.R.T. (Specific, Measureable, Achievable, Realistic, and Timely) approach which sets quick doable goals and helps you and your team feel more motivated to move forward to long-term results.
Related Post: 45 of the Best Social Media Analytics Tools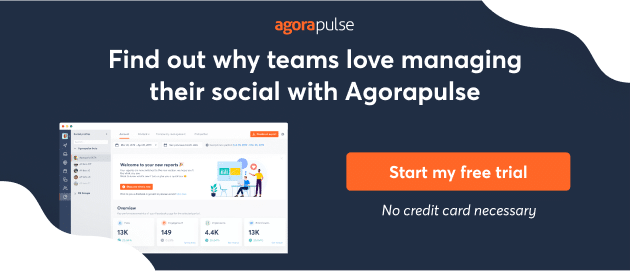 Step 2: Define your brand's visual identity
Building a recognizable brand is always your #1 goal behind a social media marketing strategy, and there's no way to do that without visual marketing.
Human beings remember images better than words, and it is easier for us to associate images with concepts and entities.
Namify can help you with both generating a company name that is easy to brand and create a logo for it, so it is a good idea to start there.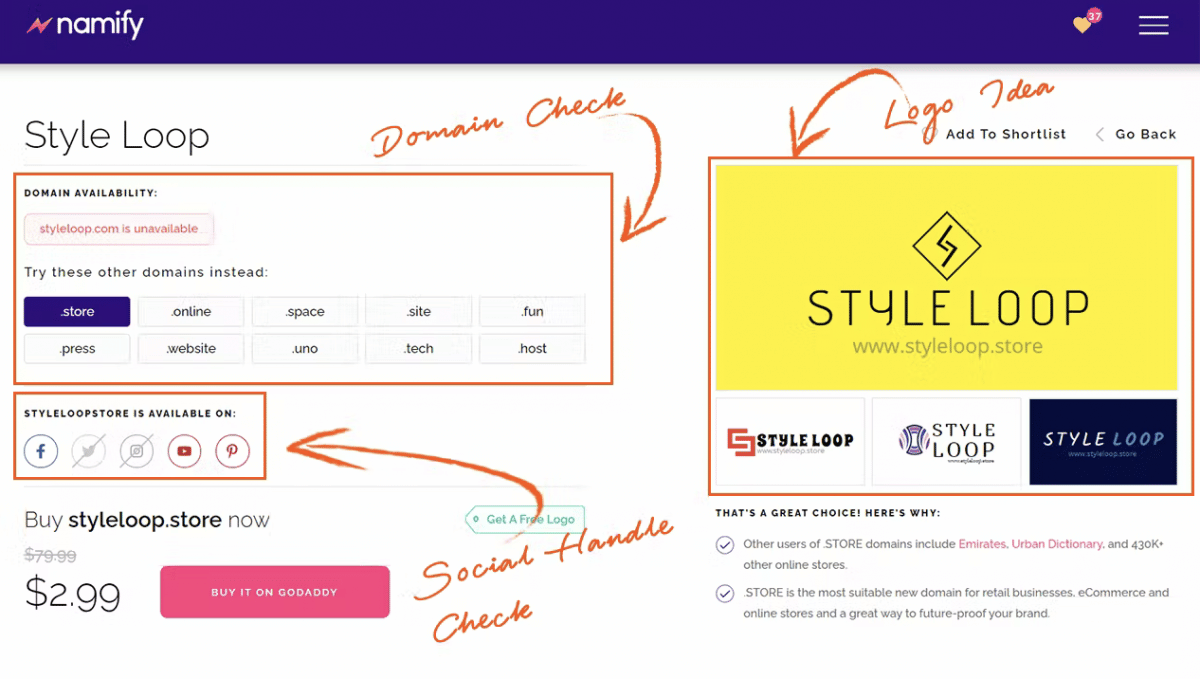 Step 3: Research your competitors' strategy and tactics
As I mentioned before your social media strategy shouldn't be "Just because my competitors are doing that." Yet, this doesn't mean that you shouldn't be monitoring what your competitors are doing on social media and how it is working out for them.
When researching your competitors' social media strategy, look for the answers to the following questions:
Which channels are my competitors most engaged with? (And where do they seem to be most active)?
What type of content seems to engage their audience best?
Which influencers do they interact with? (And how do they approach those)?
How do my competitors respond to trends?
How do they engage their social media users on their own site (e.g. do they use dedicated social media landing pages)?
There are a few powerful competitive intelligence tools that can help you find answers to most of those questions. BuzzSumo, for example, lets you find the most engaging Facebook content by a keyword or a page name.
You can also find influencers tweeting on a specific topic (and identify whether those social media influencers are approachable).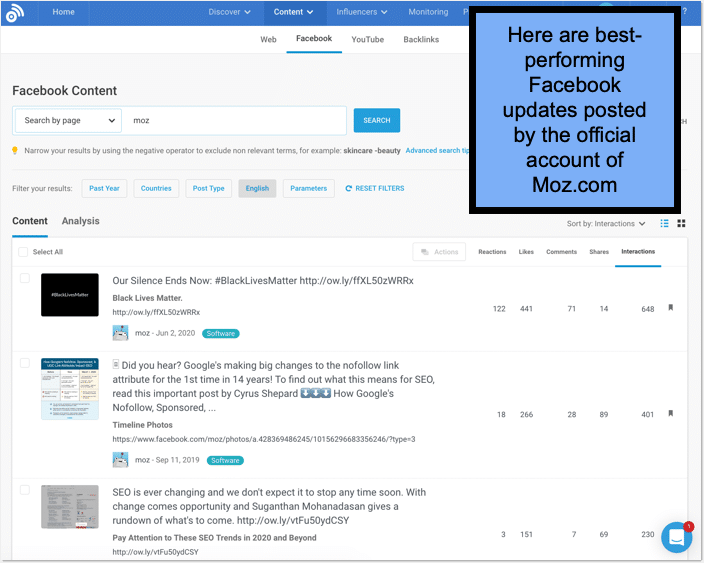 Agorapulse's social media listening tool will help you keep an eye on your competitors and understand their strategy even better. You can also set filters to notify certain team members of those competitors' mentions to create a more effective workflow.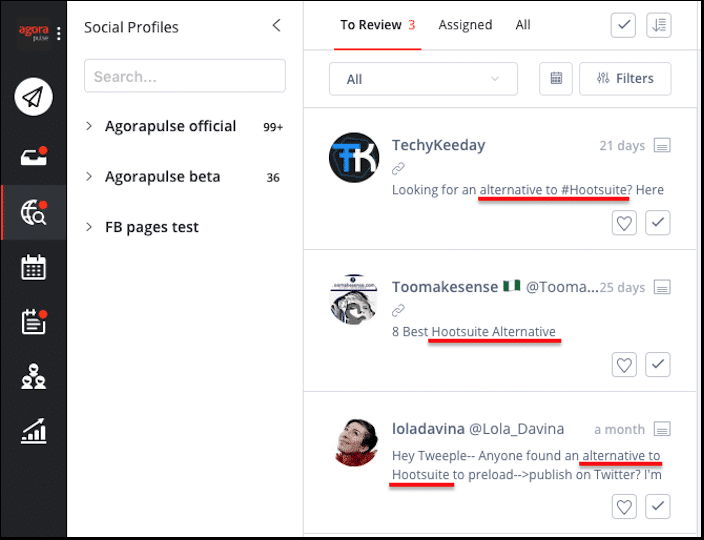 Step 4: Take time to research your audience for your social media marketing strategy
This step ties in with the previous one nicely … Once you start looking at how your competitors are engaging your potential customers on social media, you'll get to understand both (your competitors and your target audience) better.
But looking at your competitors is not (or rather should not be) the only way you are getting to know your future customers.
You should be investing more effort in this step if you want to set yourself apart from the competition (and ultimately outperform them).
Survey your current customers regularly to get to know them better. You can also set up free surveys using Google forms or with this quiz generator. You can also use set up conversational forms that generally engage your followers very well.
Ask for input from your sales and customer teams. (They know your actual customers best!)
Use your on-site analytics
Set up audience segmentation
Make sure your customers know how to contact you, including forms and phone numbers. Your customer support team should be in close contact with your social media team for them to consolidate user feedback and share insights
Segmentation gives you an ability to target users with more personalized and more engaging push notifications by dividing your total user base into specific audiences based on attributes like activity, location, and interests. Push Monkey is a web push notifications platform that allows easy and robust setup of segmentation rules to engage and understand your audience better: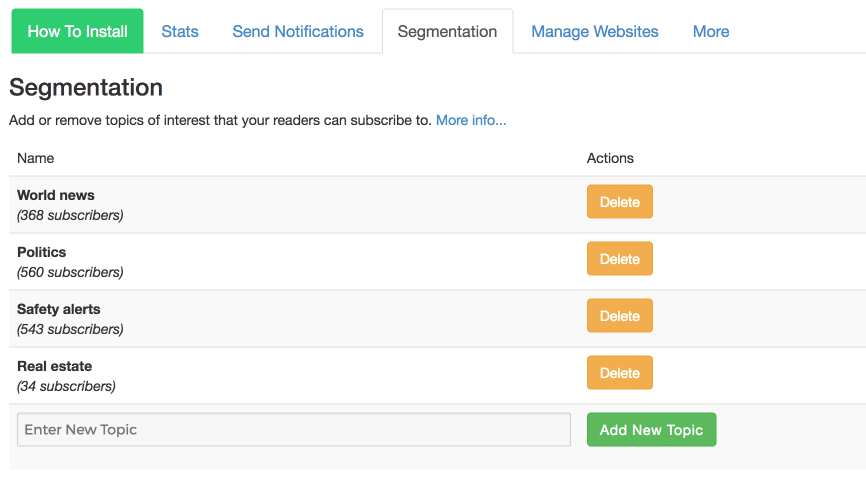 These days, web analytics tools give much more information than just the number of clicks or when they are coming from. You get an insight into your audience's behavior as well as their demographics and location.
One of the most in-depth demographics reports out there is provided by Finteza that reports on your site users' preferences, devices they are using, and exact location: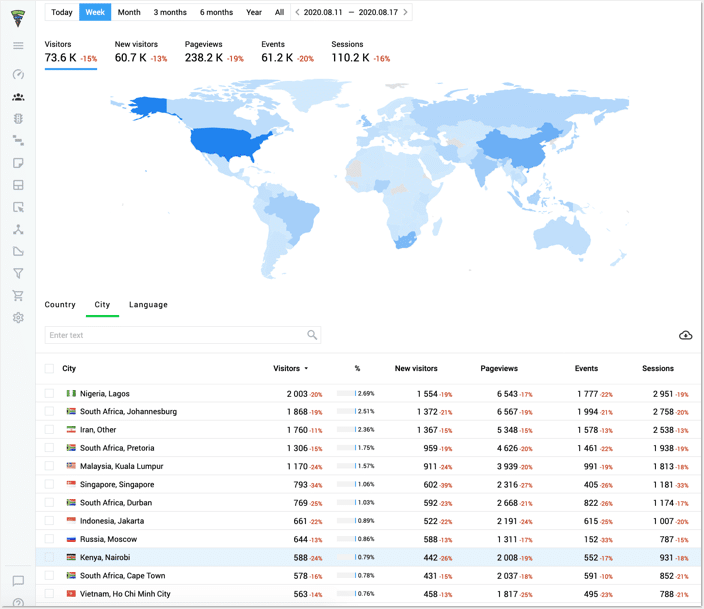 Reports like these offer your social media team a lot of information allowing them to better understand and relate to people they are racing out and hearing from.
Step 5: Create a content management routine
Getting organized is the only way to ensure you (and/or your team) will be consistently moving forward. Create a plan, set the number of daily tasks or deliverables, and discuss with your team to make sure everyone understands how each social media update contributes to your whole plan.
Your weekly social media contribution routine may look something like that:
[All channels] Monday: Create a visual quote/graphic update with something inspirational (include #MondayMotivation hashtag).
[All channels] Tuesday: Share a native mini video based on our Youtube channel content.
[All channels] Wednesday: Create a "Behind the Scenes" update to introduce your followers to your (team's) life, values, etc.
[All channels] Thursday: Share our old blog post to the #ThrowbackThursday (also #TBT) hashtag
[All channels] Friday: Create a weekend poll or "Question of the weekend" update to engage your followers

[+Only on Twitter] List influencers you've been interacting with to create a #FollowFriday (#FF) tweet

[All channels] Weekend: Share "Weekend reading" update linked to an interesting research (on a trending topic)
Of course, your team is encouraged to contribute more (there are many more types of social media updates to use including Instagram stories, polls, etc.), but having a set schedule will help them remain consistent and prompt your followers to look forward to your weekly update.
It is a good idea to use content repurposing tools to diversify your social media strategy. For example, Renderforest can turn just about any article's highlights into a well-designed professional video: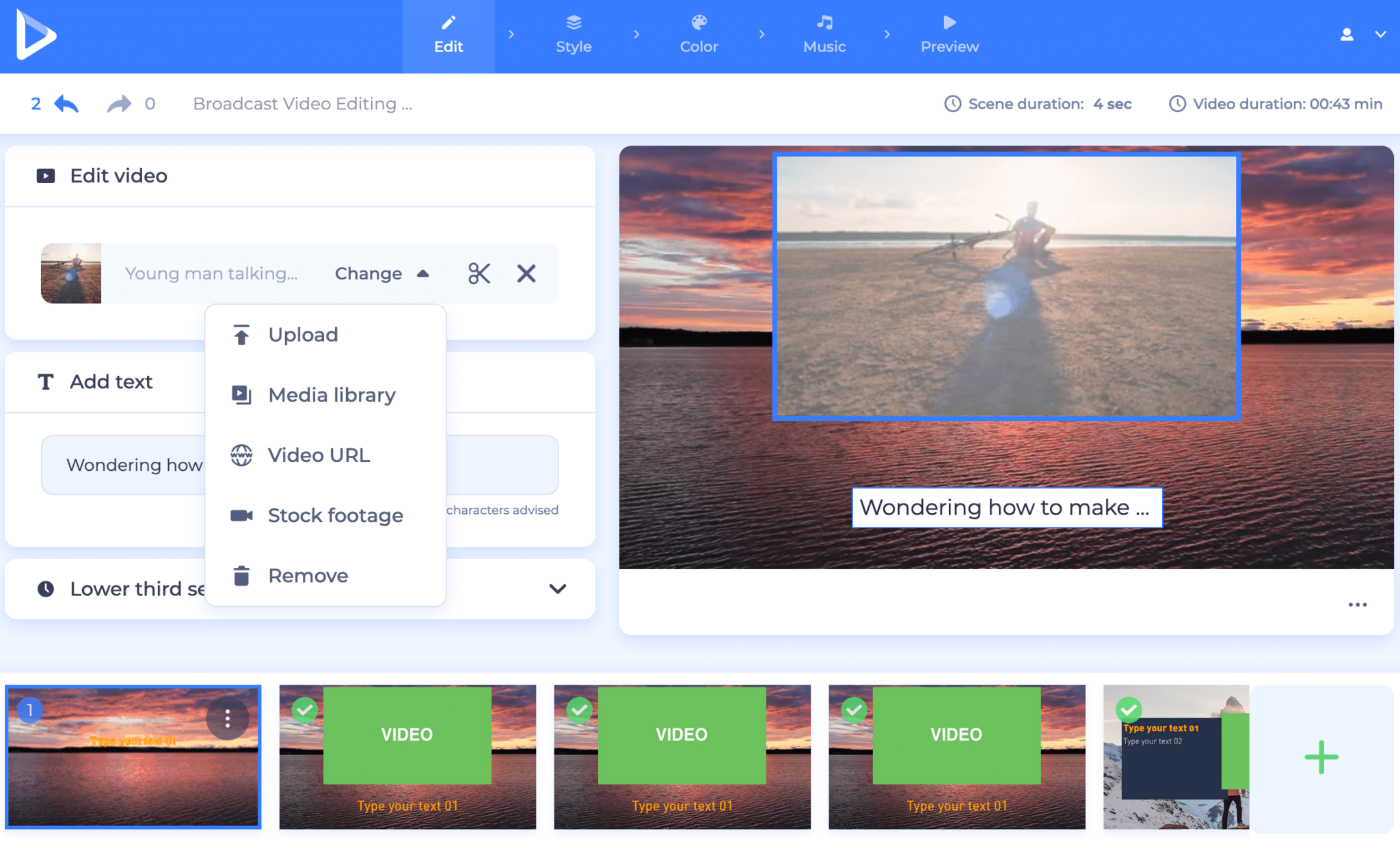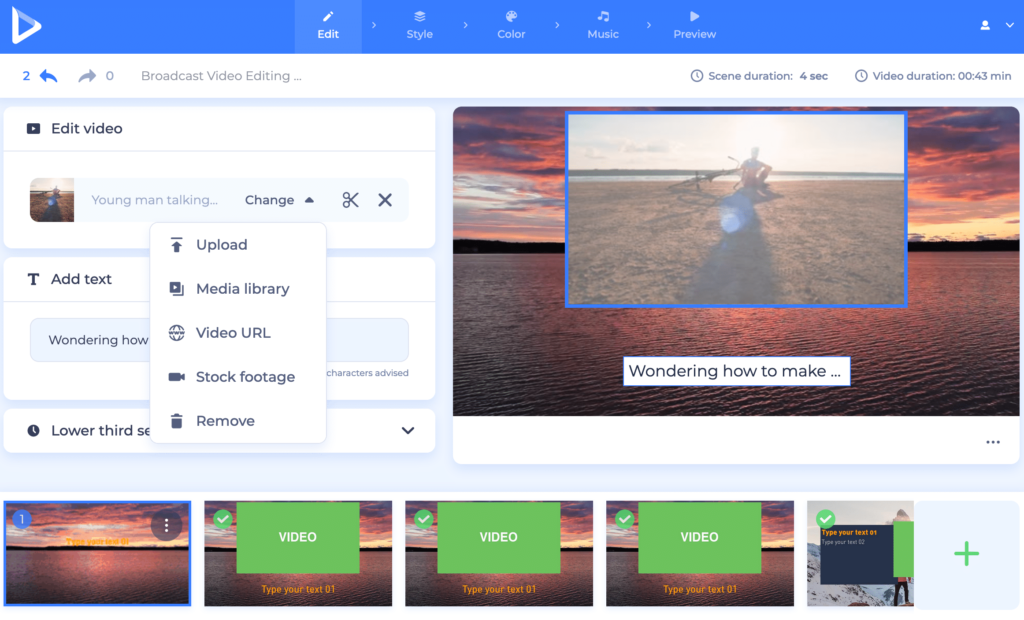 The beauty of having this well-outlined routine is that many of these updates can be scheduled weeks and even months ahead ensuring your team can relocate their time to daily interactions and outreach.
Agorapulse allows you to create this schedule ensuring the regularity and consistency of your social media updates.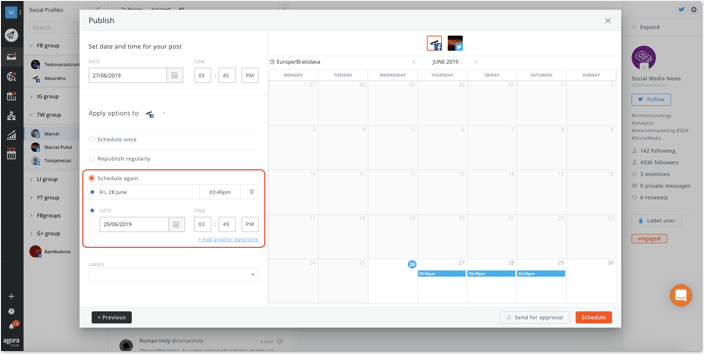 Bonus: Monitor your results
Monitoring your team's progress will help you identify gaps and issues that need solving. Agorapulse offers detailed and customizable social media reporting features allowing you to track your team's progress based on your goals.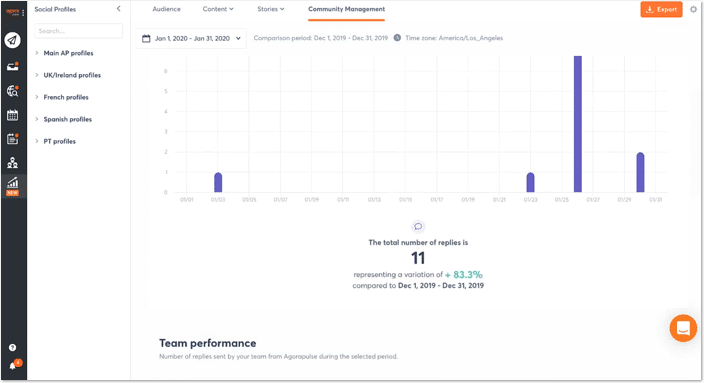 Plus, you'll want to be able to prove social media ROI as well.
Why do I need a social media strategy?
A well-structured social media strategy keeps you and your team on the same line. It is important that you (and your employees) keep the whole picture in mind and know what you are doing and why. Being consistent is the only way to succeed in social media marketing. And be sure to check out our list of 26 Social Media Marketing Books to Advance Your Skills!
* * *
Get started on saving time and energy on your own social media management! Check out our free trial of Agorapulse to help you schedule, track, and measure all your social media efforts.