Have a video or conference call while you have a little one at home? We've got tips for handling working from home with kids and a list of activities to keep young children entertained.
Conference calls with kids? I've been there. I've had video calls while I cuddled my infants, inspired (or bribed) my toddlers to entertain themselves, and encouraged (or bribed) my elementary-school kids to give me some uninterrupted time.
Some conference calls have gone spectacularly well. Others were a comedy of errors.
I do all things editorial for Agorapulse, including managing this blog, and do all things mom for my family, including four children. For 13 years, I also homeschooled my two older children while I worked.
In a recent Slack conversation, we talked about the new reality of working from home with kids and, more specifically, about conducting video conferences while little kids are at home.
The following tips should help make those video calls go a little more smoothly.
Don't Launch Into the Activity List Until You Read These Tips
Before you start reading the list of activities, you'll need to re-calibrate your mindset regarding conference calls. Now that you work from home with kids, you have a new environment to deal with as well as very tiny, very young co-workers who, yes, are very sweet but also very demanding.
So, how do you readjust your thinking?
Maintain your chill
Want your child to be calm? You first.
Small children are emotional antennas. When you feel stressed, they know it, and they will act upon it. If you ever tell a small child, "Please hurry," the child hears, "Please, do not hurry. Take all the time you need … and more."
As you prepare for the meeting (and during the meeting itself), you need to have a sense of calm. Breathe deeply, meditate, exercise, read good stuff, do what you need to do in general before you begin the work. That time to get yourself focused and relaxed will not just help you in your business but also with the kids.
So, so many people are working for home right now. Everyone's cutting each other some slack in regards to kids being at home. (And if not, they should be.)
Keep your calm, do the best you can.
If your toddler ends up needing to run up and hug you during a meeting, so be it. If your toddler cries and you need to get up and see what's up, do so after politely excusing yourself.
Working from home with kids is a great opportunity for everyone to see in person some of the reasons why you work as hard as you do and perform so well as you do.
Plan ahead
If you have an upcoming conference call, plan for it.
Small children love routine and hate it being interrupted. So, you need to be mindful that you:
Tell your little one about an upcoming meeting.
Answer any questions about the meeting. (You'll be surprised what kids ask.)
Let the child know what your expectations are. (Keep this basic: You want the child to entertain himself/herself safely.)
Set a timer to let the child know when you are once again available. (Set it for more than you need, e.g., 45 minutes if it's a 30-min. meeting.)
Offer a reward for good behavior. (Tell the child you'll have time for a quick read-aloud or lunch together or whatever if you can get through this meeting well.)
Set out whatever activities/toys/etc. to be used during this conference time.
Double-check that any activity doesn't require your constant help and attention. (You don't want to give your toddler a craft that involves a dozen steps and parental supervision. Keep the activities simple.)
Lower your expectations
Your home's going to be a little noisy. You have a child (or two or three or dozen) at home, so you're not going to have the house as quiet as it would be, say, in a meeting room at the library.
It's going to be a little messy. A messy room means your child found a fun activity and was able to entertain himself/herself for a while. If you freak out about the mess or get overly obsessed with keeping it clean, a child will pick up on that … and be far less prone to entertain himself during your next call.
It's going to be all right. Myriad working parents now face a work environment that includes adorable little munchkins. You most likely aren't the only person in a conference call trying to keep everything quiet and focused. So, go easy on yourself. And likewise, be kind to others on the call who maybe are struggling a little in balancing work and life.
Now, onward to some ideas that can help you get at least 30 minutes of focused time at work.
Activities for Little Ones While You Work From Home
1. Packing and unpacking
Toddlers love packing and unpacking stuff. They don't care what they unpack: a dresser drawer, a low kitchen cabinet, a safe and low bookshelf, etc.
Toss a bunch of random items (e.g., clothes, stuffed animals, plastic kitchenware) in a suitcase, so your child can pretend to go on a trip or come home from a trip.
A toddler will pack and unpack that suitcase or duffel bag for a long while.
2. Playing dough
Play dough (cough, cough, copyright) is absolute gold. You can order some online, of course, but if you need it soon, consider making your own play dough.
Recipes for play dough abound. Check out these basic recipes:
You'll need to make the play dough ahead of time (not the morning of your conference call).
Include tools for shaping and molding the play dough, such as:
Cookie cutters
Rulers
Plastic toys
Peg dolls
Paper plates
Cupcake wrappers
Unsharpened pencils (to form pillars, bridges, etc.)
You can also give your toddler extra spoons and cooking utensils and let your child "cook" for a sibling, stuffed animal, or you (to pretend "eat" later).
Play dough can be difficult to get out of the carpet, so designate an area for playing. If the toddler wants to be right beside you, you can spread a plastic tablecloth on the floor by your desk and have the child play there. Or use a plastic lid from a box and use that as a playing surface.
Look around your house to what can work as a surface area.
Download Now: FREE "Your Essential Guide to Remote Work" ebook
3. Read-alouds (courtesy of the older kids)
Encourage the older kids to read to the two-year-old.
"Pay" the older kids to mind the younger kid. You don't have to fork over serious cash, but just give the older kid a little extra screen time when the younger kid goes to bed. (I used to give them tickets—just pieces of paper to track the extra time.)
4. Only-during-work box
Have a "work-time only" box. Put some toys in there ONLY to be played with when you're at work.
When you're not working, put away that box of amazing fun and remind the child, "This is only for when I'm working" or "This is only for playing while I'm on a call."
By setting aside those toys for a special time, your toddler won't easily lose interest in those toys. For a long while, at least.
Meanwhile, subtly store up some other toys, so when you need a new box, you have toys to put in there that the child hasn't seen in a while. You'll have to be a little sly about doing this or the toddler will be greatly concerned about what you are doing with those other toys.
5. Pillow forts
Remember how fun pillow forts were to make and play inside? (Do you remember the game "the floor is lava"?)
Use your sofa cushions, pillows, and blankets to create a fort with your toddler—to show your toddler how easy it is. Then let them design their own and play in their little fort.
When they knock it down, they can make it themselves.
Remember: There's no one way to make a pillow fort. You want your toddler to entertain himself/herself and make a pillow for that works best for them. Give your child space to let his/her imagination run free. (Safely, of course.)
6. Paper dolls
Paper dolls may sound old-fashioned, but toddlers love to make characters out of anything—stuffed animals, spoons, sock puppets, etc. You can print out some paper-doll coloring sheets ahead of time, then your toddler can use safety scissors to cut them out and play. (Make sure your toddler's out of the "gonna cut my own hair" phase, though.)
Though not quite paper dolls, these Star Wars-themed cardboard-tube dolls can be fun to print and prepare ahead of time. Then when you're in a conference, bring them out for play. (For the child. And maybe you later.)
7. Mazes
Print out some easy-peasy mazes for your toddler. (These mazes are categorized by theme.) If you're feeling particularly adventurous or imaginative, consider making your own.
Little kids love whatever parents make for them, so no need to stress out on the artwork. Just make a fun one, even add some personal touches, too.
8. Fake paint
Construction paper + water + paintbrush = a relaxing activity for child
Your toddler can experience the soothing time of painting with just a brush, a little water, and construction paper (which changes colors when wet). A Buddha Board is another option that prevents your child from running out of paper. Either option is not as messy as …
9. Real paint
Ha, ha. No. Let's not break out the real paints right now.
9. (for real) Watercolors
Watercolors are so cheap and accessible. You can grab a cheap set in the card/stationery section of a supermarket. The watercolor brush is already part of the set, you have the watercolors. The only thing you need is a little jar of water and paper towel or cloth for dabbing the brush.
You can lessen (maybe not necessarily totally avoid) the chances of water spilled by using a low bowl or even a water dropper if you have one.
Do know, though, that your toddler will go through 930,482,927 pieces of paper, but oh, well. As long as it's not toilet paper.
10. Stamps and ink
Little kids love to stamp. If you have ink and stamps, you'll need to break them out before your conference call. (Make sure the inkpad is damp enough!)
If not, you can just make a fun stamp from a potato. (Really!)
Does a potato sound too strange? You can grab these ideas about do-it-yourself stamps.
So, what is your toddler doing with all these stamps? All kinds of things: decorating a folder-up piece of paper to make a card, decorating a very big piece of paper to create wrapping paper, making funny designs that they can color, creating works of art for your "home art gallery" (think: taped pictures in your hallway).
11. Dress-up clothes
Put some dress-up clothes in a box for a child to discover during your meeting.
Your toddler can dress up or can dress up a stuffed animal.
Don't have dress-up clothes? Use clothes from older siblings that they've outgrown or even some of yours.
Include:
A variety of shirts
Pants/jeans
Skirts/dresses
Leggings
Hats
Sunglasses (cheap ones, of course)
Shoes
Scarves
Mittens/gloves
Socks
Blankets (Toddlers make shawls, capes, etc., from them.)
You may also have old Halloween costumes that can add a dash of fun—and be a surprise among all the regular clothing.
12. Audiobooks
Toddlers love stories. So, be sure to include fun ways of sharing stories during your conference call.
You can check out read-alouds on YouTube; you'll want to vet these first.
Your local library may have audiobooks via its online lending.
Audible also has a free collection of stories for children.
Doodling and coloring while listening to audiobooks can actually help in focusing. You may want to visit the fantastic The Crafty Crow website for coloring pages, crafts, and more.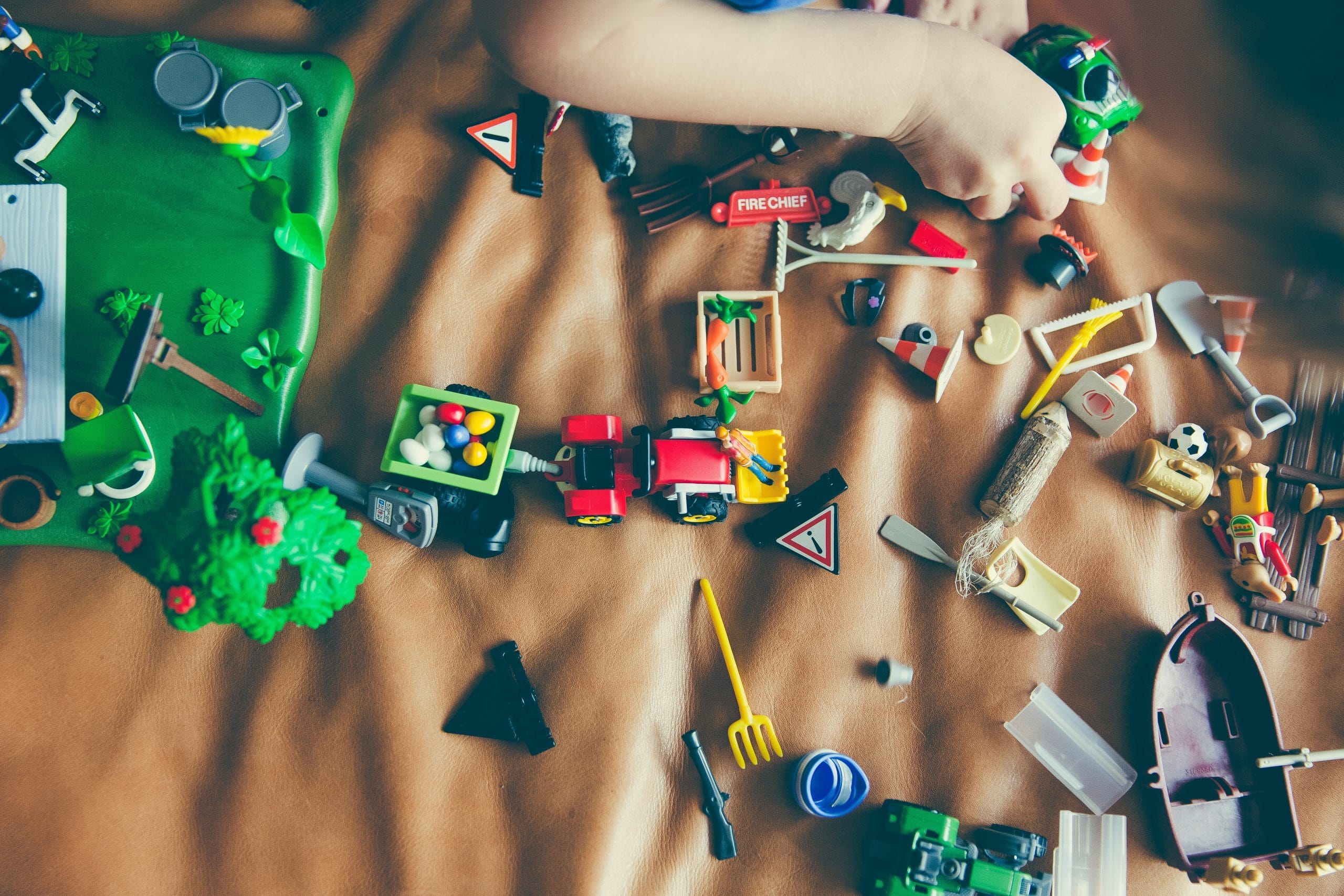 13. Activity boxes
"Activity box" is what I call anything that has specific items or toys on a theme. But it doesn't need to be a box. It can be a gift bag that you grab from around the house. Or a tray with themed objects on it.
You can have an activity box based on these themes:
Sorting activities. Toddlers love to sort things. You can buy sorting games or make your own. For example, use items in three different colors (like red, green, and blue) and an egg carton with a corresponding color (three cups in red, green, and blue). A young child will spend a lot of time sorting those items. You can use their small toys for sorting or big wooden beads, anything really. The idea is to provide things that can be sorted and also a platform in which to sort it (like even a paper with areas marked).
Lacing activities. You can make your own lacing card from cardboard and ribbon or shoelace. You can also buy premade ones, but those cost a lot more than homemade ones.
I Spy books. The classic I Spy books have different levels, so choose a beginning one rather than the older ones that even adults find challenging. The primary ones feature a picture at the bottom of something a toddler should "spy" (i.e., find) on the much bigger picture on the page. These I Spy books are incredibly colorful and attention-grabbing.
14. Play figures/action figures
Don't forget the classic figures—plastic dinosaurs, LEGO figures, Playmobile figures, Little People Toys, character figurines, etc.—for quiet time.
The trick is to make sure you get toys that the toddler doesn't always use. So, if you notice that maybe your toddler has neglected a certain peg doll or little plastic dinosaur, just slyly take that figure and put it in a grab bag or box. When you have enough of those squirreled away, you have a whole set of toys that will seem like new to your child after a while.
Rotating toys like this make sure your toddler gets the most out of each toy and also appreciates what they already have. Think of it as repurposing existing content—except these are toys.
What to Do When Your Child Won't Give You Space During a Work Call
Hold them in your arms or on your lap, and don't stress it.
Seriously.
As I mentioned before, everyone's in the same sort of situation right now in terms of working at home. Some working parents have little ones. If anyone sees your little one coming for a hug, no one is going to think, "How unprofessional!" Because that person has either been in the same boat, will be in the same boat, or knows that a lot of people are in that boat. (And if the person is unforgiving about this little interruption, you may want to reschedule.)
Most of our colleagues and bosses know that we're in a strange, new time right now. And if you continue to do good work, a brief appearance from your little one is sure to make someone smile.
* * *
Sign up now for a FREE demo.