Wondering whether to attend another virtual event? Make sure to follow these tips to really benefit from online conferences and events.
It's been a year like no other. "Business as usual" has been replaced with Zoom calls, Skype meetings, WhatsApp chats, and a whole bunch of virtual events.
And as expos, seminars, and networking events go digital, you need to brush up on your virtual attendance skills and etiquette. After all, a lot of events are happening right now:
Exclusive product launches or behind-the-scenes sessions
Training sessions or tutorials
Networking cocktail party or coffee morning
Virtual expo with booths, auditorium, and chat rooms
Panel debates and knowledge sharing
As the creative director of a marketing agency, Contentworks, I've attended plenty of virtual events over the past year. And now I'm sharing how to take advantage of attendance of any virtual event.
Virtual Event Stats 2020
With enforced lockdowns still in place, almost everything business-related—such as lead generation, forming business partnerships, and promoting products—has changed. But how's the virtual events landscape panning out so far?
The virtual events industry is set to grow to $774 billion by 2030
Virtual platforms experienced phenomenal growth over the last few months as people scrambled for new ways to continue to do business, build connections, and generate leads. Among those prospering in the pandemic, unsurprisingly, is Zoom, which added a $47.9 billion market cap.
In 2020, the number of organizations planning a digital event has doubled
Eagerly anticipated events have gone digital. Events that had virtual back-ups were also able to quickly pivot during lockdown periods with software company Salesforce shifting all their events online.
Microsoft's Build developer event also followed suit, with digitally-savvy companies working hard to maintain their revenue.
63% of organizations are moving to digital conferences and events
As a direct result of the pandemic, 7 in 10 CMOs have asked their employees to promote the company and what it can offer.
Yes, we all definitely want our old in-person events back again … However, social media managers and digital agencies agree that virtual events [and webinars] will continue to be an essential form of communication and a vital business asset.
And you don't have to host an event to make an impact.
Here are some tips for attending your next virtual event.
Strategize Your Attendance
First things first: Be sure to have a strategy in place before you attend a virtual event.
Make sure to have the following:
Relevancy
Will the online event benefit you or your business? Check out the full schedule and see if it will add value to your daily working life or offer the chance to make new business connections.
For example, if you're in the fintech sector and looking for educational ways to grow your knowledge of the industry, attending the virtual Hong Kong Fintech Week might be perfect for you. After all, as an attendee, you have the chance to explore dozens of fintech masterclasses and workshops.
Timing
You don't want your team up in the middle of the night. So, if there's a conference you're interested in attending, see if it's workable.
Or find out whether you can follow the virtual event on social media or watch a playback later. That way, you can get all the insights without losing sleep.
Event hosts are trying their best to be mindful of time zones.
Varun Chibber, founder and director of Apollo Live Entertainment, said:
"Accommodating all attendees becomes difficult, especially when you want to host a virtual event on a global scale. During such a time, either pick a time zone that suits multiple countries, or you can host multiple such events for different countries as per their time and maybe tweak it according to their preference. Also, try to have it live-streamed simultaneously on other platforms so it can be stored online, and people can come back and watch it."
Purpose
Do you want to attract leads and grow your business? Perhaps you're all about education and networking?
If so, you need to focus on the networking accessibility of the event. Can people chat directly with you? Do you have digital assets you can send them like a video, presentation, or ebook?
Budget
Think about your budget. Can you afford to attend paid digital events or is it best to attend free conferences that can still help you achieve your business goals?
If you received refunds from canceled physical events, consider channeling that back into your virtual budget.
Sponsors
Check out the event sponsors and learn about what they do.
Giving a shoutout or thank you to sponsors at a virtual event always gets you noticed and may open up future business opportunities.
If you have enough budget, consider being an event sponsor. Doing so can yield plenty of benefits for your brand.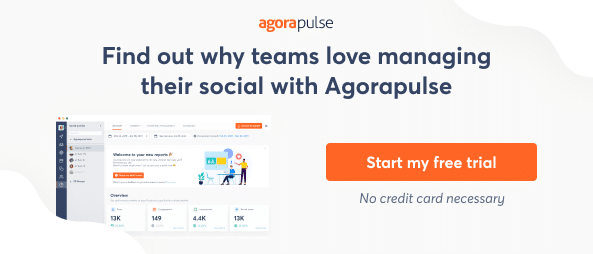 Key Performance Indicators (KPIs)
You should always know what KPIs you want to track, so you can monitor the success of your efforts.
KPIs could include social media mentions tracked through social listening tools or increased web traffic to your site or social media profiles.
Organization
Organization is key! Block out time for the event in your calendar so you won't be disturbed.
Have the schedule to hand and know exactly where you're supposed to be and at what time. Researching speakers and their Twitter handles in advance will save time if you want to tweet any questions or comments during the event.
Promotion
How will you promote your attendance at the digital event?
If you're attending as opposed to sponsoring then you probably won't want to spend some of your budget on promotion. However, you can create engagement organically with content, speaker snippets, GIFs, short video clips, and event hype.
Lead tracking
How will you log conversations or track leads? If you don't have a CRM to directly input information, you should at least have a shared document that you can update.
Information includes name, company, contact details, and conversations of the people you spoke with. (I don't want to be a bore but do remember GDPR. Never add emails to your database if the person didn't give you permission to do so!)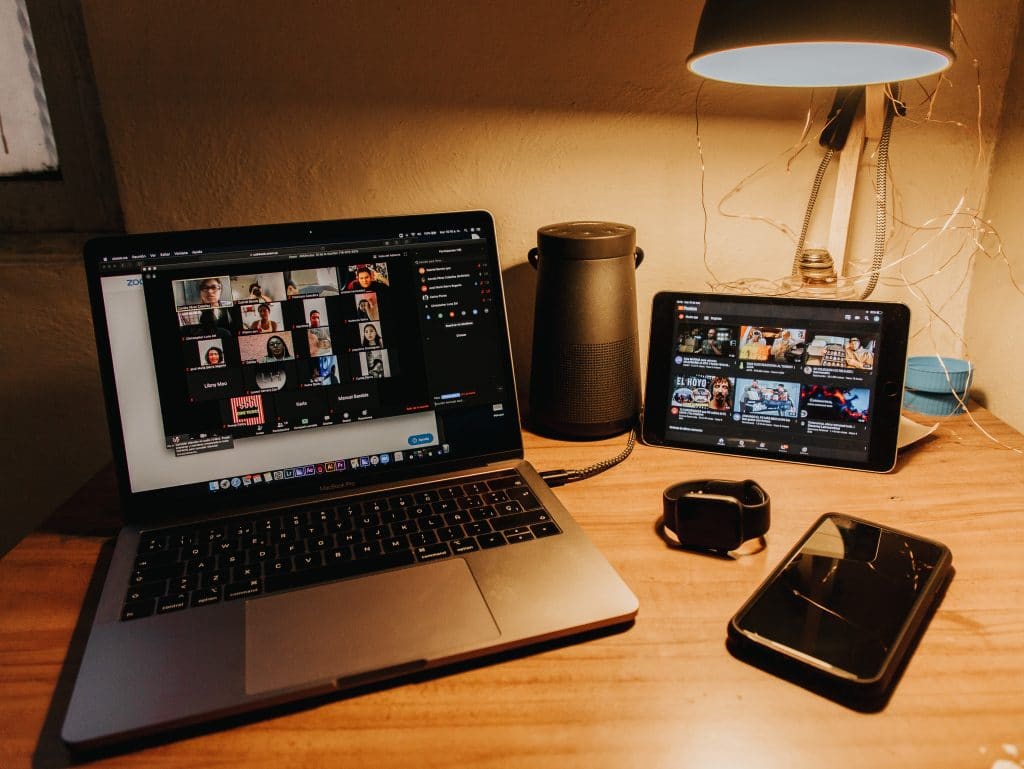 Promote Attendance & Network
To promote the fact you're attending or speaking at a specific virtual event, you can:
Network with other attendees beforehand.
Check your avatar, contact details, and bio are correct as the event attendee.
Let people know you will be there. LinkedIn is great for targeting professionals and boosting your reputation within a specific industry.
Marketing Director Anna Ilyukhina of Swisschain does this so well.
Research the speaker handles ahead of time, so you're ready to tweet them.
Share posts on your/your company's channels.
Create templates to tweet on the day–these include event hashtags and speaker handles. This will save time and allow you to be more present as the event takes place.
Market virtual events through Linkedin
Business events sit naturally on LinkedIn as the audience views this social networking channel through a professional lens.
Promote your attendance at the event and share ways for other attendees to contact you.
You can connect with speakers. (Always remember to include an intro and avoid being spammy!)
Create a poll to see what event attendees thought about a particular topic.
Share event highlights in a relevant Linkedin group you belong to.
Share event highlights or create discussion points around event insights as Niki did below.
Promote on Facebook Events or Eventful
If you're a speaker or a sponsor then you might want to boost the event's presence using Facebook events on your company page.
Remember that event attendees on Facebook are not always indicative of actual event attendees. Be sure to include the event link and keep posting with updates, teasers, and even special offers.
For more specific niches such as music events, you could try Spotify as its algorithm delivers event searches based on a user's location and listening style. Creating a Spotify playlist is also a good way to build excitement when integrated into your social media pages.
Utilize your Agorapulse calendar to regularly schedule event reminders and updates. You can see the posts, tweets, and videos we scheduled for The Big Forex Breakfast, an event on October 15.
Use Facebook Stories
Yes, it's a thing. Keep the text short and tag speakers or companies like you would on Instagram Stories.
You can do this throughout the event to keep your audience informed without clogging up their newsfeed. (Remember to post to Stories only and uncheck newsfeed.)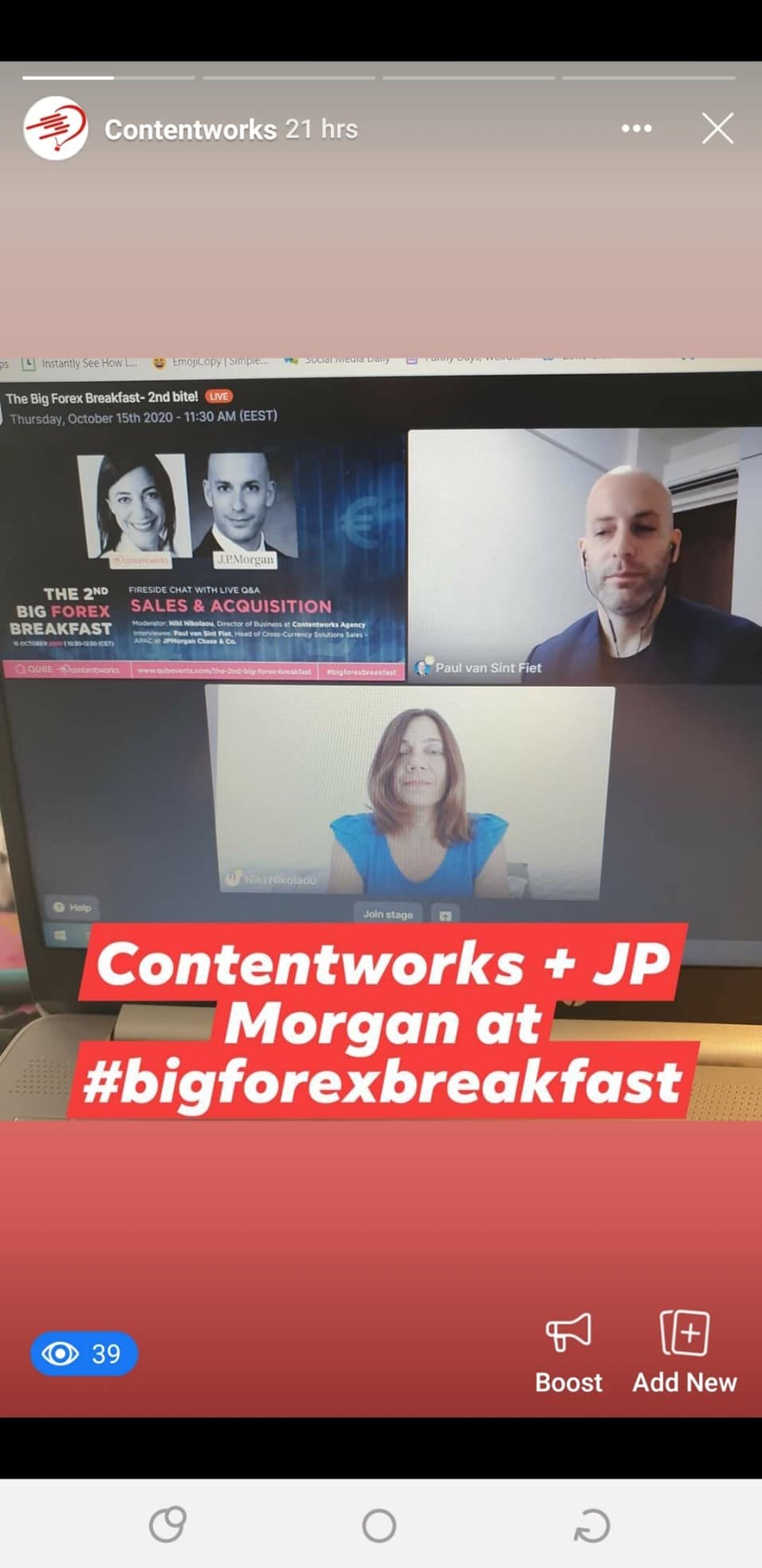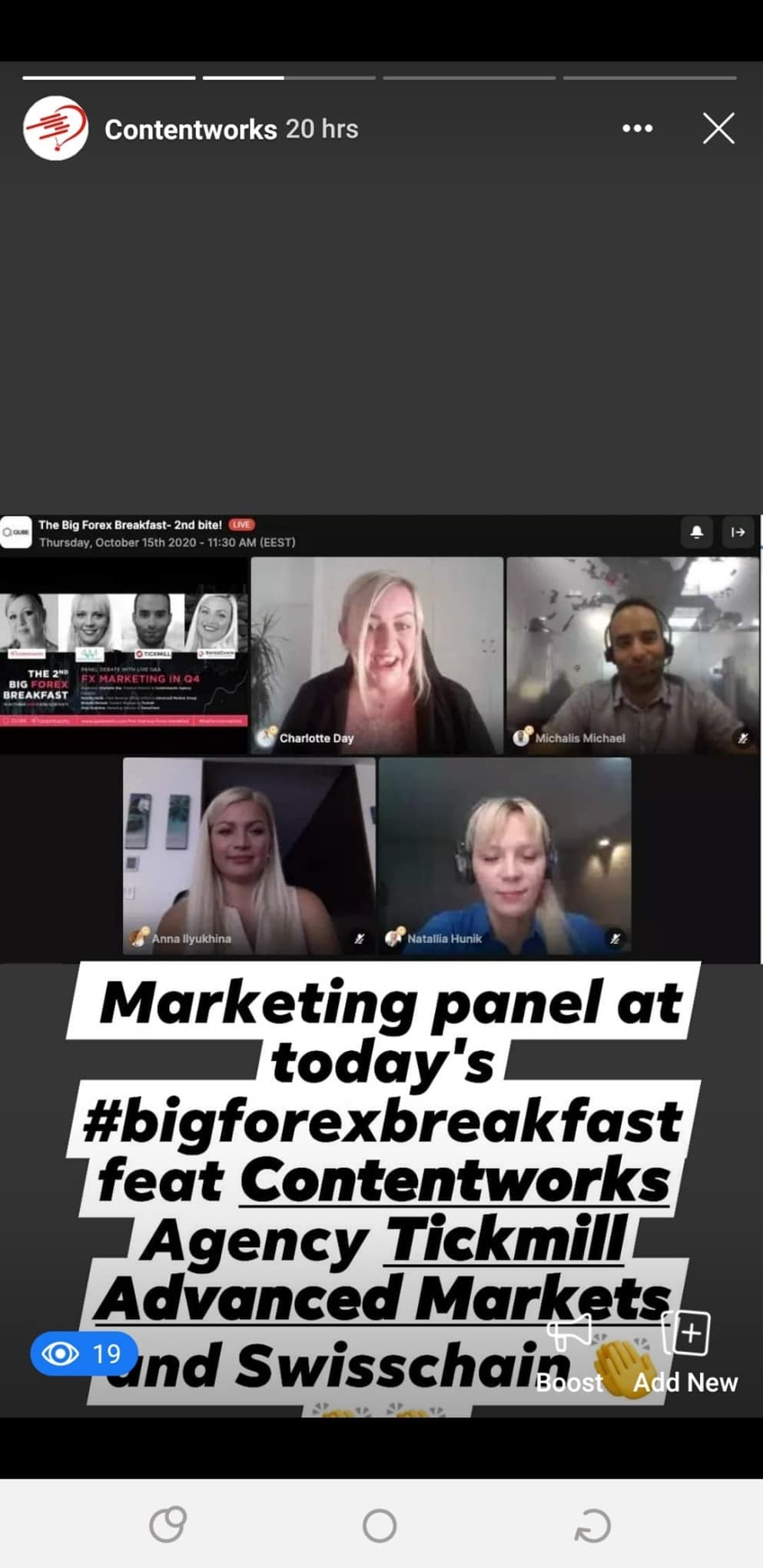 Retweet posts made by speakers and sponsors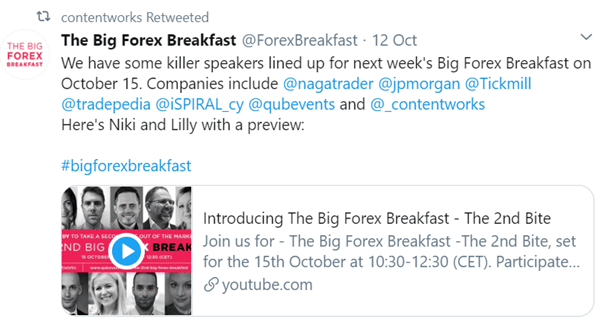 Bonus tips:
Put out attractive creatives. You could even produce a series of teaser videos that will be released during the lead up to the event.
Have a mail blast. Send out an event email to all your contacts letting them know you'll be at the event.
Make sure sponsors get the credit in posts. If they're tagged on social media, they're more likely to re-tweet you, which will boost brand awareness.
Interact with other participants by engaging in lively conversation across social media.
Be a Sponsor
There are plenty of sponsorship opportunities with virtual events.
Here's how to be an event sponsor.
Know the rules
How much are you paying and what will you get in return?
Is the genre a good fit for your brand?
Do the attendees match your target audience demographics and interests?
Who else is sponsoring the event? (Try to avoid clashing with competitors.)
Look for events that offer high digital exposure (e.g., plenty of social media posts, video, and speaker opportunities).
Follow event guidelines
If there are specific branding rules in sponsor guidelines, make sure you follow them. This could be anything from stylistic specifications to wording.
Familiarize yourself with the event, social media posts, imagery, and fan base. Never do anything that's off-brand for them.
Maximize your exposure
Send high-quality images and videos for the event to use. This could be short videos, GIFs, logos, and a range of high-quality images.
Remember to size them correctly and preview them before the virtual event goes live.
Maximize social media mentions by retweeting or sharing them and create blog content explaining your sponsorship.
Get a speaker spot
Many sponsorships come complete with the chance to speak on a panel or moderate a discussion. If you have the knowledge and confidence to do it then you should. If not, look to other members of your team who could shine on the virtual stage.
PR and articles
Creating content around the event can improve your SEO ranking for keywords and generate industry interest. It's also the perfect way to crank up those sponsorship mentions.
Tell your company story, share insights and team interviews, and create excitement with event giveaways or surprises.
Donate prizes
As a sponsor, you can propose some surprises for attendees. This will generate a buzz around your brand and leave attendees with a good impression of the event. Think about virtual giveaways or value adds that could be sponsored. For example, a voucher for free delivery of a drink at a virtual cocktail party.
Be a media partner
Don't have the big bucks needed for sponsorship? Utilize your time and expertise as a media partner. You will still get great exposure at the event but will pay it back with content, social media posts, and media support.
Be a Speaker at a Virtual Event
Why simply attend a virtual event if you can speak at one?
To become a speaker, there are several things to keep in mind if you want to get real ROI for your time.
Know your topic inside out. Never accept a virtual panel or speaker slot on a topic you're unsure about.
Speak for free. Most speaker slots are free, especially in the virtual world. Only the top celebrities, trainers, and speakers can command a fee so keep that in mind. You can, however, request other things, such as brand mentions, event shoutouts and networking opportunities.
Listen to the other speakers. Take the time to listen and interact with other speakers. Don't be the diva that shows up, brags about their spot, and leaves!
Think about your home office. You will be speaking from your home office, so make sure it is clear of clutter and presentable to a global audience. Make arrangements so that children, pets, significant others, relatives, and deliveries won't disturb your spot.
Blog about it. Blogging before and after your speaker spot will highlight your presence at the event and elevate your brand. Tag the event, sponsors, and other speakers in any social media posts.
Live tweet it. Obviously, you won't be doing it as you will be speaking. Ask a colleague or friend to take screenshots, share insights, and tag other speakers while you are speaking. Later, you can embed all these posts into a highlights piece.
Do's And Don'ts for Virtual Event Attendees
DO repurpose event content. If you were an event speaker, add your presentation to Slideshare or your videos to a YouTube playlist.
DON'T ignore social media chats. Follow event hashtags and be a great community member by contributing ideas and insights. Avoid being negative about a speaker or presentation.
DO have a team member on chat and social media to answer questions and comments on behalf of your brand. This is essential if you are exhibiting or sponsoring the event.
DO have fun. Online event fatigue is a real thing this year, so be fun, interactive, and different.
* * *
Get started on saving time and energy on your own social media management! Check out our free trial of Agorapulse to help you schedule, track, and measure all your social media efforts.