Improve Your Social Ads ROI (v7.21)
If you monitor your Facebook and Instagram ads comments using Agorapulse, get ready — we have some new options to make your ads comments management even easier.
🎁 FEATURES 🎁
Multiple ad accounts for each Facebook and Instagram profile. We're delighted to launch another highly requested feature: the ability to link more than one ad account to each of your Facebook and Instagram profiles. As you might know, we offer the ability to monitor Facebook ad comments and Instagram ad comments — and are pretty darn good at it (this article has the numbers to back up my bravado).
Historically, you were only allowed to link one ad account per social profile. Now, however, you can connect and select multiple ad accounts at a time.

As you see from this example, an admin can view another admin's settings, but cannot change them unless you are an admin on the given ad account.

Easier Instagram Ad account selection. When configuring your Instagram ad account, you no longer have to select among your Instagram profiles. We will automatically pre-select the appropriate Instagram profile for you. Now you can start monitoring your ad comments even quicker!

"Tag" users in your Instagram posts. Truth is, this is something we discovered (and didn't create). If you add someone's @username in a post you publish/schedule/queue on Agorapulse, Instagram will automatically create the hyperlinked mention when the post goes live.
Check it out. I typed it @massmoca here on my publishing modal…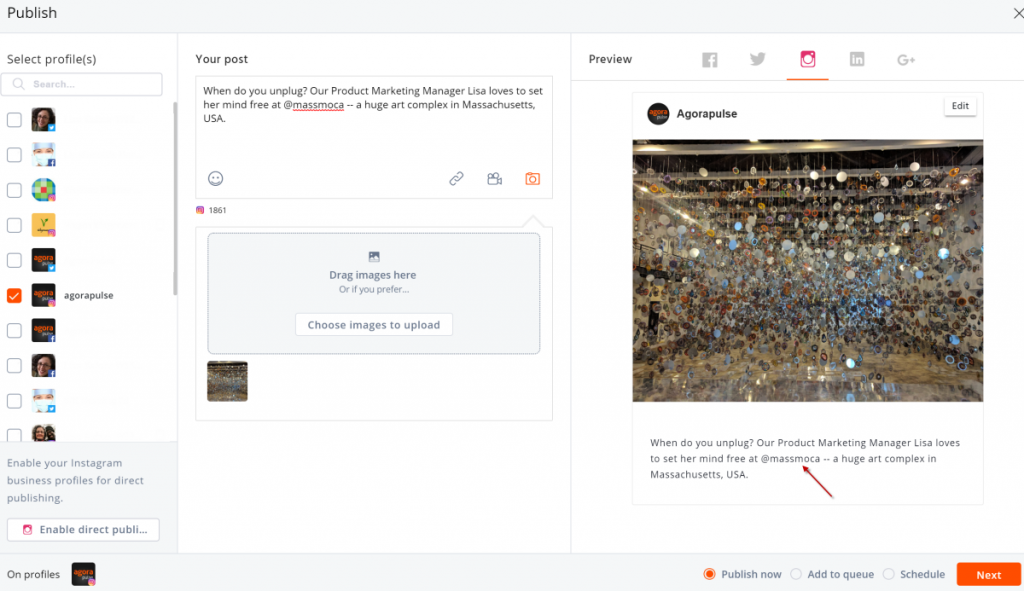 … and it appears in blue in my Instagram feed. Sweet!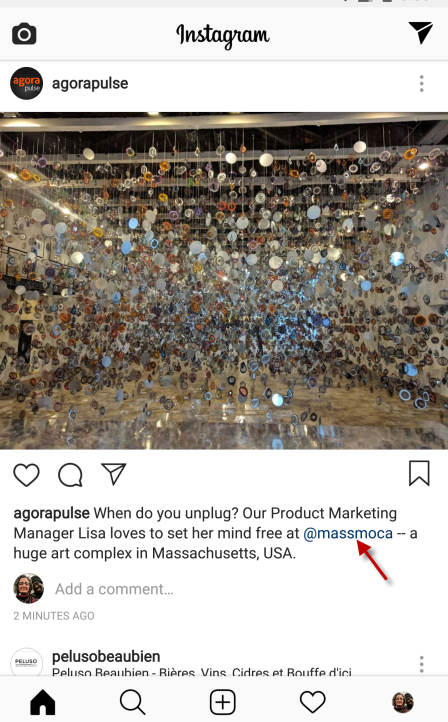 Note: this works only for direct publishing/business accounts.
Profile photo option. Need to look at a different photo of you on Agorapulse? If you signed up with your Facebook account, you can change your profile picture to something else in your Agorapulse Settings. If you signed up with Agorapulse using your email address, then upload something you want to look at day in and day out. (Keep in mind it's also something your teammates will see with our real-time collaboration features.)
🚦FEATURE NOTE🚦
Facebook no longer gives third-party apps the ability to target posts by language. That will explain why you no longer see this option on your publishing modal. Get the skinny from this Facebook Developers doc.
In your Content reports, the term "Impressions" is now properly labelled "Reach." Since we take this metric from "Lifetime Post Total Reach" from Facebook Insights, we adapted the label here.
🐞 BUG FIXES🐞
We made a fix that should solve three issues related to your assigned items. So if you use our team workflow, you'll now be free of:
Wrong counters of unreviewed Inbox items
Items remained assigned even though they'd already been reviewed
"Oldest first" sorting not working
After adding a LinkedIn account, you might have been redirected to Settings. You will now be redirected to the account's Inbox (the correct location).
You might have noticed items missing in Conversations (even though they existed) when replying in PM. This should be fixed now.
If you boosted a Facebook post on a day other than when it was originally published (for example you publish a post on Monday but don't boost it until Wednesday), we have moved the post in your Publishing calendar to the day when it was boosted. Why? Because keeping the original publishing date would not let us sync the latest comments. To keep better track of your original pub date and boosted date, we now show that the post was originally published on Date1 and then boosted on Date2.
When a user tagged a message (conversation, PM), it counted towards the 'Posts' category in Tags distribution report. That was incorrect and is now fixed.
When a user uploaded a video file, the thumbnail automatically played without the possibility to stop it (unless you removed the video). Autoplay is now disabled on video files.
🎧THIS VERSION'S PLAYLIST🎧