More LinkedIn and Instagram Publishing Options (v8.18)
🎁 FEATURES 🎁
LinkedIn multiple photo publishing. You can now publish up to 10 photos per post to your LinkedIn profile or customer page. A few qualifications to be mindful of:
Each image must be either a .PNG or .JPG
Each image must be under 5MB
The ideal aspect ratio is 1200 x 627
Go here to get more details on the aspect ratio of your images.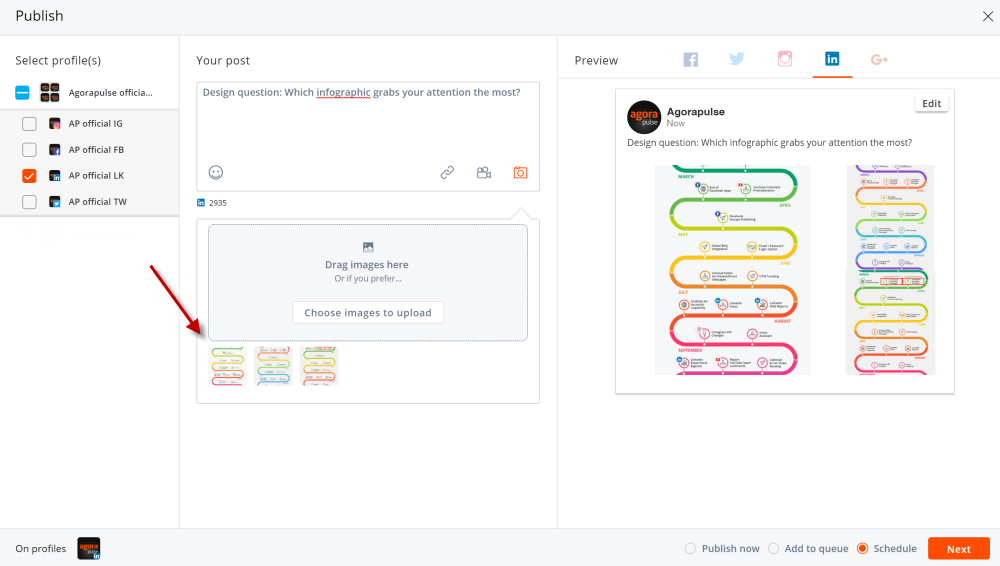 LinkedIn video publishing. You can now publish videos on LinkedIn business pages (not on personal profiles). .API, .MOV, .MPG or .MP4 files are allowed and should be no bigger than 200MB.
(A big month for publishing video here — we launched Instagram video publishing two weeks ago.)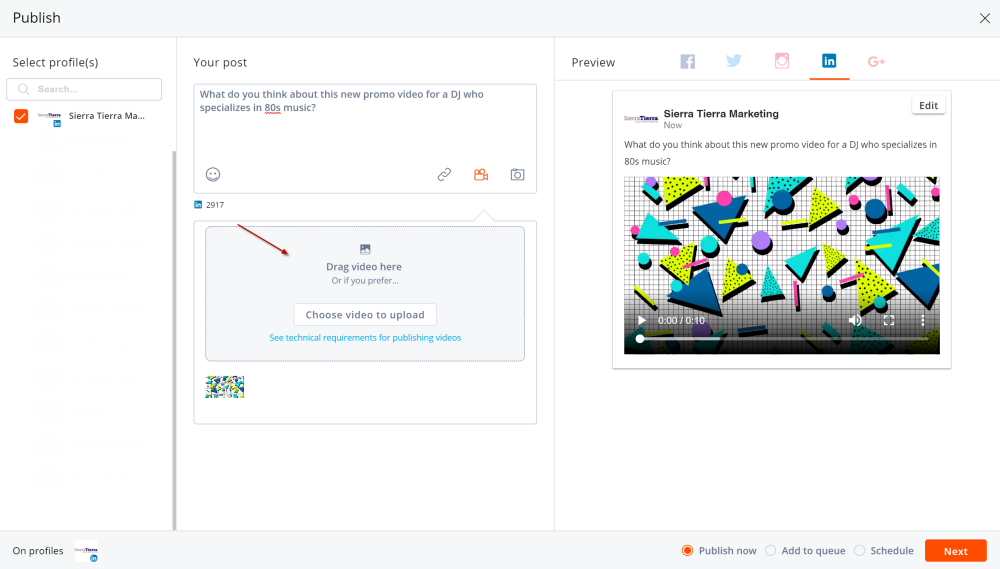 Instagram push notification per post. Some Instagram image posts are best scheduled directly to Instagram. Other image posts benefit from having a push notification. So now on each post, you're given the option to choose whether you want to send an image post directly or via push notification. You can keep your default settings, but this per-post option easily allows you to make a one-off exception.
While most users choose direct publishing, push notifications allow users to:
crop an image
use Instagram filters
publish Story posts
If you select the push notification option, you can select which user on your team should receive the push notification for that post. This assignment can be changed until the push notification is sent.
Two items of note: It's not possible to disable a push notification setting for a post after the notification has been sent. Also: this feature is not yet available for Instagram video posts or for multiple images.
Delete internal inbox PM/DM notes. Need to get rid of an internal note in a private conversation? Simply click on the 3-dot menu to the left of the note. You need not be the creator of the note to delete it. Admins, Editors and Moderators are allowed to delete notes. Guests do not have the ability to delete notes.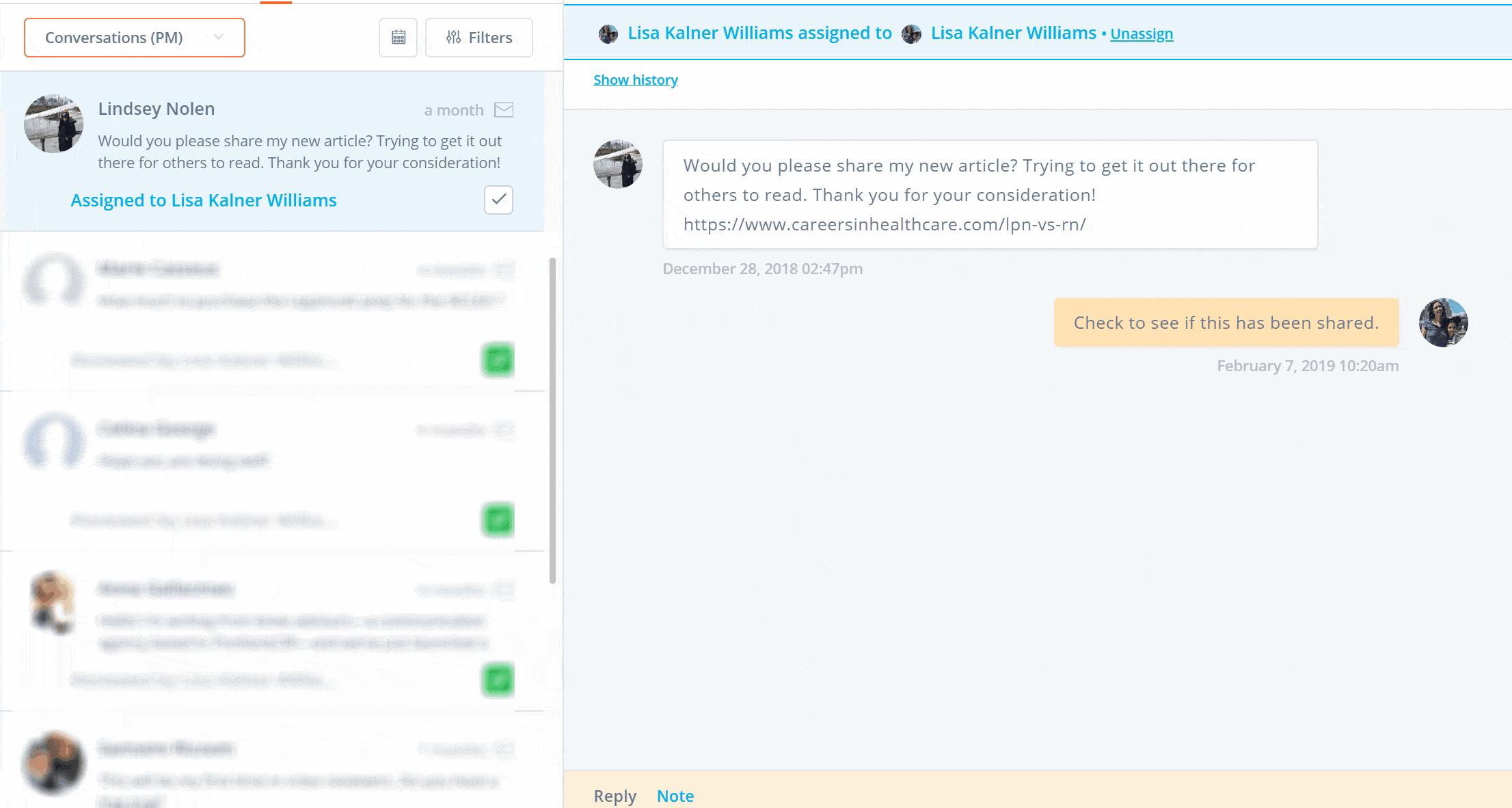 Improved display of hashtag searches. We've revamped our Instagram search so you can keep better track of Instagram's new limitations. Instagram allows each profile to search up to 30 hashtags in a rolling 7 day period. Note that it's 30 hashtags per business profile, regardless of where you conduct your searches. For example, if within a 7 day period, you search for 15 hashtags with us and 15 hashtags elsewhere, you'll hit your 30 hashtag limit. There's a lot to remember every 7 rolling days, so to help we now show:
How many hashtags you've used so far
Which hashtag searches you've created in Agorapulse
Which hashtag searches you've created with other 3rd party tools and/or which hashtag searches you've made (in Agorapulse or another tool) in the last 7 days (rolling period) but then later disabled. Such searches also count towards the 30 search limit.
Please note that you cannot add more than one hashtag per search.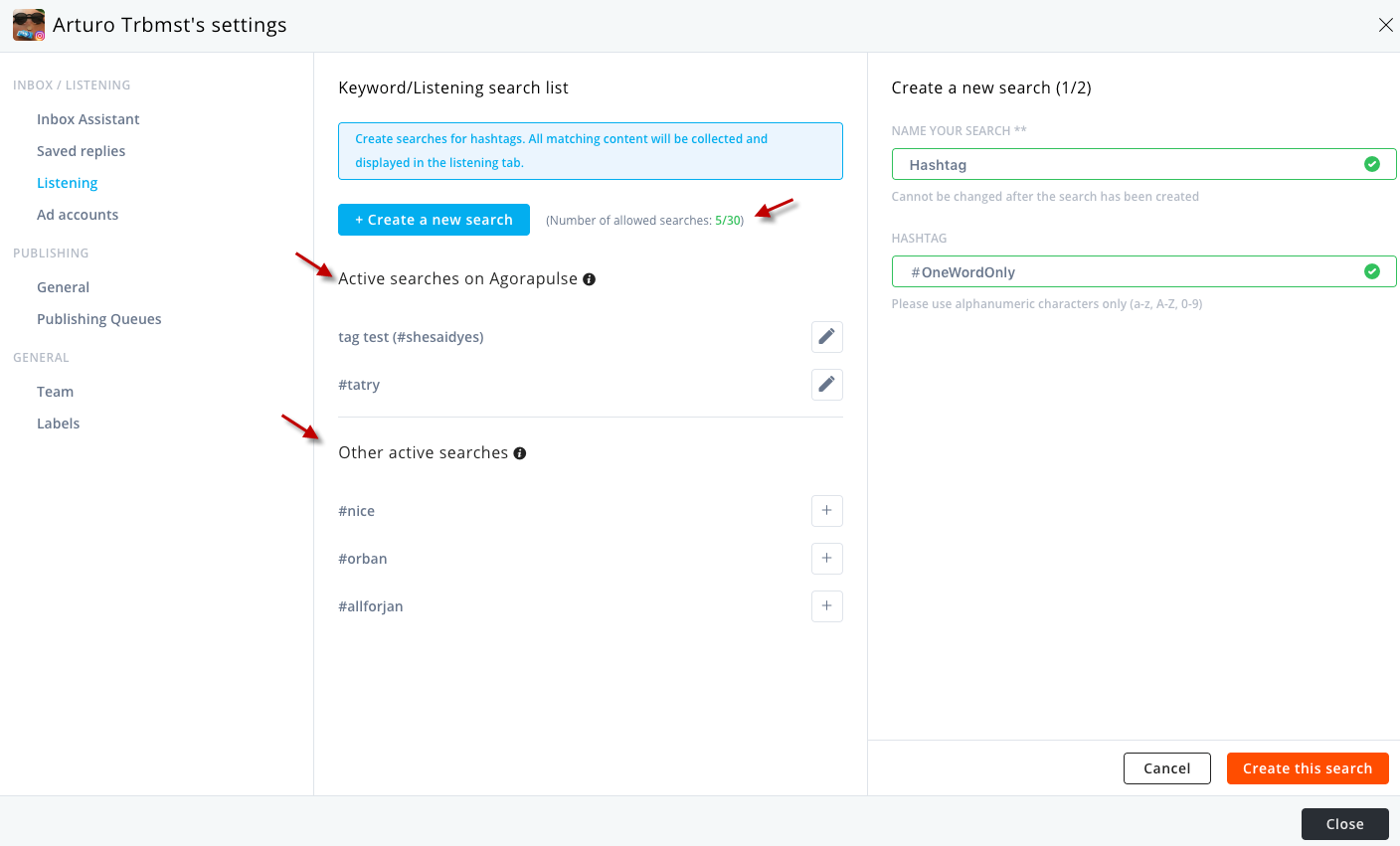 Higher limits of followers per Instagram and Twitter profile. You may now add Twitter and Instagram profiles that have up to 1 million followers to your Agorapulse subscription. If you have profiles with more than 1 million followers, please ask our amazing support team to add them.
🐞BUG FIXES🐞
The Instagram content engagement number did not match the global engagement number in the reports. It's now fixed.
+26 other fixes to make managing your social media even easier.