The Ins and Outs of Instagram Management (v.733)
This latest release has a super heavy focus on Instagram. There's something in this release for users with Instagram business profiles, Instagram personal profiles — and even those who don't have ANY Instagram profiles linked to Agorapulse.
🎁 FEATURES 🎁
If you manage your Instagram presence with Agorapulse, chances are it's with a business profile. As you might already know, there are several advantages to using an Instagram business profile. And as your social media management tool, we enable you to take advantage of the additional functionality that only an Instagram business profile can provide.
Capturing Instagram brand mentions. Here's an example of what we can offer business profiles — the ability for us to capture mentions of your brand in your listening feed. Whenever a public account mentions you in a post or comment, you'll see it here.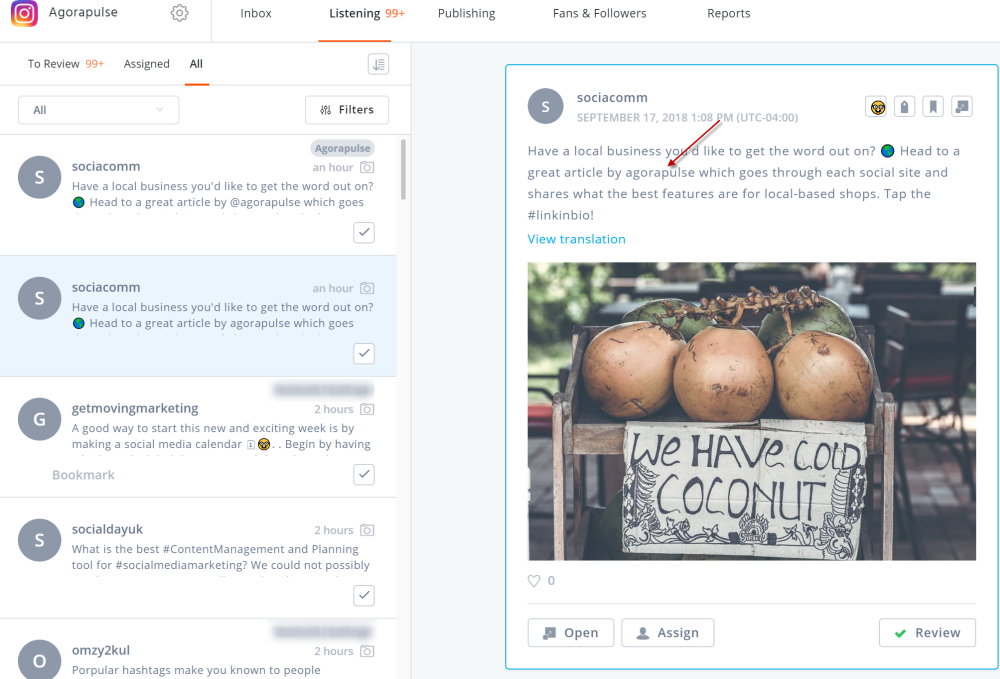 Instagram threaded post replies. Threaded replies allow you to more easily read and reply to comments left on your Instagram posts. This too is available just for business profiles.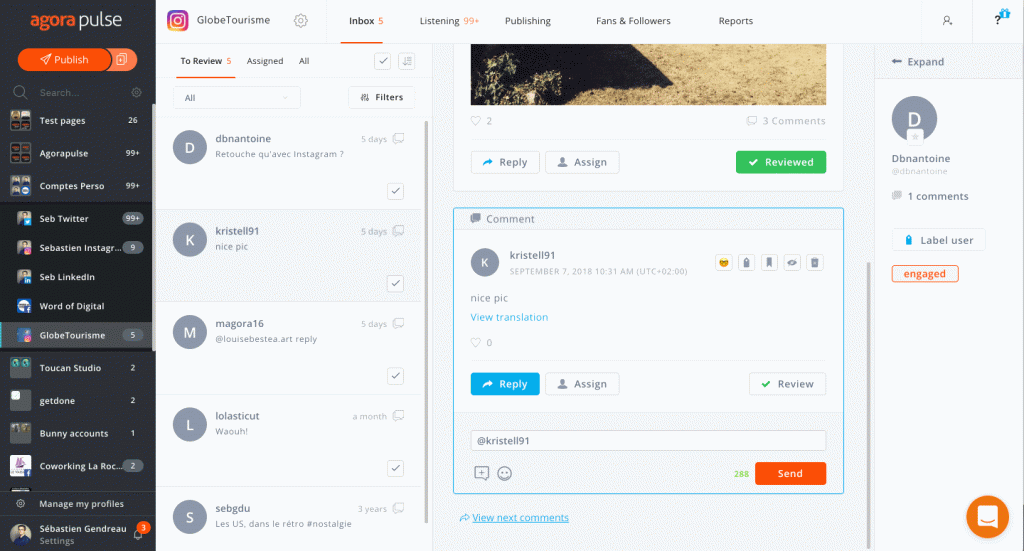 Real-time update for inbox and listening items. Business profiles can stay on top of all inbox items and brand mentions with real-time updates.

Easier switching to a business profile. Over 80 percent of the Instagram profiles hooked up to Agorapulse are business profiles. If you still don't use an Instagram business profile, we think you'd really like the extra management perks you'll get with it.
So in your inbox and listening tabs, we'll present you with an option to connect-and-convert your personal profile to a business one.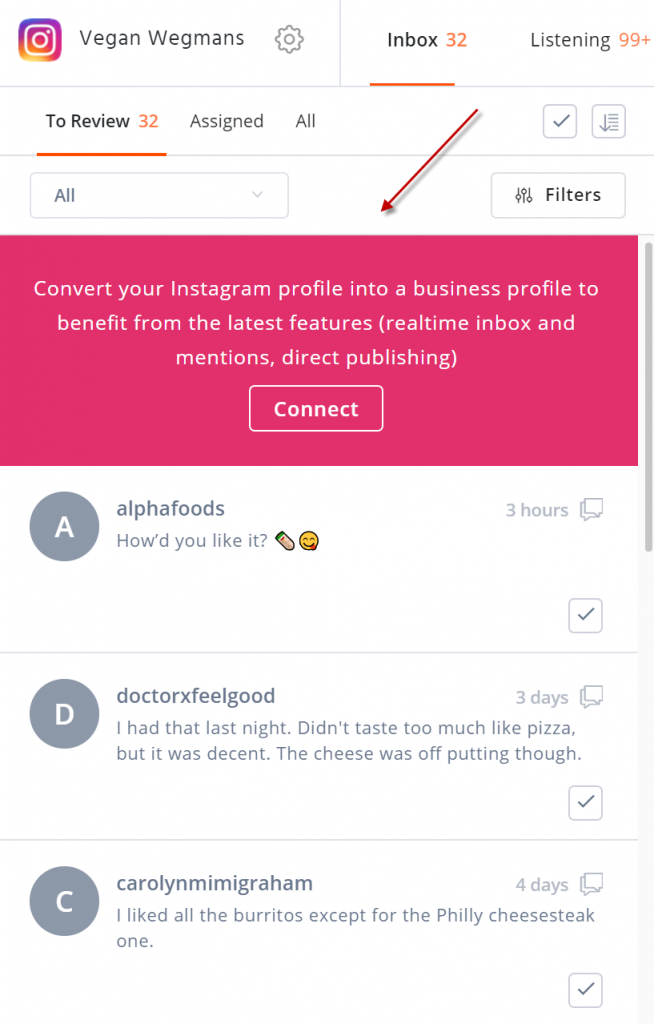 Instagram push notification display. If you prefer push notifications to direct Instagram publishing, you'll be able to see push posts much easier now.
In the publishing calendar, you'll see an icon indicating that someone on your team has received a push notification for the selected post.
New connect for Instagram profiles. If you haven't yet linked ANY Instagram profiles to your Agorapulse subscription but think it's about time to do so, we make it easy for you to add a business or personal profile.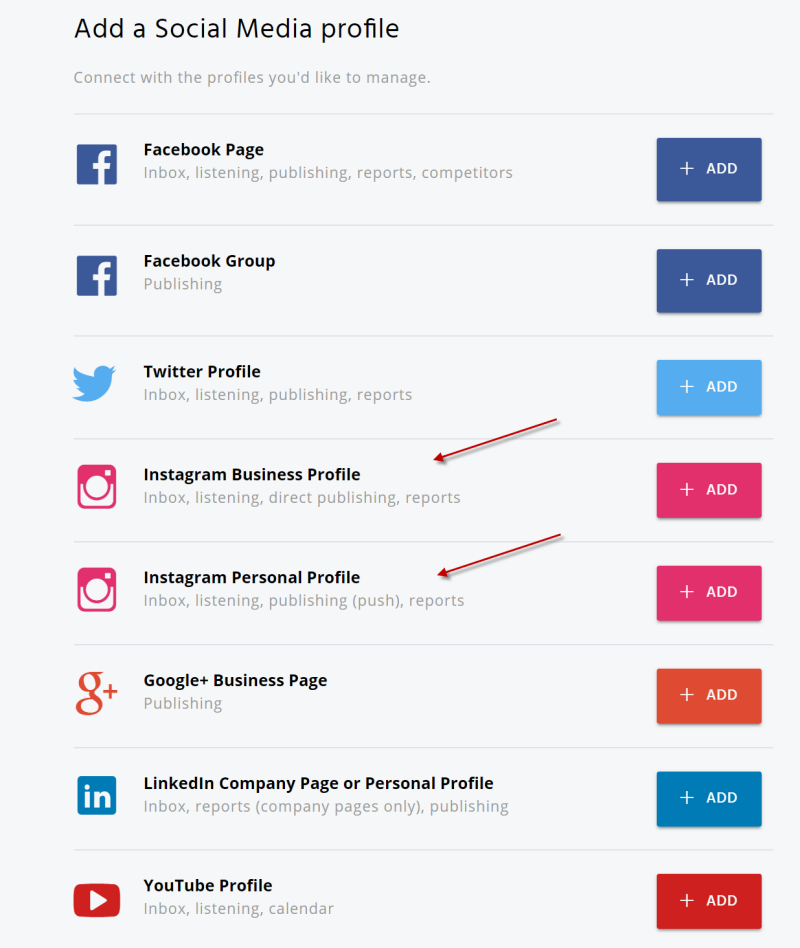 🐞 BUG FIXES🐞

If you are signed into Agorapulse on two browser tabs at the same time, it should no longer result in a timeout.
Moderation rules containing a punctuation mark (e.g. question mark "?") should no longer match phrases that contained a space.
Our URL parser can now identify all links containing the hash/pound sign.
After you published an item on Twitter and started a new post, we automatically selected a preview for Facebook. This has been fixed.
The ordering of content being added to the queue is now as you wish them to appear.
The number of private messages sent now appears in the Response Time report.
🎧THIS VERSION'S PLAYLIST🎧

"Turn to You" by Go-Go's
"Hanging on the Telephone" by Blondie

"Go Your Own Way" by Fleetwood Mac