Subscribe to the Social Media Lab Podcast via iTunes | Stitcher | Spotify | Google Play | RSS
30 Hashtags on Instagram Posts: Yes or No?
I've talked about hashtags on Instagram quite a bit here on the Social Media Lab.
Partly because it's such a hot topic and people are confused by it.
But also because the proper use of hashtags on Instagram can be a marketing gold rush!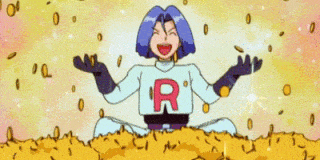 I previously tested 1-10 hashtags on Instagram posts to see what performed best.
In that test we found that 8 hashtags got the most Likes.
But we didn't test more than 10 hashtags, as it didn't seem natural to me and seemed like "stuffing" our post.
Instagram however allows 30 hashtags, so I decided to test it.
Thoughts from Others on Using 30 Hashtags on Instagram
Louise Meyers says using as many hashtags as you can is the way to go:
"I'm a fan of using all 30 hashtags. Do people find it spammy? My engagement rates say otherwise."
Eduardo Morales highly recommends using the max of 30 hashtags on Instagram:
"If you're using Instagram as a platform to grow your business, you should be using 30 hashtags in every single one of your posts, always."
Business2Community is a big fan of using all 30 hashtags allowed on Instagram (although they go on to say putting in comments is better, which is false according to our study):
"Better yet, studies show that the more hashtags you use, the more engagement and interactions you can expect from your posts. Because of this, I'd encourage you to use the maximum number of hashtags allowed: 30."
As you can see many are definitely for using the full allotment of hashtags Instagram allows you. It's very hard to find any against it from my searches.
Definitely enough talking about this for me to run a test!
Hypothesis
Based on past research on Instagram hashtags and keeping the input from experts involved this is my best guess at the results: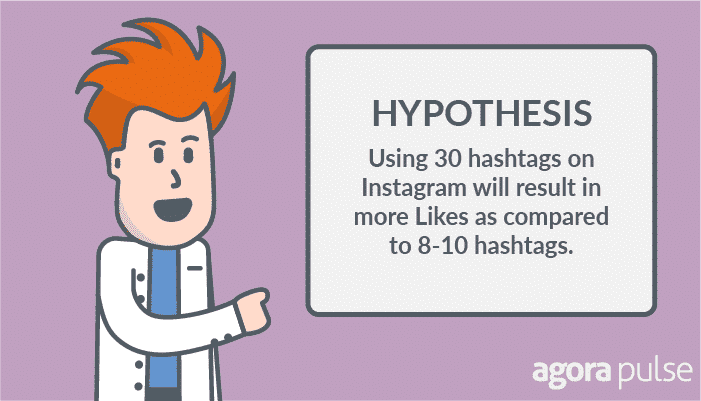 Hypothesis: Using 30 hashtags on Instagram will result in more Likes as compared to 8-10 hashtags.
Testing Instagram Hashtags
I used 3 Instagram accounts to test this, you've seen these on other Instagram tests I've run.
@Agorapulse – Our company's Instagram account with 5100 followers
@Scottayres – My personal Instagram account with 7200 followers
@Spacewalkctx – The account for my local bounce house business with 3200 followers.
As part of a previous Instagram test comparing hashtags in the original post versus comments I used 30 hashtags per post, we'll use that data for this test.
But I'll only look at those posts where the hashtags were in the original post, as this is better data that's not swayed by adding the hashtags late or gaming the system.
To compare the data from 30 hashtags I'll do 2 things:
Post new posts to the @Agorapulse account using 7 hashtags (this account wasn't involved in the previous test on hashtag count)
Compare data from the previous test for the highest performing hashtag counts for @scottayres and @spacewalkctx
Here are a few examples of the posts with 30 hashtags: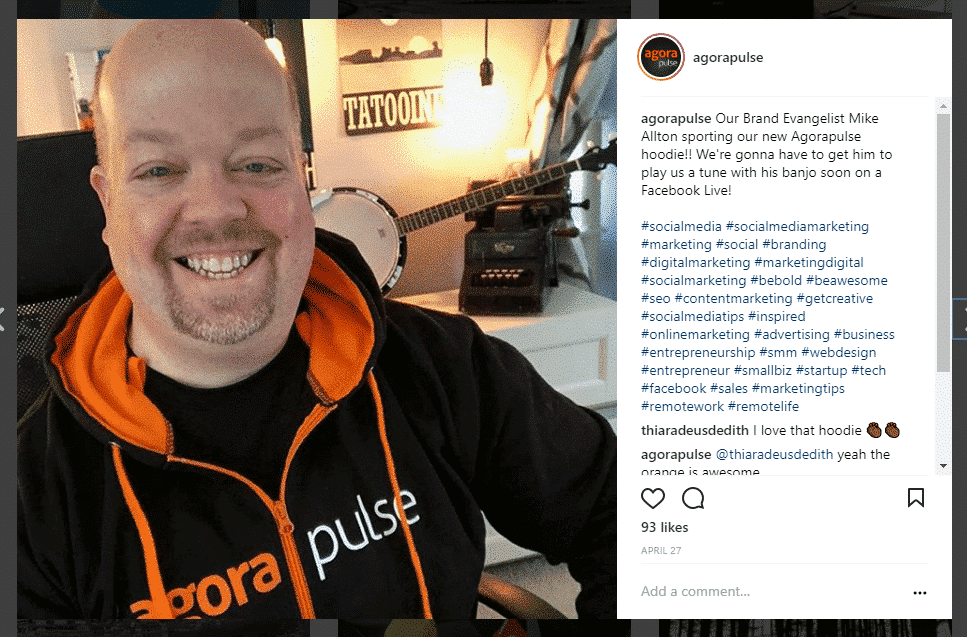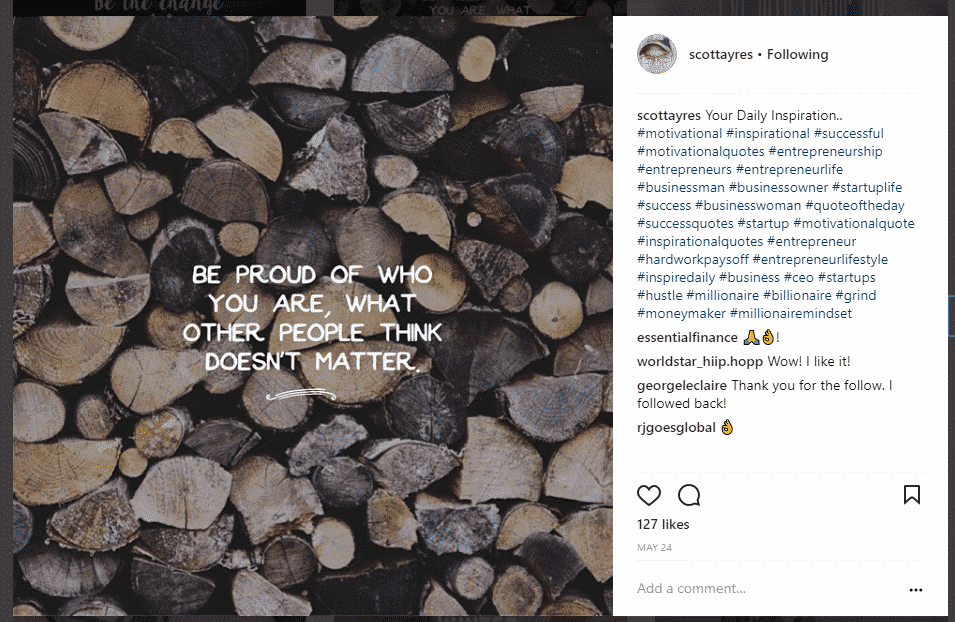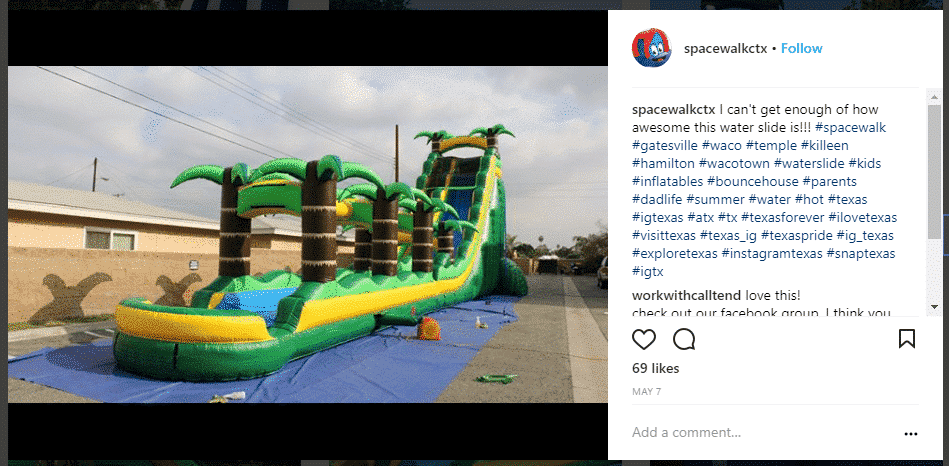 The Data
So now onto the important stuff and reason you've read this far.
To isolate the results we'll only focus on Likes. It doesn't matter how many people ultimately see your posts, it's the engagement that impacts the algorithm.
30 Hashtags Results: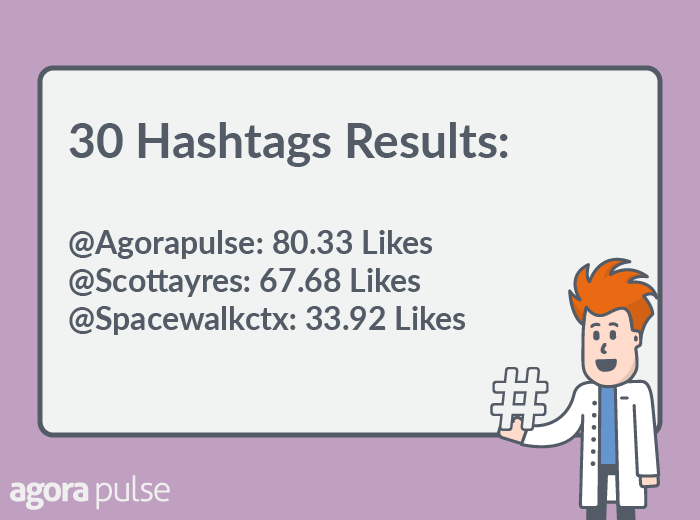 @Agorapulse: 80.33 Likes
@Scottayres: 67.68 Likes
@Spacewalkctx: 33.92 Likes
How does this compare to the winner from our previous test?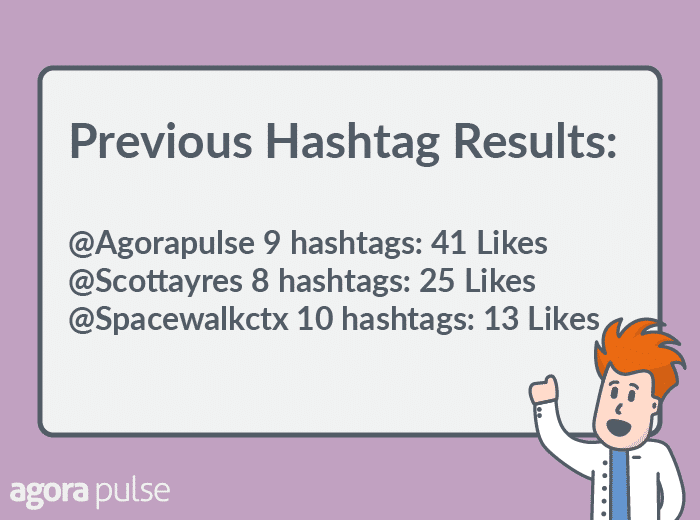 @Agorapulse 9 hashtags: 41 Likes
@Scottayres 8 hashtags: 25 Likes
@Spacewalkctx 10 hashtags: 13 Likes
Quite the difference, but to be fair the follower count on all 3 accounts is different now then it was then, which is always the hardest part of testing.
To narrow these results down more I posted new updates to the @agorapulse account with 7 hashtags for this test, here are the results:
@Agorapulse new test with 7 hashtags: 56 Likes
An obvious increase in Likes compared to the older test, but still drastically lower than 30 hashtags.
Scientific Conclusion about 30 Instagram Hashtags
It's pretty clear that using 30 hashtags on Instagram posts produces more Likes.
Compared to previous data we find that 30 hashtags had 135% more Likes on average!
And on the @Agorapulse account with new data 30 hashtags on Instagram produced 43% more Likes.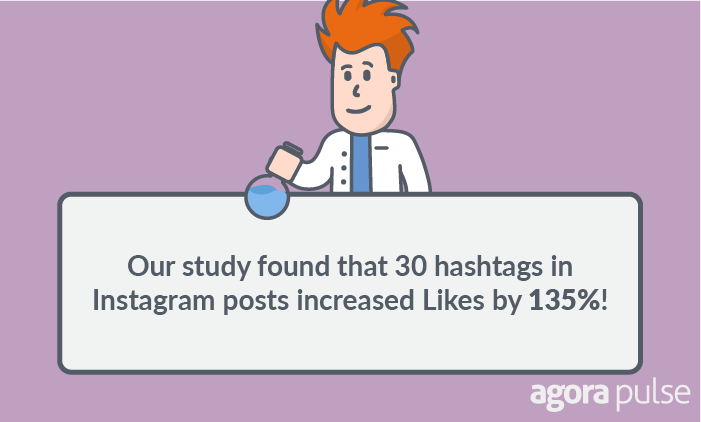 Giving me scientific proof that using the maximum of 30 hashtags allowed by Instagram will result in more Likes.
My hypothesis then holds up, for a change!!
As reported in our previous post about hashtags in the original post versus hiding in comments it's better to put in the post itself. I'll refer you to this data: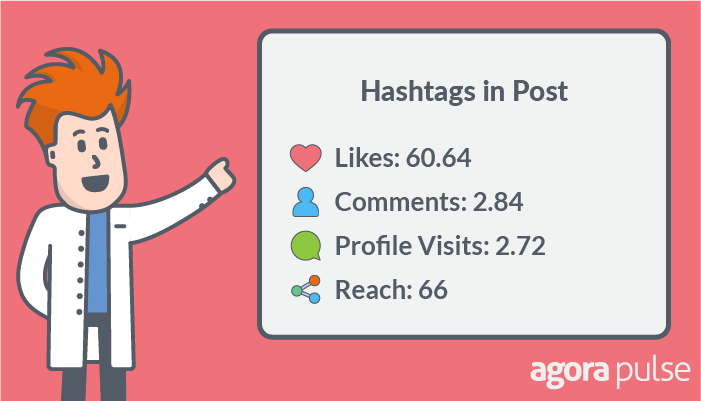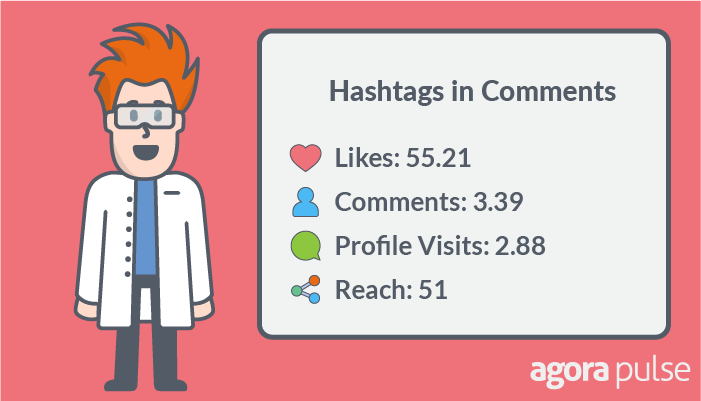 30 hashtags in the original post got more Likes and Reach on average than hiding them in the comments, so be sure to just put them in your original post. Your followers won't care.
One interesting side note that I found while testing on the @Agorapulse page was the Reach. Check this out:
30 Hashtags: 436 Reach on average
7 Hashtags: 450 Reach on average
So less hashtags had more Reach for this account, but drastically lower Likes.
Remember that a large amount of people that will find and hopefully engage with your content with a Like or Comment will do so via search using the hashtags. They won't see it in the feed.
Seeing as many aren't followers of your's yet anyway.
I say that to tell you to not get bogged down in Reach. The Likes are more important.
From my studies putting the 30 hashtags in the original post is the way to go.
And now I can confidently conclude that 30 hashtags is going to get you more engagement — just be certain those hashtags are relevant to your content.
**Watch the replay of the Social Media Lab LIVE show on this experiment:
Don't miss an experiment!
New experiments and exclusive content straight to your inbox