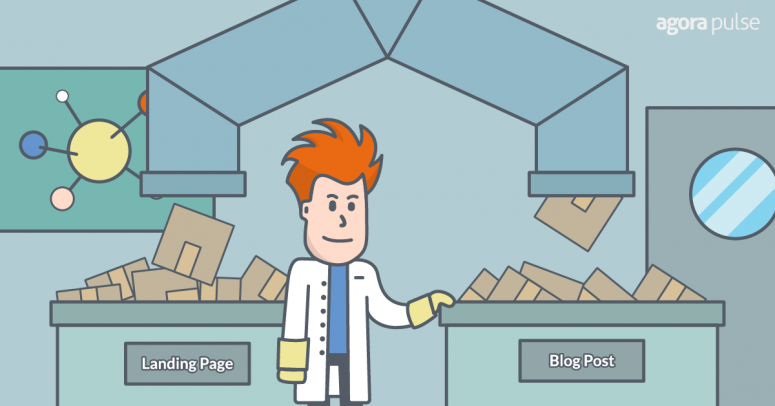 Subscribe to the Social Media Lab Podcast via iTunes | Stitcher | Spotify | Google Play | RSS
Will Sending a Facebook Ad to a Blog or Landing Page Get More Trials?
Here's what we found.
Our team at Agorapulse is a huge believer in blog posts.

In the last few years, we have written hundreds of them and built a regular audience of over 72,000 people per week.
While this strategy is profitable, we wanted to step up our game and see if we could convert more of them into free trial users, especially after we had just released the biggest update to Agorapulse since 2013.
The first thing we thought about was to experiment with landing pages. The idea was to replace some of our top performing blog posts with landing pages and if successful, more people would sign up for a free trial as opposed to merely consuming information.
This was obviously a low hanging fruit with high returns. If it raised our conversion rates by 1 percentage point, we would get 1 more free trial for every 100 visitors. That means 2,000 more free trials for us just in the matter of a month!
So within 2 days, we mocked up a landing page using Instapage (our favorite landing page software) and ran a test against our best performing blog post.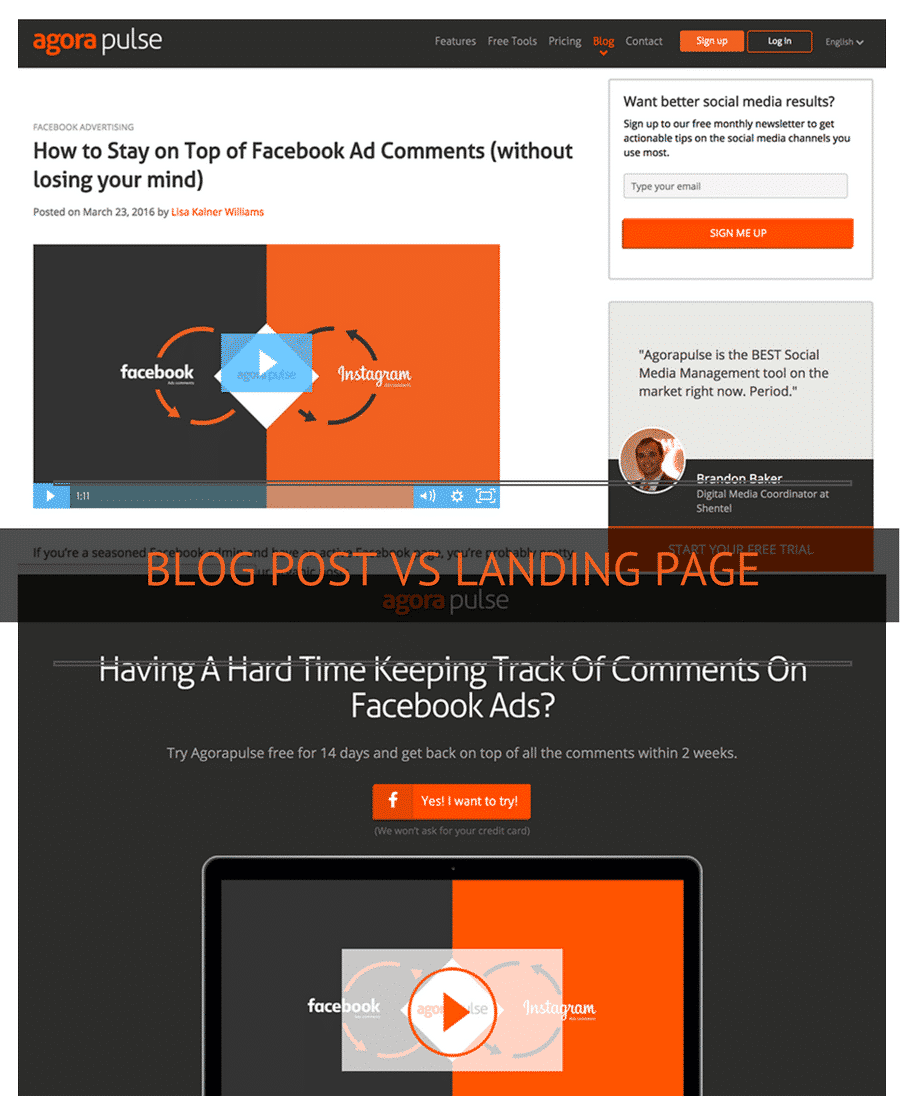 By the time we spent $683.87, we already saw a 46% difference in conversion rates!
In other words, one group converted 84% more visitors than the other into free trials.
Of course we aren't going to tell you who the winner is just yet 🙂 So make sure you read till the end of this post to find out the verdict!
For those of you who are interested to see what our blog post and landing page look like, we included screenshots of them below, so check it out!
Bit of Background: Why did Agorapulse wait forever to try landing pages?
While we had been using landing pages for a long time, we haven't really used them for advertising.
One of the key reasons is because most landing pages we have seen conflict with our core belief in being customer-first.
Marketers typically build landing pages and offer typical freebies as a cheap way to extract information instead of providing value.
We didn't want our company to be known for cheap and useless guides that hardly anyone reads.
But we also saw some of the fastest growing SaaS businesses were using a mix of landing pages and blog posts.
For example, Marketo offers a Frost & Sullivan whitepaper containing information about the growing needs for marketing automation to its prospects in the healthcare industry.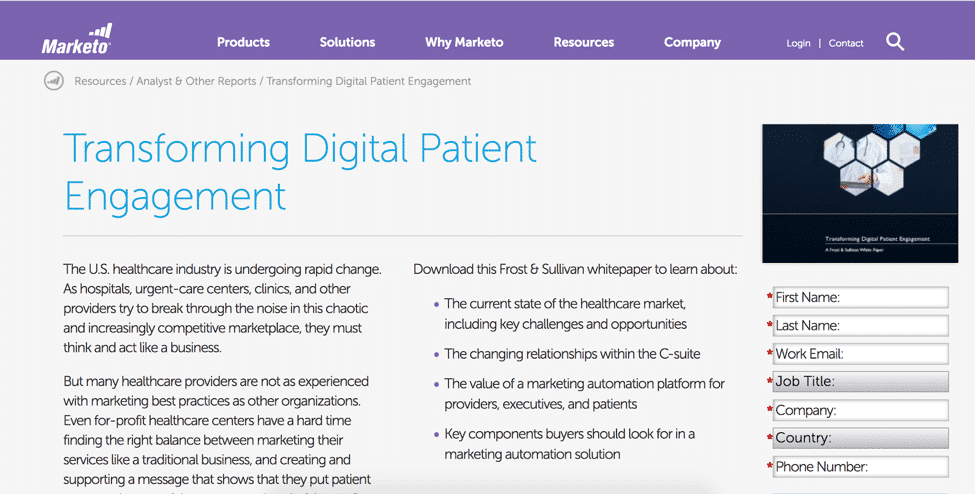 Zendesk offers a copy of a research report from Gartner, a reputable research and advisory firm, providing insights about the global market for customer service and support applications.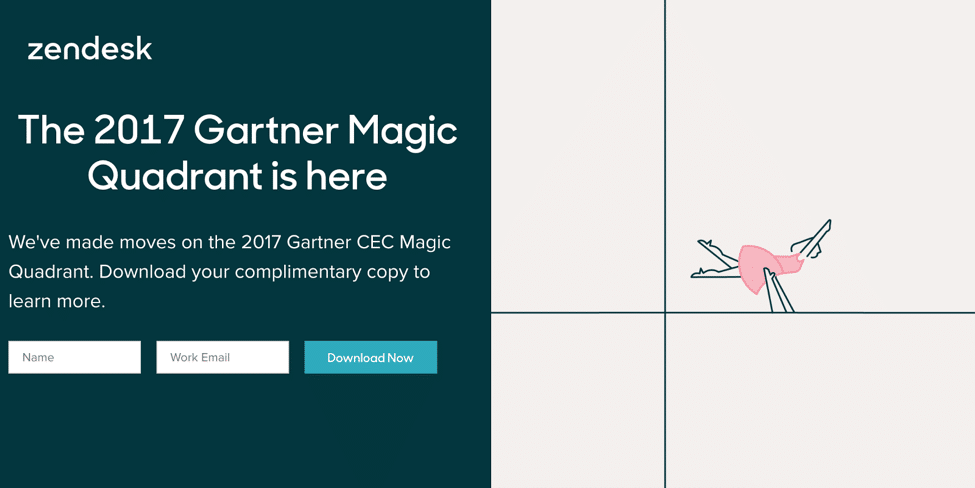 Then there's Hubspot, Zuora, Adaptive Insights and many others.
Surely all of these fast-growing software companies can't be wrong.
So we decided to try it out!
Our hypothesis was:
Sending prospects to a landing page instead of blog post will drive more free trials.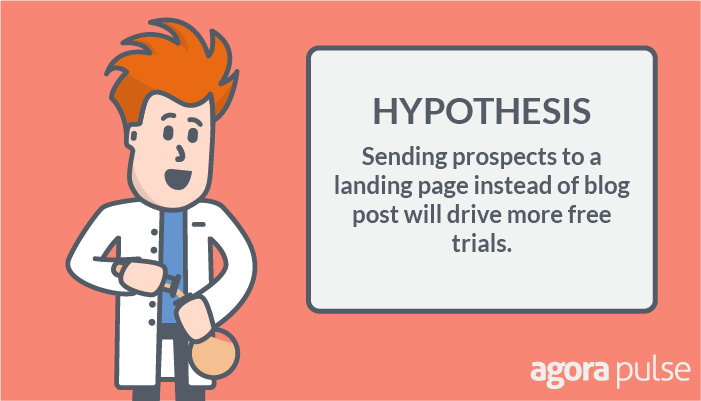 Our Plan of Attack
Now that you know the reasons why we did this experiment, let's take a look at how it's designed!
First, we drove prospects to either a blog post or landing page on Facebook.
Here's what it looked like:
1. Targeting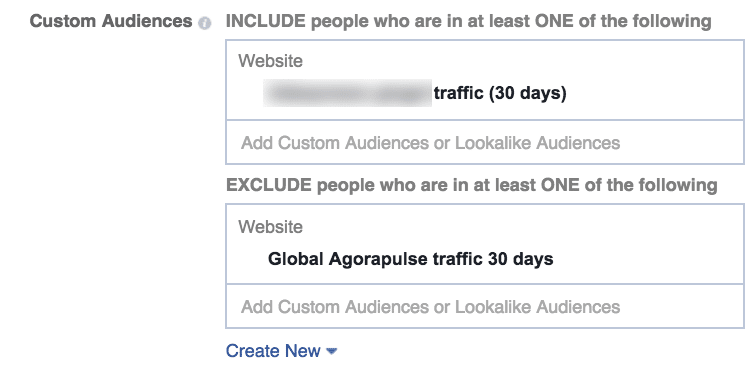 We targeted people who visited one of our affiliates' website for the past 30 days and exclude those who visited our website in the same time period. This was done to reach out to cold but relevant audiences, especially social media professionals within our target market who do not know that we have a blog.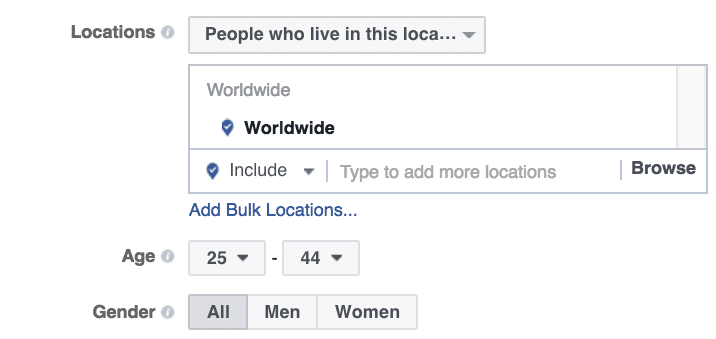 Next, we targeted every website visitor worldwide. Since we were already targeting people who visited a website about a related topic, we did not see a need to filter them even more.
Finally, we targeted young working professionals age 25 to 44 from all genders.
2. Placement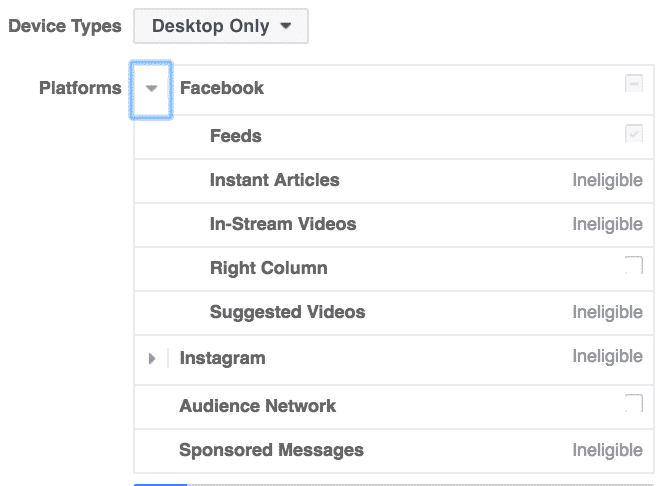 At the time of this experiment, we were only able to track conversions from desktop and not mobile, so we ran this campaign only on desktop to avoid any tracking issues.
3. Ad
Here's how our ad looked: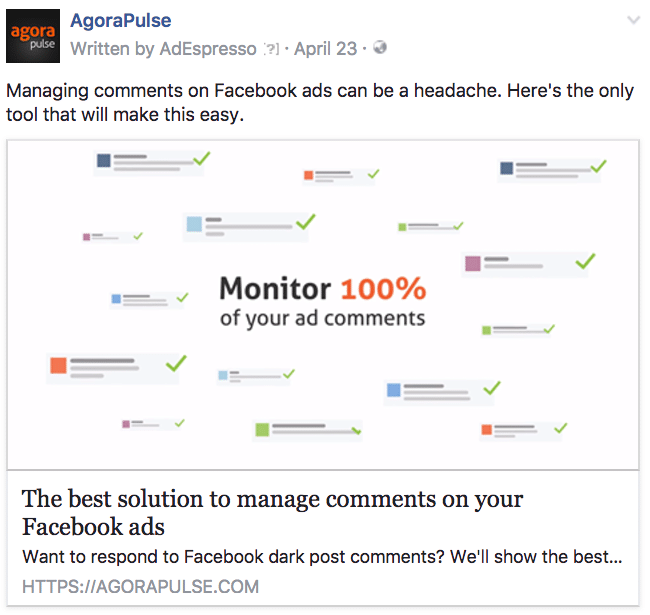 We used the same ad for both ad sets. The only difference between the two sets was the page that viewers go to once they click on the ad.
This is what viewers see when they go to the blog post: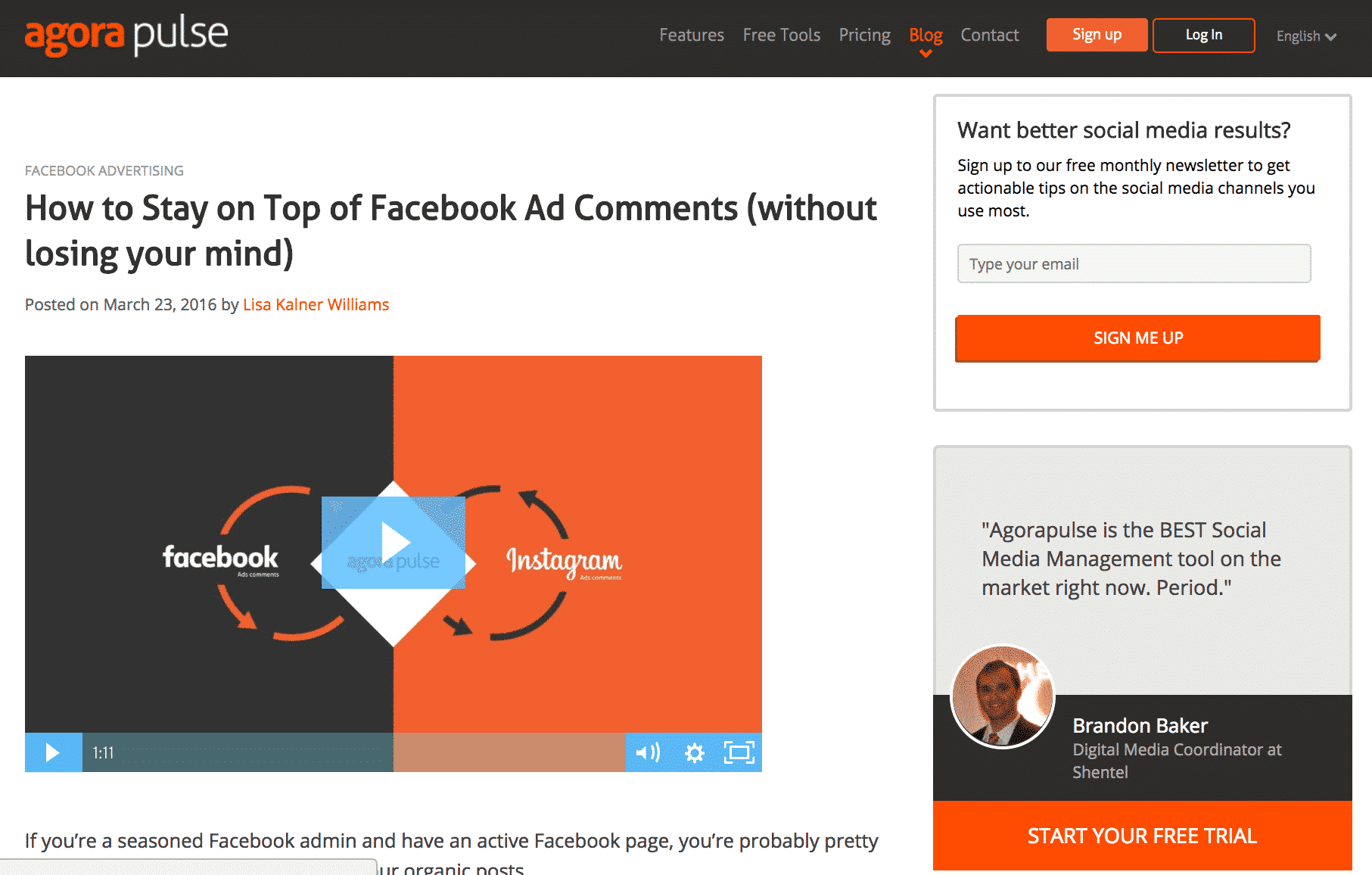 And if they clicked on the ad which leads them to the landing page, there were greeted with this: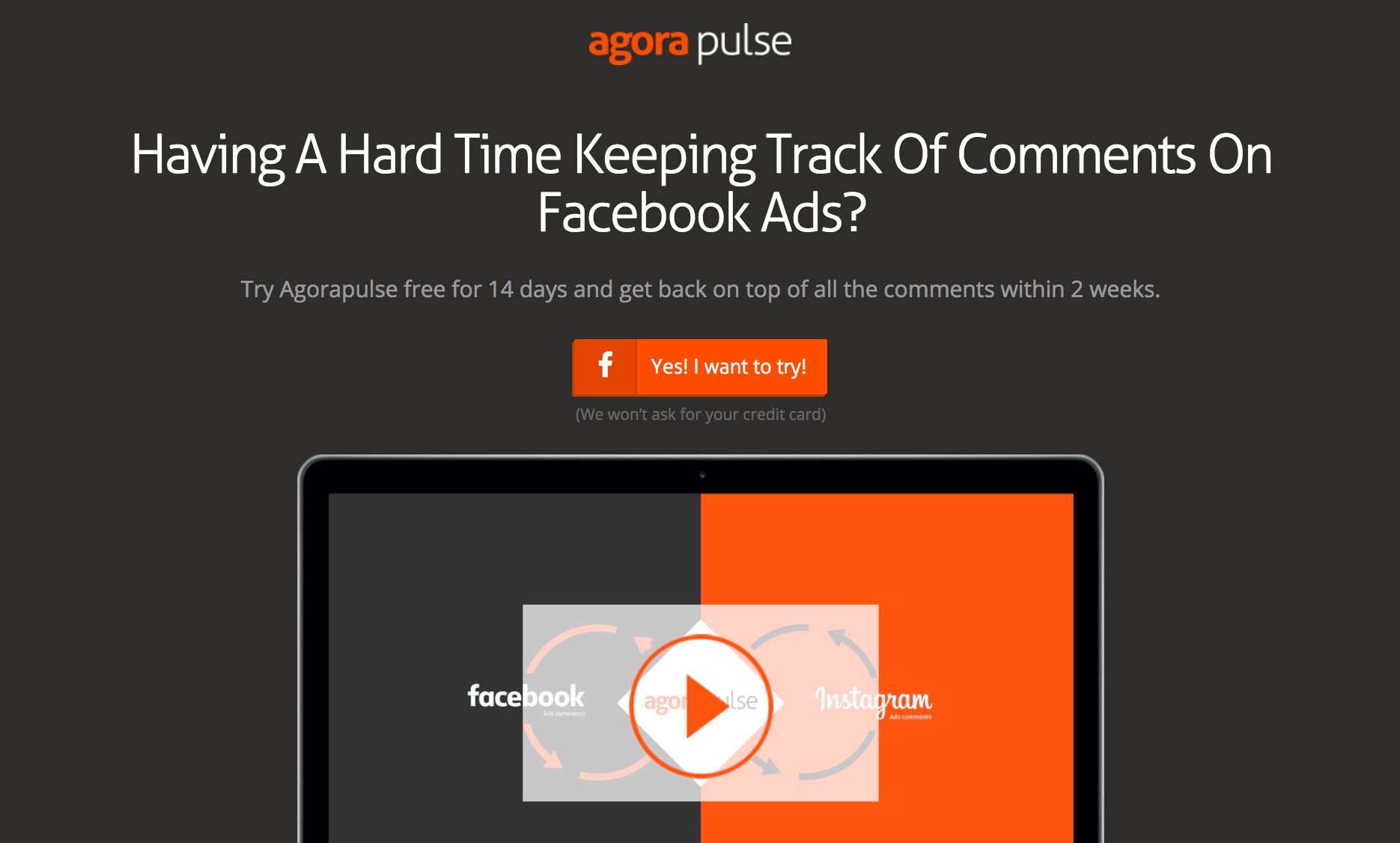 Test Results Data
Remember when I mentioned that there was a 84% difference in conversion rates?
Here is what the actual data looks like: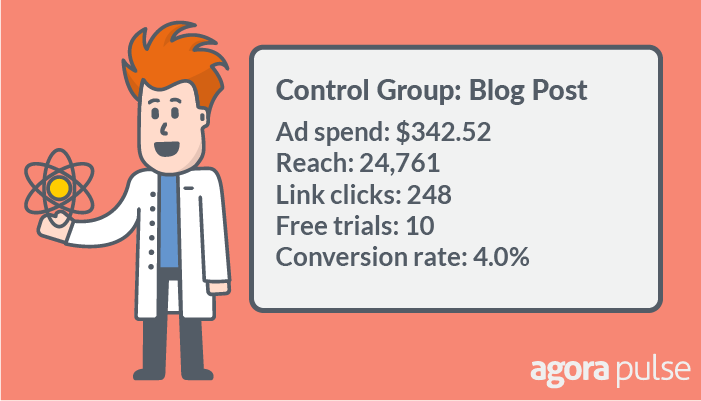 Control group: Blog Post
Ad spend: $342.52
Reach: 24,761
Link clicks: 248
Free trials: 10
Conversion rate: 4.0%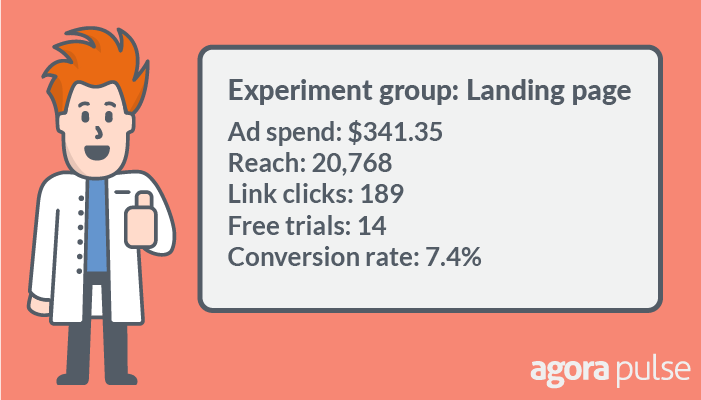 Experiment group: Landing page
Ad spend: $341.35
Reach: 20,768
Link clicks: 189
Free trials: 14
Conversion rate: 7.4%
Both ad sets spent a similar amount of money but generated a different amount of traffic.
The blog post generated 248 link clicks with nearly 1% CTR. On the other hand, the landing page generated only 189 link clicks with 0.9% CTR. This happened despite the fact that both ads looked identical, so we were a little puzzled. Perhaps Facebook showed them to 2 different segments of the same audience or optimized them differently after seeing the initial feedback on our ad.
Despite receiving fewer clicks, the landing page generated 14 free trials versus 10 from the blog post!
We were right on the money.
Sending prospects to a landing page instead of a blog post indeed got more people to sign up for a free trial of our tool.
Diving Deeper Into the Data
As lab scientists, we must be very careful with our experiment outcomes.
Before we lay further claims, let's check the numbers for statistical significance (if you have no idea what statistical significance means, make sure you tune into our podcast where my partner-in-crime Scott explains the concept).
Here's what our favorite calculator shows: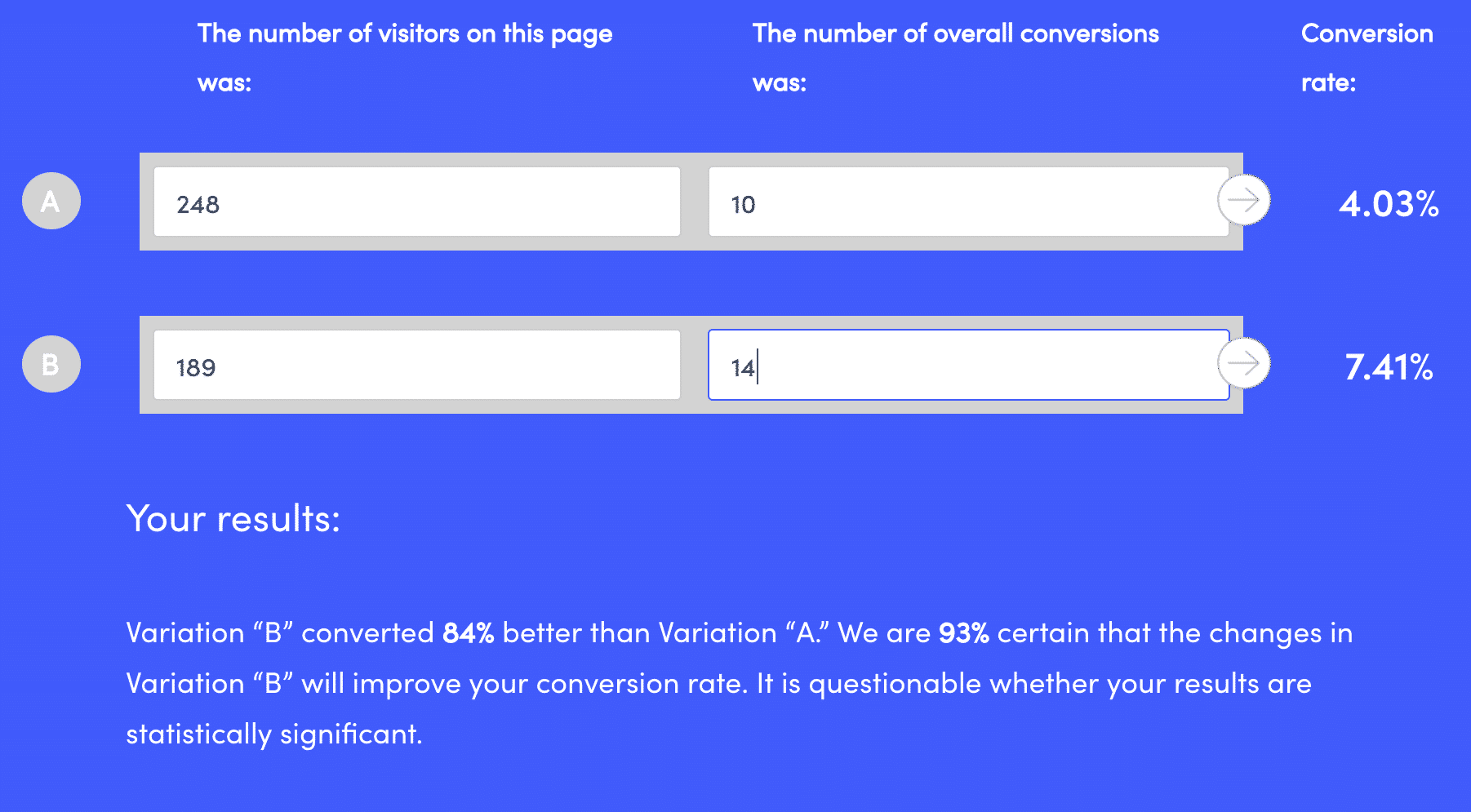 As you can see, we filled in the numbers as shared earlier and the calculator made its verdict:
The difference between both ad sets was not considered statistically significant!
In other words, we cannot say with sufficient confidence that landing pages indeed convert more visitors into free trials than blog posts. If we ran the experiment another time, the results could be different.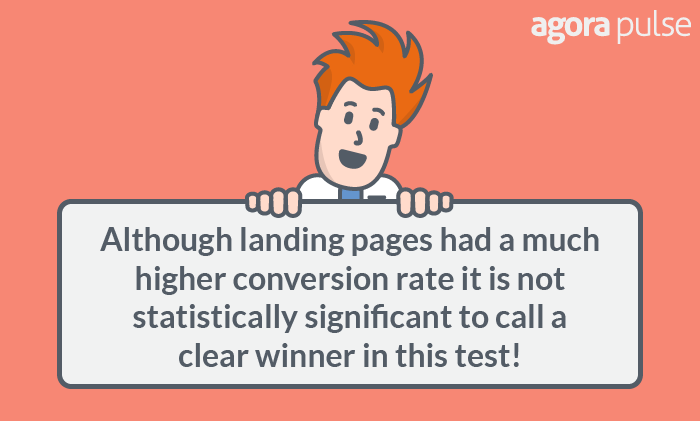 Further Thoughts on This Experiment
Although our results showed that landing pages are not statistically better (although promising in this experiment) than blog posts, it doesn't mean the same for you!
Instead, we hope to show you how to carry out such an experiment and encourage you to conduct more tests frequently just like we did. You never know if you chance upon a new way to increase conversion rates and boost your returns on marketing spend.
If you have any questions, don't be afraid to ask! Just post in the comments section below and we'll get back to you.
Further reading:
What Does a Facebook Sales Funnel Look Like?
The Complete Beginner's Guide to Quora Ads
How NewFire Media Gets More Clients with Agorapulse
Don't miss an experiment!
New experiments and exclusive content straight to your inbox