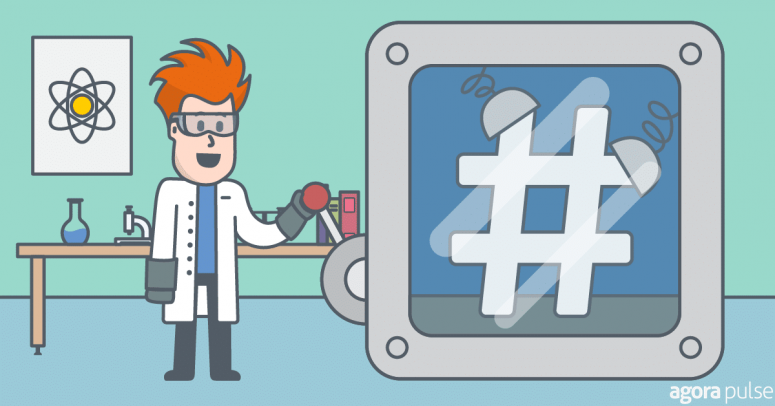 Let's See if Facebook Hashtags Get More Reach!
Subscribe to the Social Media Lab Podcast via iTunes | Stitcher | Spotify | Google Play | RSS
Every business with a Facebook page wants one thing — MORE ENGAGEMENT!
Achieving that has become excruciatingly challenging over the last few years.
Chasing Facebook's algorithm is the equivalent of a dog chasing its tail. It's pointless.
But, what if something as simple as using Facebook hashtags could increase reach and engagement without spending a penny?
A Bit of Background about Facebook Hashtags
Spend just a few minutes on any social media site and you'll see posts using hashtags. They started on Twitter and through the years have made their way onto every social media site you can think of.
Hashtags are a great way to get discovered by users not following you, yet that is following or searching using that hashtag.
Think of them as a way to quickly categorize your content so others can search with just a click or tap and then be shown every post using that hashtag.
Facebook introduced hashtags in 2013 as a way to make conversations more "Public".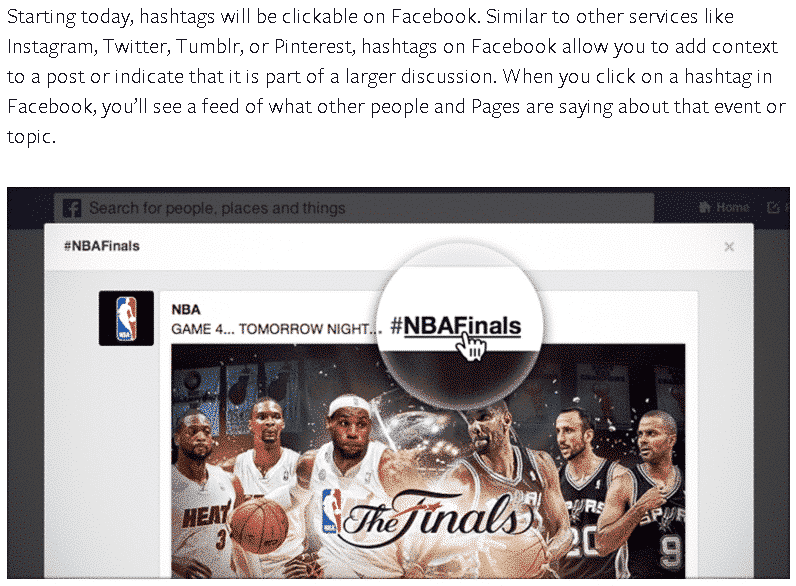 You've likely seen your friends or business pages you follow using hashtags, sometimes to help with branding and sometimes just to be ironic or funny #whydidIjustuseahashtag .
QuickSprout says when Facebook launched hashtags Reach was lower when hashtags were used: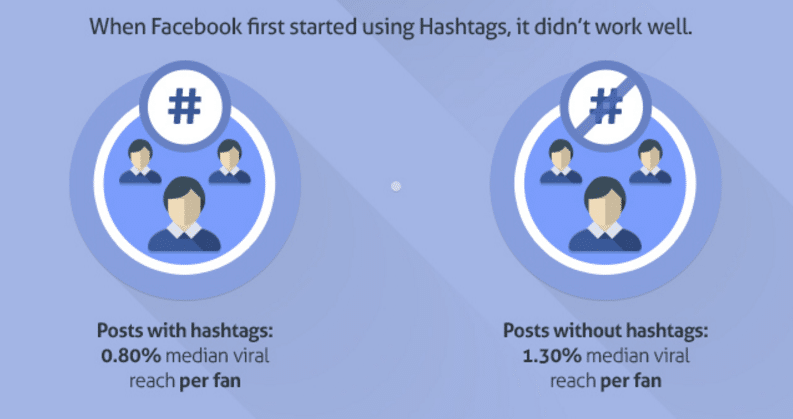 SocialBakers reported in early 2014 that fewer hashtags on Facebook resulted in more engagement: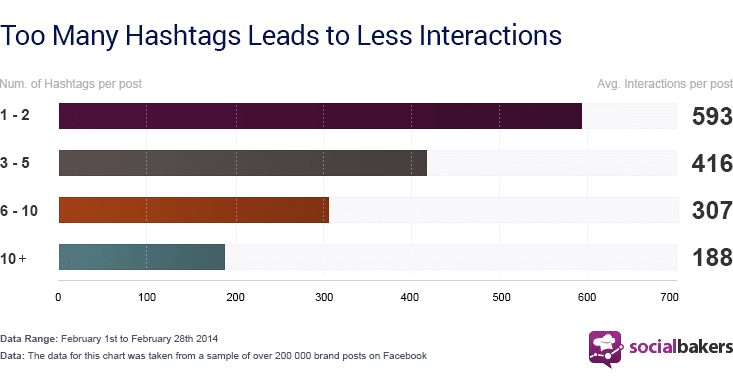 In late 2015, I asked 13 Facebook experts for their insight on using hashtags on Facebook. Here's a summary of what they advised:
Use hashtags (1 or 2 only) when they make sense and when you use something relevant that people can filter on to find more relevant conversation — Ian Cleary
You can't really go wrong by using them — Mike Gingerich
For some reason, Facebook hashtags have no significant impact so far, at least for marketers — Francisco Rosales
Hashtags can help your posts be more searchable on Facebook — Zsuzsa Kecsmar
If you're not going to use them correctly, then please stay away — Rosh Khan
Hashtags on Facebook have not caught on like they have on other social sites — Andrea Vahl
It's obvious no one really knows if hashtags should be used on Facebook.
So instead of basing our thoughts on using hashtags on opinions, let's do some testing!
Hypothesis: Facebook hashtags will NOT have a positive impact on reach or engagement.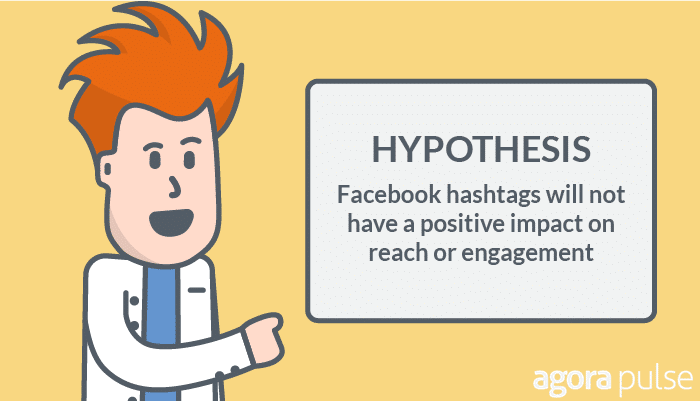 Testing Facebook Hashtags
We ran tests on three unique Facebook pages.
Space Walk of Central Texas – This was my own business page with 5161 Likes at the time of testing.
Fans of Bigfoot– This is a page I created about Bigfoot currently sitting at 4022 Likes.
Grace Bible Church – This local church page has over 790 Likes.
I posted 3 photos per day for 3 weeks (63 posts per page) alternating posts with and without hashtags.
Below are a few examples.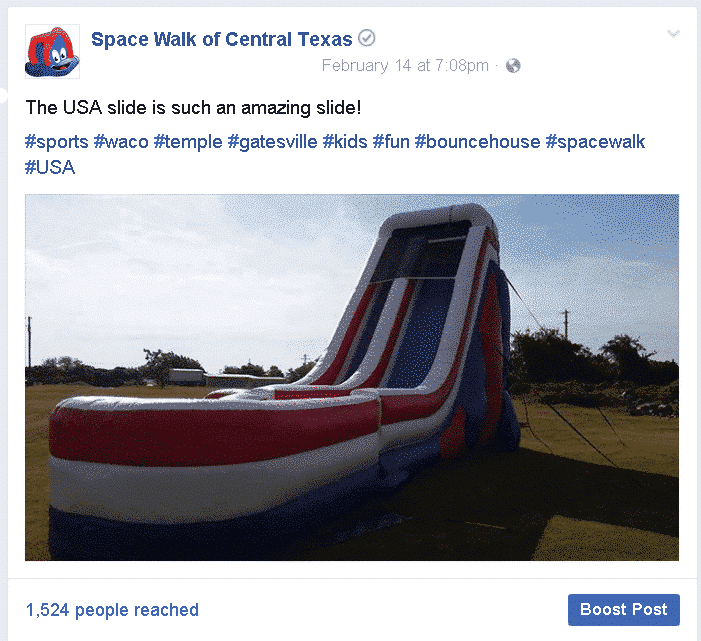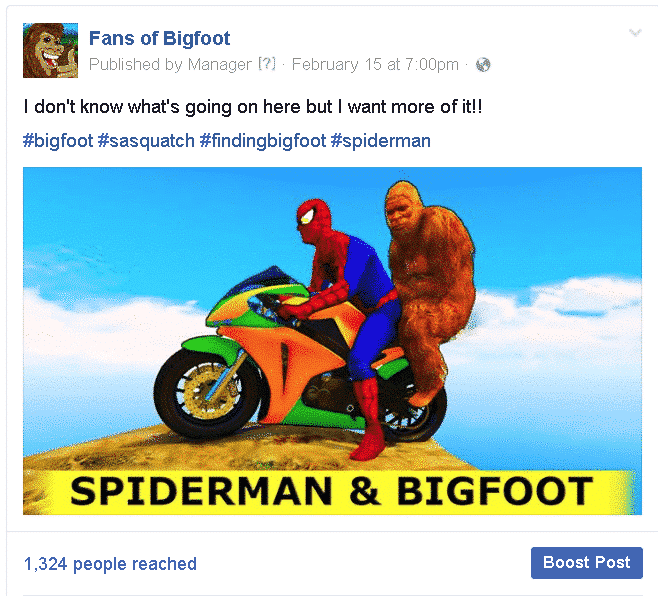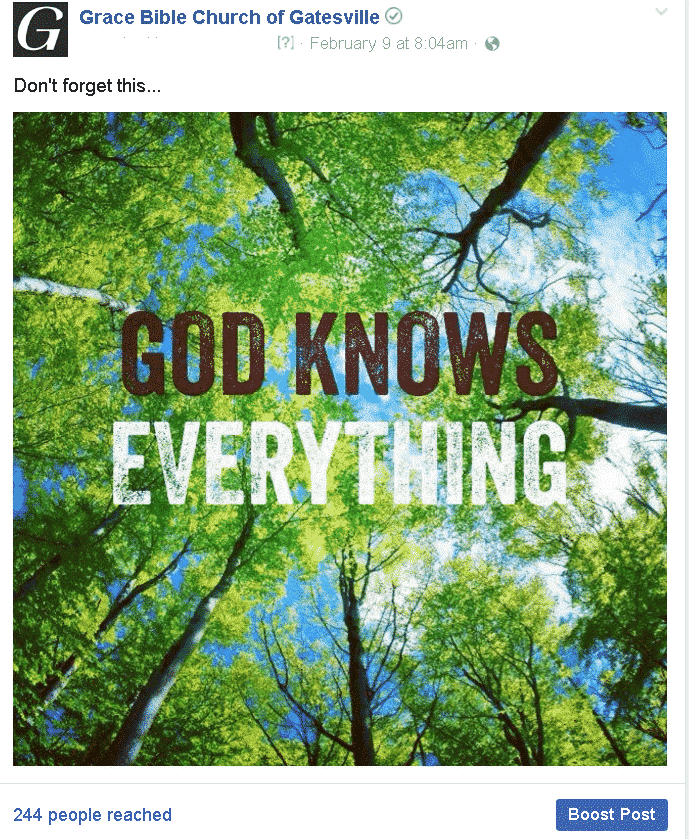 Photos were chosen as they tend to get better reach and engagement than links.
Posts with hashtags typically had 5 or fewer hashtags, with some only have 1 to see if that resulted differently. All hashtags were placed in the caption of the photo (the description).
Here's a look at most of the hashtags used:
Fans of Bigfoot was primarily #bigfoot #sasquatch #yeti #findingbigfoot
Grace Bible Church was things like #god #jesus #christian #life #bible
Space Walk I did throw in local hashtags for towns around me as well as #bouncehouse #spacewalk #usa #kids
What the Data Says Regarding Facebook Hashtags
Did Facebook posts with hashtags perform better than posts without hashtags?
After compiling the data Facebook posts with hashtags had a 4.4% higher reach than posts without a hashtag.
Not at all what I was expecting!!
Added bonus: the engagement on my posts with hashtags was 60.61% higher on average.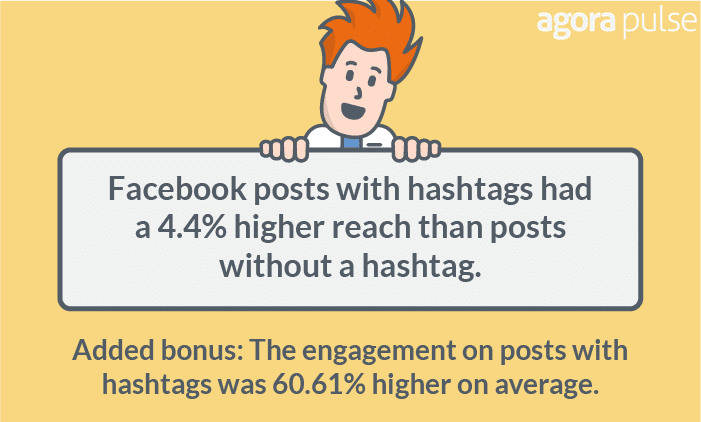 To get this data, I went to each Facebook page and then to "Insights" and chose "Posts":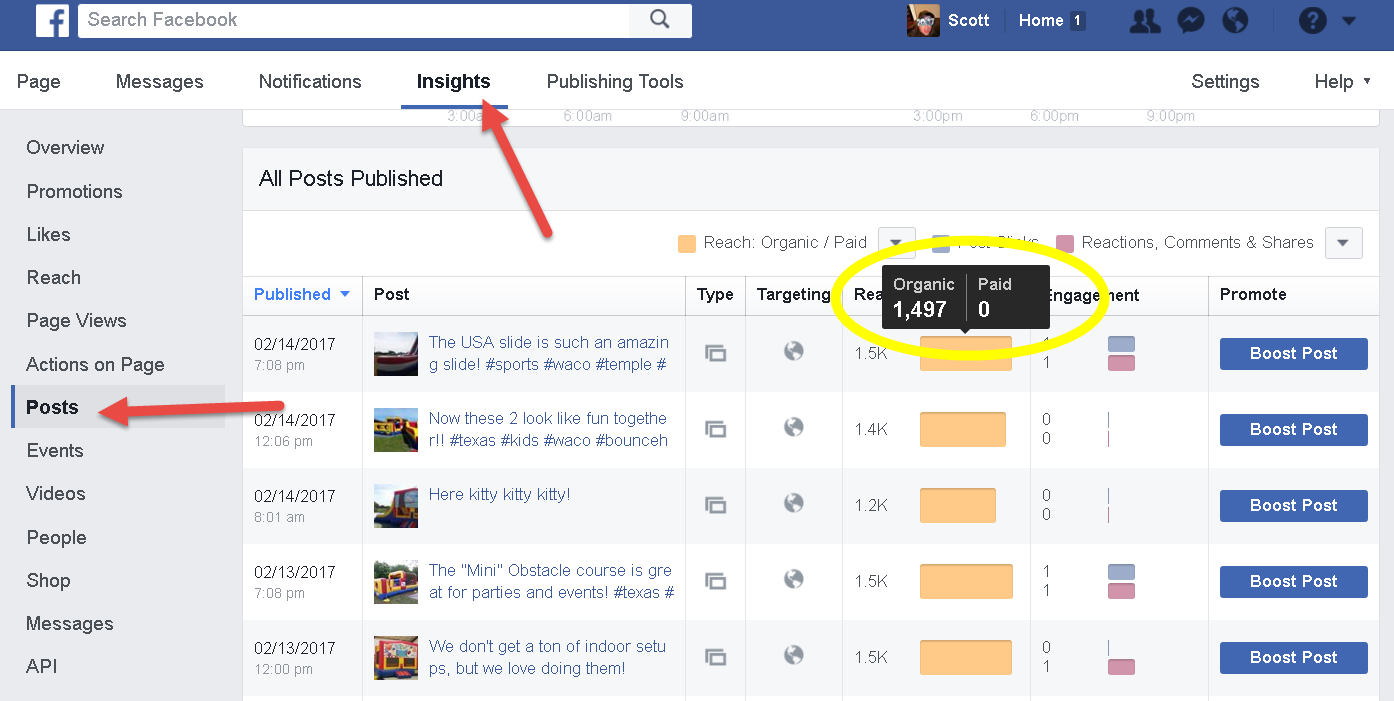 Once here I simply grabbed the reach number of each post used during the 3 week test and added to a spreadsheet.
*Do note that if you do this yourself, make sure to hover over the orange reach bar to get the actual number. (Facebook rounds up the number on the initial view.) For measurable data, I grabbed the accurate number.
Based on this data my initial hypothesis – " Facebook hashtags will not have a positive impact on reach or engagement." – was false.
Posts with hashtags did have a slightly positive impact on reach and had a commanding impact on engagement.
How to Leverage Facebook Hashtags
Now that this test showed that posts with hashtags got slightly more Reach and engagement I want to leverage that strategy and apply to my pages.
But I want to keep a few things in mind as I do this.
Keep them relevant. Don't attempt to hijack a popular hashtag as that just makes you seem spammy and doesn't work on Facebook.
Keep them short. On all of my test posts, the maximum number of hashtags I used was 5. While some were posted purely to be ironic or humorous, most were posted to be in line with the subject matter. But no more than 5. Too many and your post gets cluttered.
Don't depend on them for greater engagement. Just posting a hashtag on a post isn't going to magically get you more engagement. Continue to post great content that your audience wants to engage with.
Mix it up. Post a good mix of posts with and without hashtags so they stand out more.
Hopefully, this study and these tips help you make better decisions regarding your Facebook posting strategy.
Don't miss an experiment!
New experiments and exclusive content straight to your inbox