When it comes to B2B and B2C companies, brand engagement on LinkedIn is the holy grail. LinkedIn has over half a billion users and about half that number log in every single month.
It gets better– over 61 million users are senior level influencers and 40 million are in decision-making positions.
What's more, the network is known for being a serious spot for acquisition, retention and recruitment. If you use it right, LinkedIn can help you get in front of the right people.
But to get their interest, you need to show them what you've got.
In this article, I'm going to share 5 secrets to better brand engagement on LinkedIn so that you can get in front of the people who need to know about you.
Related Post: LinkedIn 101
Eye Popping LinkedIn Stats
Here are some numbers to keep in mind:
94%

of B2B marketers use LinkedIn as a content distribution channel, compared to Twitter at 89%, Facebook and YouTube at 77%, and Google+ at 61%.

Over half

of all social traffic to B2B sites comes from LinkedIn.

91%

of marketing executives list LinkedIn as the top place to find quality content.
We know that LinkedIn is a potential goldmine for your brand. But how do you improve your engagement?
How do you get more people to like, comment on, and share your content so you can increase your reach and get more leads?
1. Use Strong Images
I see a lot of low-res images that have been ripped from Google floating around. And guess what? They get almost zero engagement.
It should come as no surprise that the images you use in your LinkedIn posts affect engagement– 98% of posts with images receive more comments.
Not sure what type of image to create? Salt is a brand that knows how to do LinkedIn images and a great source of inspiration.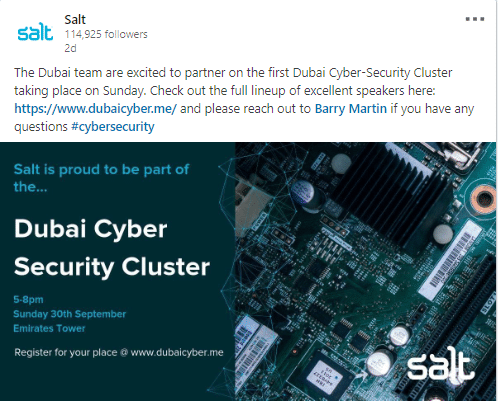 Branded? Check. Professional? Double check. Informative? Yup.
Use high-quality images that are relevant, branded, and meet LinkedIn's size requirements.
If you're struggling to find a quality image that's free and licensed, Unsplash and Pexels are good places to start. Then you can use a tool like Canva to adjust the size and add branding.
2. Publish Articles Regularly
Publishing an article as an individual can highlight you as a thought leader and in turn increase your engagement on LinkedIn.
If you're serious about increasing brand engagement, identify members of your organization who can step up and start publishing. Monitoring the engagement on your articles can give you some real insights into your target audience. For example, article stats will tell you:
The geographical areas your visitors are from

Which companies your viewers work at

The titles for viewers

How they found your article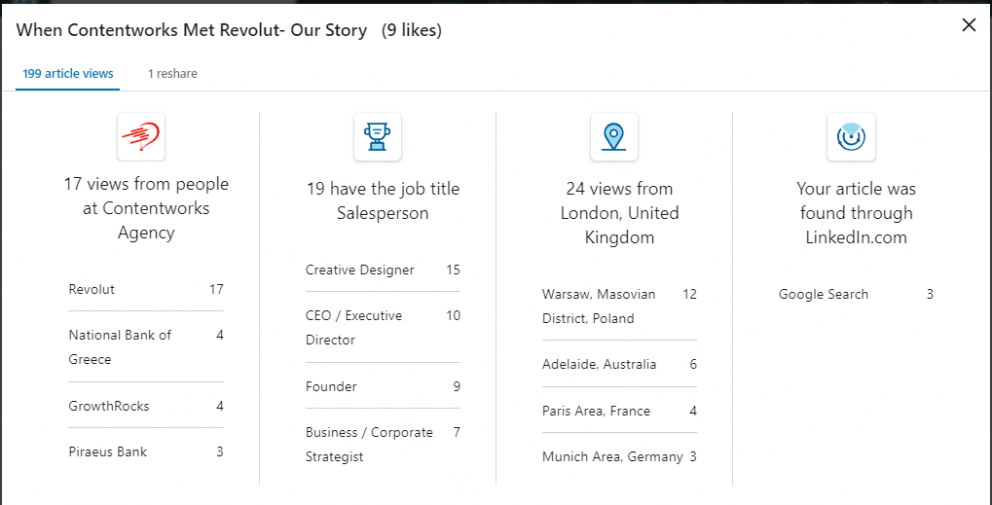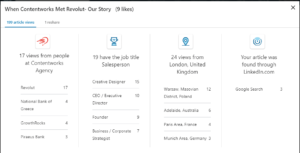 As you can see from the above screenshot, I can grab plenty of insights into the demographics of my followers.
Once you've published a few articles, you can compare engagement to see which topics are most popular.
If you're publishing articles be sure to include a link back to your brand. LinkedIn best practices say to include a clear CTA on your posts to direct the reader and keep the digital conversation going.
Guy Kawasaki, Chief Brand Evangelist at Canva is a great example of article publishing success. His articles amass a high engagement rate from within the brands' target demographic.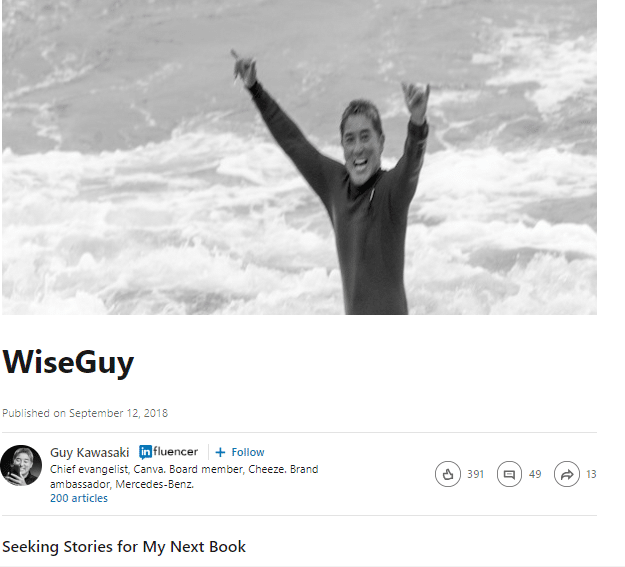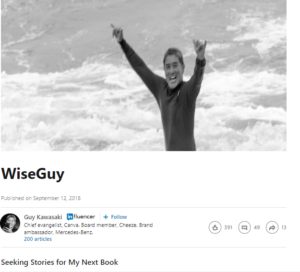 3. Encourage Employee Advocacy
LinkedIn is all about professional networking, recruitment and employee stories. So why aren't you publishing any?
If your brand is busy promoting its products and services and ignoring employees, you may be missing out on vital engagement. I've been talking about employee advocacy for years and in today's competitive arena, it's more important than ever.
LinkedIn posts by my agency Contentworks that feature employees or employee stories have always generated high engagement rates.
You can see that the post below generated an engagement rate of 8.45% which is deemed excellent by social media standards.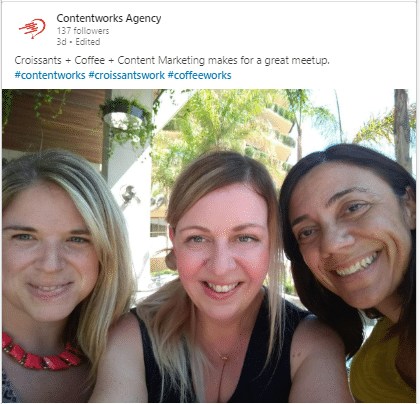 Does that mean you should be sharing cat pics and morning selfies? Nope. Your employee posts still need to be on brand but they can showcase your work culture. Here are some posts you could consider to maximize engagement on LinkedIn:
Team interviews

Employee awards or achievements

Charity events attended by your team

Work parties or training sessions
I'm a big fan of Amdocs on LinkedIn. Their employee centric posts show a work culture that's diverse, fair and enjoyable. Their posts make me want to engage with them, work with them, and do business with them.
4. Add Video to Your Content Mix
Since LinkedIn was born in 2002, it has been viewed as the go-to channel for business professionals. However, the channel was criticized by social media managers for being late to the party with video. After all, Facebook Live, YouTube, and Twitter/Periscope videos were already rocking the engagement stats.
Finally LinkedIn has caught up with its competitors. Now brands can connect with followers via engaging videos. Here are some of the ways you can use video through your company page:
Invite your followers into your office for a tour

Demo your latest product

Film your company party or awards ceremony

Share words of wisdom from your team

Introduce new team members
LinkedIn video is gaining in popularity amongst marketers and it all boils down to engagement– 38% of marketers have published video content on LinkedIn. Of those, three quarters believe it's an effective strategy.
Buyers love it too– 84% of buyers reported that they had been convinced to buy after watching a brand's video.
Video ranks highly in LinkedIn's algorithm. This is important because it means that your video content is more likely to reach the top of a person's feed. That means better engagement with the right people.
Plus, the right video is easily viewed and shared, bolstering your engagement and fan count. One point to note, as many LinkedIn users browse the network from within the office, they may not open videos and turn on the sound.
That means that videos which contain annotated text are more likely to get your message across.
I love the LinkedIn videos pumping out from LADBible right now. With their relevant topics, well produced videos and short descriptions, the brand is rocking video engagement on LinkedIn.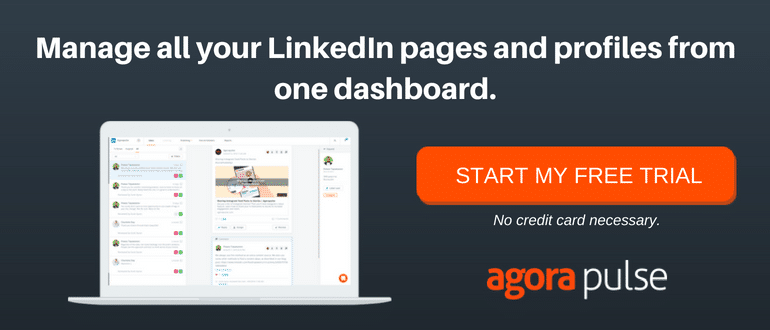 5. Get Your Timing Right
One of the reasons for poor engagement on LinkedIn is simply that your target audience are not seeing your posts. Because they're not there.
LinkedIn is a business site and it's one of the only social media networks employees are permitted to use during the working day. Business networking differs from more general social networking– most of its users tune in between Monday and Friday and switch off at weekends.
The stats show that within the Monday-Friday time frame, the best days for high engagement are Tuesday, Wednesday and Thursday. Probably because Monday is a busy setup day and Friday is a wind down day.
Here's' what the stats show:
Highest

clicks and shares: Tuesdays, 11 AM-12 PM.

Lowest Engagement

: Sleeping hours (10 PM-6 AM)

Best Time

to post: 10-12 AM; 5-6 PM.

Peak time of use:

12 PM; 5-6 PM.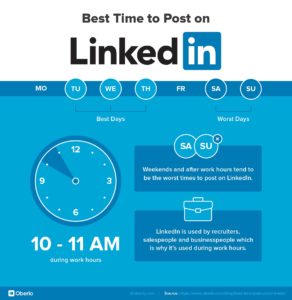 Target your posts to your user's time zone and not to yours. If you're based in the USA but you want to reach Europeans the posts need to go out during their peak hours. Agorapulse lets you schedule updates on all your channels which go live when you want them to. Even while you're sleeping!
Mega tech brand NEC ensures that its LinkedIn updates appear in user feeds at the right times. It also maintains a series of brand pages tailored to different regions. If you're a large corporation or need to publish in different languages and time zones, this is the way forward.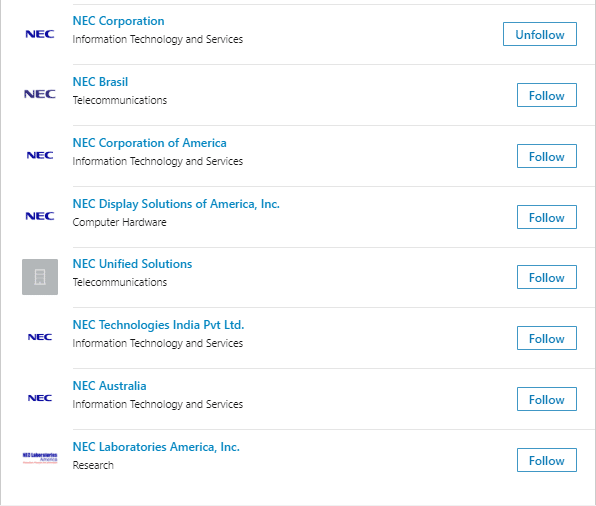 LinkedIn Post Ideas
There are so many ways to get engagement on your LinkedIn posts, but they all start from having a great post idea. Here are some of my favorites:
Thought leadership articles from your own executives
Company news and updates linking to your blog
Job postings within your organization
Short HR tips on work culture and employee satisfaction
Team interviews, stories, and photos
Videos from your latest product launch or event
Awards, recognitions, and accomplishments
Charitable contributions (CSR)
* * *
Sign up now for a FREE demo.