At Agorapulse, we offer you user-friendly, innovative solutions for your Facebook marketing strategy. (And who doesn't need that?)
If you need a refresher, let me chat about the publishing, engagement, and reporting features we offer our awesome customers.
PUBLISHING
We want publishing to multiple Facebook pages to work with the way you manage your accounts. So we let you publish posts:
immediately
at a designated time of your choosing
in a queue of other posts waiting to be published
All this fancy scheduling can be done from a variety of places, like:
Again — whatever works best for the way you work.
What's REALLY special about our publisher is the way you can send to multiple Facebook pages (and multiple social channels!) and have each message customized for each audience. Check this out.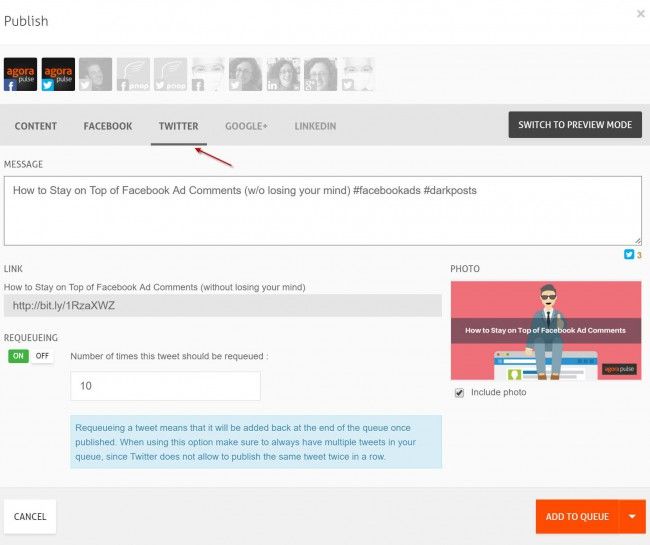 See how I've created a tweet on that "other social channel" and added hashtags? Sure. Looks like a tweet. But it will look messy as a Facebook post.
So I click "Facebook" on my Agorapulse publisher and am given the ability to remove the hashtags, edit to my heart's content, and send, schedule, or queue the post to the Facebook page (or pages) I desire.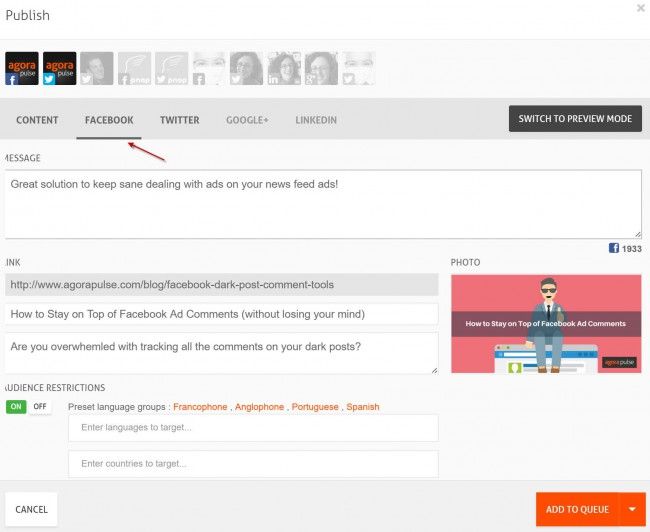 In a nutshell, this feature gets you to cut corners and time without your audience knowing you cut corners. Cool, huh?
ENGAGEMENT
We all know that you can't be very "social" on a social media channel like Facebook if all you do is publish. So we've developed some handy features to help you capture and respond to all the great conversations that are happening both on and off your Facebook pages.
Our Inbox allows you to capture and filter all the comments, messages, and posts to pages you receive. That alone is super helpful, but we don't stop with helping there.
In our Inbox, you can set up rules for key phrases so that unnecessary comments with those words can be
assigned to a teammate who's most equipped to respond
tagged with a category of your choosing
hidden
or removed
AND these comments won't end up in your Inbox. With a cleaner Inbox, you can more easily focus on responding to the comments that will be most meaningful for your business.
If you're not into setting rules — some people are rebels like that — you can easily flag, remove, or assign comments or messages on a one-by-one basis. A click on your desktop or a tap on your mobile device and the comment is out of mind.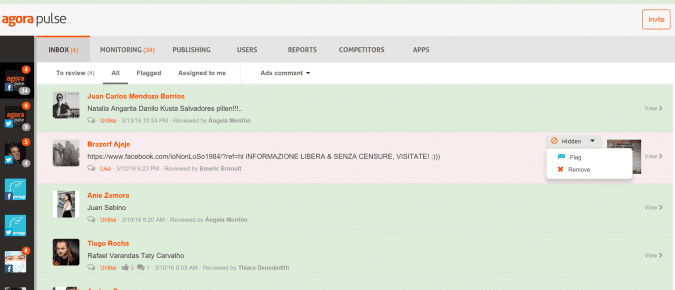 Add your team members to your page's Agorapulse account and sent appropriate messages to them. (If I may brag here, we offer sweet pricing for teams that doesn't do that per-head nitpicking.)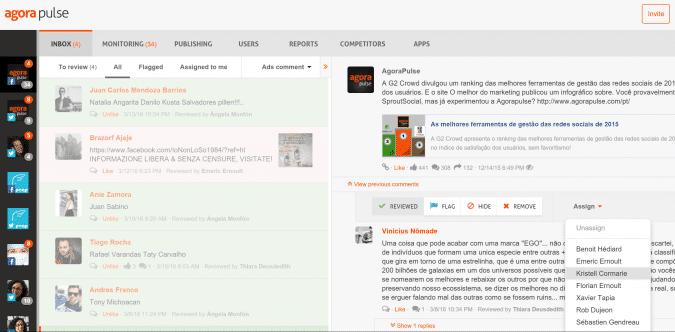 Other comments that we help you with are those that come from any newsfeed ads you might run. Some call them dark posts — others name them unpublished posts. Whatever moniker you give them, you know that finding those comments can be a real pain.
Our solution allows you to filter the ad comments in your Inbox. You can then respond to, hide, or assign these as you see fit.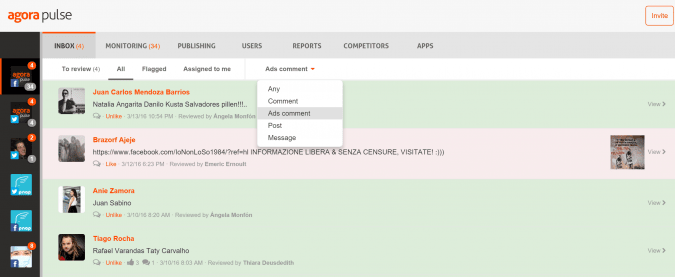 If you run multiple news feed ads at once, you KNOW this will save you a ton of time. And no other solution does it the way we do.
While responding to comments is important for social media success, getting to know the people on the other side of these conversations is even more vital for building relationships. Our "users" tab shows you those who have interacted the most with and have spread the word about your awesome brand (or client).
You're also able to categorize members of your Facebook community according to the needs of your page and its overall Facebook marketing strategy. You'll see from the "team" tag on the right of the screenshot below that these are folks who are on our Agorapulse team. (The comments, megaphone, and heart icons indicate that these Facebook users are also pretty good advocates of our business page posts. That's teamwork for ya.)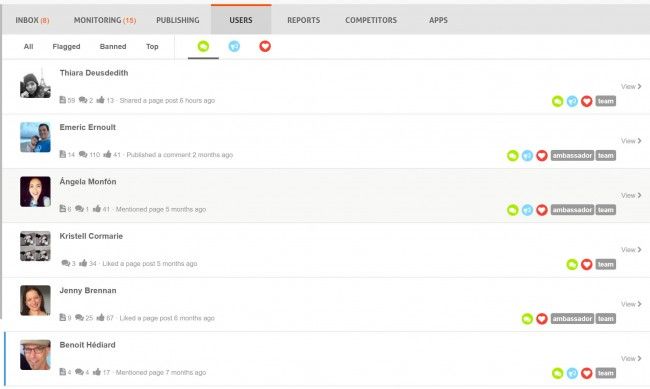 REPORTING
Our Facebook analytics reports give you incredible, actionable data and insights to better fuel what you do on your Facebook page. You have the ability to view these unique community management metrics on the Web or in a downloadable, customizable PowerPoint document. (Agencies love the way they can share these reports with clients to clearly show the success their fan pages have had over a period of time.)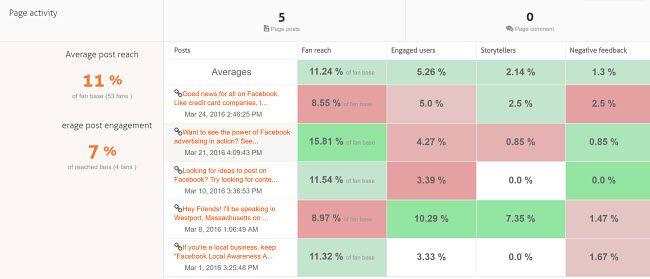 As you can see, from publishing to monitoring to reporting, we've natively optimized our tool for Facebook.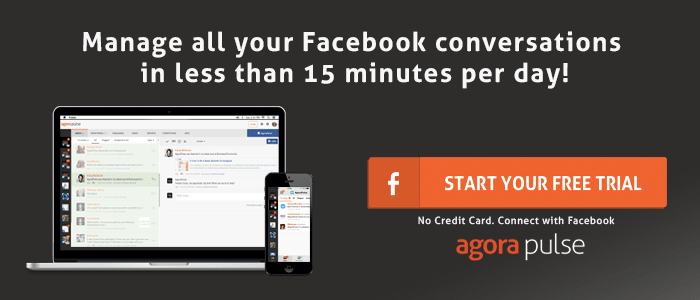 Sign up for a free trial today.