Iconosquare has come a long way from its humble beginnings as a free Instagram analytics tool. It now supports both Instagram and Facebook.
It also supports some scheduling and management of your Facebook and Instagram profiles.
However, with more functionality also comes a heftier price tag. Its smallest plan starts at $29/month and limits you to only three social profiles and two team members. That's pretty limited for most social media managers and even small-business owners.
More than a handful of users are now seeking Iconosquare alternatives to better manage their Instagram accounts. If you're one of those marketers shopping around, check out the following four alternatives that we think are worth considering.
Each alternative has different strengths depending on which features of Iconosquare are most important to you and your budget.
We will cover the pros and cons, as well as give you the scoop on how much each tool costs. (Need help selling your boss on paying for a great social media tool? Read this!)
Related post: Instagram 101
Agorapulse is a full-featured social media dashboard. It includes a streamlined Social Inbox for multiple Instagram accounts, making it super-easy to respond to fans and followers, and is packed with powerful analytics features.
You can manage all your Instagram accounts in one place, and the tool also supports Facebook (both business pages and groups), LinkedIn, and YouTube channels. You will be able to monitor your social media, create reports, and schedule content.
Monitoring is powerful yet user-friendly. It allows you to see all your comments and messages from Instagram in one easy dashboard.
Not only can you reply directly in Agorapulse, but you can also use features like saved replies and team functions to make management even easier.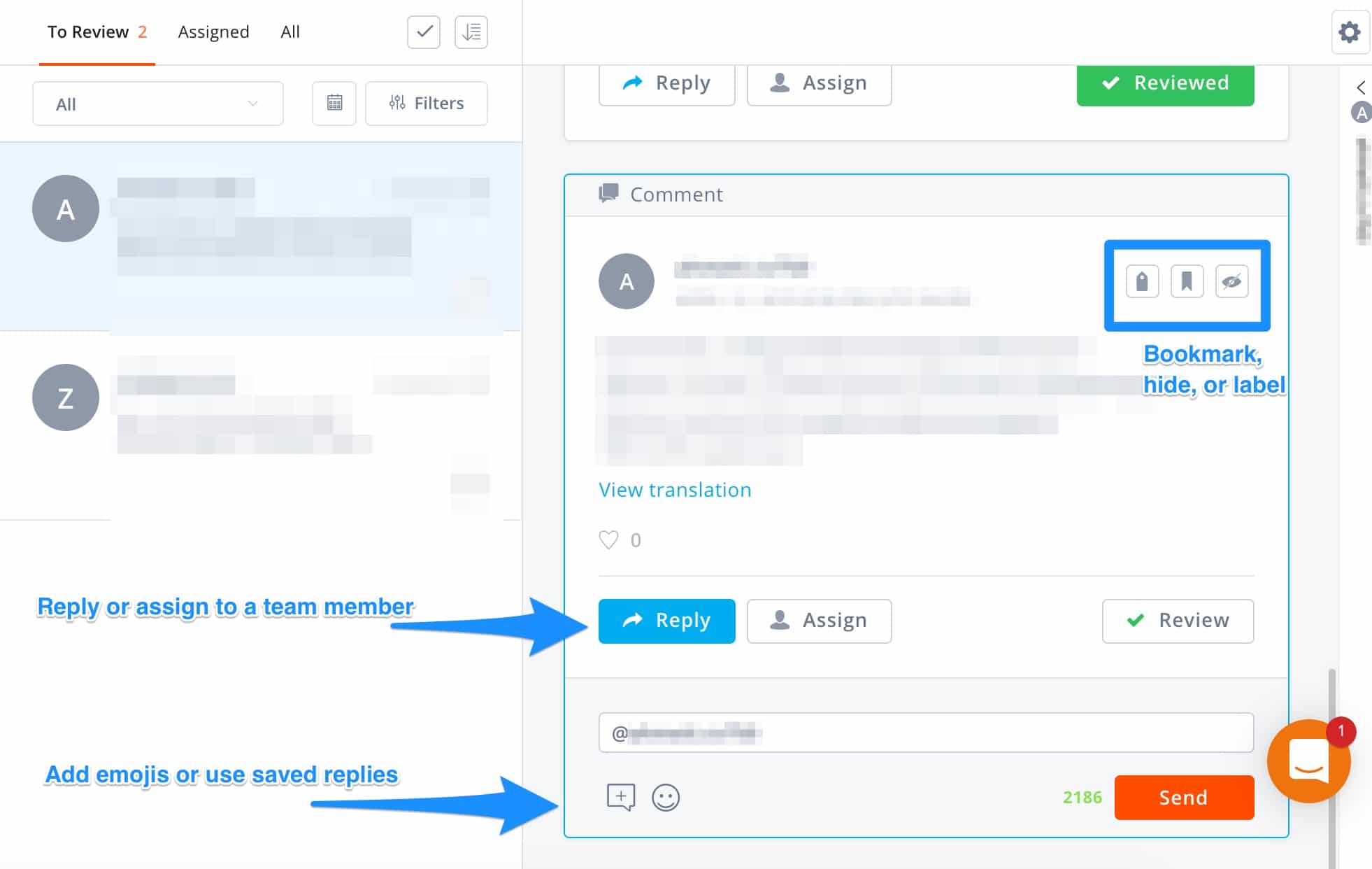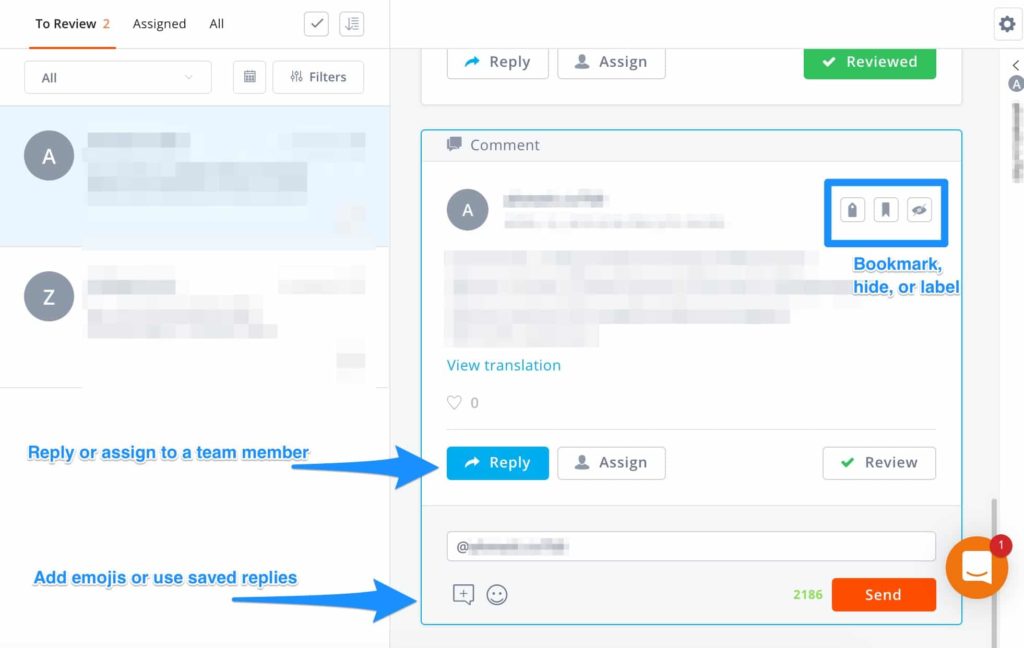 Another feature is the ability to monitor conversations happening on Instagram and join in. You can base these around any hashtag or keyword.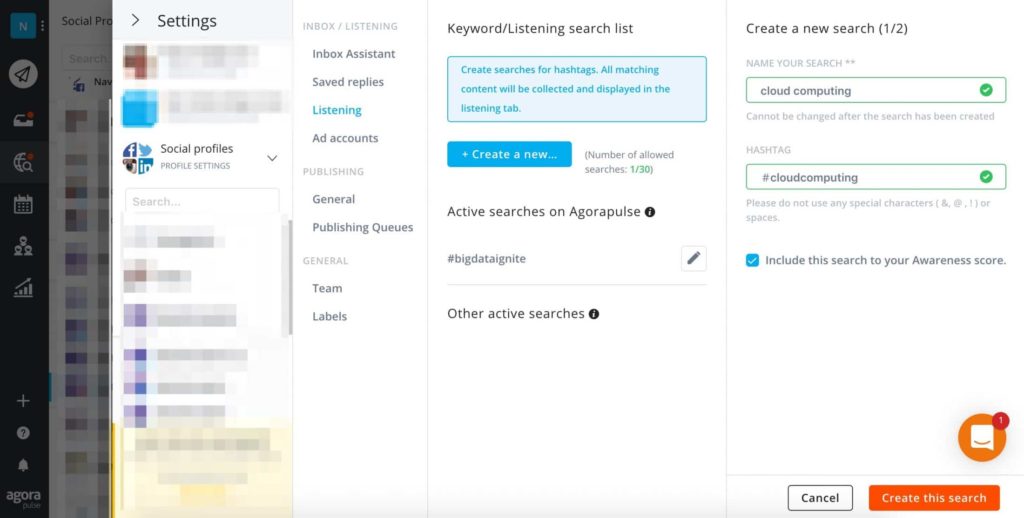 The benefit of this listening can help you build your following and your engagement. It takes the whole process of finding relevant conversations and simplifies it to save you hours each week.
Another time-saving feature is the automation rules. This will help you streamline your inbox for you and your team.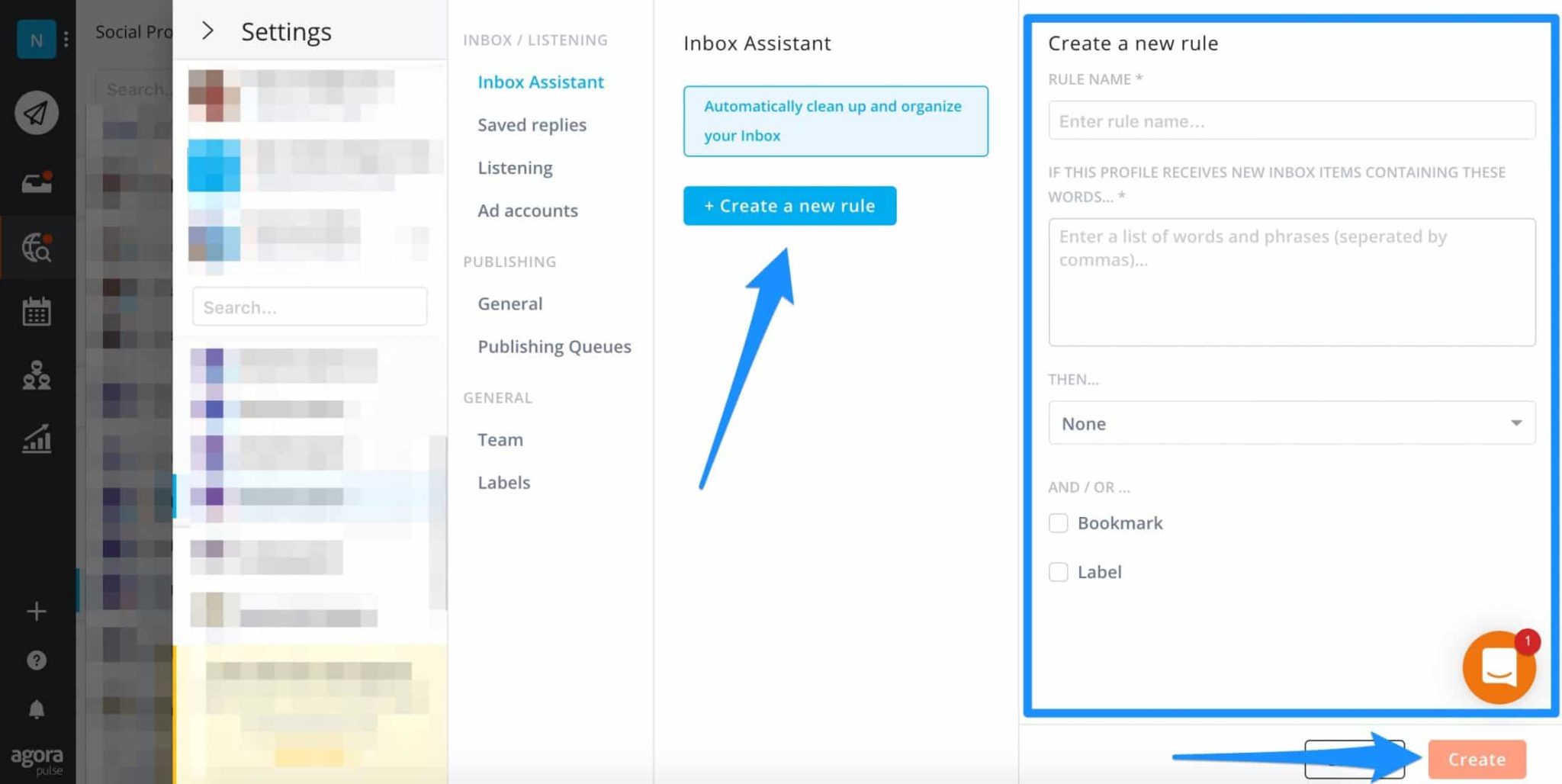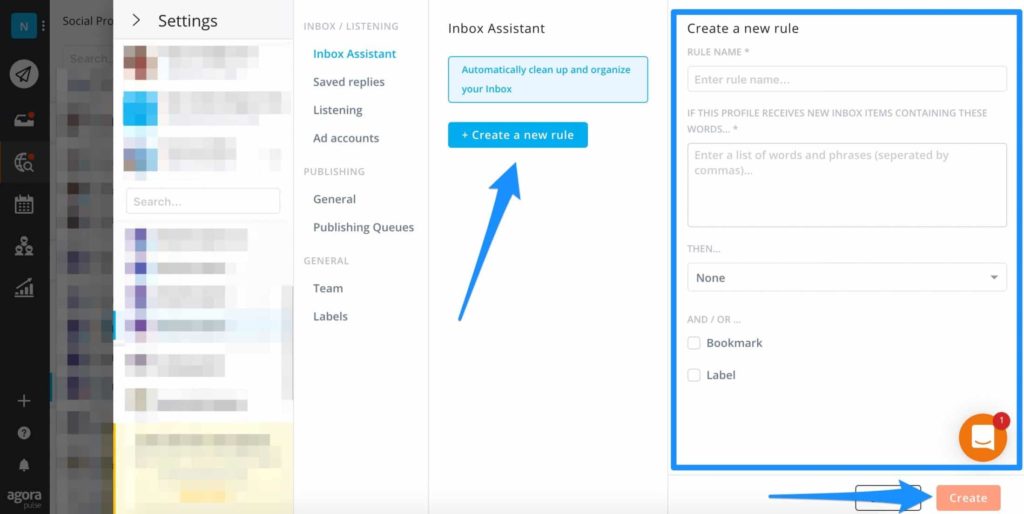 Agorapulse's stats for Instagram also create attractive, client-friendly reports quickly.
You'll have data about your Instagram audience growth: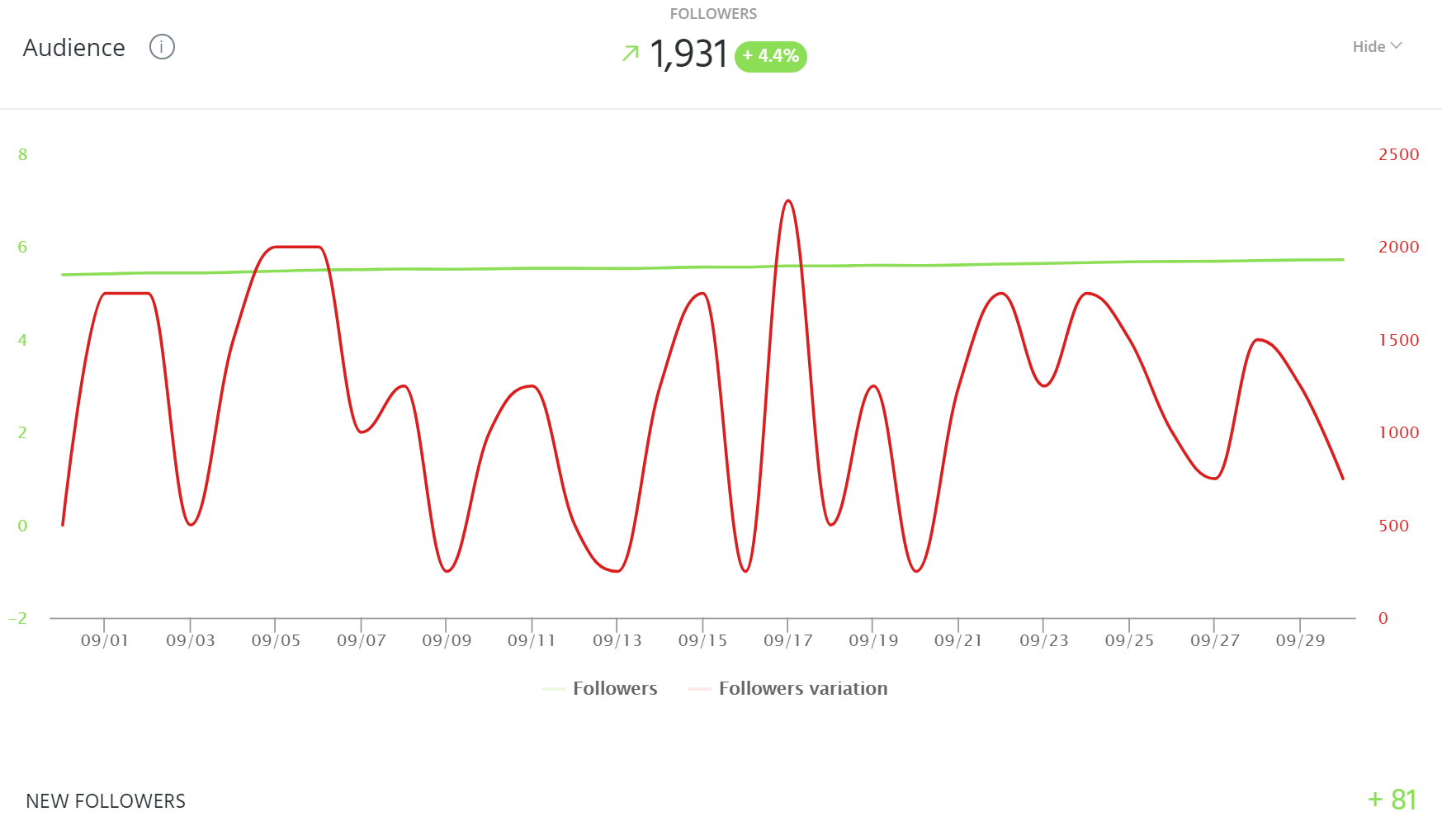 Your daily impressions: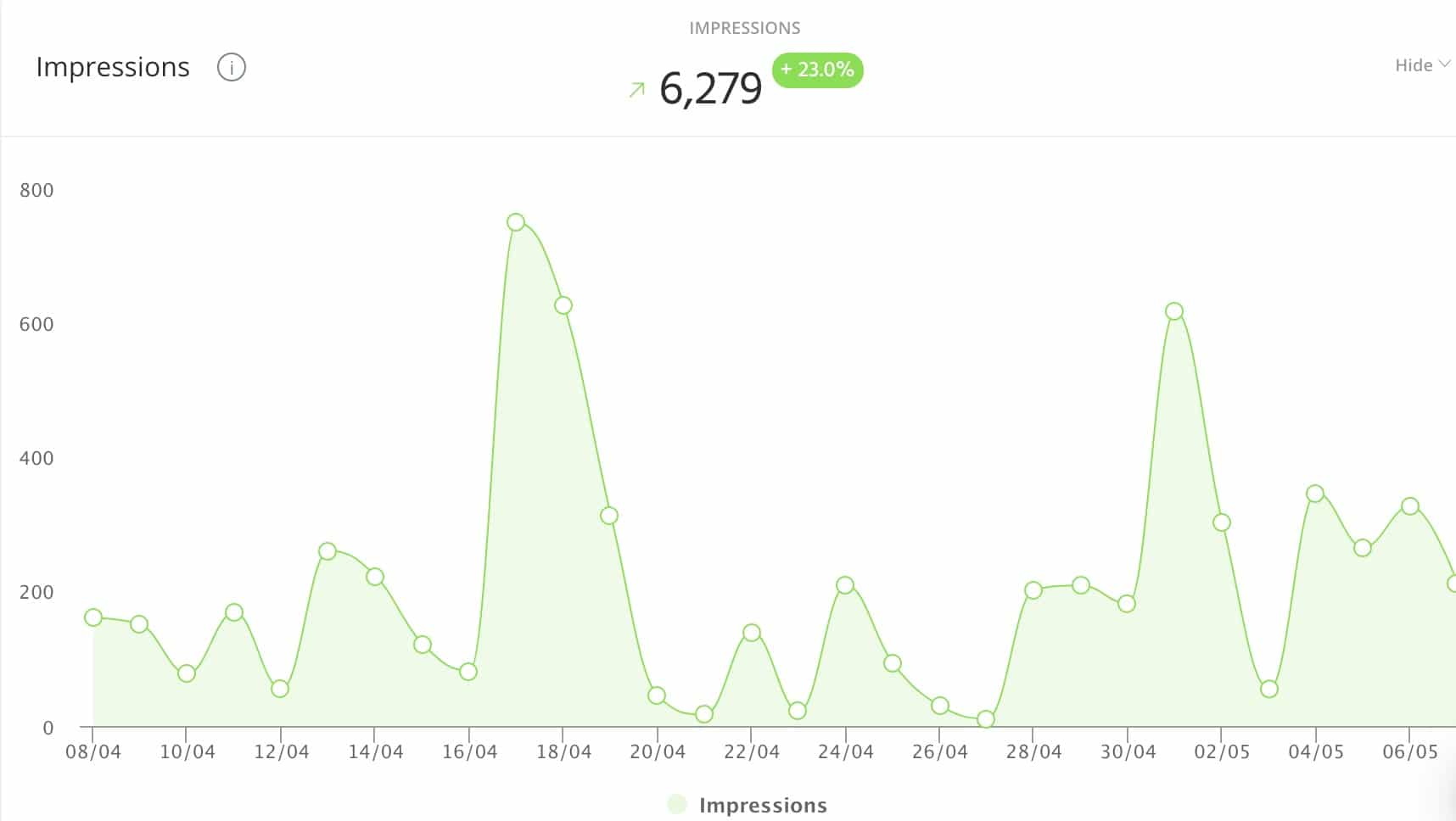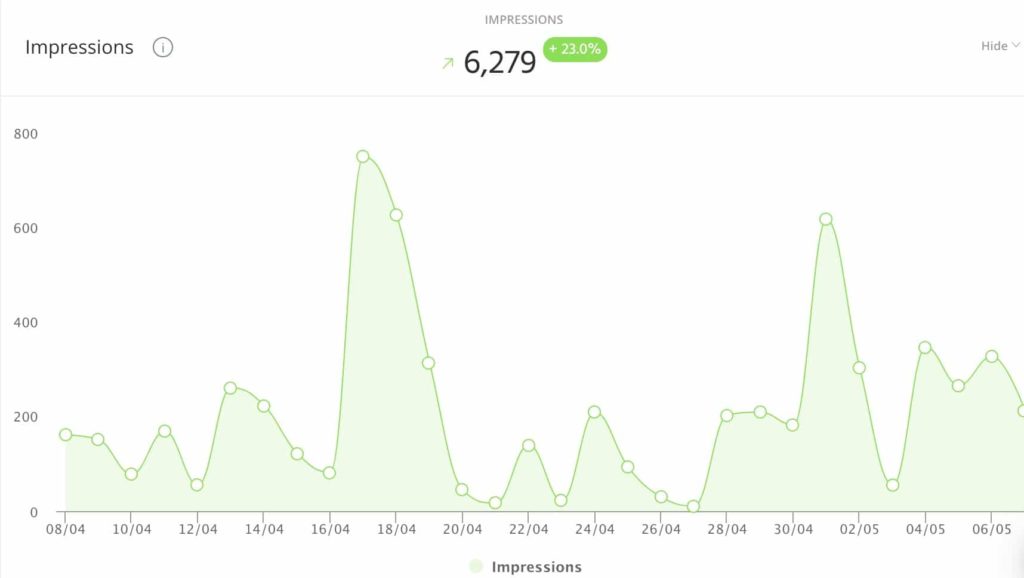 Your total engagement: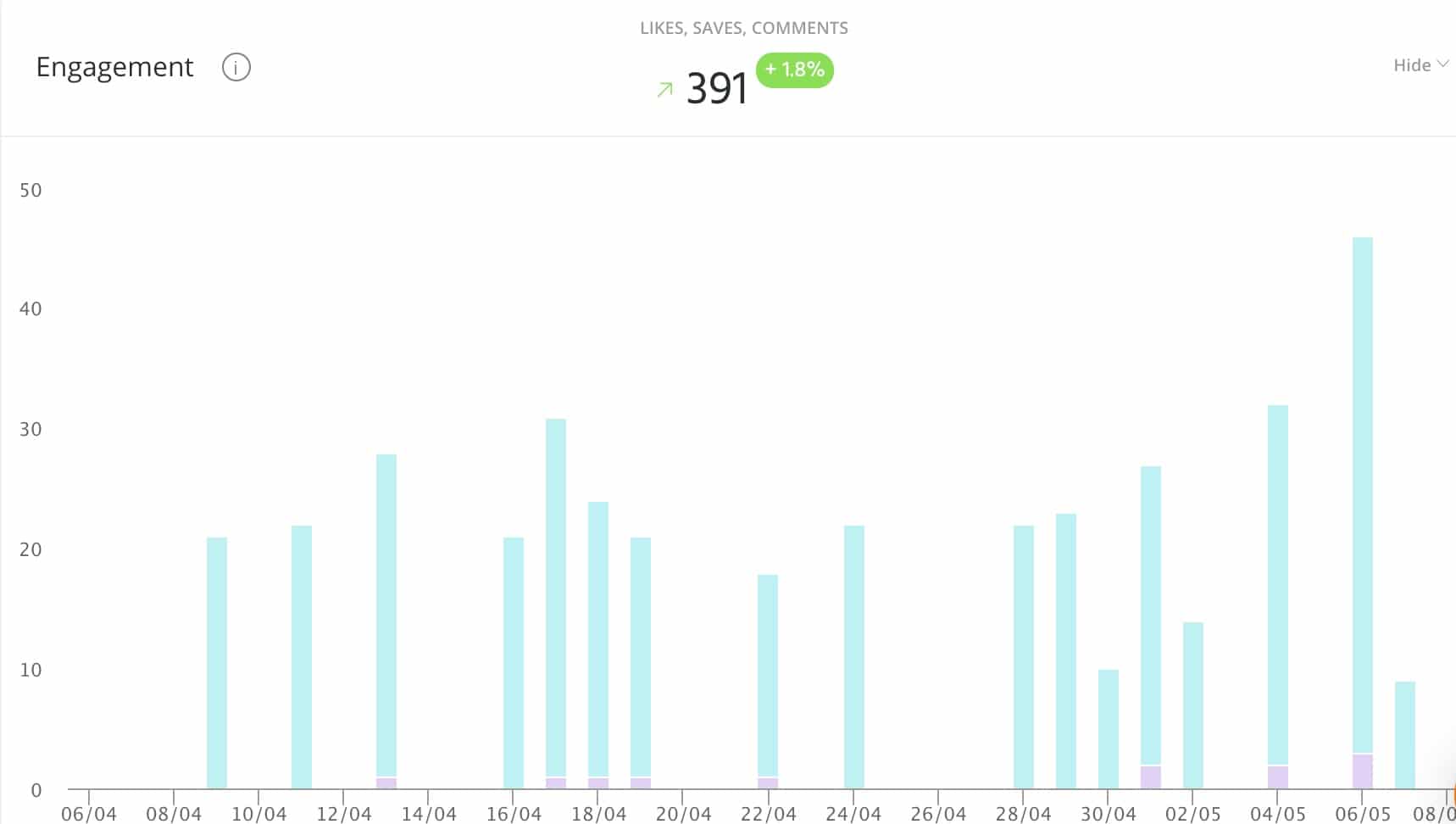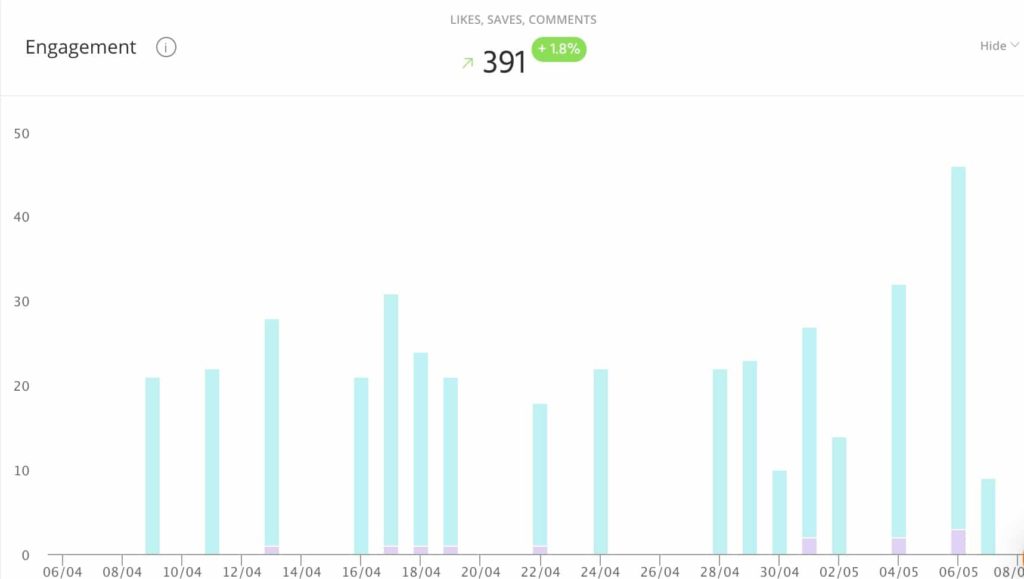 And many other stats such as your:
A convenient calendar view will finally allow you to see all your published photos by day and time.
Speaking of publishing, you can now publish posts to Instagram directly from Agorapulse—so long as you have a business profile set up!
You will need to have a business profile to use any third-party tool with Instagram. And don't worry if you need to make the transition, it is super-simple.
Pros
Cons
Not for those who want a free lunch—Agorapulse is a powerful tool and is an investment!
Price point
Agorapulse starts at $79 per month when you pay annually ($99/month for a month to month plan.) This includes 10 social profiles, which can be divided among Instagram, Facebook, Twitter, LinkedIn, and YouTube.
You also get three users, unlimited posting and reporting, and up to 300 active ads per profile.
Are you an agency and need more? You can easily scale up from there.
Agorapulse gives users a two-week free trial to give these Instagram marketing features a good whirl.
Love Hootsuite or hate it, it's an affordable tool and it can do a lot of things on many social networks. Like with Agorapulse, you can use it to schedule and manage Instagram, Facebook, LinkedIn, YouTube, and Twitter.
You can also schedule and publish to Pinterest. If budget is your primary concern, and you don't need a lot of functionality, this tool might be one to look at. For most users of Iconosquare though, the analytics are really important. That is something that you won't find at the basic levels of Hootsuite.
Though you can create content for all those platforms, the management is much more limited on Hootsuite. You will also have to recreate and modify the same post for each platform, rather than being able to make updates in a single post function.
It only offers limited management your Instagram feed and the comments on your photos and tags. Another downside is that you won't get access to most analytics features unless you are at the very top paid plans.
This is how your Instagram feed will look: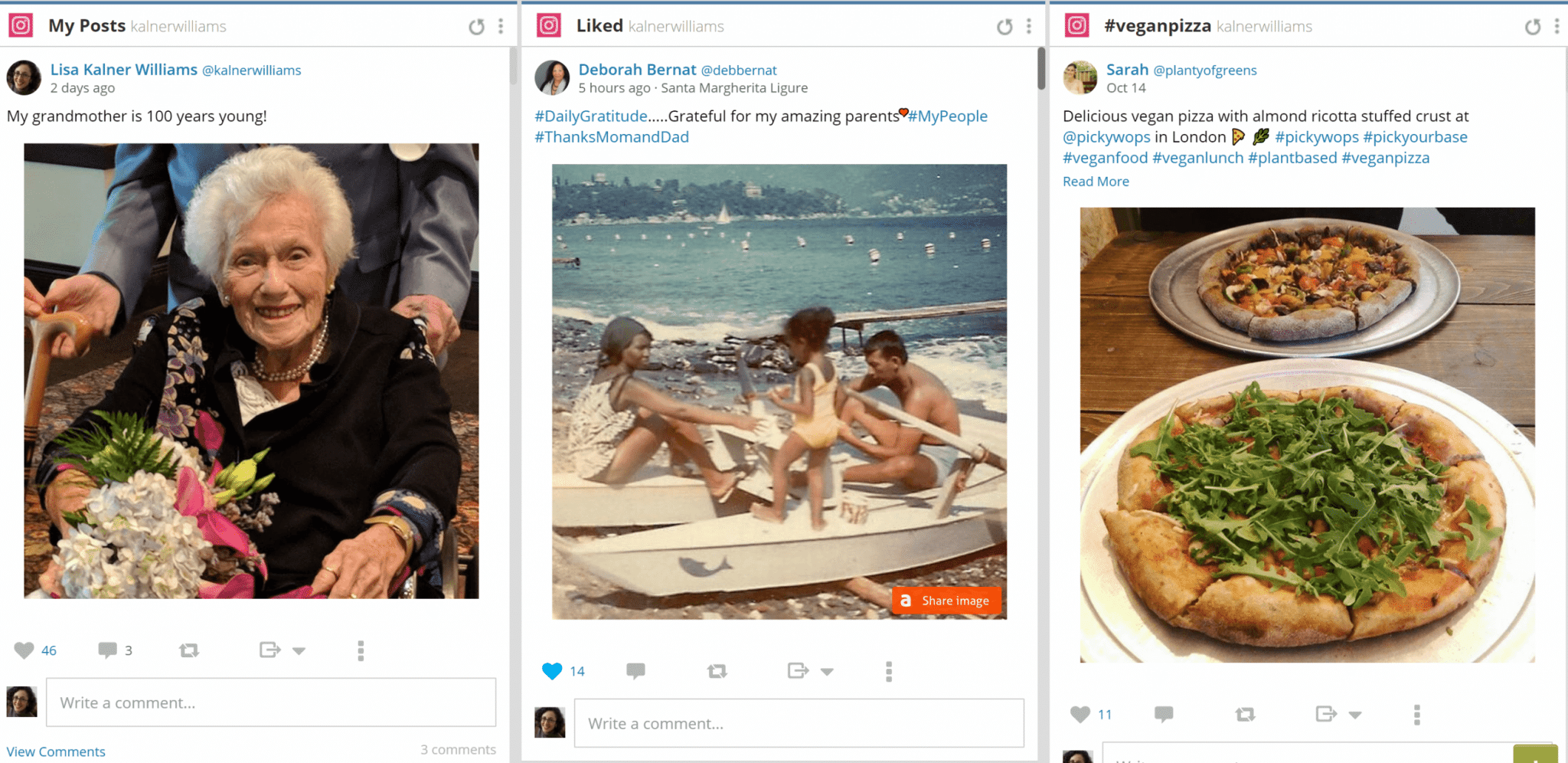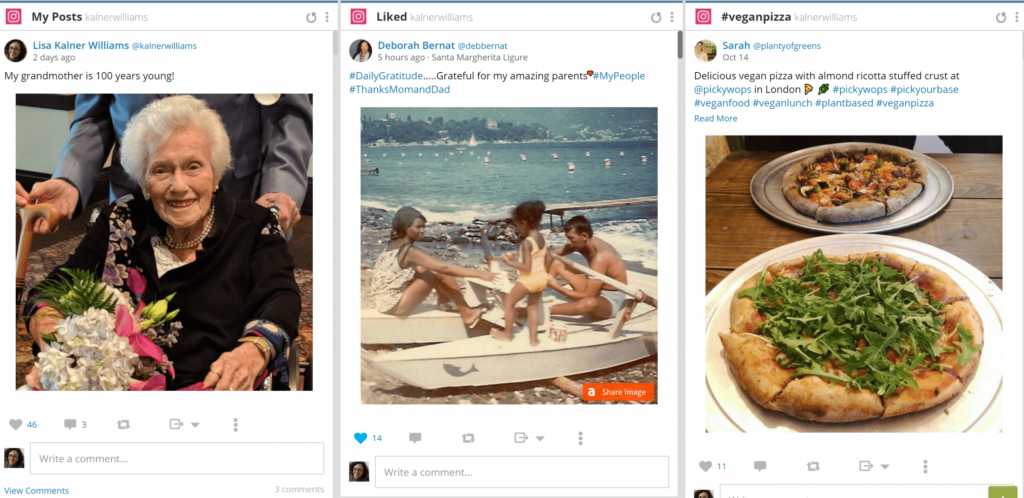 You can also add paid apps (like Streamview for Instagram and TrendSpottr for Instagram) to extend your Instagram monitoring features: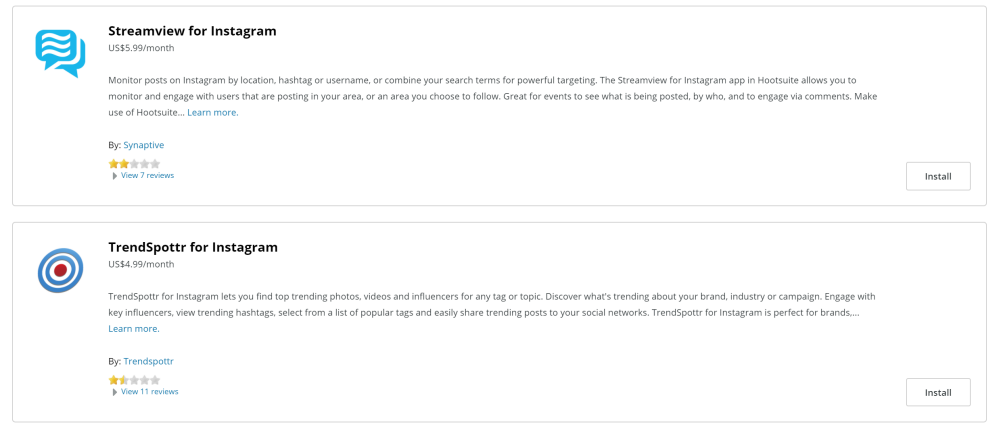 (As of May 2016, Iconosquare is no longer available as a paid app integration.)
Pros
Manage multiple Instagram accounts
You can add paid apps for additional features (such as trending hashtags with Trendspottr). Learn more in this blog post.
Monitoring (hashtags, location check-ins, tags)
Post to Instagram (business profiles only)
Everything else that Hootsuite has to offer
Cons
The interface is a bit clunky. Certainly not as user-friendly as what Iconosquare has to offer.
Must pay for the Team account to download reports
No moderation rules for key phrases
Hard to capture comments in Instagram ad comments
More difficult to schedule similar content to multiple accounts
Price point
The paid plan starts at $29/month, but this is limited to only one user and 10 social media profiles. You also won't get access to custom reporting or any team features. To add up to three users, and basic reporting you will need to go up to $129/month. Both of these price options are when you pay annually.
If you need more advanced features, you'll want its enterprise plan that runs around $1,500 per month. Learn more about Hootsuite's downsides in this great blog post.
3. Sprout Social (previously Simply Measured)
Sprout Social is a comprehensive analytics platform. It provides reports on your favorite major social networks, including Instagram, even Instagram Stories. You can also set up listening, schedule content, and create reports. At the highest-paid levels, you also have some automation available. It is a robust tool that will work for many businesses. But it is also one of the more expensive options available.


Pros
Its paid social media plans offer a wealth of data on most major social media channels. If you need to capture a particular data point, you'll most likely be able to find it in one of their paid reports.
You can schedule content and manage multiple accounts.
Team features and automation are available at higher levels.
Cons
This tool comes with a steep price point even at the smallest level plan.
You will pay per user per month; there is no option to add team members to a single plan for a lower price.
The interface is sleek but can be hard to navigate sometimes. A bit too "advanced" for some.
Price point
Paid plans begin at $99/user per month. If you are working as a team on social media, this means this tool can become expensive quickly. You also only get 5 social media profiles at this price.
Many of the features are not available until you reach the Advanced pricing, which is $249/user per month.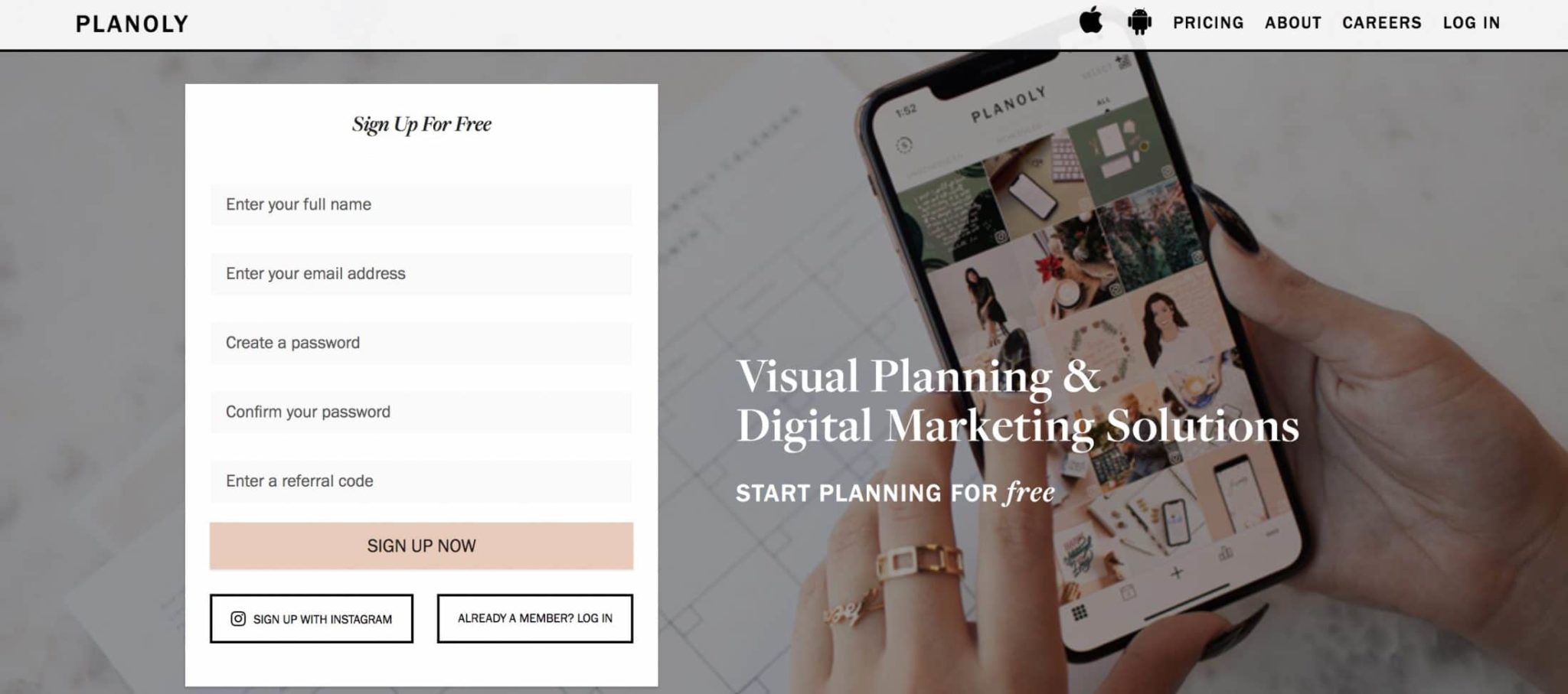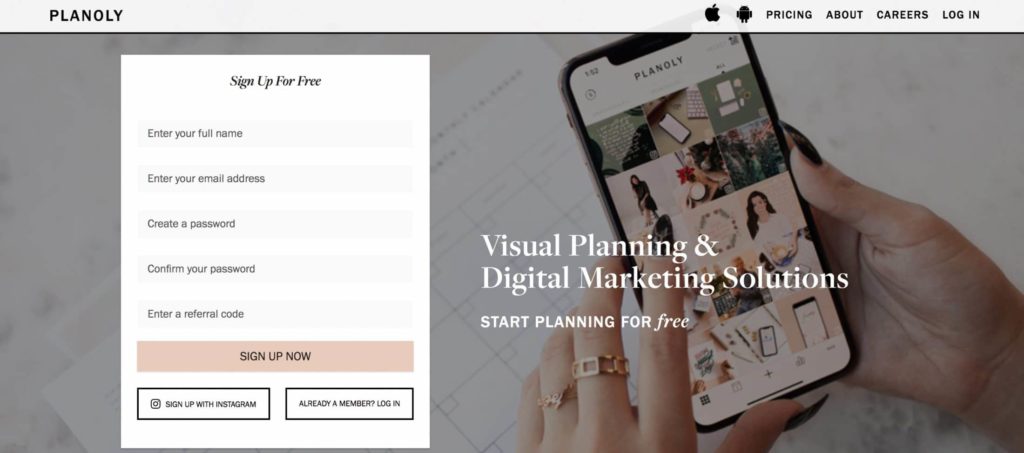 If you are looking for something that is only for Instagram, you might want to consider Planoly. This tool allows you to create, upload, and schedule content, manage your content grid, and even upload stories and GIFs at a high enough plan option.
Pros
View a mock mobile view that allows you to see your grid at a glance
Add on Shoplink for an additional fee and be able to directly link to your store from your posts
Easy to get started with a simple free plan if you are just getting started
Cons
The management and analytics features are limited.
A free plan will only allow you to upload 30 images per month.
It only does Instagram. If you want a more fully featured social media tool, you will have to go elsewhere.
Price point
Paid accounts start at $7 per month if billed annually (or $9 per month if you pay month to month). This includes one user, unlimited uploads, and the ability to manage comments on only your last 15 posts.
If you want more team members or access to your full management history, you will need to go up to as much as $199 a month paying monthly. If you want to add on the Shoplink option to any of your plans, that costs an additional $50 per month.
* * *
Finding an Iconosquare alternative should be a bit easier now that you know where to start!
* * *
Sign up now for a FREE demo.