Whether you're shopping for your first social media management tool or you're ready to upgrade an underperforming tool, you need to make sure that your preferred social media dashboard has these nine essential features. When you want to provide efficient, effective social media management, using native tools for Facebook, Twitter, and other platforms just isn't enough. After all, jumping from platform to platform to post content, engage with followers, and check analytics isn't ideal for your productivity.
Instead, social media dashboards are a must for saving time, collaborating with teams, and tracking results. But with so many social media management tools on the market, how do you choose the best app for your company or agency? Discover the must-have features for your social media dashboard and learn how to make this type of tool work for your team.
Social Media Dashboards Basics
A social media management tool is a digital app that handles all your social media marketing and social media management needs in one convenient place: the social media dashboard.
It's designed to streamline your workflow and boost your productivity, whether you manage social media for a brand or an agency.
What social media management solutions can do
Dashboards can manage tasks like:
Scheduling: When you plan posts in advance, you can devote more energy to mapping out high-performing campaigns and strategies.
Engagement: If you manage all social media comments and messages in one place, you can save time and improve consistency.
Monitoring: When you follow threads about your brand and industry, you can join the right conversations at the right time.
Social media reporting: If you track important metrics, you can share wins with your team and find ways to improve performance over time.
It doesn't matter if you're shopping for your first dashboard or you're ready to upgrade an underperforming tool. Any social media dashboards you use should have these nine essential features.
1. Multiple profiles and brand capabilities
Managing your company's social media pages? You need a tool that can support all the major social platforms your company uses—from Instagram to YouTube. Remember, though: You don't necessarily need ALL the existing social platforms … you just need the ones that are the best places for your specific audience. After all, you want to be able to schedule posts, prepare reports, and do everything in between for those social media channels by using one app.
What if you're handling several companies' social media campaigns for your agency? You need a dashboard that allows each user to manage multiple brands. Naturally, you want team members to be able to access the right profiles without having to pay for each additional brand.
2. Social media post scheduler
Sure, you might want to publish a last-minute social post during a crisis or when breaking news happens. But you can avoid having to post at the moment if you plan and schedule posts in advance. That means you can eliminate constant distractions during the workday and save time by batching your work.
Most social media dashboards have basic built-in scheduling tools. However, your team may need an app that also has advanced functions like:
Bulk scheduling
Why create posts one by one when you can schedule dozens at a time? When you publish in bulk, you can import a CSV with links and captions, upload tons of photos, or pull from an RSS feed.

Publishing queues
When you want to make sure your social medic content calendar is balanced perfectly, queues offer an easy solution. You can add content to publishing queues with different themes or topics and then set each queue to publish at the right time each day or week.

Evergreen rescheduling
Sometimes your social posts are too valuable to publish just once. When you reschedule or re-queue evergreen content, you can set it to publish several times or repeatedly every few days.

3. Image-editing options
It can happen to anyone. You post the same image to multiple social media platforms, and it's kind of a disaster. Maybe some of the image's text gets cut off on Facebook or Twitter. Or perhaps the landscape image throws off your Instagram grid aesthetic. Either way, you need an easy way to optimize images for each social platform.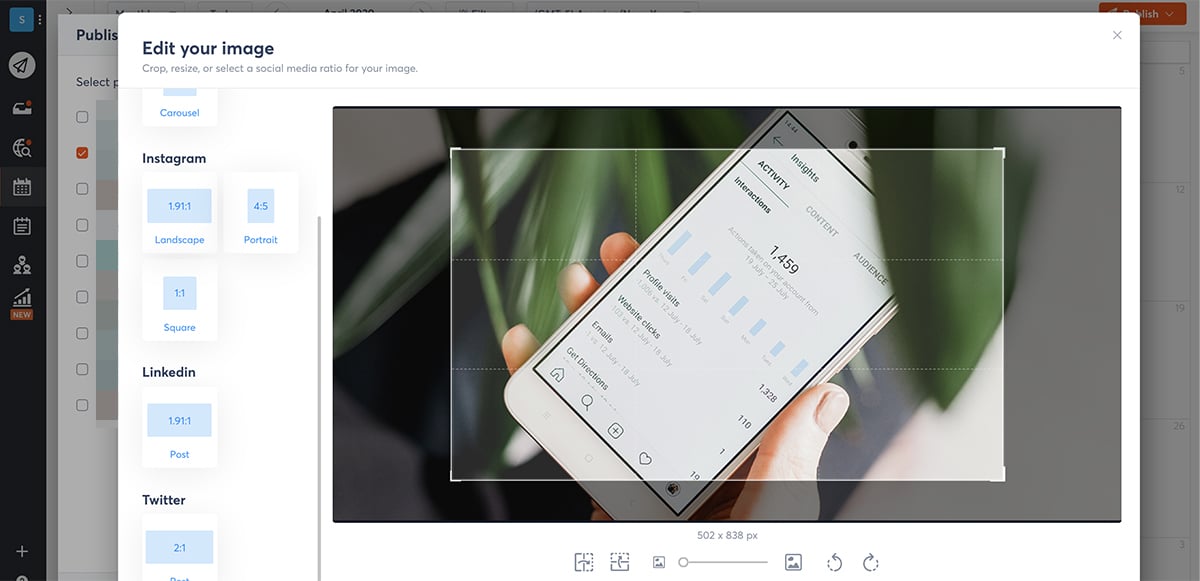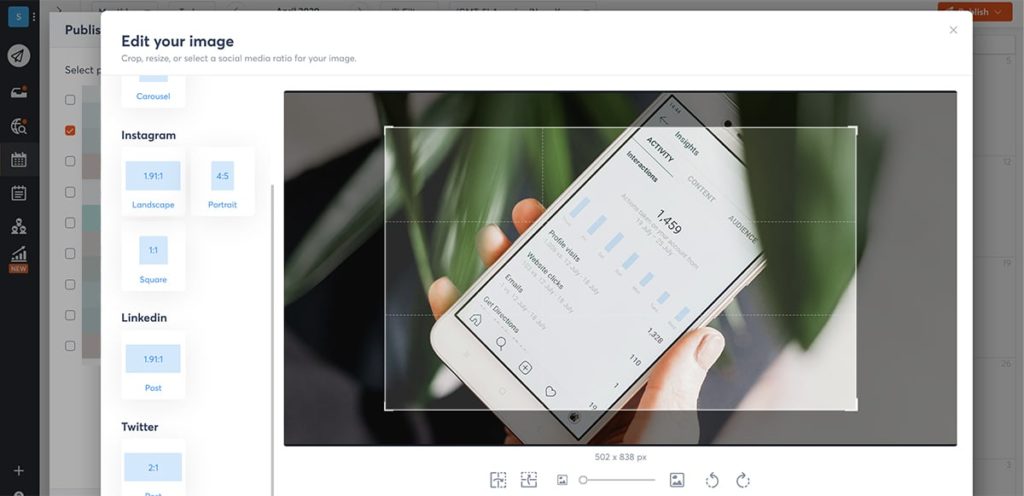 Rather than editing images before scheduling posts, look for a dashboard that can do it for you. Ideally, the editor should know each platform's dimensions so you can crop and resize quickly—without having to do the math.
4. Social media inbox
Why try to manage engagement on each social media platform when you can handle it all in one place? For social media management tools, a social inbox is a must. Many apps have inboxes that let you read and respond to comments and messages. But many social media managers can also benefit from advanced inbox features like the following.
Automated moderation
Generating engagement is great. But if your brand receives a lot of spammy comments, the genuine ones can get lost. An inbox assistant can automatically hide or delete comments based on your rules.

Saved replies
Many comments and messages may warrant unique replies. But you don't want to have to type the same reply over and over. With saved replies, you can use and personalize responses for common questions.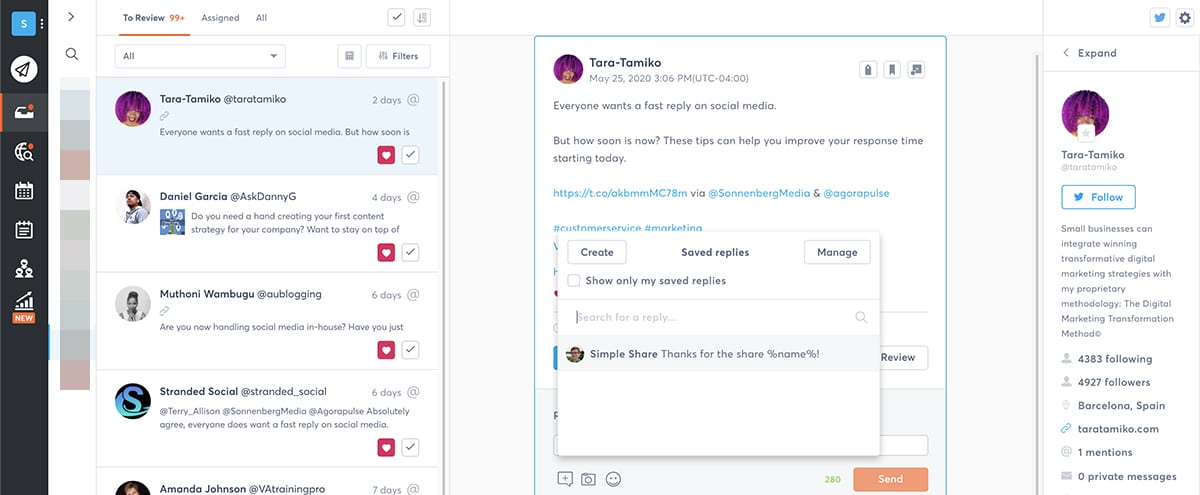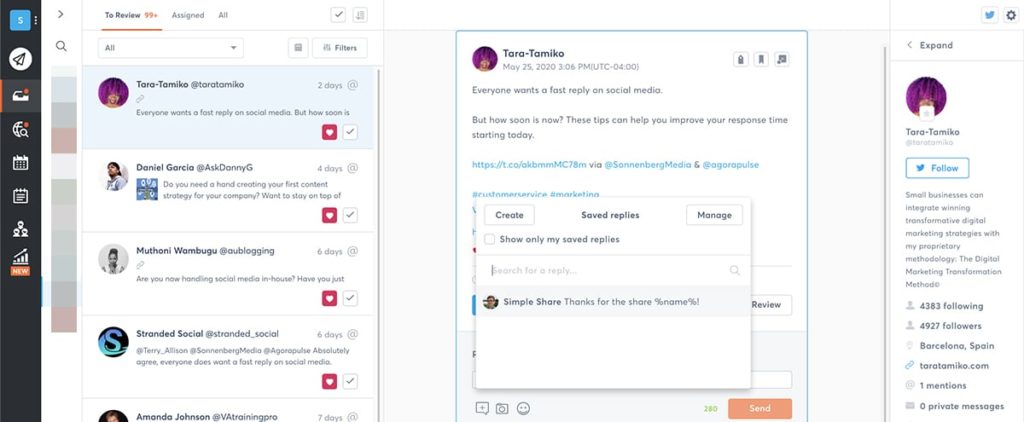 Ad comments management
With a social inbox, you can manage all engagement in one place—including comments on static ads. That means you can handle paid and organic engagement efficiently.
Check out our free trial of Agorapulse to help you schedule, track, and measure all your social media efforts.
5. Social media CRM
Managing engagement with a social media dashboard can be great for productivity. But why stop with a social media inbox? You can do even more with a dashboard that has a built-in customer relationship management (CRM) tool.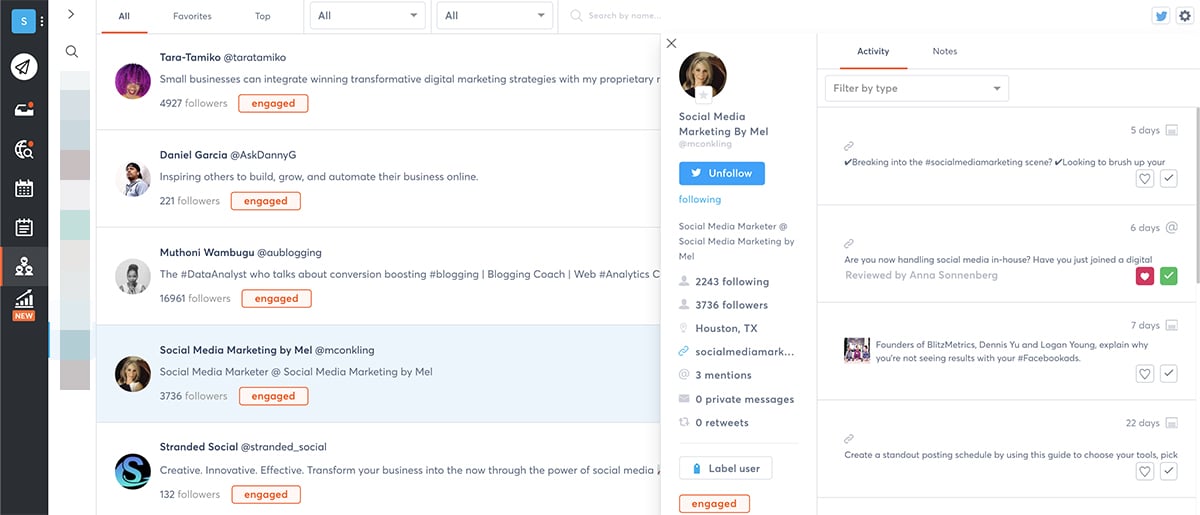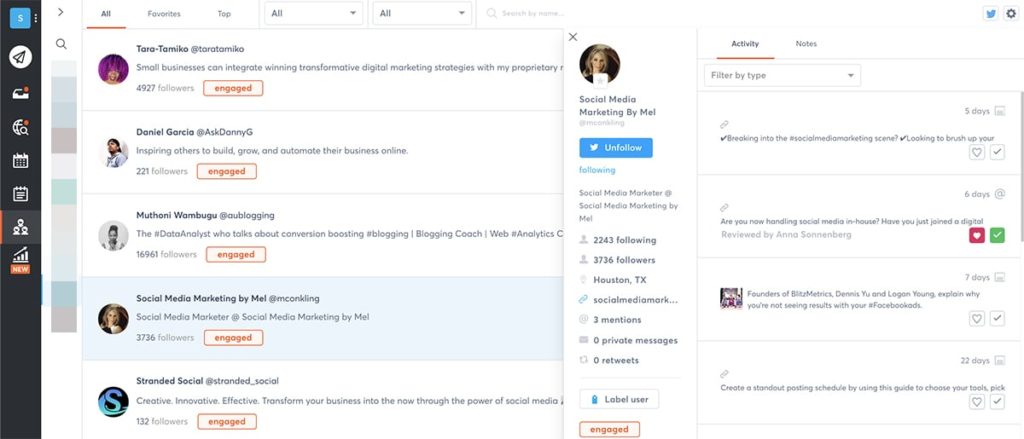 A social CRM helps you organize and keep track of followers, right in your dashboard.
With a social CRM, your team can:
Build relationships. Want to get to know your fans so you can cultivate deeper connections? A social media CRM tracks engagement history for each fan, so you can refer to earlier messages and add more context to your replies.
Find influencers. Want to work with influencers to get the word out about your brand? With a social CRM, you can label fans as ambassadors or micro-influencers as you identify potential partners.
Take notes. Need to share info about a fan with your team? In your social CRM, you can add private notes that only colleagues can see.
6. Social listening
Generating strong engagement is essential to building your brand. But direct interactions with fans aren't the only forms of engagement that matter. You need a dashboard that simplifies social listening, so you can pay attention to all the important conversations about your brand.


With a social listening dashboard, you can find posts about your brand—even if the user doesn't @ you. You can also follow select hashtags, keywords, and phrases so you never miss a thread about your brand, industry, or competitors. Even apply labels automatically so you can sort conversations for follow-up or analysis.
If your dashboard has a built-in CRM, you can easily track your history with these users, too.
7. Team collaboration
When you work on a social media team, you need reliable tools for collaboration. Most dashboard apps support multiple users, so your whole social media team can get on board. But more advanced dashboards can take social media teamwork to new heights with options like:

Easy assignments
Need a specialist to answer a customer message? With advanced teamwork tools, you can assign inbox items in just a couple of clicks. If you need to assign items often, you can also automate assignments.
Real-time insights
Want to avoid responding to a comment just as a colleague is doing the same thing? Look for a dashboard that shows real-time actions, such as when a team member is reviewing or replying to a message.
Team approvals
Need your boss to approve social media content before it goes live? You need a dashboard with approval workflows—so your team can create, schedule, and approve in a single tool.
8. Shared calendars
When you work with a team, you can expect your colleagues to master any social media dashboard you choose. But if you work for an agency, you also have to consider client needs when choosing new tools.


That's why it's in your best interest to adopt a dashboard that lets you share select content with clients. With shared calendars, you can give clients easy access to upcoming content. From there, they can offer input or approval and you can keep everything on schedule.
9. Social media analytics
It doesn't matter what type of social media goals you've set. You need periodic reports to monitor progress toward those goals. (Don't forget about also analyzing your social media ROI.) That's why it's essential to choose social media dashboards that tracks social media analytics and prepares reports. Look for a dashboard app with reporting features like:


Audience reports
Get follower numbers, engagement breakdowns, and your brand awareness score for a quick snapshot of your performance.
Content reports
Review total reach, top content, and the best times and days to publish so you can find what's working and optimize your strategy.
Engagement reports
Track the number of messages you've sent and your average response time to make sure you're connecting with your audience.
Team reports
Check performance metrics for each team member to make sure everyone's on track.
Social Media Dashboards: Recap
Choosing the right tool is key to improving performance, increasing productivity, reaching your social media goals, and overall team success. Use this guide to make sure the social media dashboard you choose is truly worth your team's investment.
* * *
Get started on saving time and energy on your own social media management! Check out our free trial of Agorapulse to help you schedule, track, and measure all your social media efforts.