Getting started with Instagram marketing or need to get up to speed on the latest features and best practices? This Instagram 101 guide can help new and experienced social media managers alike master essential elements of this social network
Why Should Your Business Use Instagram Marketing?
Wondering if Instagram marketing is the right choice for your company or clients? From service providers and entrepreneurs to consumer packaged goods (CPG) and software as a service (SaaS) companies, Instagram is an essential space for marketing your brand.
Let's take a look at the numbers. Here are some Instagram marketing statistics to guide your decision:
Worldwide, Instagram has over 1.2 billion users—which means there's a good chance your target market is active on this social network.
Instagram is one of the top five social media networks around the world, based on monthly active users. Only Facebook and YouTube rank ahead of Instagram.
Nearly 80% of marketers worldwide use Instagram to promote their businesses. That means your competition is probably already using this social network.
Instagram has long been a leading platform for influencer marketing. If you want to generate buzz around your brand, this network is a smart place to be.
As you can see, Instagram offers much more than organic social media marketing opportunities alone. It's also ideal for influencer marketing and social advertising—and it also has a built-in shopping platform.
Instagram 101: Professional Account Setup and Optimization
Whether you're setting up a new account or fine-tuning an existing account, follow these steps to configure your Instagram account and optimize your profile.
Switch to a professional account
To use Instagram for marketing, you need a professional account. With a business or creator account, you can schedule content, access insights, and use marketing and advertising tools.
You can switch an Instagram account to professional mode in the Instagram app. Open your account settings and scroll down to the end of the menu.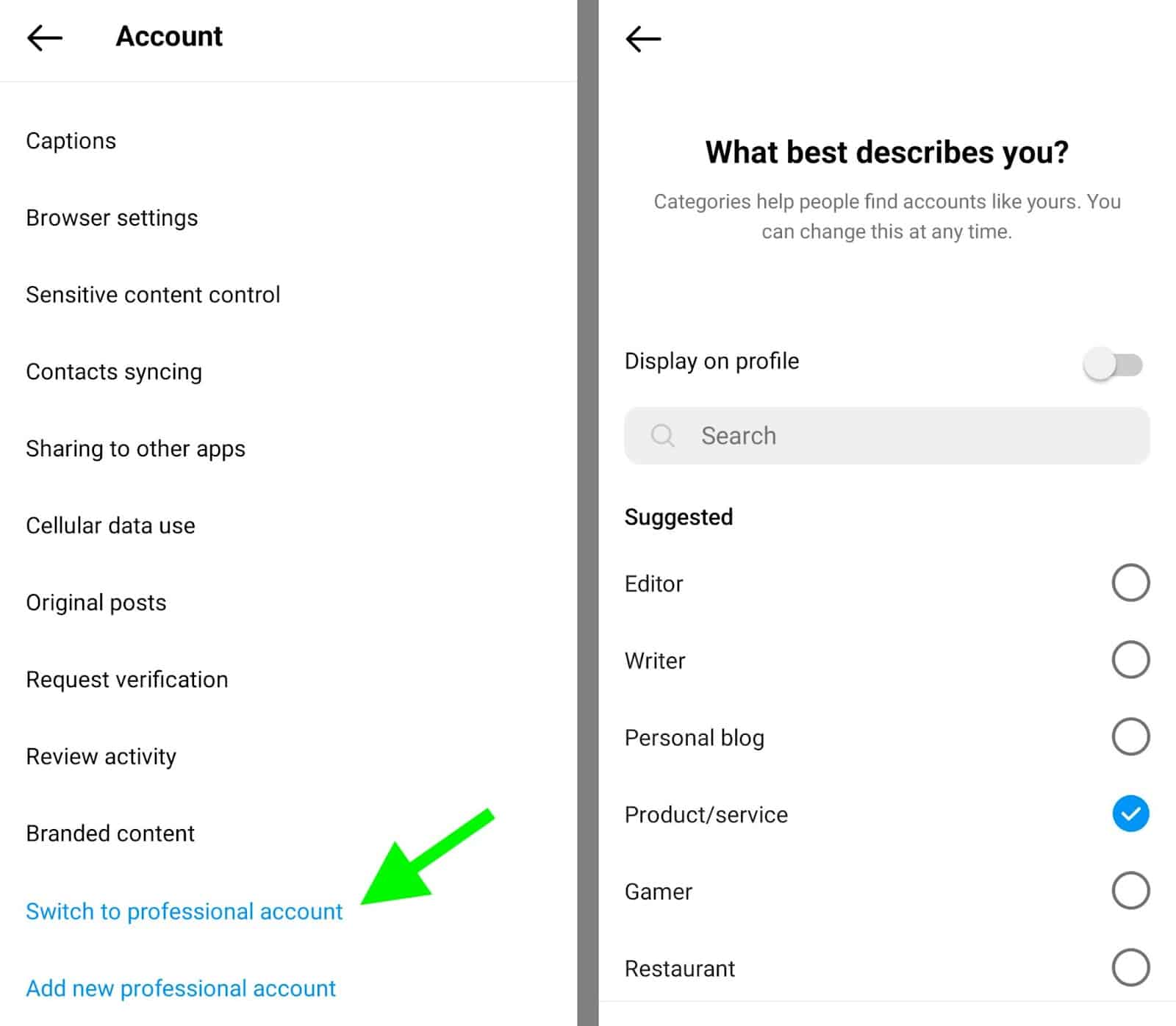 Tap Switch to professional account. Then follow the prompts to pick a category and choose an account type. Not sure which account type to choose?
Creator accounts are best for users whose main goals are developing content and partnering with brands.
Business accounts are ideal for companies and brands that intend to promote products and services or partner with creators. The business account will give you access to Instagram analytics that can help understand which content is resonating with your audience. It also will give you access to ecommerce features such as tagging your products in your Instagram posts and Reels with Agorapulse.
Optimize your Instagram profile
Next, set up your Instagram profile for success. Key elements of a professional Instagram profile include:
Display name and logo. Start with your company name and add extra information as space allows. For example, Agorapulse's display name includes "Social Media Management Tool" to boost brand awareness and search potential.
Profile picture. To maximize brand-building potential, use a profile picture that your target audience instantly associates with your brand—such as your organization's logo.
Instagram bio: Introduce your business to your target market. Summarize what your business does, mention your flagship products and services, or list key benefits. Use line breaks and emojis to make this section easy to read.
External links. Technically, Instagram profiles get one external link, but the platform has been experimenting with multiple URLs. In most cases, it's best to link to a landing page with resources and links designed for Instagram users. We suggest adding a link to your PulseLink page. (If you don't have your PulseLink page set up yet, you can learn how here).
Story highlights. With story highlights, you can showcase products and services, promote sales and specials, and curate resources for your audience. We'll cover how to create story highlights below.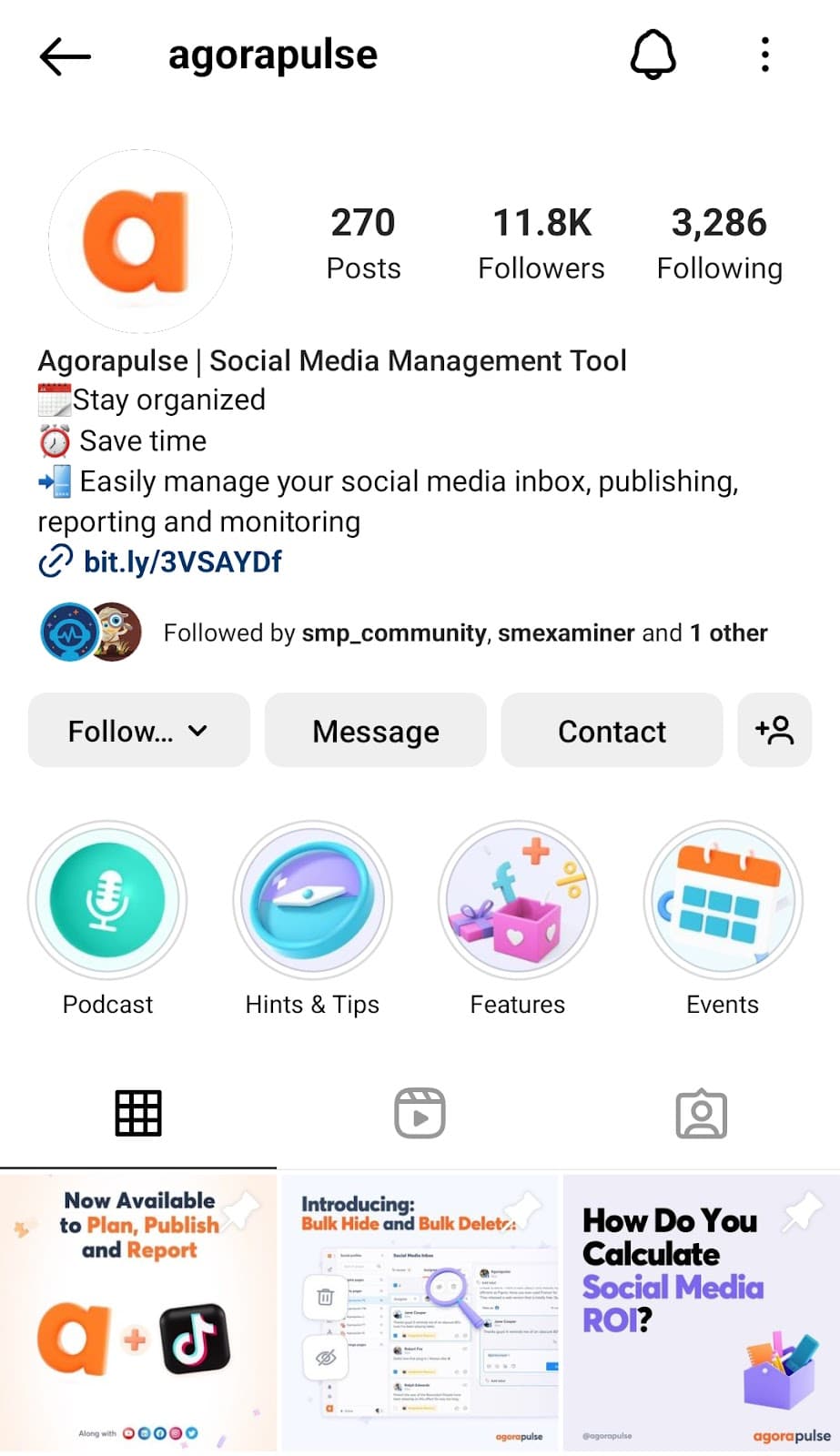 Choose an Instagram action button
Professional Instagram accounts support several action buttons that allow users to interact with your business. By default, most professional accounts let users DM them or provide a list of external contact options—like emailing or calling.
But you can also encourage your target audience to engage with your business by making an appointment, filling out a lead form, ordering food, or shopping at your linked store.
You can browse most of the available options by editing your profile and selecting the Action buttons option from the menu. Then you can choose the one that best fits your business and follow the prompts to configure it.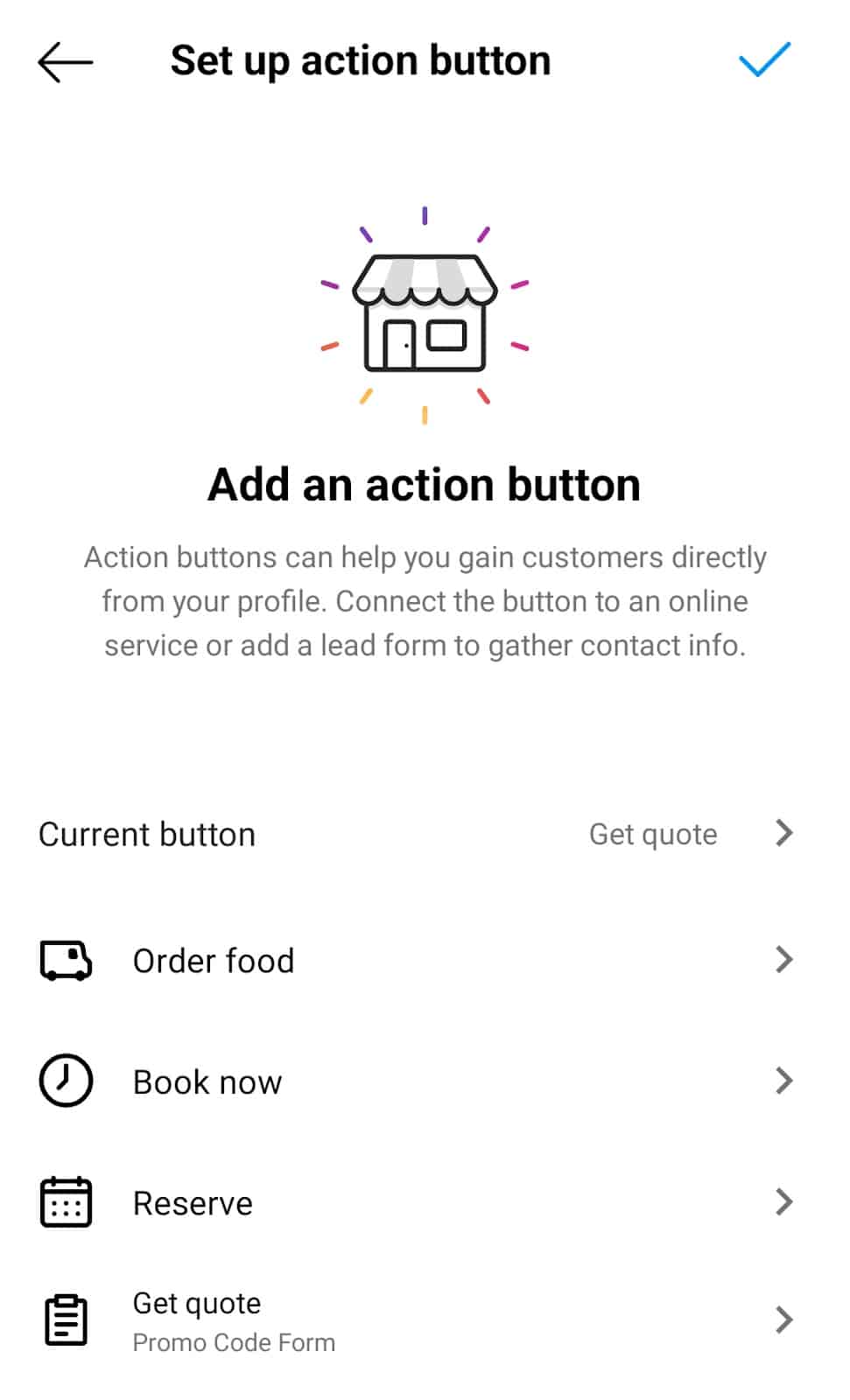 The Get quote action button links to a native lead form, while the other options connect to third-party reservation, booking, and ordering platforms. Note that you need an account with one of the third-party apps to use these action buttons.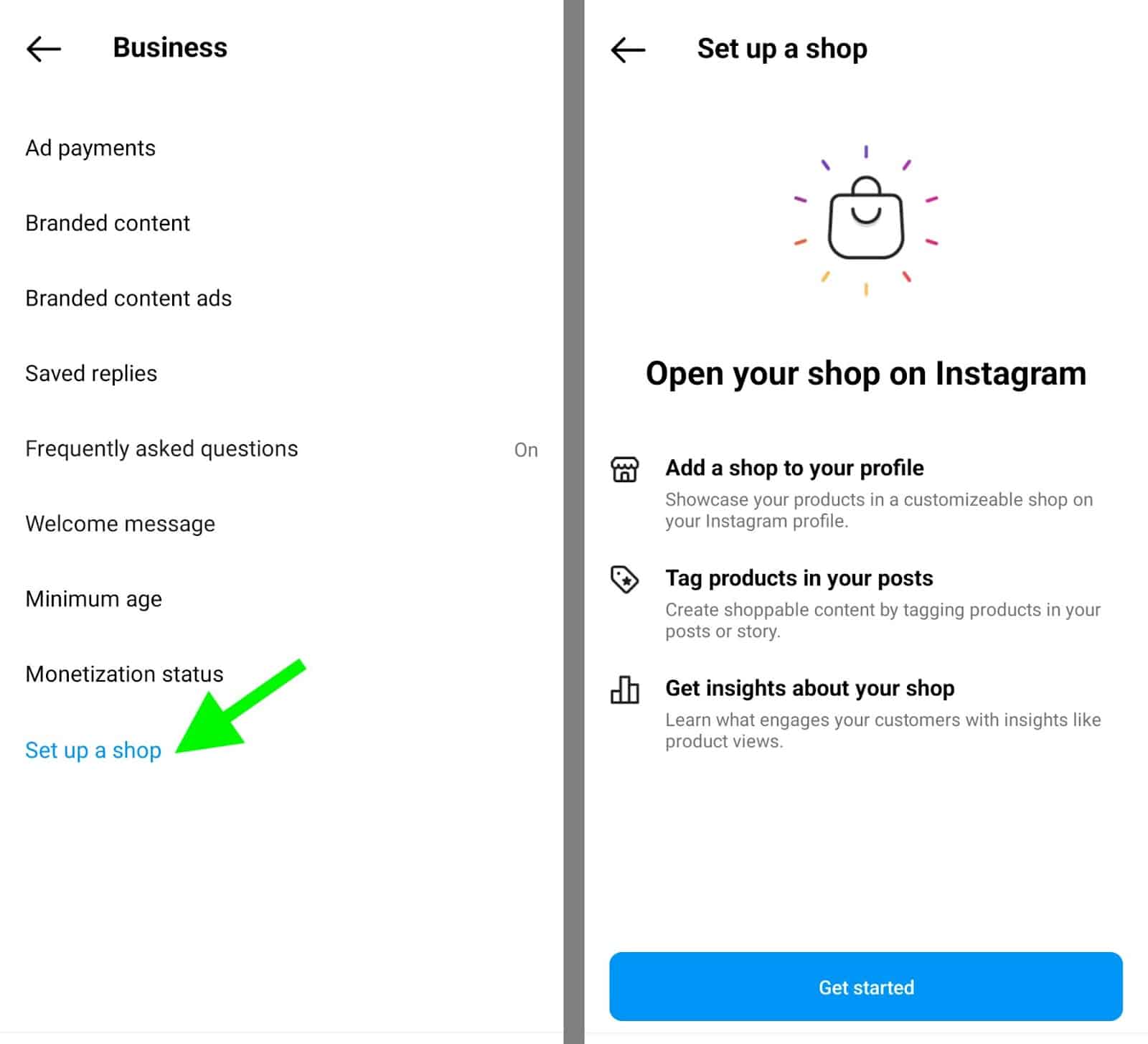 To add a View shop action button to your profile, you first need to set up an Instagram shop. Start by creating a sales channel in Commerce Manager. Then add it to your Instagram account by choosing the Set up a shop option from your business settings.
Related read: Instagram Reels vs Posts
Verify your Instagram account
Getting verified isn't a requirement for brands on Instagram. But a verified badge can help you establish credibility with your audience and stand out in the feed.
To request a verified badge, open your account in the Instagram app and go to your account settings. Then tap Request verification and complete the form.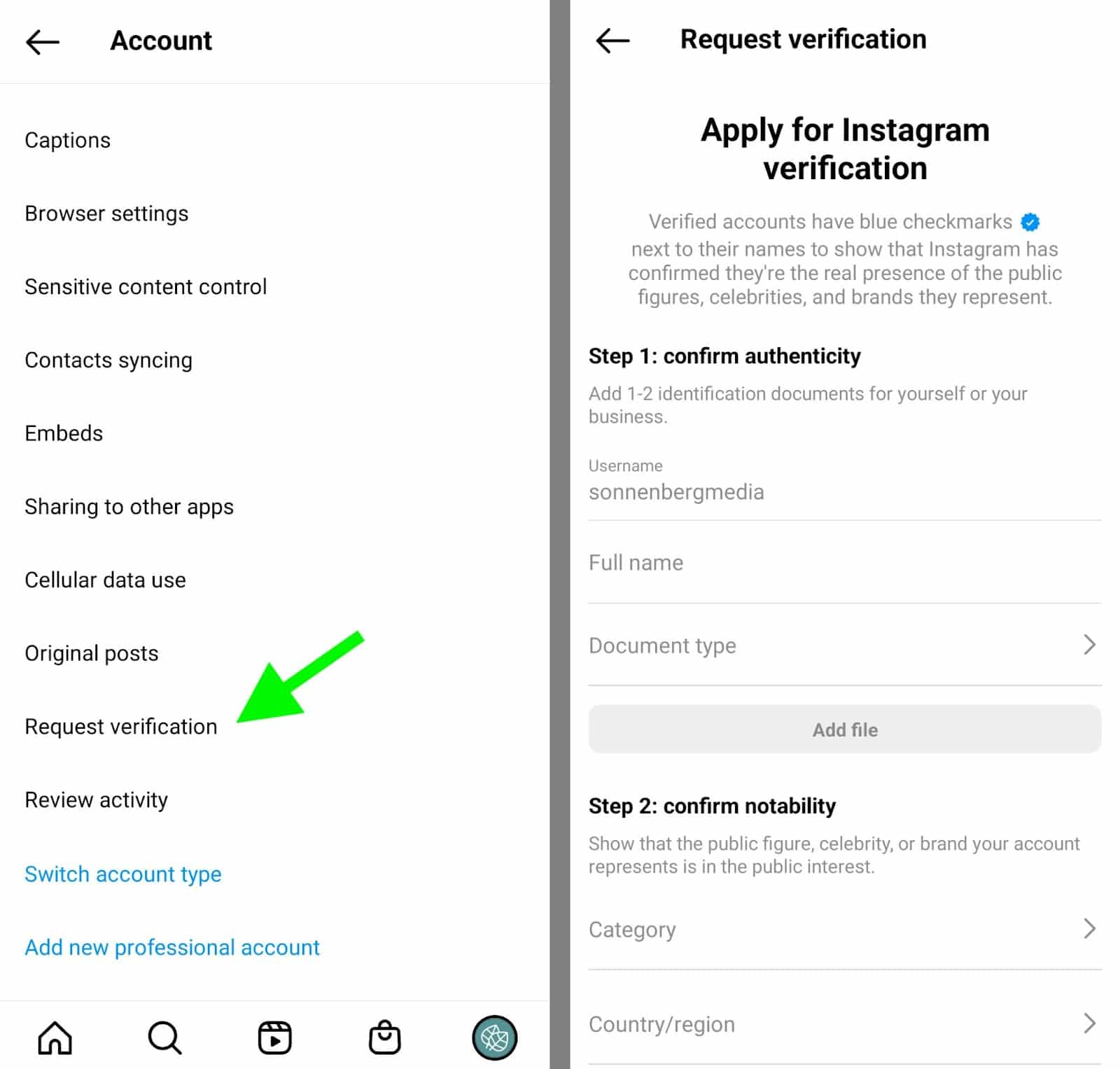 Keep in mind that you'll need to confirm authenticity by proving your identity and confirm notability by proving the brand is well known. You can also provide links to articles and other resources to support your case.
Instagram 101: Marketing Strategy
Next, create an Instagram marketing strategy to guide the content you create and the way your team uses this social media platform. With a strategy, you can maximize the value your organization gets Instagram and use it to reach key business goals.
Set SMART goals for Instagram
What does your team or client want to achieve with Instagram? Use SMART goals to get clear on what you want to accomplish and how you'll do it.
Here's a framework you can use.
Specific: Get clear on what you want to achieve and why.
Measurable: Set key performance indicators (KPIs) to stay on track.
Achievable: Choose goals that are realistic given the budget and time frame.
Relevant: Focus on objectives that align with bigger marketing and business goals.
Time-based: Give your team deadlines for reaching your Instagram goals.
Get to know your target audience
To reach your Instagram marketing goals, you have to create content that resonates with your audience. But who is your target audience and how can you connect with them effectively?
You can start getting to know your audience by checking your account insights. Both Meta Business Suite and Instagram have basic audience demographics—so you can pinpoint your followers' age, gender, and top locations.

To learn more about your audience, pay attention to their comments and messages. By analyzing their engagement, you can learn about their interests, challenges, pain points, and goals. Then you can use your findings to create more appealing content.

Research the competition
Your Instagram strategy and content should be unique to your brand. But it's helpful to see what the competition is doing so you can get new ideas and understand what's working in your industry.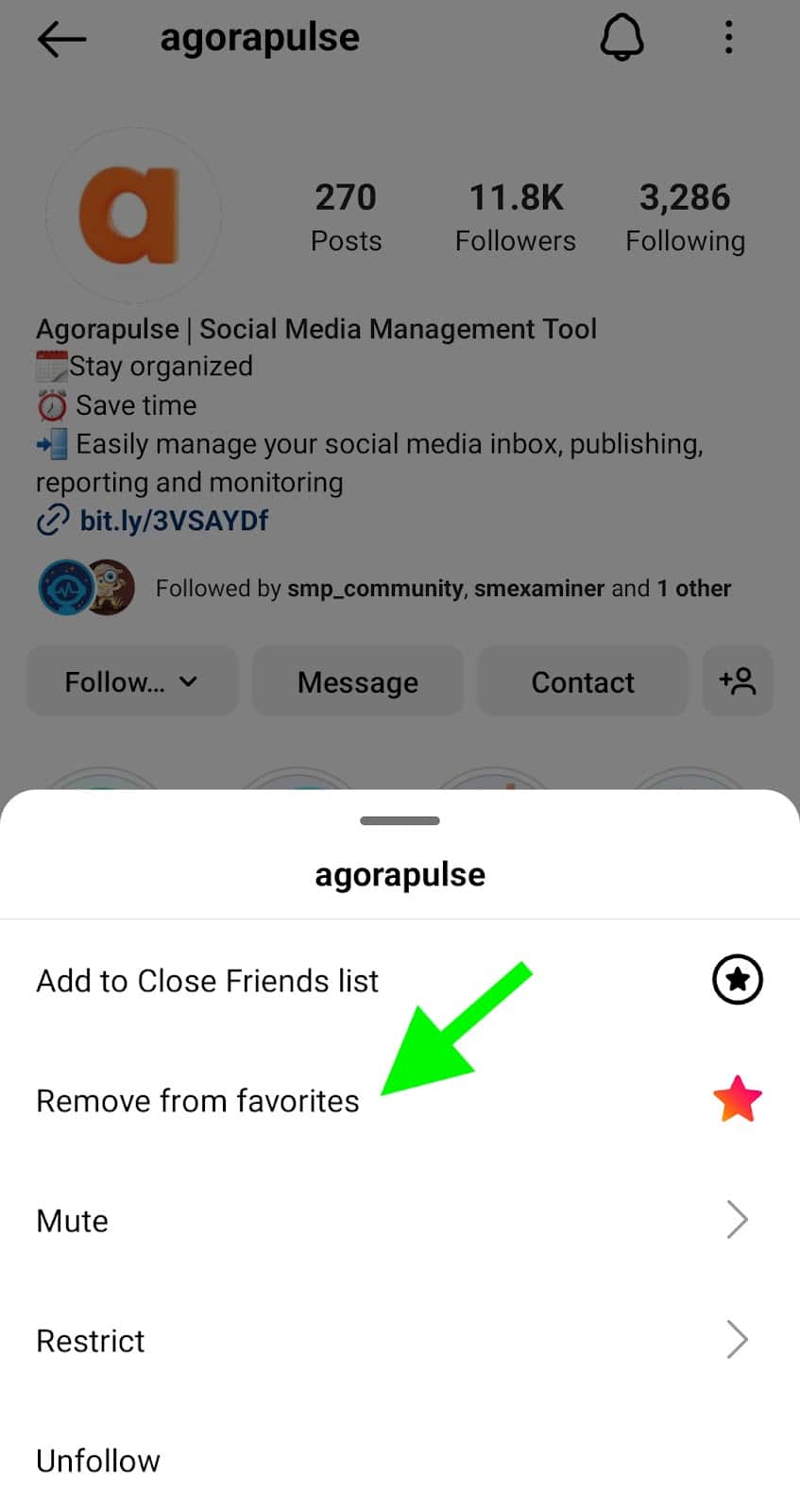 First, make a list of other brands in your space. Then follow them on Instagram. Rather than simply adding them to your feed, put them on your favorites list. Then spy on the competition by checking your favorites feed regularly.

You can get even more insight into your competitors' performance on Instagram by using Business Suite's benchmarking tool. You can add up to 100 Instagram accounts to this tool to monitor how their growth and publishing frequency compares to yours.
Create a content calendar
Next, draft an Instagram content calendar for your organization. First, pencil in major marketing initiatives and time-sensitive campaigns. For example, your product launches and seasonal sales may take priority over any other Instagram content.
Then fill in the rest of the time slots with evergreen posts and brand-building content. Use your SMART goals, audience research, and competitive research to guide your Instagram content plan.
Not sure how often you should post on Instagram? Head of Instagram Adam Mosseri recommends creating a few feed posts per week and a couple of stories per day. Test out this schedule and check your insights to find the right balance for your account.
Instagram 101: Content Strategy
From stories to reels to posts, Instagram has several types of content your brand can leverage. Use these tips to create content that captures your audience's attention and gets the results you want.
Keep in mind that all content types support product tags, which allow you to monetize Instagram. If you have an Instagram shop, you can make posts, reels, stories, and live streams shoppable.
Instagram reels
If you're going to invest in one type of Instagram content, short-form video is your best bet. Instagram consolidated its video content around reels in early 2022, and the platform regularly rolls out new editing and audio tools for short-form video.
View this post on Instagram
To use these in-app tools while planning your content in advance, upload short-form videos to Instagram via Agorapulse. Rather than publishing directly, schedule your Instagram reels and opt to publish via a mobile notification. Then add effects and audio in the moment.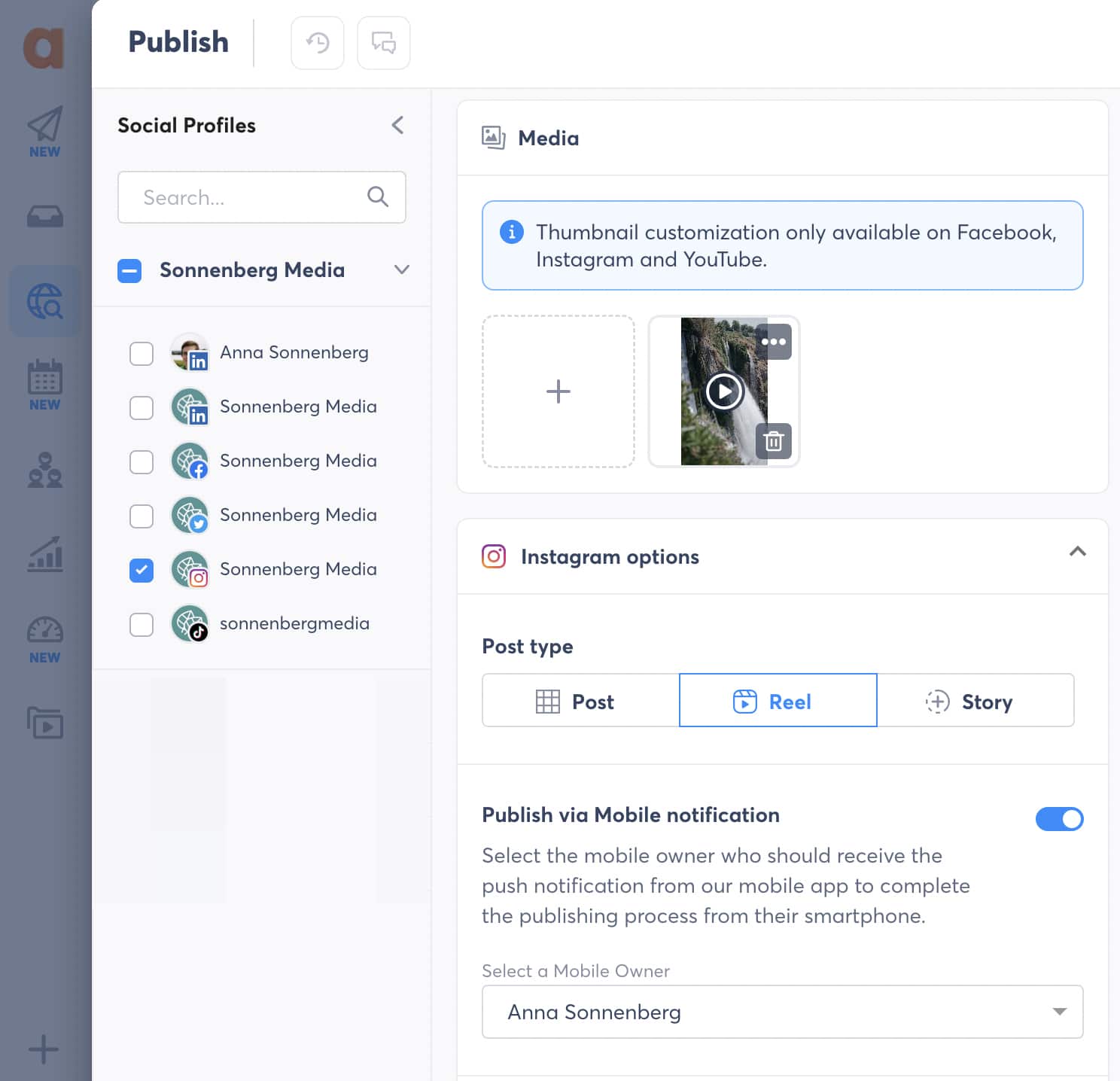 Instagram posts
Although reels often get top billing in the feed, image posts are still an important part of any brand's Instagram content strategy. Image posts are ideal for sharing:
Product photography
Graphics—including infographics
Quotes
Behind-the-scenes content
View this post on Instagram
To make image posts even more compelling, consider turning them into carousels. With Agorapulse, you can schedule carousels with up to 10 images or a mix of up to 10 images and videos—giving you plenty of space to tell stories.
Instagram stories
Because they last for just 24 hours, Instagram stories are great for sharing content that's either timely or exclusive.
For example, you can share:
Teasers for upcoming product launches
Limited-time sales and special pricing
On-the-scenes event coverage
To make your Instagram stories more engaging, use the in-app sticker tray. With stickers, you can:
Encourage your audience to ask or answer questions
Get your audience to choose "this or that"
Poll or quiz your audience
Invite your audience to participate in an "add yours" story thread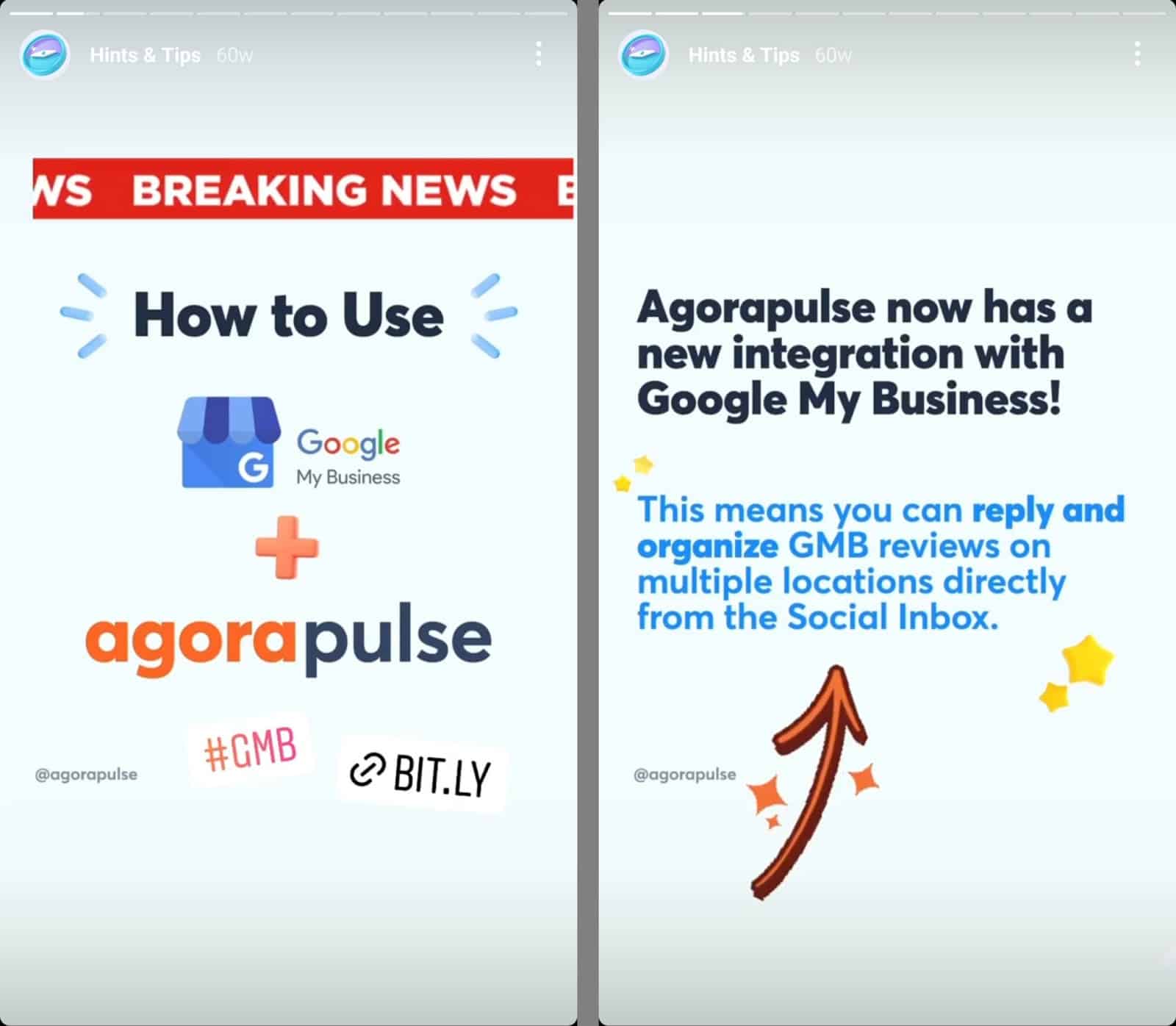 To preserve your best stories, add them to highlight collections, which appear on your Instagram profile. With story highlights, you can curate customer reviews, show off your best content, share your most helpful external resources, and much more.
Instagram live
To interact with your audience in real time, go live on Instagram. Announce your livestream ahead of time and invite your audience to tune in. Then make it worth their while by sharing exclusive insights, answering questions, or taking them behind the scenes.
If you've set up an Instagram shop, you can also host live shopping events. These events are great opportunities for selling on Instagram via product demos and styling sessions.
Instagram 101: Best Practices
By now you have an Instagram marketing strategy to implement and a list of content types to test. But how can you build your brand and reach your goals successfully? Use these best practices to guide your efforts—and make sure to follow Instagram rules.
Instagram algorithm
To reach your Instagram marketing goals, you have to make sure your audience sees and interacts with your content. Although the Instagram algorithm isn't an exact science, it's based on a few ranking signals.
Essentially, Instagram is more likely to prioritize your content and recommend it outside of your follower base if it's proven to be more engaging for your audience and if it's likely to be interesting to other users.
So how can you work with instead of against the Instagram algorithm? Create content that your audience engages with, and avoid publishing content that isn't original—such as TikTok videos or reposts from your own account.
Instagram hashtags
Hashtags started out on Twitter, but they have really thrived on Instagram.
Hashtags become clickable topics that you can add to your post descriptions, comments, and stories, taking users to relevant hashtag feeds. When users tap your branded hashtag, for example, they can see an entire feed of UGC that your customers have created for you.
Since hashtags are searchable, they can also signal-boost and help you reach new followers or customers.
You can choose from categories of Instagram hashtags, including:
Industry-specific hashtags. A wedding venue might use #justsaidyes and #weddingwednesday hashtags to reach interested brides. These are important to reach your niche audience.
Location-specific hashtags. Are you a small restaurant based in Denver? If so, it makes sense to try to reach local residents. #DenverLove and #DenverEats are great hashtags to use here.
General appeal hashtags. Can't resist a #tbt to the first time you opened the doors of your salon? Share it! Your audience will love it, and you never know who it will reach.
Timely or seasonal hashtags. Be like William Sonoma and use those seasonal, immediately-timely hashtags. They're popular, and they'll be trending.
Be sure to change up the hashtags you use on each post to add context and improve discovery.
If you need help coming up with new hashtags, check out Hashtagify and RiteTag. Both can help you generate a strong list of phrases to add to your posts to boost reach and connect with your audience.
You can have up to 30 hashtags on each post. But should you? Instagram's official recommendation is to use three to five on each post or reel. Test different numbers to see what works best for your content and audience.
Instagram influencers
Instagram influencers can have incredible selling power on the platform. They have an impressive reach, which can range anywhere from around 5,000-10,000 followers for micro-influencers to millions for mega-influencers. They're a great way to connect with your audience.
Working with Instagram influencers is relatively straightforward:
You find influencers who you think would be able to connect you with your audience
Reach out to them.
Hire them to promote your content.
This will cost you, though. At the absolute minimum, you have to fork over your product or service for free, but in most cases, direct payment is involved, too.
When choosing an influencer, take the time and do the research to choose the right ones. For example, if a small local restaurant wanted to get more patrons, it might reach out to a local food critic or an event planner in the area. If you need help finding influencers, tools can be helpful, showing you the influencer's potential reach and impact.
When hiring influencers on Instagram, stick to a few key guidelines and rules, such as:
Influencers should only talk about their experience with a product or service if they've actually used it.
Influencers need to disclose if this is a sponsored relationship. Instagram has paid partnership tags, but a #sponsored hashtag is also a good touch. Note, however, that the sponsored tag must be visible; don't bury it in the middle of 30 hashtags.
Influencers need to be honest about their experience with the brand, product, and/or service.
Engagement tactics
Whether you're connecting with influencers, providing customer support, or nurturing leads, you need a way to manage Instagram engagement efficiently. With the Instagram app and your Business Suite inbox, you can respond to engagement and set up FAQs.
But when you want to save time and automate more of your process, Agorapulse can help. With Agorapulse, you can manage all Instagram comments, DMs, and mentions in a single inbox. You can set up saved replies to respond efficiently, and you can use Agorapulse's inbox assistant to moderate engagement automatically.
Want to build better relationships with potential prospects or brand partners? Agorapulse's inbox displays user profiles that detail your entire engagement history. You can see how many times a user has commented, messaged, or mentioned your account. You can also label users and write custom notes to add more context to your interactions.
Social listening
If you're lucky, most of the conversations about your brand will end up in your Instagram inbox. But if you focus solely on your inbox, you're likely to miss a lot of discussions about your brand, industry, and competitors.
You can use Instagram's search tools to look for relevant hashtags or to spy on your competitors. To automate the process, use Agorapulse's social listening tools to create listening searches that find conversations about topics that are relevant to your brand.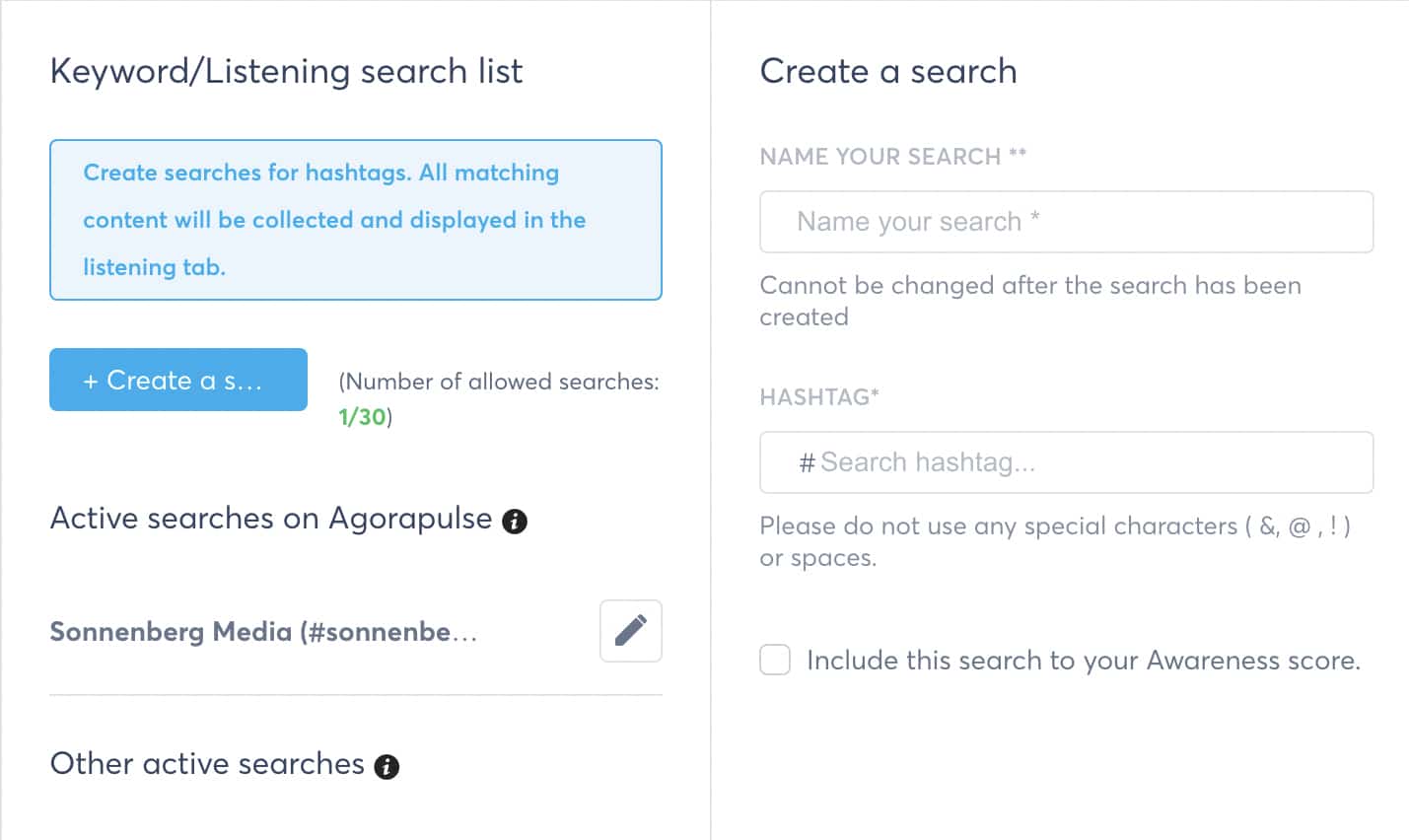 For example, you can use this tool to find user-generated content (UGC), customer reviews, and conversations about competitors. Then you can click to open the conversations directly in Instagram and join the conversation.
Instagram 101: Analytics
As you implement your Instagram marketing strategy and the tips above, you need tools for tracking results and ensuring that you're making progress toward your goals. No matter which tools you use, make sure to track the Instagram metrics that matter to your team—rather than focusing on meaningless vanity metrics.
Instagram insights
From account overviews to content reports, the Instagram app details reach, impression, and engagement metrics.
It also reveals in-depth insights like:
Who's viewing your account (followers vs. non-followers)
How people find your content (home feed, explore page, hashtags)
Profile activity (website taps, action button taps, follows)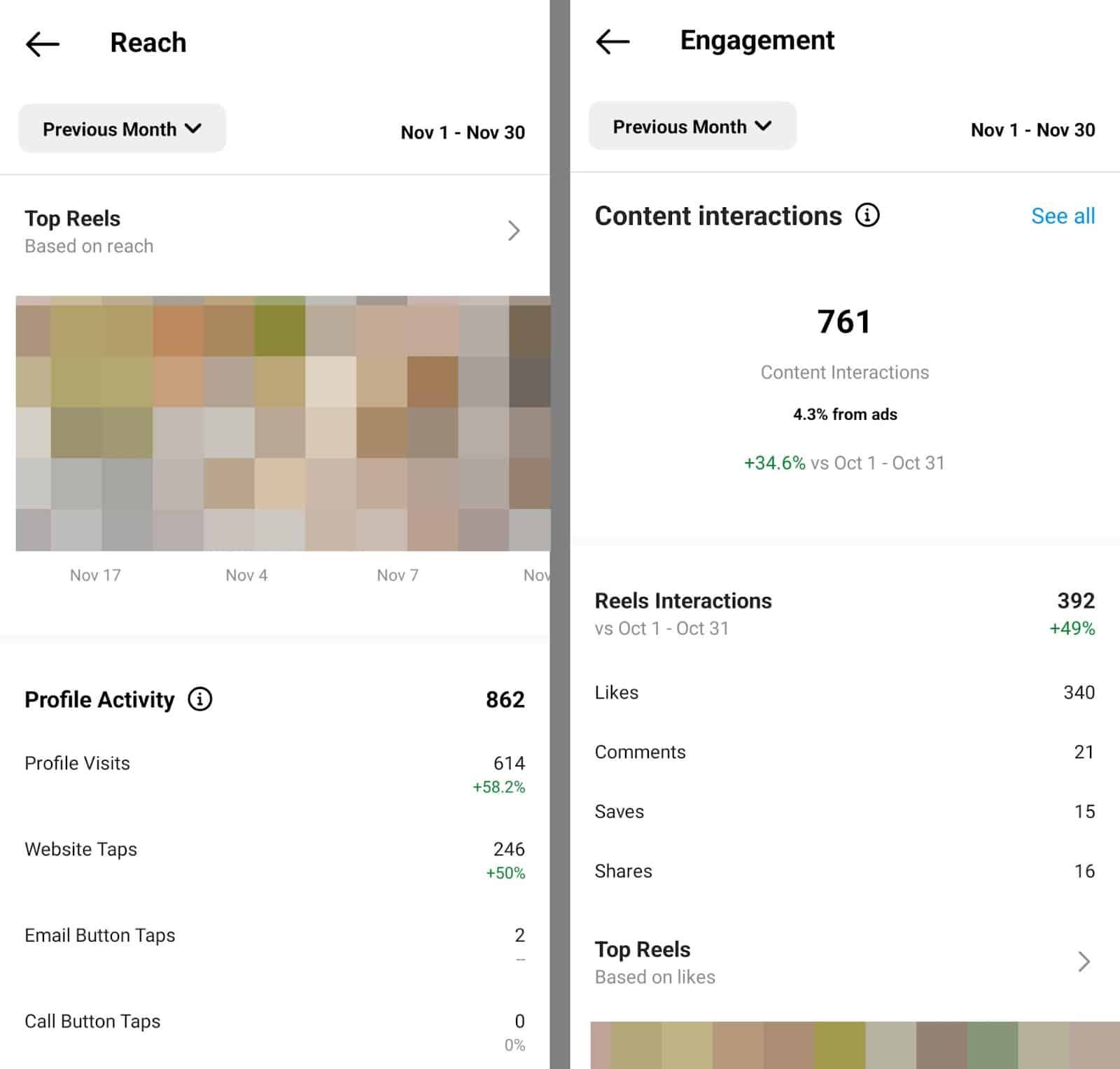 However, you can view these insights in the mobile app only. If you want to add these insights to a report or share your findings with colleagues, you need a different solution.
Agorapulse insights
In addition to basics like audience growth, impressions, and engagement metrics, Agorapulse offers insights like:
User activity to help you find the best times to post
Brand awareness scores to help you assess the value of all those mentions
Hashtag interactions so you can see which create the most engagement
Content breakdowns that reveal the best format and category of content to post

Agorapulse also lets you export and share reports with colleagues. You can even schedule Instagram reports to save time while keeping your team in the loop.
Wrapping Up This Instagram 101 Guide
Instagram has tons of potential for brands in virtually every industry—whether you want to monetize via Instagram shops, generate leads, or build your brand. Don't miss out. Start using an Instagram management tool that lets you create compelling content, manage engagement, handle social listening, and analyze your results seamlessly.
Want to see what Agorapulse can do for your company's success on Instagram? Sign up now for a free demo.