No time to create some content for your social media channels? No worries. Consider content curation instead!
Your business is doing everything it can to get noticed. It feels like you have to be EVERYWHERE, and the second you feel comfortable on one platform, another new shiny toy pops up.
It's so hard to keep up, and on top of being available on every channel, at every waking hour, you're also tasked with "writing epic content" and publishing as fast as you can.
You need more content, and on top of that, you need people to share your content.
Enter content curation. Use it strategically, and this simple marketing tactic can help grow your business by highlighting your brand as a useful, helpful, practical, and sustainable place to find solutions to problems.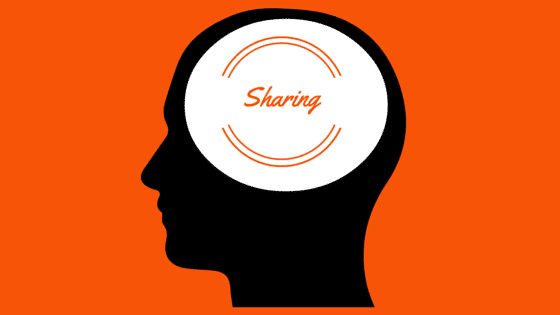 The Psychology of Sharing
Before the interwebs came along, we spent more face-to-face time with our friends and family, sharing.
Sharing meals, sharing smiles, and sharing stories. We also undoubtedly shared useful and helpful information.
"There's going to be a storm later today — don't forget your umbrella!"
"Brooke, Nordstrom is having a shoe sale, and those heels you like are 50% off!"
"Mom, I printed out this low-fat recipe for dessert."
It's in our nature to want to help those we love, whether we truly aim to please or we feel that providing practical advice will give us deeper connections, we all share (online or off) for basic psychological reasons.
Today, we use the internet, social media, blogs, and other online forums to share that useful and helpful information.
Think about how much easier this has made our lives!
Using the internet to share
Is faster
Makes it easier to find and share content
Provides scale at mass — we can send to many people at once
Curating content meets the inherent needs consumers have, and if used wisely, can help you move your content as well.
A Closer Look at Content Curation
Many people confuse sharing with content curation.
Sharing isn't curation, and here's why: Curation is the act of analyzing, organizing, and/or summarizing.
[Tweet "True content curation takes sharing to a much deeper level."]
Did you know that when most people share content online, the majority haven't even read what they're passing along?
As a business, you need to curate content carefully for your particular audience.
Ask yourself:
What problems do my current and would-be customers face? How can I solve them?
What information would be critical for my audience(s) to know?
How does my community consume information (social media? email? blogs?)?
Where can we add commentary to curated articles? How can we use this commentary to show we've curated this information especially to help solve their issues?
You may still be asking, "How does this help MY business?"
The answer is simple. You're doing the work; you're becoming the gatekeeper, the filter; you're saving your community precious time.
As long as you understand your industry and audience, and can find content that fulfills those questions I listed above, you'll be off to a stellar start.
How to Tackle Content Curation
There are ways to curate content no matter what industry you're in!
Perhaps you're a gym or fitness brand. Curating healthy but delicious recipes to share on your blog, newsletter, or social channels is a great way to grow your audience.
Even if you didn't write the recipes, you're highlighting the authors who did. And they share similar interests, and so does their community. And guess what? If you link to them or give them a shout out on social and a reason why you're including their recipe ("these are seriously the BEST no-flour brownies out there!") they will probably share your content as well.
Reciprocity plays a huge part in why content curation works to gain attention and influence.
To set yourself up to be successful, all you have to do is ensure you:
Know your audience and community inside and out
Set up a steady stream of relevant content to sift through and share
Include commentary as to why this piece of content has been carefully curated for your community
There are also tools that can help solidify success …
11 Content Curation Tools
[Tweet "These 11 content curation tools will easily help you source incredible content!"]
Google Alerts: Set up a google alert on your niche topics and have them sent to you daily.
Bonus: Use these Boolean search guidelines to help narrow down your search:
Use quotes to search for an exact phrase. Example: "flourless recipes"
To search for two terms use AND (must be capitalized). Example: fitness AND work-life balance
Use OR (must be capitalized) to find two or more terms you can separate. Example: "best workouts" OR "fast workouts"
Use parenthesis to give depth to a search and combine terms. Example: fitness AND (core strength OR ab exercises)
Use NOT (must be capitalized) to exclude specific terms. Example: fitness jobs NOT trainer
Subscribe to industry-specific newsletters or journals. I personally LOVE using SmartBrief to find hidden gems.
Use social media searches, but also to follow other influencers in your industry. Following other experts (or even competitors) can give you an idea of content that's trending for your industry and audience. See my example below …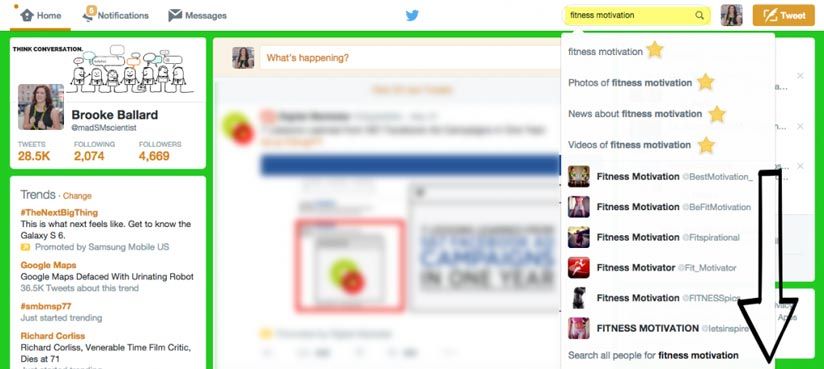 Triberr can help you find blog posts that are specific to tribes or areas of expertise. It can also help you move your own content!
RSS aggregates are a good way to follow experts and get their content delivered straight to you, rather than having to find their content. I love and use Feedly.
Many curation experts use curation sites, like Scoop.it or Paper.li to find and disseminate curated content.
I also love sites that assemble curated content just for me or based on my parameters, like LinkedIn Pulse or Flipboard.
Finally, using Buzzsumo can help you find the most shared content in your industry, a must check!
Benefits of Content Curation
If one of your biggest headaches as a business owner is producing enough content, then content curation can be one way in which you can feed the proverbial beast.
Not only does it help with the acquisition of new community or audience members, it:
Can help generate leads
Can assist with authority and influence
Helps supplement your need for producing content (but not replace it!)
May provide context for the solutions your company provides to customers
and more!