In March, the whole Agorapulse team traveled to San Diego on a mission to attend the best sessions at Social Media Marketing World, compile notes of the key takeaways and share them with you. We've created 20 blog posts from those notes, here's one of them!
Title of the session: How to Turn Your Employees Into Your Best Social Media Advocates
Speaker: Jay Baer
Why you should read this session transcript: If you have employees (and you probably do!), your employees could be your best social media asset! This article tells you how you can build a Social Media strategy by including your employees in the mix.
Interesting fact: Jay looked at two rankings, one about the "best companies to work for" (Fortune Magazine) and one about the companies that have the best performance en social media. Interestingly, the best companies to work for are also the companies that are doing great at social media! It looks that there is a strong correlation between the well being and happiness of employees at work and how well their employer performs on Social Media!
Our professional and personal lives collide in Social Media, there's no strict borders anymore.
Quote from the session: "Your employees are your greatest brand advocates. If it's not the case, you have a much bigger problem than just a social media problem!"
When looking at employees advocacy, remember that it's not about their reach, it's about their passion. That passion is persistent and not linked to any incentive. That's why companies where employees are happy are the ones that do well on social: they have created the ecosystem that makes employees happy and passionate about their job.
3 reasons why employee advocacy is required:
1 – Social is designed to serve individuals, not brands
Social media is primarily designed for individuals not brands. Brands are tolerated because they help keep the system free by paying for ads.
But as more people and brands are joining social media every day, brands reach on Facebook is declining. There is just too much content to show to individual users every time they connect on the platform. A filter (edgerank) is necessary. Brands have less "weight" in that filter that favors content from individuals. In the long run, having your employees represent your brand on social media is a winner!
2 – Individuals have a "trust factor" that brands don't have
47% of people trust advertising from companies.
95% of millenials say their friends are the most credible source for product information
41% of people believe that employees are more trustworthy than the CEO or the PR department.
In a nutshell, people trust people way more than they trust brands!
Also, Jay noted that, at the end of the day, Social Media should not be a "Job" that some people within the company perform, it should be a "skill" that most people at the company master.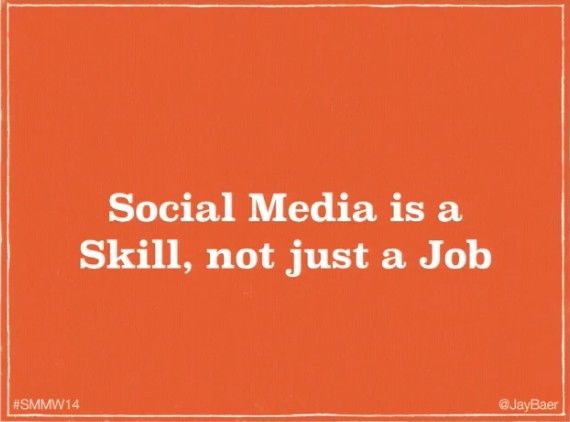 3 – There is a massive amplification effect
If you take the example of Exact Target, a company Jay is working with, the company itself has 37,000 connections on Facebook and Twitter. All combined together, its 1,300 employees have 375,000 connections on the same platform. That's a 10x factor!
This is true for almost every company. Obviously, the bigger the company, the greater the reach.
And as Jay emphasized, the frontier between our personal and professional lives gets thiner every year. So employees are more and more likely to support their employer's efforts in social media!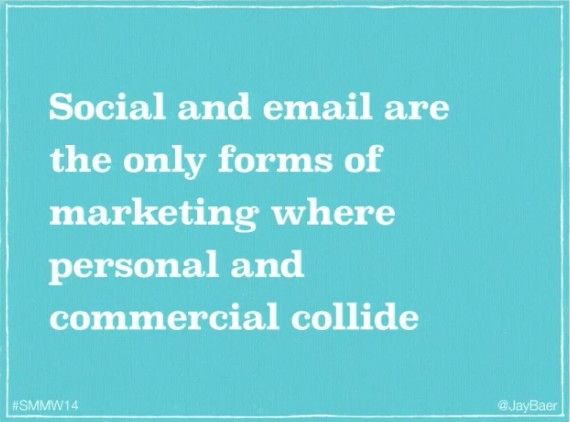 There are 8 requirements for a successful employee advocacy plan
First and foremost, if you want your employees to be you best advocates, your company must be a great place to work! Great quote from Jay on that matter: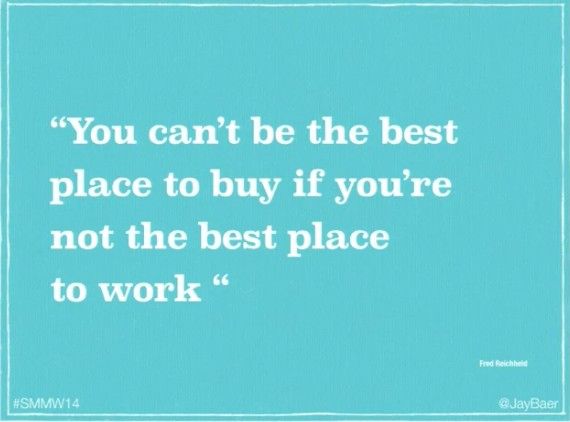 Now, here comes the 8 rules you need to know to make it work:
1 – A great company culture that embeds social and trust employees.
Employees need to know that you trust their judgment.
2 – you need rules and guidelines so people know what to expect
IBM crowdsource the guidelines, very smart way to avoid the legalease that everybody hates!
3 – You need to understand the different roles people can have to leverage social media
People can be creators, Listeners, conversationalists, promoter, etc. Not everyone has the same social skills
4 – you need a software program to coordinate your efforts with your employees
Some tools you can use: Addvocate, SocialChorus, Expion. (find URLs)
5 – Define how you're going to measure the success of your employee advocacy plan before you start it
Tools like advocate can help you track those goals
6 – You need champions and roll out the program in waves, so the champions will convince the skeptical ones
7 – You need coaches that will be available to give advice to your employees
At IBM, the plan was successful at 75% when employees had access to a coach, only 9% when they were doing it on their own.
8 – You need to have recognition
Make sure your success is not only shared with management, but also with all employees involved. Even better, share the results with everyone showing the success of each employee's involvement to spark a little bit of competition!
Business cases of succesful employee's advocacy plans
How IBM did it: They trained 4,000 subject matter experts in social media. Once trained, these experts started to use social media to talk about their expertise. IBM measured the conversion rate of their lead generation efforts through traditional marketing efforts versus their experts now active on Social Media. The conversion rates were 3 times better for the experts who benefited from the social media training.
How DELL did it: They have a social media certification program for its employees, 58% of employees who've been through that program are engaged on social media on behalf of Dell at least weekly.
That's it for how to turn your employees into Social Media advocates! Thanks Jay for that great, inspiring content. We were thrilled to see Jay and many other great speakers and friends at Social Media Marketing World 2014. You should definitely consider coming to the 2015 edition next year! Learn more and register here.