In March, the whole Agorapulse team traveled to San Diego on a mission to attend the best sessions at Social Media Marketing World, compile notes of the key takeaways and share them with you. We've created 20 blog posts from those notes, here's one of them!
Title of the Session: Tools to Better Manage Social Media Marketing
Speaker: Ian Cleary. Ian Cleary is the founder of Razor Social, the world's leading company in providing independent advice and analysis of social media tools. He is also an award-winning tech blogger and writes for Social Media Examiner, Huffington Post and others
Why you should read this session transcript: Choosing the right social tools can save you time and money, but there are so many tools available it's hard to know which ones are right for your business. Once you have developed your social media strategy, the right tools will give you time to build social relationships and to respond to your connections online. Ian Cleary offers practical tips and advice in this session. He goes through some great tools that you can take home and use within your business.
Quote from the session: "You're going to need your strategy before your tools"
4 Ways Social Tools Can Help Your Business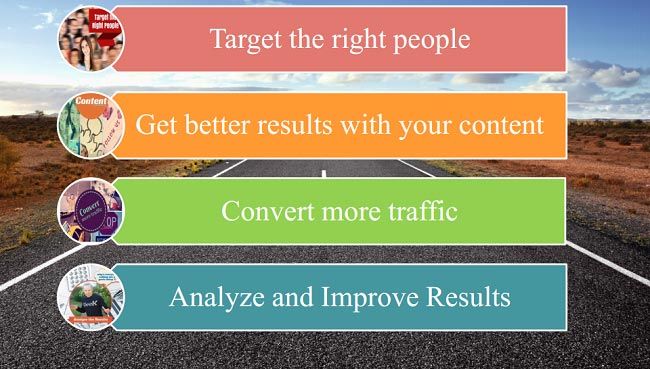 1. Target the Right People
Ian talks through several great social tools to help businesses target the right people with their social strategy. As Ian says, there is little point in setting up a hot dog stall outside a convention for vegetarians!
o
Measure ROI on Facebook
Lead Social – measures ROI from Facebook by looking at the advertising value of people reached on Facebook. It then assigns a monetary value to the exposure. The tool also helps users to further target engaged users by highlighting the most loyal fans. This a great tool to focus the mind on conversions.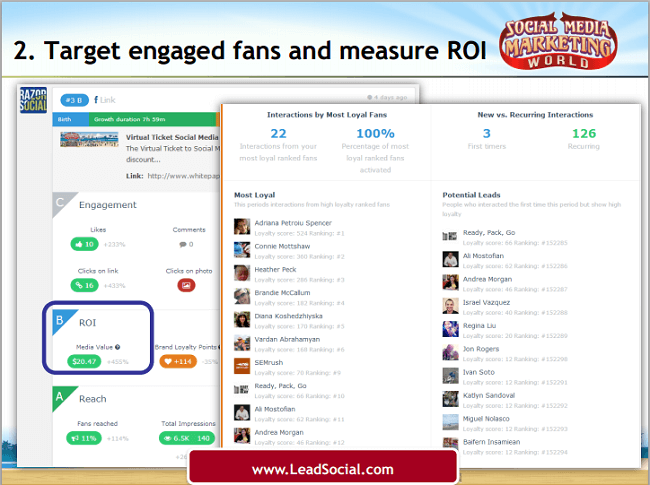 o
Target the Right Influencers
Get Little Bird – helps find influencers in your niche so that you can start building relationships with them.
Get Little Bird – has a super algorithm and looks at influential people who are following other influential people. It will also identify influencers who are are not following you, these are prospects you should be targetting.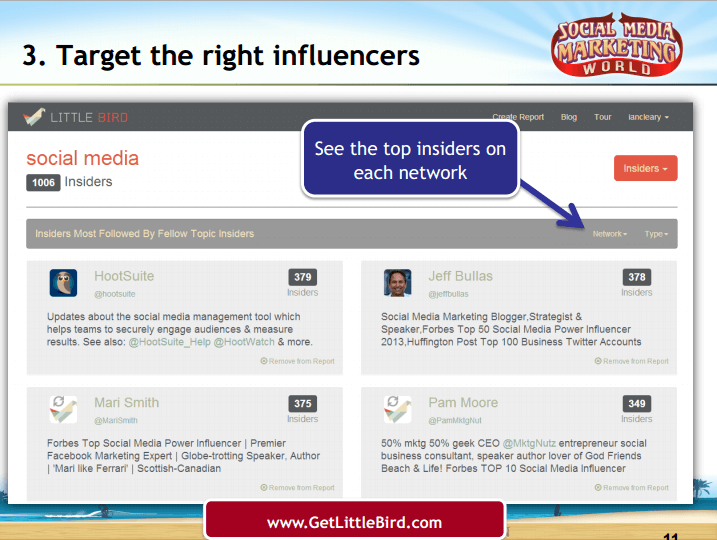 Group High – is a paid tool that identifies the top bloggers in your niche. It has a huge database of bloggers that includes contact information and a list of recent posts that you can discuss when you reach out to them. The information is really accurate because thousands of people contribute to the database. Group High also has an excellent search facility.
www.GroupHigh.com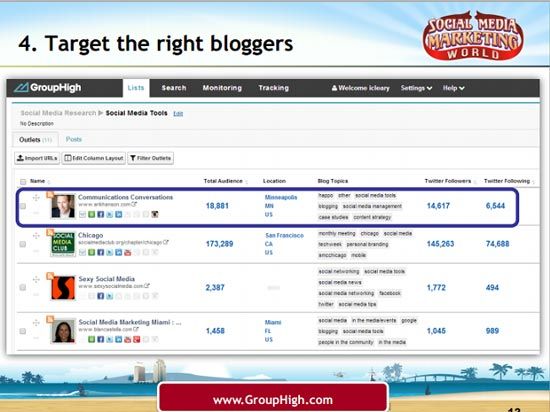 2. Get Better Results from Your Content
Creating great content can take a significant investment of time and resources, so you will want to make sure that you get the most from your efforts. Ian identifies some top social tools to help create awesome content and to get results from the content that you have created.
PiktoChart – is a tool for creating infographics, it is inexpensive and easy to use. PiktoChart gives you a series of templates that you can modify; they are easily updated and edited. The quality of the content in your infographic is vitally important. Once you have created an infographic it is important to promote it using the relationships that you have built.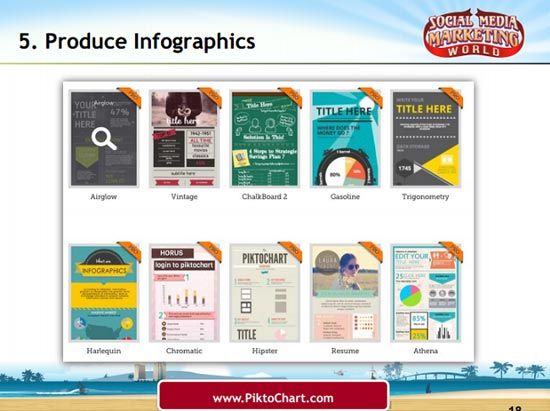 o
Find Content That Gets Lots of Links
Topsy – will help you to discover what type of content is popular in your niche, based on the number of links to that content. This offers you an opportunity to create something better or more up to date so that you can generate links to your own content.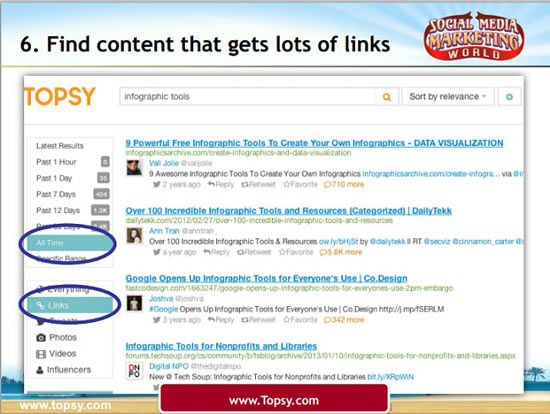 Optimize Content for Sharing
KnowEm – check how well your site is optimized for social sharing with the social media optimiser. Have you got the necessary technical information included with your content so that it is optimised when shared across the major social media networks? An example of this is Twitter Cards, which will show additional information, such as an image and an introduction along with the normal tweet.
This tool will give you a rating for Facebook, Twitter, LinkedIn, Google+ and it will show you if you are missing this important technical information.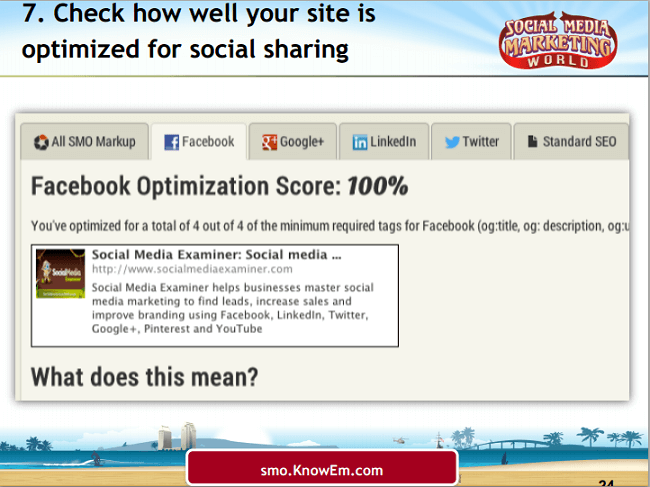 o
Find Out What You Rank For
Open Site Explorer – find out what your domain and page/post authority is. This will help you as you work towards improved ranking for keywords in your niche. This tool will rank your website and pages of your website out of 100, the higher the score the better. As more people link to your content the page authority of that content will start to rise and this will increase your overall domain authority.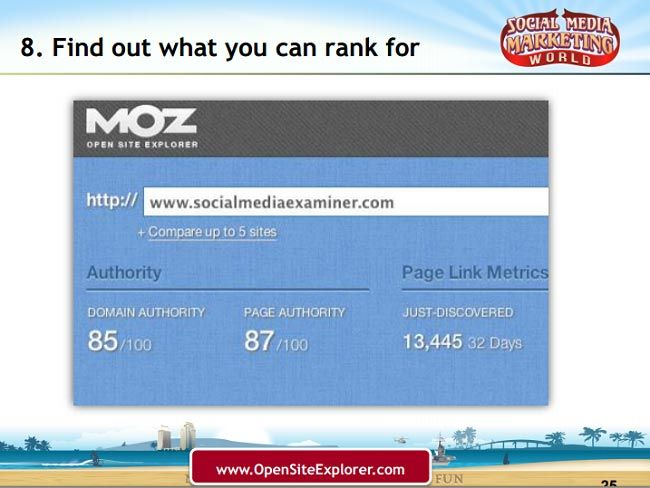 o
Find out what your competition is ranking for
SEM Rush – it's free to find out the top 10 organic keywords that your competition is ranking for. You can use this information to target these keywords with your own content and therefore taking some of their traffic. Analyze if there is an opportunity for you to write some blog content to beat your competitors for the organic keywords that they are ranking for.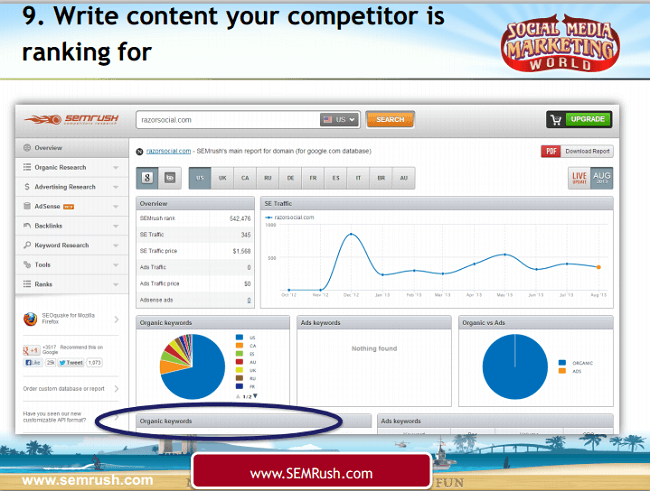 3. Convert More Traffic
Visits are great, but conversions are the key to success. Check out these tools that will help you convert more traffic into sales.
o
Convert visitors as they leave
Optin Monster – Did you know that 70% of visitors to a website will never come back? This tool prompts visitors to sign up to your database as they leave your website. One benefit is that it won't pop-up and annoy visitors as they are browsing.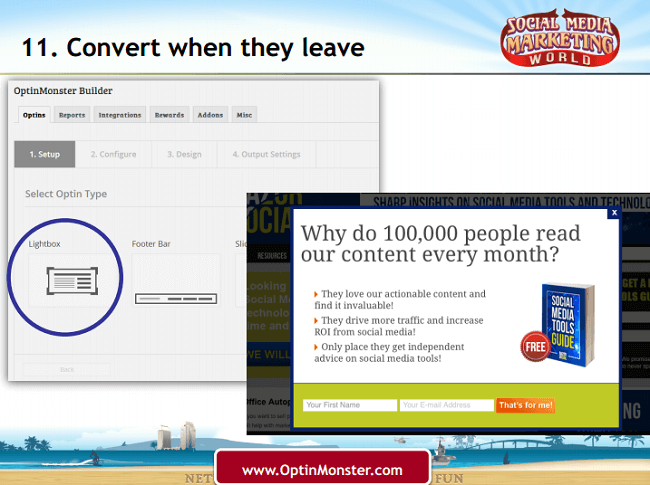 o
Build in Marketing Automation
Mailchimp & AWeber – are examples of tools that allow users to create email auto-responders. There are more advanced paid marketing automation tools such as InfusionSoft and Marketo that require further investment.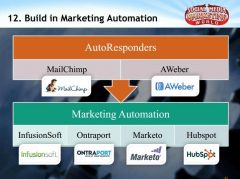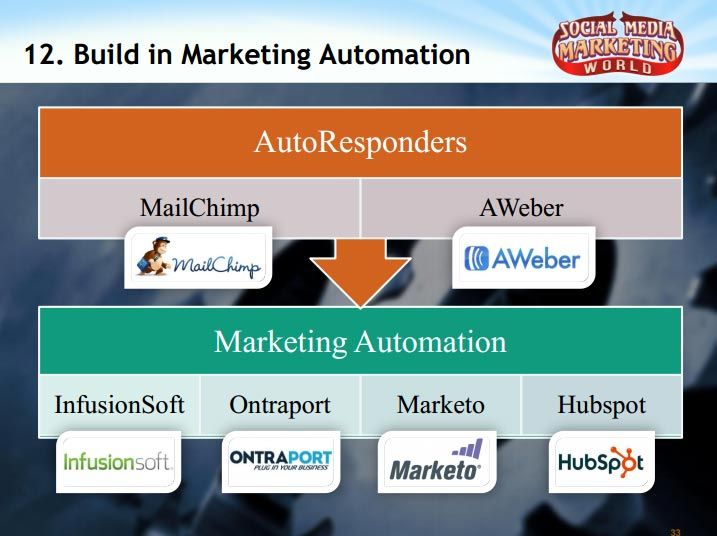 www.mailchimp.com www.aweber.com
o
Generate Leads with Video
ViewBix – if you have video content, this tool allows you to embed calls to action within your video. You could include a call to action that collects a viewer's name and email address, so you are building your database within the video. With ViewBix you can add this content at any stage of the video, start, middle or end, which should give you the flexibility to test what works best for conversions.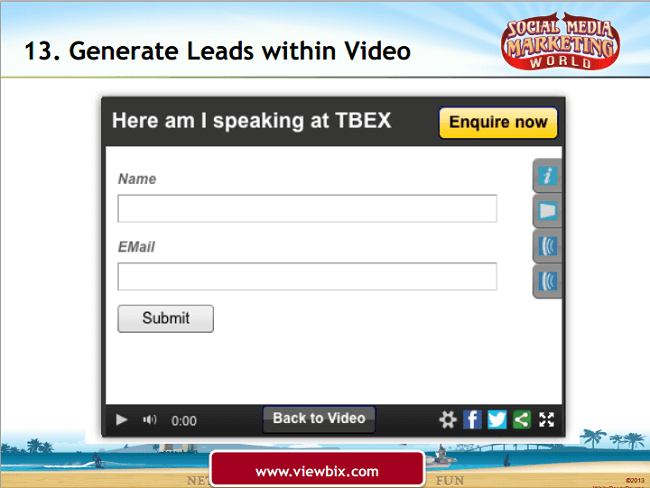 o
Invest in Landing Pages
Lead Pages – are specialists in building landing pages. It's all they do. The tool has lots of templates that you can use. Investing in landing pages will help increase conversions, whether you build your own or use a tool like Lead Pages.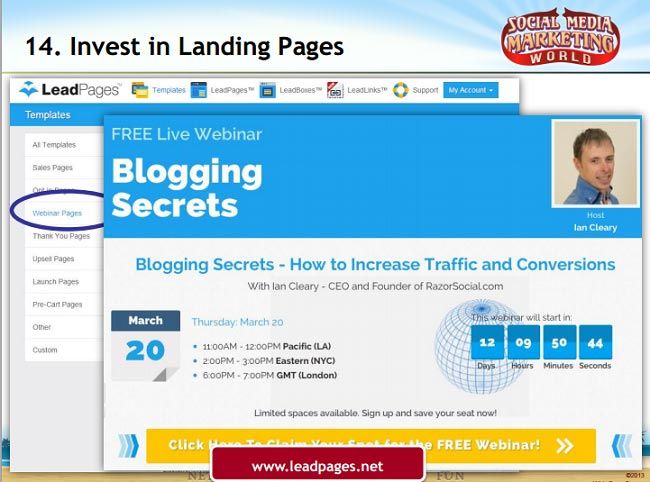 4. Analyze the Results
Analyzing the results of your social media strategy allows you to refine your efforts and improve results over time. This is a really important and often overlooked key to success.
o
Facebook Page Analytics
Post Acumen – is a Facebook analytics tool that tries to produce actionable analytics like the time of day you should be posting and what images are working/not working.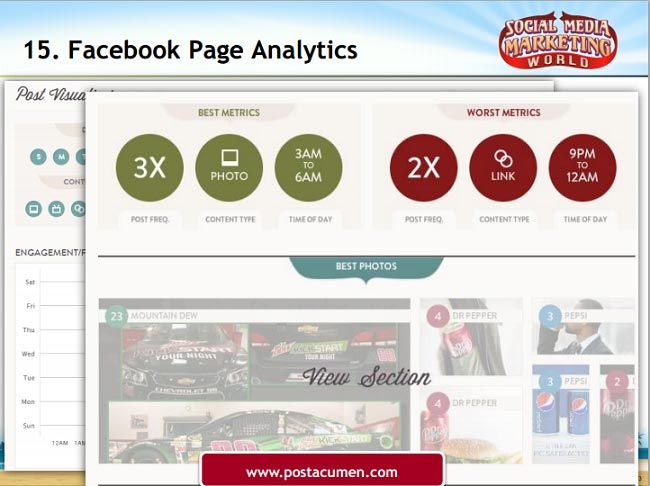 Steady Demand – is a Google+ analytics tool, it will help you to identify the content and activity that is working for you on Google+. It will identify the type of post that is getting the best engagement, which will help users to streamline their post activity towards content that delivers results.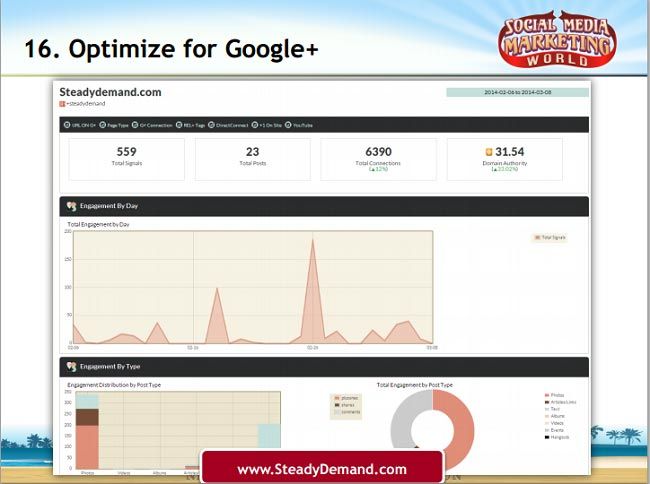 Brand24 – alerts you to brand mentions within an hour of them happening. This means that you can build relationships and respond to comments quickly and easily. The tool costs $20-$30 and comes with great analytics
Don't forget Google Analytics, it's a free tool and is useful for monitoring the source of your conversions. First you will need to set up goals such as a 'thank you' page for email subscriptions.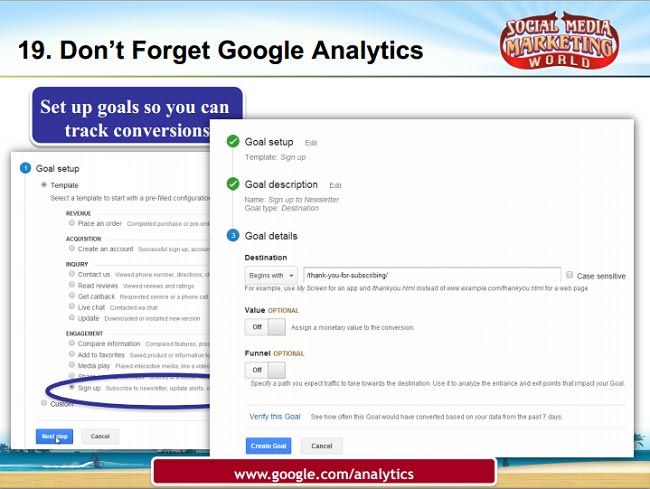 5. Quick Fire Tools
There are many other great social tools available, some free and some paid. Here is a roundup of some of Ian's other favourites.
o
Share Viral Pictures on Facebook
Post Planner – find pictures that have gone viral based on parameters that you set. There is a good search facility, so that you can find images that are relevant to your audience. This allows you to share viral pictures on your own page, which will increase engagement.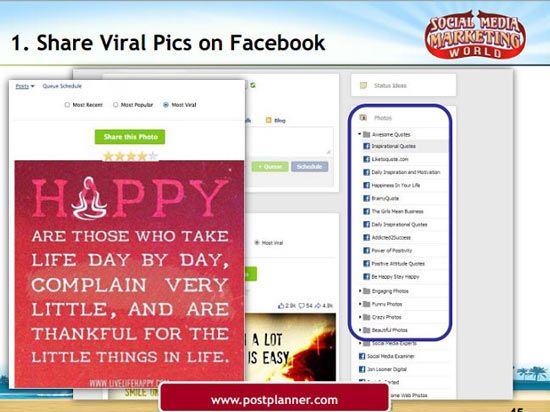 Edit Flow – Planning ahead is the key to successful blogging. Organising blog posts and scheduling them in conjunction with a team is made easier thanks to this tool. Edit Flow is a free tool within WordPress.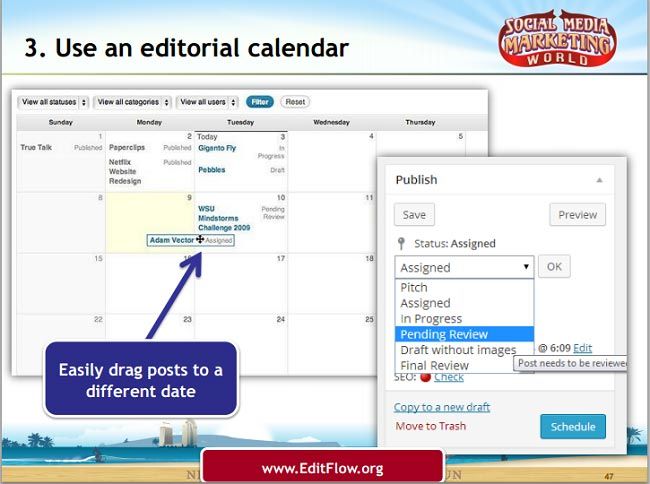 o
Compare your Facebook Page Performance Against your Competitors
Agorapulse Barometer – this free tool allows page admins to benchmark their Facebook page performance against others in their industry. It provides really useful and actionable metrics.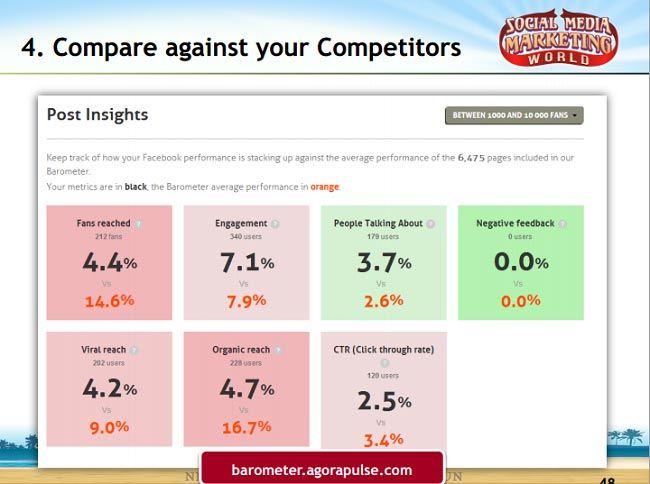 https://barometer.agorapulse.com/
Images are vital to a successful social media strategy, particularly if you want your content to be shared. There are lots of free tools available to help you to add text to your images simply and professionally.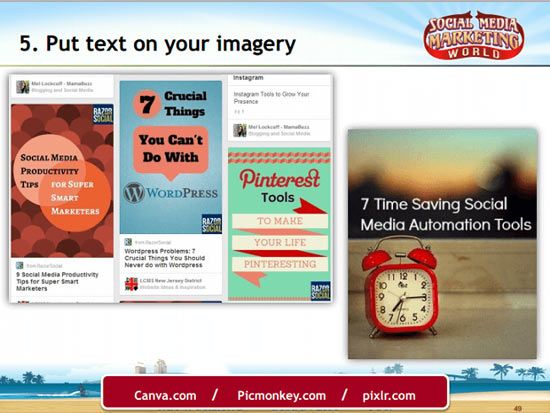 o
o
o
Find Content that People Read and Share
InPowered – This tool has a search facility that will provide information about how popular a particular topic is. By identifying the type of content that people read and share, you can take that information and apply it to your own content creation.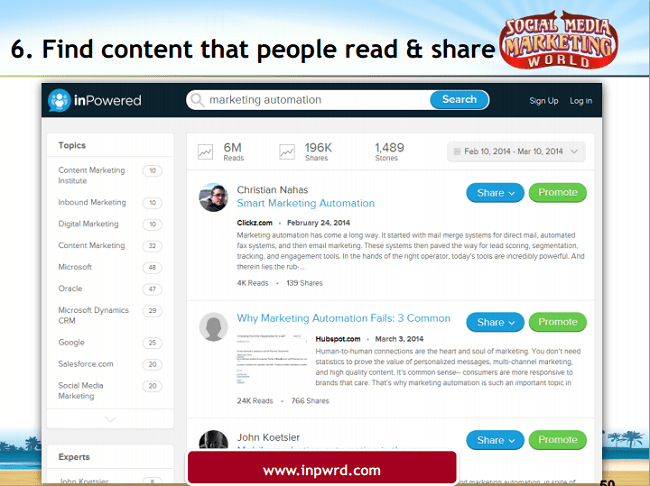 Key Takeaways
o
There are lots of tools that can help you save time and money
o
Choosing the right tools will give you more time to build relationships and to respond to your social connections
o
Develop your social strategy first then choose the best tools for you.
o
Follow the four steps to success outlined above to get the most from your efforts
Get the Tools
For a list of the tools that Ian has included in his session and access to a free Razor Social training session visit this page www.razorsocial.com/smmw14